Quotes courtesy of NBA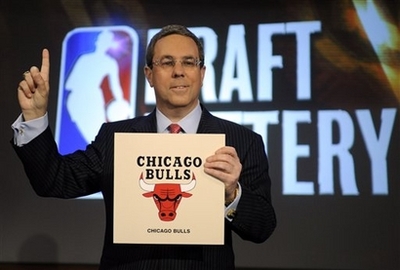 Steve Schanwald & John Paxon, Chicago Bulls
Executive Vice President, Business Operations & General Manager
First Overall Pick
Q: Can you tell me about your experience, representing your team?
Schanwald:
It was a thrill, honor and privilege to be here for this. It was a very exciting day for the organization. I'm so happy for John (Paxson), our staff, and everyone in our front office that waited patiently for us to catch a break. We caught a bad break a few years ago when we lost
Jay Williams
, so maybe this was a little bit of payback from the good Lord to get even with us for that bad break.
Q: What does the number one pick mean for the fans?
Schanwald:
I'm happy for our fans because they've been very patient for the last 10 years, supporting us in a way that has been almost beyond belief, through thick and thin. It's been 10 years since our last championship and they continue to consistently fill the building. They really deserve this, and hopefully it goes well for our future.
Q: When you got the number one pick, did either Derrick Rose or Michael Beasley pop into your head?
Paxon:
I don't think there's any doubt that those two names are the guys that are at the top right now, but I've learned you have to go about your business in its normal form. Obviously, we have a chance to get both of those guys in and we'll get to know them and really take a long look and see what makes the most sense for our basketball team. Obviously we have been put in a unique position to make our team better, and that's what we will look at from this day forward. We're technically the youngest team in the league and we're going to add another terrific young player to this roster, which will make it exciting for us.
Q: Is there any pressure to choose Rose because he is from Chicago?
Paxon:
No, I haven't thought about that for one second. Again, we're going to evaluate what's best for the team. That's my job, and it's my staff's job, to put the best roster out as possible. We'll start now, in terms of figuring out how to do that, and we're very grateful to be in this position tonight.
Q: How big of a factor is need?
Paxon:
I think you always take a look at that, but so much can happen between now and the draft. We will look at what we can do to balance our roster out better, so when we do make the Selection, our roster is a better equipped. I think you look at everything. Need is obviously important, but we have a lot of different needs. We need leadership on our team. There's no doubt about that. We also need scoring and a few other things. What you have in this draft, when you talk about the kids that everyone considers the top two, is a point guard that is a terrific player that can lead your team and make others better, and the other is a flat-out scorer, so we see how valuable those guys are and again we will be able to evaluate that.
Dwyane Wade, Miami Heat & Pat Riley
Player & President
Second Overall Selection
Q: What kind of player do you expect to get this year?
Wade:
We're going to get a heck of a player. We're very excited. We'll leave it up to the Bulls to pick the number one pick and we'll take the second player, and I think we're going to get a darn good player.
Q: Are you disappointed you didn't get the number one pick?
Wade:
Not at all. You know, I came down here to get the best pick possible for the Miami Heat and evidently that was the best pick possible for us. If we got the number one, I'd still be smiling the same way. We still need everybody to still come out and support us. We need season ticket holders to come out and support us, that means everybody. It's going to be a good year. It's going to be very exciting.
Q: How will getting a player of such a high caliber change the dynamic of your team?
Wade:
Well, we get a player that's ready to compete right away. Like I said, it was a win-win situation for us -- being in the lottery and being able to get no pick worse than a fourth pick, and we got the second pick. We're going to get an unbelievable player and I'm excited about who we get.
Q:How do you feel receiving the second pick?
Riley:
We haven't – myself -- I haven't been in the lottery that much. I've been very privileged to be around teams that won a lot of games – but we've had good success. We were able to pick
Caron Butler
at number 10 (in 2002), we got
Dwyane Wade
at number five (in 2003), and usually when you get down inside the top five you can find a player that's going to really help your franchise. We need help, we need it now, we paid the price for it. So, from that standpoint, we're going to do the best job we can do.
Q:What are your thoughts on Derrick Rose?
Riley:
I'm really not going to talk about specific players right now. We have the second pick in the draft, he's a great young guard, (Michael) Beasley's a great young power forward – (O.J.) Mayo – all of these guys that were mentioned tonight on ESPN. I don't want to get into the names. I'll just let everyone else think about who we're going to pick, but we're going to try to do the best job we can do.
Q:How do you feel now with your role after stepping down from coaching?
Riley:
Well, the first time I stepped down I thought it was going to be permanent, but it wasn't. It wasn't for the circumstances or whatever, but I'm pretty sure this time after 25 years that I've had enough of coaching and that I do want to do this and I want to build the franchise back up to where it's respectable and this is a great opportunity for us. It really is – being able to manage our cap where next year we might have a bite of the apple in free agency or at least in 2010. I like our roster. We were injured last year, but we can add a young player, a free agent, a healthy
Dwyane Wade
, and I think we can be right back in the fray immediately.
Q: How satisfying is it knowing you can come away with either Derrick Rose or Michael Beasley?
Riley:
Well, that's everybody else's opinion – who they feel is number one or number two. The fact that you have the second pick in the draft is a position you can leverage if you don't like the player, if you feel like you want to go in a different direction. You know, we have a very good power forward in Miami right now and I'm not saying anything about that, but the point is that it's a position in which you can leverage and do a lot of different things. So, we will use the pick. It doesn't necessarily mean we're going to use it to draft somebody, but we're going to use that pick to try to find as many good players as we can or we're going to take the player that we really want to take.
Fred Hoiberg, Minnesota Timberwolves
Assistant General Manager
Third Overall Selection
Q: What kind of player do you feel you can get with the third pick?
Hoiberg:
I think we can get a very good player at three this year. They talk about this being a two-player draft, similar to last year with
Kevin Durant
and
Greg Oden
, but
Al Horford
probably had as big an impact as anybody in the rookie class. We're excited, even though we didn't get one of the top, we think the third pick is going to bring a very good player.
Q: What do you guys need more than anything else as you look at the roster?
Hoiberg:
We'll see how everything plays out, after we bring the guys in and see how our team is taking shape. That second tier group has a few centers you could maybe add to the mix. There are a couple of perimeter players that could take some pressure off of our guys. There are some good players who should fit into our team.
Q: Your team made great strides toward the end of last season. How optimistic are you, now adding another high pick?
Hoiberg:
We're very optimistic about next year. After starting out 5-37, we finished the year 10-12, and we have a player we can build around in
Al Jefferson
who averaged more than 21 points and 11 rebounds, one of only two guys to do that along with
Dwight Howard
.
Randy Foye
got healthy, averaged over 20 points over the last seven games. We're excited about that. We're going to get another very good player who can hopefully come in and be a rotation player for us.
Q: What are your feelings about last year's lottery pick, Corey Brewer?
Hoiberg:
Defensively, he was good all year, and that's the thing I'm excited about with Corey. He's a guy that can guard superstars in our league. He's a guy that needs a lot of work offensively. And it will be a big summer for him. But, he does so many things you just can't teach. His big thing is gaining confidence.
Q: Do you worry about adding another young player to what already is a very young mix?
Hoiberg:
Our young players need to grow, there's no doubt about that. This will be
Al Jefferson
's fifth season.
Randy Foye
is going into his third season,
Rashad McCants
is going into his fourth. Our young guys need to step up. But, I'm not that worried. I think there are some mature players in this draft, even though some may have only spent a season or two in college.
Kevin Durant, Seattle SuperSonics
Player
Fourth Overall Selection
Q: You guys have so many picks, that you can sort of take some chances this year.
Durant:
Exactly. We've got three picks in the second round, so we can have a deep draft. We've also got the 24th pick along with the fourth pick, so I am happy with what we got (tonight). We've got a lot of young guys, including me and Jeff (Green) and
Chris Wilcox
and guys like that. I think we will be a good team for years to come.
Q: When you found out what pick you got, what was going through your head?
Durant:
Honestly, I was a little bit shocked. It would have been nice to get either of those guys going one or two, but I am happy with what pick we have. I know, probably starting this minute, management is going to be looking at guys that we (can potentially) take with that pick. After going through it last year, I know how it is. So this year, being able to sit back and watch what happens – it is going to be fun.
Q: Would it have been fun to play with Michael Beasley?
Durant:
It would have been fun playing with him, but I think it is going to be fun playing against him as well. I was very happy for him. I think he is a lock to be the first or second pick. Wherever he goes, Chicago or Miami, I think it is going to be a great fit for him. I am happy for him and for
Derrick Rose
as well. For us, I think we're going to get a great player with the fourth pick as well.
Rudy Gay, Memphis Grizzlies
Player
Fifth Overall Selection
Q: How disappointed are you that you didn't end up with one of the top picks?
Gay:
Yeah, obviously, we think we could have gotten a better pick, but it happens, so now it's time for everybody else to step up, and also the draft pick to step up and show what he can do.
Q: Do you still think you can get a player who can contribute right away with the fifth pick?
Gay:
Yeah. Five – there's a lot you could do. You could get a couple different players – we need somebody to step in and do something, so I think this is where the work happens. This is where you really got to get in the gym, and the staff really has to do its job. I'm confident they'll pick the right person.
Q: What kind of player do you need to help turn things around for your team?
Gay:
I'm not really sure. We could use a lot of different pieces. I think right now we could use a defensive player, we could use another scorer, we could use a rebounder – so there's a lot of different things we could use.
Mike D'Antoni, New York Knicks
Head Coach
Sixth Overall Selection
Q: Every couple of years, it seems that there is franchise-changing talent available atop the draft board. Is this one of those years?
D'Antoni:
I don't know that as well as (our experts), but we'll get together over the next few weeks and figure that out. There are always guys, even in the second round, that can turn things around. So, we'll just try to do the best job we can do.
Q: Not that much drama tonight.
D'Antoni:
No, it was a little disappointing.
Q: What pick did you think you were going to get coming into tonight?
D'Antoni:
Maybe five or four. We would have liked to get a top pick, like a top two, but it didn't work out like that. We don't want to be here next year, that's for sure. We'll try to make it count this year.
Q: What do you want to use the pick for?
D'Antoni:
Guards. Forwards. Centers. No, I don't know. We need to get the best player available. That's usually the best plan.
Mike Dunleavy, Los Angeles Clippers
Coach
Seventh Overall Selection
Q: Can you tell me about your experience, representing your team?
Dunleavy:
Obviously, I'm a little disappointed. We were hoping to move up and we actually moved back one slot, but we should still be able to get a pretty good player.
Q: Your thoughts on the outcome of the lottery overall?
Dunleavy:
It worked out pretty well for the Chicago Bulls, getting the number one pick. Miami got number two and Minnesota moved up one spot, so I'm sure all three of those teams are pretty happy.
Shawn "Jay Z" Carter, New Jersey Nets
Investor
Tenth Overall Selection
Q. Can you tell me about your experience, representing your team?
Jay Z:
This was fantastic. I'm from a neighborhood in Brooklyn, and to come this far and do something like that, it's just a fantastic experience for me. It's one of many accomplishments and it's something that I'm very proud of.