The Reebok Eurocamp in Treviso kicked off today, in front of record crowds of NBA scouts and especially European club executives. The camp is gaining importance in the basketball world year by year, and this year's roster is clearly the deepest we've ever seen in our five years of attendance. Camp Director Pete Philo has done an outstanding job of being aggressive getting early commitments from virtually all the top players of every age group in Europe, making this a extremely intriguing camp to scout not only for this year's draft, but especially for the future.
---
Camp Director Pete Philo gives DraftExpress a preview of the Eurocamp from the NBA Pre-Draft Camp in Orlando last week:
---
It's all set in a very comfortable environment in Benetton Treviso's La Ghirarda Complex, where the staff seems to be doing everything they can to make the experience as enjoyable as possible. The bleachers were packed from top to bottom in the evening session with familiar faces everywhere.
Serge Ibaka
,
Donatas Motiejunas
,
Alexey Shved
,
Nicolo Melli
,
Henk Norel
and
Mantas Kalnietis
highlight this year's crop, with
Goran Dragic
joining the group for the second day and Turkish 7-footers
Omer Asik
and
Semih Erden
conducting a workout only because of clearance issues with their domestic team Fenerbahce Ulker.
Nicolas Batum
will be joining the camp on Monday, for a highly anticipated private workout.
Danilo Gallinari
is here, but is just walking around, as he doesn't have a whole lot to prove at this point before he heads to the States on Monday for dates with the New York Knicks and New Jersey Nets. Gallinari doesn't have any workouts set up beyond that, his father Vittorio Gallinari told us, he will see how things go with the Knicks and Nets and then reassess the situation from there.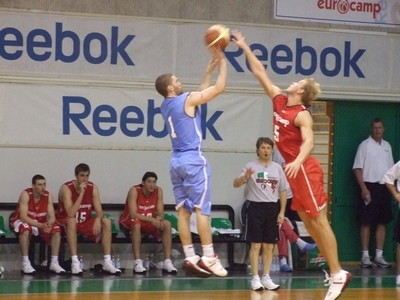 [c]
Anton Ponkrashov
blocking a shot[/c]
The day started off with drills at 9 AM, with a heavy focus on shooting and very intriguing two on two and three on three matchups rather than the typical stations we've seen in years past. This gave us a chance to evaluate the players' individual skill-level, which is often hard when they are playing on their senior teams and are just cogs in the offense rather than real options.
The evening brought two games as four of the five teams went head to head, giving us a chance to familiarize ourselves with the names, numbers and faces and get a first impression of some of the camp's standouts. It was impressive to see how quickly these European players picked up on the offensive sets they were taught in a half-hour practice, they seemed to be executing their plays fairly well already. The following days will bring the players lectures from some of the top minds in European basketball (David Blatt, Etore Messina) and all-star games against the French U20 National Team and the Ukrainian Senior National Team.
Here are our thoughts on some of the more interesting guys we saw from day one.
Serge Ibaka
-
Ibaka had a terrific start, showcasing his incredible physical tools in nearly every moment he was on the floor, while also displaying a much better skill level than we may have given him credit for. His athleticism looked nothing short of breathtaking, as he showed running the floor in transition, cleaning up the offensive glass by jumping straight over opponents for a put-back dunk, an avoiding an oncoming defender in mid-flight by double-pumping and still finishing above the rim.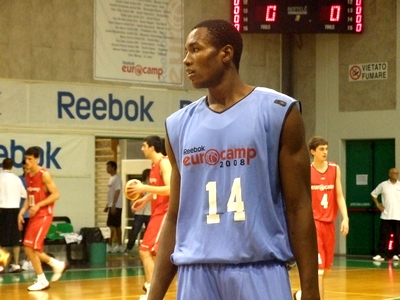 Ibaka was very aggressive running the floor in transition, facing up, drawing fouls, and making powerful huge strides every time he put the ball on the floor. He even knocked down a couple of jumpers, one from 15 feet and another a spot-up attempt from beyond the arc. His touch around the rim looked much improved, as he showed on a few occasions with some basic baby hook shots, which he probably would not have been able to convert back when we saw him in New Orleans in August. He was a massive presence in the paint defensively as expected, erasing a number of shots emphatically with his incredible combination of length and explosiveness.
Playing at a strong level of competition with L'Hospitalet all season in the Spanish second division seems to have helped him a great deal, even if there is clearly still a lot more room left for improvement. The release point on his jumper remains inconsistent, as he gets great elevation leaping off the ground but doesn't always shoot it from the apex of his shot, making him fairly streaky from varying ranges. His overall feel for the game, particularly in terms of his passing leaves a lot to be desired, as does his understanding of team defensive concepts and off the ball movement.
Players who are as freakishly athletic as Ibaka (there are extremely few) are always going to look great in a setting like this, so it's probably best not to go nuts praising him, but it's still hard not to be encouraged by the very noticeable strides he's making. There are still a few days left to go, but from what we could see in day one, it's very hard to see how we're not looking at a first round pick here, even if he's clearly 2-3 years away from being able to contribute at an NBA level. He was the talk of the camp here in day one, and seems to have helped himself a great deal just by showing up to play.
Artem Zabelin
Zabelin put together a pretty nice game for himself, showing the tools he has at his disposal while also dropping glimpses of a very high skill level as well. He knocked down shots from mid-range and beyond the arc, put the ball on the floor a little bit, looked aggressive trying to take the ball to the basket, made some nice pivot moves in the paint, and showcased very nice athleticism for a player standing 7-2, particularly with some very strong finishes. His frame remains poor and he will likely be unable to translate what he shows against players this age to a higher level until he gains considerable strength, but there is definitely a lot to like about him regarding the future as a long-term prospect.
Alexey Shved
Easily the most talented guard in the camp, Shved left several drops of his exquisite skill level. Ball-handling, shooting, some passing too, you can feel how naturally the game comes to him. He showed an excellent off hand with a few crazy ball-handling moves, eventually killing an opponent with a perfect crossover move, connecting on a few long range shots (one of them elevating off the dribble in a one-on-one setting) making some solid passes and smartly finding the way to the basket showing nice footwork in the process. Anyway, physically he still has a long ways to go, so unless CSKA decides to loan him for the next season, he could easily struggle again finding playing time in the Russian powerhouse.
Anton Ponkrashov
Two years ago he rocked here in Treviso, emerging as the best player in the Camp. Last year he had some up and downs, leaving a disappointing feeling. The opener of this Eurocamp edition is only solidifying the downwards trend he's suffering at this particular event. Looking tentative, Anton seems like he always doubts about which option to take. Probably part of the reason why is that, at this point, everyone has figured him out, particularly his great limitations finishing with his right hand, so he struggles playing a leading role that requires to attack the basket. Add in his inconsistency with his jumper, either from long or mid-range distances, and you can understand why he probably has second thoughts about what to do in too many plays. Actually, he ended up looking frustrated. It's not all lost, though, as he still has three more days to reverse the initial impression.
Giorgi Shermadini
One of the most intriguing prospects in this camp, given how hard is to see him in action, Shermadini made his presence felt with a solid game in the low post, proving that he's more than just a stat-filler in a forgettable league. Standing somewhere around seven feet, the Georgian shows a nice frame and decent athleticism. He's nicely strong, but particularly, he's pretty aggressive and physical playing the game, which is very good news for a low-post guy like him. He had time to show a nice touch with his right hand while delivering some jump-hooks, and some promising footwork, while effectively using his body against his opponents. He's pretty coordinated, he's tough and he seems to know the game quite well. Perhaps he's not oozing with potential, but he's definitely a basketball player.
Jonas Jerebko
One of the most solid players in the first day of the camp, the Swedish prospect (who plays his ball just a few hours up the road in Biella) showed a nice skill set to go along his excellent physical build. He's a tall and fairly strong player for the small forward position, with broad shoulders and nice wingspan, while he shows solid athleticism. In terms of skills, he showed nice ability slashing towards the basket, using both hands in the process and some touch to finish with layups around the basket. Perhaps not the most consistent shooter around, he enjoys three-point range and decent form in his shot. He does seem to understand the game pretty well. He's also working very hard and leaving a very strong impression thus far.