DraftExpress was once again in attendance at the National Prep Showcase in New Haven, Connecticut where some of the nation's top prep schools were in action.
We continue our evaluation of the prospects seen in New Haven with a look at the rest of the top 2013 and 2014 recruits we were able to hone in on, including
Nerlens Noel
,
Noah Vonleh
,
Chris Thomas
,
Goodluck Okonoboh
and
Wayne Selden
.
-
2011 National Prep Showcase: Elite 2012 Prospects
-
2011 National Prep Showcase: Best of the Rest
Nerlens Noel, 6-11, Junior, Center, Tilton
Uncommitted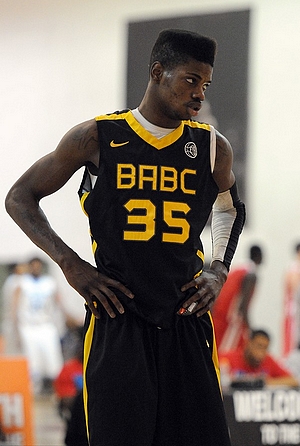 Jonathan Givony
It's been a year since the last (and first) time we evaluated
Nerlens Noel
(#2 ESPN, #3 Scout, #3 Rivals) at this same event in New Haven, but our overall impression hasn't changed much.
Now standing close to seven feet tall, with a frame that continues to mature, a long wingspan, and tremendous athleticism, Noel looks every bit the part of a top notch big man prospect.
One of the best finishers in high school basketball thanks to his incredible combination of length and explosiveness, Noel is a phenomenal target around the basket. His ball-handling skills seem to be coming around as well, as he showed the ability to create his own shot from the perimeter or in transition with a quick first step and unbelievably long strides which big men at this level simply cannot stay in front of.
Not a threat at all to make shots from the perimeter (or sometimes even the free throw line), and pretty raw inside the post in terms of his footwork and touch, Noel nevertheless shows the ability to finish with either hand around the basket, and makes his presence felt through his work in transition and the offensive glass. He needs to continue to add strength to his frame, improve his feel for the game, and polish up his skill-level, but considering he's only 17 years old, time is on his side.
Noel's biggest impact is currently felt on the defensive end, where he often dominant at this level. He shows an ideal combination of size, length, athleticism, timing, and intensity—challenging every attempt around the basket and blocking shots with either hand. Unlike most big men, he seemingly has no problem stepping out on the perimeter and hedging screens on the pick and roll, as he moves his feet incredibly well and is extremely disruptive in the passing lanes.
Turning 18 in April, Noel reportedly
briefly considered reclassifying to the 2012 class
, which would make this his final season of high school basketball, but ultimately elected to stay in the class 2013.
He's already considered one of the top players in his class and will draw immediate attention from scouts as soon as he steps foot on a college campus.
Noah Vonleh, 6-8, Sophomore, SF/PF, New Hampton
Uncommitted
Jonathan Givony
One of the best long-term prospects seen at this tournament regardless of age,
Noah Vonleh
(#6 ESPN, #6 Scout, #2 Rivals) jumps off the page immediately with his outstanding physical attributes and hard-nosed mentality.
Standing a legit 6-8, with a 7-3 wingspan, huge hands, a terrific frame and excellent athleticism, Vonleh does not look like your typical 16-year old.
Vonleh's most impressive attribute is likely his motor. He runs the court extremely hard, crashes the glass with reckless abandon, and is as committed to his work on the defensive end as we've ever seen from a player this age.
He has no problem banging in the post with players much older than him, showing nice timing as a shot-blocker, but he can also step out onto the perimeter and cover smaller players as well. Vonleh regularly goes out of his area for rebounds, particularly on the offensive end, and has a knack for touching pretty much every ball even remotely in his area thanks to his combination of length, explosiveness and sheer aggressiveness.
Offensively, Vonleh is more of a work in progress at this stage, but is already well ahead of where you'd expect him to be considering his high school sophomore status. He is mostly a straight-line dribbler, but is more than capable of beating his man off the dribble from the perimeter and getting to the basket. Not one to force the issue, he has no problem passing the ball ahead in transition or finding an open teammate on a drive and dish play, as he's clearly an unselfish and team-oriented player.
Vonleh has the ability to make shots from the perimeter as well, even if his release is a bit low and his mechanics are somewhat rigid, particularly when pulling up off the dribble.
To fully make the transition to the small forward position, Vonleh will need to continue to tighten his ball-handling skills and improve the consistency of his jump shot, something he has plenty of time to do.
It's not yet clear exactly what position Vonleh is best suited for long term. At 6-8, there might be an inclination for some to make him a full time perimeter player, but considering how gifted a rebounder he is and the fact that he has the length to defend either forward spot, he could have more value at the professional level as a face-up power forward. Considering he's only 16 years old, it's possible that Vonleh might not be done growing.
Either way, Vonleh is clearly a very exciting young prospect with a bright future ahead of him. As long as he continues to work on his skill-level and does not get distracted by the tremendous amount of attention he's likely to generate, he has all the makings of a top shelf prospect.
Chris Thomas, 6-5, Junior, Shooting Guard, South Kent
Uncommitted
Jonathan Givony
A player who has garnered a great deal of attention from an early age,
Chris Thomas
(#13 ESPN, #10 Scout, #5 Rivals) has bounced around quite a bit already despite being just a junior in high school. Thomas is an extremely talented prospect both physically and skill-wise whose main concerns lie with his off the court intangibles.
Standing 6-4 with a solid frame, Thomas is a good athlete who shows a fairly complete game for a player his age. He's a good ball-handler who can create his own shot in many different ways, thanks to his ability to change speeds and blow by his man with a terrific first step. He made some very creative passes in the two games we saw, demonstrating court vision and anticipation skills indicating he may be able to see some spot minutes at the point if needed.
Thomas is also a solid perimeter shooter, being particularly adept at knocking down catch and shoot jumpers. He's also capable of making pull-up jumpers, but is hampered at times by poor shot-selection and decision making, as its clear he doesn't have a great deal of experience operating in more organized settings.
That shows up most noticeably on the defensive end, where Thomas clearly lacks much in the ways of fundamentals. He gets out of his stance quickly and has a habit of swiping at the ball in an attempt to come up with steals. With that said, with his physical tools and anticipation skills, there's no reason why he can't develop into an excellent defender in time.
If Thomas can find a way to ease the concerns surrounding his character and continues to work on his skill-set, he appears to have an excellent future ahead of him.
Editor's Note:
A previous version of this article stated that Thomas is the son of former NBA player Michael Ray Richardson. A family member of Thomas indicated to us that that is not accurate. We apologize for the error.
Goodluck Okonoboh, 6-9, Junior, PF/C, Tilton
Uncommitted
Jonathan Givony
Somewhat stuck in the shadows of
Nerlens Noel
playing on the same high school and AAU teams and sharing similar strengths and weaknesses (and haircut),
Goodluck Okonoboh
(Unranked ESPN, #51 Scout, #92 Rivals) is very much an intriguing prospect in his own right.
The cousin of UConn junior
Alex Oriakhi
, Okonoboh has improved his frame considerably since we first saw him, and will surely continue to fill out as he matures physically. He's got long arms and very good athleticism, running the floor well and playing above the rim on a consistent basis.
Not afraid to do the dirty work, Okonoboh will have no problem being a role player at the college level, as that's exactly what he's been his entire career thus far. He shows a solid feel for the game, a good attitude and excellent fundamentals, leaving plenty of room for optimism regarding his future.
Okonoboh isn't particularly skilled or assertive offensively at this stage. His footwork is fairly limited inside the paint, and he shows very little overall polish, but he did drop some glimpses of being able to knock down a mid-range jumper or attack his man off the dribble. He's at his best finishing plays at the rim at the moment, and does so very efficiently, not straying outside his comfort level very often.
Defensively, Okonoboh is a major competitor, and shows good toughness and excellent timing as a shot-blocker. While not quite as explosive or prolific as his teammate
Nerlens Noel
, he is much more fundamentally sound, rarely biting on pump fakes and doing a terrific job cleaning up for the mistakes of his teammates. Like Noel, he moves his feet well on the perimeter and does a good job crashing the defensive glass.
Okonoboh is being recruited by most of the top programs in the Big East at the moment, including UConn, Syracuse, Louisville, Pitt, West Virginia, Providence and others. He's the type of player that every college coach covets. While he may not be a one and done type prospect, he's surely a player to keep an eye on.
Wayne Selden, 6'5, Sophomore, Shooting Guard, Tilton
Uncommitted
Joe Treutlein
One of the most highly touted prospects in attendance this year,
Wayne Selden
(#10 ESPN, #9 Scout, #12 Rivals) has no problem fitting in among players two and three years older than he is, having comparable physical maturity to everyone else on the court even at his young age.
In the one game Selden played this weekend, he looks to be largely the same player and prospect we saw just one year ago, though he played more of a deferential role this time around on his very talented squad. Selden wasn't able to get his three-point shooting going here, having few attempts to do so, but looked good with his form and did a solid job spacing the floor and playing within his team's offense.
Selden did show a little more with some opportunistic drives to the rim both in the half-court and transition, displaying nice speed and bounce to get by and above defenders around the basket. He struggled finishing when dealing with weak-side help, however, and still is relatively unpolished in this area of his game, usually relying on his strength to bail him out.
Selden clearly didn't have one of his best games from what we saw, but still managed to make solid contributions to his team's blowout victory by spacing the floor, making solid flow-of-the-offense passes, and committing himself to defense and getting out in transition.
Still an incredibly young player, it's tough to make any confident projections about Selden at this stage, especially given the role he plays on his immensely talented team, but he's definitely someone we'll be watching closely for the next few years.