New Orleans Hornets
Monty Williams
and other NBA players and executives fielded questions after the final 2012 NBA draft order was determined.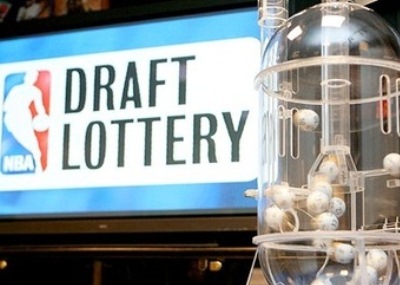 Monty Williams (New Orleans Hornets Head Coach)
Williams:
Hi, this is Monty. We feel blessed and fortunate to have the first and tenth pick. It's really good for our city, good for the state of Louisiana, really good for the whole organization, and we feel like it's a great start to, or a part of the process that began a few years back even before I got here. So, it's a cool time right now and as I said I just feel very blessed to be in the position.
Q: Coach, who are you looking at with the tenth pick?Williams:
Dell and I, we've been so focused on watching a number of guys, that we haven't really targeted one person per se, but obviously there are a number of guys in that position. I don't know the rules enough to know if I can say names right now, but if we can add some scoring and whoever is the best talent at that position, whoever fits the bill.
Q: What was it like to participate actively in your first lottery and then to end up with the number one overall choice? Williams:
You know, it was a really surreal time once we got to the fourth pick, and then everything was a bit of the blur. The whole production was typical NBA, everything was first class and I was amazed to see all the people show up: Mr. Stern, Adam Silver, Stu Jackson, all the owners, and there were a few of the projected lottery picks there. The whole studio was packed with the anticipation of this pick. It was a really cool time. I just caught myself thinking of where I came from, people thinking I'm just a simple old country boy, here in these positions. It's hard to believe it.
Q: Do you feel for what you gathered tonight with those two picks that you can address pretty much what you were looking for. I mean, I know you got other parts that you need, but do you think that you can pretty much address -- I mean, how does this shape up your team with the possibility of getting that number one pick and it ensures or enhances that you can get what you need or whatever that you were looking for that you need at this point. Williams:
Getting the number one pick gives you the opportunity to make the right choices as far as addressing those needs. I've talked about [inaudible] for two years now. Not only that, but adding a player that can be a game changer for us. I think any time you get a top ten pick, you feel like you can address one of your needs because you're gonna get some talent with that kind of a pick, so for us to have two picks. The problem I see is trying to put too much pressure on those guys to feel like they have to save the organization or save the team. That's not their job. We're going to have to do a lot of work putting the right people around these young guys. Our best player is still
Eric Gordon
. You can't forget that.
Q: Did you feel almost like, you mentioned the recent upswing this franchise has had. Did you feel like even though the odds weren't in your favor to win this thing, that coming in this franchise was kind or on a roll or upswing so it seemed reasonable that maybe you could beat the odds and get the number one pick.Williams:
No, as far as that's concerned, I've always told our guys these players are going to play the games the right way and whatever happens happens. You can't control those ping pong balls and we certainly don't feel like we deserve anything. We have good problems here in the NBA. If good luck charms work I'd probably send them to Africa or one of the hoods in America, because those people can use them a lot more than I could as an NBA coach. We feel like we have really good problems even when things aren't going well. The worst thing that could happen to me is I could go home and be with my family because I got fired. As far as the organization is concerned, we just felt like we'd try and do things the right way. We've made mistakes along the way, but we have done them with good intentions and we just plan on trying to get better every single day.
Q: Have you had the chance to think about the fact that the lost coin flip was the able you were able to win the lottery and now the flip of a coin is the reason between one and four for you guys.Williams:
Yeah, Dell explained that to me and I hadn't even thought about it because I'm not that bright. So when Dell came in there and told me that was the difference between ten and four as opposed to ten and one, it made everything seem okay. We felt like we were gonna play the game down the stretch the right way; we weren't going to tank, and that's just now how we go about doing our business. And at the same time, you can't control ping pong balls or the coin flip. I'm not even sure how to explain that. I just know that God blessed us and I'll just leave it at that.
Q: Have you taken a moment to think about the journey you've had since December of 2010, when the NBA took this team over in receivership, the uncertainty regarding the ownership, the Chris Paul saga, the 21-45 season, up to this point where you're essentially sitting on top of the world with the number one overall pick. Has that sunk in yet?Williams:
No, I'm not… I think it takes time to allow all that to sink in. I've got a 7:30 flight tomorrow back to New Orleans. I'm pretty sure on the flight I'll have time to address those thoughts, because it's so much to be thankful for. Our city is excited. Our organization is excited. There's so many implications that I probably don't have the capacity to think about, but they're real. When you get that number one pick along with the tenth pick, you go back to that time, and even before then, when I got the job and the GM got fired, and players wanted to be traded, there was some second guessing on my part as to whether I made the right decision, but I was really confident in the vision that Hugh Weber put in place, and tried not to lost sight of that, and I knew that my job wasn't going to change just because people were getting fired. I still had to coach, and I tried to keep that at the forefront for the most part.
Q: You said about ten days ago that one of the things, that you were kind of unsure if Landry and Chris Kaman coming back. With you have that number one pick, and I know you don't want to mention names, do you feel that you addressed that say if you have a big man or are looking at a big man, do you think that, I didn't really hear the answer to Jimmy's question, but at that tenth spot, do you feel that your number one need is getting a big and a guard or what do you feel about that second first round pick as a need? Williams:
The tenth pick? A lot of it depends on who falls to that spot. There could be a guy that's projected to be in the top five, but for whatever reason he falls to the tenth spot. That's happened before. I remember when
Russell Westbrook
was supposed to be like a tenth pick, but he goes up to four, so the guy that's supposed to be fourth drops to tenth; that could happen, so you may have to take the best available player in regards to talent and try to work that guy into your system. I don't want to speculate. Dell and I talked about it briefly. Dell's at times [inaudible] telling everybody it was him, so I may have to go find him later on and bring him back to the hotel, but he and I briefly talked about it, and there's a couple guys we're targeting, but I don't want to say those names right now and risk getting in trouble.
Q: You can't say anything specifically on a player? Williams:
I'm not sure, I don't think so, so I'd rather err on the side of caution rather than cost the organization some money on a night when everybody is excited about the future.
Q: Are you very excited for your fan base and something you said on television tonight about feeling blessed but you know, this has been a trying season, and I don't know if you answered the question earlier on this conference call, but do you feel like say your prayers were answered and what do you feel about I don't know satisfaction about your fan base overcoming these odds to get this number one pick and brighter days ahead so to speak? Williams:
I'm excited for our fans, you know especially those people who hung in there with us. There's a lady [inaudible] says "yay coach" every time I've come out and she's been there every day since I've been there. I'm excited for people like that, I'm excited for the Benson family. I think they bought into the organization without knowing what pick we were gonna have. I'm mindful of all the work that's going to have to be done for us to be a good team. You can't skip those steps. That's what Pop taught me when I was in Portland. Nate taught me not to mess with the game. Those two guys, the lessons I've learned from those guys will help us go forward, but we've got a lot of work to do. No two young guys can help us become a championship team over night. We've got to address a lot of issues, the coaching staff has to get better, and we have to make good decisions going forward.
Q: I know you can't speak for Eric [Gordon], but what kind of sense did you have for his desire to come back before, and do you feel like the way things went down today helped that situation for you guys? Williams:
It's funny because since Eric came to New Orleans, even before he hurt his knee, he always expressed to me that he was comfortable being in New Orleans and he indicated to me that this was the kind of team and the kind of coaching he wanted. So that's all I can go all of. I'm aware of other teams that may make an offer for Eric, but we have the right to match any offer, and we have to feel comfortable with that, but at the same time I'm more comfortable with the fact that Eric wants to be in New Orleans, and I think our fans can find some comfort in that. And then when you get the number one pick, that is an enticement not only to Eric, but to other free agents around the league, who certainly would want to play with a guy like the caliber that number one pick can bring to an organization. I've always felt comfortable that Eric wanted to come back, and now we just have to go through the formalities and numbers and try to work it out.
Q: What message will you give your team? Williams:
Same as always. We defend and play hard. If you don't do that you don't play as much as you'd like to. We can't skip steps, something I learned from Gregg Popovich along the way. We have to be humble enough to prepare and confident enough to perform. We have a ways to go. This is obviously a good step in the right direction.
Q: New ownership, number one pick, what message does this send to the fans? Williams:
Well, I think our fans have been really supportive of our team, under some weird circumstances. And as I said before, we were always in good hands with Commissioner Stern and I think as we move forward, they can commit to our team in a major way now. We're going to be in New Orleans, we have ownership, we have the number one pick. So many things to be thankful for. We are very Blessed to do what we do, and so the message is simple. Let's all do this together. It's going to take a lot of work, but as I said this is a great step in the right direction.
Q: How does it feel to actually know where you're going to be in terms of being in New Orleans, knowing who your owners are and now you have the number one pick? Williams:
Well, regardless of my standing as a coach, I think it's still important to look for help for the organization as a whole. And I think our organization is in a good spot. There was so much up in the air as far as who was going to own the team, whether we would stay in town, and now that all that stuff is out the way, we have the number one and 10th pick, now we just have to work. And that's what we stress from day one, we have a lot of work to do. It's a good feeling, but yet as a coach, I'm already thinking about the steps I have to take to try to put this team into a position where we can be a top four team in the league. And I've always felt once you're in that top four category, you're one or two plays away from being a champion.
Q: How much tape have you gotten to watch of some of the potential draftees? Williams:
I've watched a few guys. I won't lie to you, I'm not well versed in college players because I'm always watching game film, but I've watched a few guys because of our positioning. I've said it before, but I don't see LeBron, I don't see a Tim, but a lot of these guys are younger than Tim was when he came into the league. They have the potential to develop into those guys. It's one of those things where now we know where we're going to be, so we can target the guys we want.
Rich Cho (Charlotte Bobcats General Manager)
Q:
You guys came pretty close tonight. What are your general thoughts?
Cho:
Obviously, everyone wants the number one pick. We know we're going to get a good player at number two. Last time I was with a team that had number two, we were able to get
Kevin Durant
. So, we'll go from here and hopefully find the right player for us.
Q:
When you look at your team and the Draft, what are some of the needs you'd maybe like to fill?
Cho:
We could use depth at every position. We need some size at the point guard spot, with two smaller guys at that position right now. We could use some shooting. We could obviously use more size. But, the main thing is depth at every spot.
Q:
It was a tough year for the organization, but what were some of the positives you saw?
Cho:
We had younger guys who were able to get a lot of playing time, who probably wouldn't have played as much on a better team.
Bismack Biyombo
,
Kemba Walker
and
Byron Mullens
, in particular, were able to see a lot of playing time. That's where they're going to get experience and grow as players.
Q:
In this Draft, will you maybe look for a guy with some more experience at the college level, as opposed to someone like Biyombo, who was so young and raw coming into the league last season?
Cho:
There are different ways to build a team. Draft, free agency, trades. We're going to look to take the best player available. That will be our approach.
Zachary Leonsis, (Washington Wizards, Manager of Business Development/Son of Owner Ted Leonsis)
Q:
How do you feel about the way things turned out tonight?
Leonsis:
I feel great. What's not to like? I mean, we got a top-five pick. It's an unbelievable draft, so I think no matter what, we're going to be able to get a great player.
Q:
Any particular needs you're looking to fill for your team?
Leonsis:
You'll have to ask Ernie (Grunfeld) about that. I'm not the GM.
Adrienne Maloof-Nassif (Sacramento Kings Part-Owner)
Q:
How do you feel about getting the fifth overall pick?
Maloof-Nassif:
Well, I would have liked to have gotten the first pick, but it wasn't in the cards tonight.
Q:
Any particular position you're looking to fill with your pick?
Maloof-Nassif:
We'll have to see. My brothers are kind of running that end of the business, so we'll see what happens?
Q:
So you consider tonight a success?
Maloof-Nassif:
I do
Wesley Matthews (Portland Trailblazers Player)
Q:
What are you overall thoughts? Looks like you'll be able to add two solid players to the mix.
Matthews:
I'm excited about it. It's exciting for the franchise. Of course, everyone wants a top-three pick, but we'll take two. Two pretty high picks in a deep draft is a good thing. We'll be excited to get them into the program, get them to summer league and see what we have.
Q:
You guys are in an interesting position with a lot of really nice pieces, despite a disappointing season.
Matthews:
It was a very frustrating season. We knew what we could do, what we were capable of. We started out the year with so much promise, and we just kind of fell off. We couldn't really put our finger on it. But, it's behind us. Now, we're trying to rebuild, find some pieces. Not necessarily rebuild, but find pieces that fit and will help us.
Q:
What type of players fit into the program in Portland?
Matthews:
We need winners. People who are tough. People who don't like losing. Players who, if they lose a shooting drill, they lose their minds. Guys that play with a lot of heart and are unselfish. Guys that will sacrifice personal stuff for the team.
Bob Myers (Golden State Warriors GM)
Q:
You know it's a success tonight, right?
Meyers:
We hung on. For us, that's a great result, just hanging on. We didn't want to be greedy, although greed enters your mind if you have a chance to go up to one, two, or three. Once we saw Toronto be called, it was all good from there. Keeping the pick, moving up, seeing the result was really good for us. It gives us a lot of options. We have four picks in this draft, which we're really excited about.
Q:
Is it safe to say you guys like this draft given your public stance on wanting to keep this pick?
Meyers:
Yeah, it is safe. I don't think we're alone in that thought. I think the consensus in regards to the draft is that it's a good draft, it's a deep draft, it's a draft that a lot of people want to be in. So I think we're in good shape. It's a position that a lot of people would want to be in. It gives us another great asset, where we can either pick a player, or consolidate, make a trade. It's good for us.
Q:
Are you thinking size, are you thinking backcourt, are you thinking athlete, or are you going to go over that?
Meyers:
Any time you're in this room, it means you didn't make the playoffs, so you have to be careful about drafting for need. For us, we need players. We need players to get us over the hump. So, if there's a great player there, regardless of position, we'll take that player. So, clearly, need is something you keep an eye on, but overall, you draft what you believe as a group is the best player available.
Q:
Some teams worry about adding another young player to the mix. With a coach like
Mark Jackson
, maybe you don't worry as much, the way he develops young players and the way he's shown he does things this year.
Meyers:
I think that's a good point. I think that Mark, the way he relates to players, is great. We had a tough season, and the way he had our players playing every night, in competitive form – he just has a knack for getting them to play for him – and they played. He has a genuinness about him, so, whichever players we pick, it will be about Mark teaching them, developing them, so we're excited.
Chandler Parsons (Houston Rockets Player)
Q:
It was over and done with pretty quick unfortunately. What are your thoughts?
Parsons:
Yeah, it was over quick. It was a great experience and an honor being here, but hopefully this will be the last time we're here. Your fortunes can change in this league fast, so even if you have the 14th pick, you can pick up someone good.
Q:
You guys have done well with 14 the last few years.
Patrick Patterson
I think was 14.
Marcus Morris
was 14, so maybe you'll get a player of that ilk at that spot.
Parsons:
Yeah, there's a lot of talent out there, a lot of great players, and we have a great staff that's doing a lot of research, so I'm very confident that they're going to take the best available player.
Q:
You guys were the highest ranked team that didn't make the playoffs, so there isn't as much of a sense of urgency here, but you always carry that dream that maybe you'll get the top pick.
Parsons:
Yeah, we've barely missed the playoffs the past few years, so it's tough being here, and maybe it will be the last time we're here, but I think we're at a good spot at 14, so maybe we won't have to come back.
Q:
Knowing the coaching staff, what sort of player do you think they'll target? Do you need an athlete, do you need a body, do you need maybe more backcourt help? What sort of thing do you think you guys need?
Parsons:
It all depends on if anybody's traded. Honestly, I like to go out there and play basketball and let them handle that stuff, but I couldn't tell you what position, or anything they're going for.
Q:
Did you expect to play as well as you did this season? Obviously, nothing's really guaranteed for a second rounder, and at the end of the year, you made Second Team All Rookie. Did you expect that?
Parsons:
I've always been confident in my ability, I just didn't know when the opportunity was going to come. We started late, so I had training camp for like three days, and there wasn't a chance to play for two months, so that was a frustrating time. But, right when I got there, I knew I liked my teammates, I knew I could play well. Coach McHale and the coaching staff were awesome, so as I got my feet wet and got my practice in with the guys, I started playing better.
Q:
Coach likes versatility, doesn't he?
Parsons:
He's an old-school guy. He's, "Put your hard hat on and go to work," so he's been unbelievable to play for and I hope I play for him for a long time.