Concluding our evaluation of the players who stood out the most at the Portsmouth Invitational Tournament, we look
Gary McGhee
,
Rick Jackson
,
Ravern Johnson
,
Alex Tyus
and
John Holland
.
-
All-Portsmouth Invitational Tournament, Second-Team
-
All-Portsmouth Invitational Tournament, First-Team
-
PIT Measurements/Athletic Testing Data
-
Official PIT Website
-
DraftExpress Preview
-
Day One Recap
-
Day Two Recap
-
Day Three Recap
Gary McGhee, 6-10, Center, Pitt
Jonathan Givony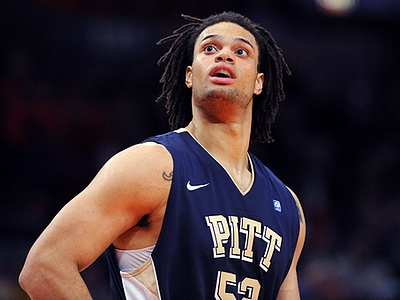 Seeing limited minutes and not doing a great deal to distinguish himself outside of a strong 13 point, 8 rebound outing in the first (and arguably most important) game when the largest amount of NBA eyeballs was present,
Gary McGhee
's future in professional basketball will likely hinge on more than just his performance here.
After all, McGhee was an important cog on one of the best teams in college basketball over the past two seasons, and indeed ranks as
one of the top three per-minute rebounders
amongst all prospects in our latest top-100 rankings.
McGhee's biggest virtue as a NBA player is pretty obvious on first glance—his chiseled 263 pound frame. He stands 6-10 in shoes, with a 7-2 wingspan, and is not afraid to mix things up in the paint, like seemingly all Jamie Dixon-coached players. While not he's not terribly fluid or explosive, he is a mobile player with solid hands and the strength to compete with virtually any NBA big man.
Offensively, he's far from a skilled player, only scoring 12 points per-40 minutes pace-adjusted, the majority of which come from his work off the ball and on the offensive glass. He lacks any real post game or shooting range, converted just 46% of his attempts from the free throw line, and is not someone that you can throw the ball to and ask to make decisions. Watching him workout by himself in a gym, it would be pretty hard to imagine him playing in the NBA.
The good thing is that McGhee seems to understand his limitations and doesn't seem to have an qualms about the type of player he is. His role in the NBA would be pretty much exactly the same as the role he played at Pitt—set bruising screens, crash the offensive glass, finish any opportunities that come his way in the immediate vicinity around the basket, and keep mistakes to a minimum. These are all coveted skills, and are all things he can do fairly effectively.
McGhee turned the ball over only 24 times all season, shows a decent basketball IQ, and made 65% of his (non post-up) attempts around the basket, meaning he's not someone that is going to hurt a team in his minutes on the floor.
Defensively, McGhee is again not someone who is going to wow you with his athleticism or talent. He plays a tough, solid, fundamentally sound blend of defense, being active and aggressive, using his long arms and strong frame to deny position inside and contest shots, and not giving up anything easy. McGhee will block an occasional shot thanks to his timing and intensity-level, but he's not particularly explosive and is somewhat limited when forced to step out on the perimeter and stay in front of an opponent due to his average lateral quickness. He does clean up the glass, as mentioned, at an outstanding rate, indeed being one of
the most prolific players
in this draft class in this category at over 14 boards per-40 minutes pace adjusted.
McGhee is not someone that teams will look at as being a particularly sexy option in this draft, but he is exactly the type of player who could make it as a team's 4th or 5th big man and carve out a long career for himself. He could just as easily go undrafted and find himself in Europe, where his skill-set and bruising style of play might be more appreciated.
Rick Jackson, 6-9, PF/C, Senior, Syracuse
13.1 points, 10.3 rebounds, 2.2 assists, 2.5 blocks, 1.3 steals, 59% FG, 53% FT
Joseph Treutlein
One of the highest profile players in attendance,
Rick Jackson
had just a solid showing at the PIT, mostly affirming the strengths and weaknesses he's shown over the course of his career. He measured out very well, coming in at 6'8.5" without shoes with a solid 7'1" wingspan.
A good rebounder in college, Jackson didn't especially stand out in that department here. He pulled in a solid 8.0 rebounds in 26 minutes per game, but his own numbers weren't helped any by sharing a frontcourt with Old Dominion's
Frank Hassell
, who led the entire tournament in rebounding by a wide margin. Looking to the NBA, Jackson's work on the boards is still his best selling point, but it's worth noting on a per-minute pace-adjusted basis, he was outrebounded by over 20 players in our database this past season.
Looking at the rest of Jackson's game, he does the majority of his work operating with his back-to-the-basket, having a simple repertoire of turnaround jumpers and hook shots that he usually doesn't have much trouble getting off. He finished inconsistently here, and was very inefficient in this area in college, scoring just 0.82 points per shot in back-to-the-basket situations according to Synergy. Looking to the next level where he'd frequently be facing bigger, more athletic opponents, it's hard to see this area of his game translating well.
Where Jackson is at his best is with most of the little things, crashing the offensive glass, finishing off the ball, setting picks, and making passes in the flow of the offense. He's a smart player with good awareness that has developed into more of a hustler as his career has gone on. A strong player with solid hands, Jackson rarely showed problems finishing in traffic in the lane at the college level, though may show more problems in the NBA where he won't stand out athletically.
Defensively, Jackson has most of the same issues other players do coming out of Syracuse's zone, though he posted solid helpside numbers with his 2.5 blocks and 1.3 steals per game, a testament to his activity level. There are certainly questions about how he will deal with perimeter 4's or bruising 5's at the next level given his physical limitations, but he can make up for it somewhat with hustle and smart play.
Looking forward, Jackson brings a solid, well-rounded game to the table, but may not stand out enough with one exceptional skill to find a role in the NBA initially. His work ethic, learning curve, and overall approach to the game are pluses, and it also helps that he'd have to be considered one of the most well-conditioned bigs in the draft considering he averaged more minutes per game than any other big man in our database this past season. He should have a chance to get drafted towards the end of the second round and make a team's roster as a high-energy body, but will likely need to continue developing to find a long-term niche.
Ravern Johnson, 6-6, SG/SF, Senior, Mississippi State
17.6 points, 3.6 rebounds, 1.3 turnovers, 43% FG, 40% 3PT, 78% FT
Joseph Treutlein
One of the best pure shooters in this year's draft class,
Ravern Johnson
had a solid showing at the Portsmouth Invitational, averaging 16.7 points per game on 40% three-point shooting (8-for-20) and 51% overall.
A fairly cut and dry prospect from an NBA perspective, Johnson does one thing extremely well and doesn't consistently contribute much elsewhere, as evidenced by his shallow stat line as a senior. Possessing superb shooting mechanics with a high release and incredibly quick release speed, Johnson is a threat to put the ball in the basket whenever the ball is in his hands.
Capable of scoring equally well moving off the ball or pulling up off one or two dribbles, Johnson has little trouble getting separation and is a good shooter on the move. He's at his best with open spot-up jumpers, something he didn't get many opportunities to do as a senior, which weighed down his overall percentages. According to Synergy, of the 245 halfcourt jump shots Johnson attempted, only 48 of them were of the unguarded catch-and-shoot variety, of which he scored 1.44 points per shot on (compared to 1.02 overall).
Looking to the NBA, Johnson's ability to move off ball and put up quick shots when the ball comes his way could make him an intriguing option as a shooting wing, while his physical profile is solid as well, as he possesses good length and at least average quickness and explosiveness. He still is sporting a very weak build, having little bulk to his frame, weighing in at a ridiculous 170 pounds, barely out-weighing players eight inches shorter than him, but for his style of offense, it doesn't hinder him much.
The biggest question mark for Johnson is what he can contribute when he isn't knocking down shots, as he hasn't shown much throughout his college career. Not a particularly strong passer, rebounder, or slasher, Johnson serves virtually only as a floor spacer when the ball isn't in his hands. Developing more propensity for off-ball cuts and offensive rebounds would be helpful, as he has the athleticism, but would probably require strengthening his frame.
The biggest short-term improvement Johnson could make is really buckling down on defense and putting his length and lateral quickness to good use, something he hasn't done frequently in his career. Showing little commitment to fundamentals and focus overall, Johnson often goes through the motions on this end of the court, which was mostly the case at Portsmouth. Once again, however, any improvements Johnson can make will ultimately be hindered somewhat by his lack of strength, something that will also need to be addressed.
Looking forward, Johnson does one thing extremely well with his shooting, while also having better length and athleticism than most other shooting specialists in the late second round to undrafted range of this draft. His lack of contributions elsewhere may ultimately hold him back, but he could find himself on a roster eventually if a team likes his shooting enough to try and work with the other areas of his game.
Alex Tyus, 6-8, Senior, Forward, Florida
13.7 points, 9.0 rebounds, 1.7 assists, 2.0 TO, 2.0 blocks, 48.6% FG, 83.3% FT
Kyle Nelson
Alex Tyus
has had an interesting college basketball career, in which he declared for the NBA Draft and explored transferring before ultimately returning as senior as one of the essential components of Florida's 2011 NCAA Tournament run.
Tyus has always been an NBA-caliber athlete, possessing elite explosiveness, but is clearly undersized for a big man. He stands just 6'6 ½ without shoes with a wiry 207 pound frame, but has a solid 6'11.5 wingspan which helps compensate somewhat.
Tyus is also as raw as they come at the ripe age of 23, showing very little in terms of skill-level at this juncture. He scored most of his points here around the basket with a host of put-back dunks, alley oops, and acrobatic finishes in transition.
On a team without a true point guard, Tyus had very few plays run for him and his athleticism and aggressiveness were on display as he scrapped around the basket, moved without the ball, and ran the floor well in transition.
His footwork around the basket is very poor and he struggled to finish with his back to the basket in this setting.
Tyus doesn't show much in terms of a face-up game, which will be necessary considering his lack of ideal size for the post. His shooting form still needs considerable work – he releases the ball over his head with a nasty hitch and inconsistent mechanics – but he hit a pair of jump shots in the tournament and shot the ball well from the foul line.
Though he spent most of Portsmouth matched up against post players, he did a solid job of guarding his man inside. Despite his lack of ideal size, he compensated through sheer energy and effort, bodying up his man and altering shots around the basket. He used his athleticism and mobility to his advantage, sticking with big men inside and outside and even showcasing his above average lateral quickness on the few occasions that his man dragged him to the perimeter.
Something that may hurt Tyus in the evaluation process is the fact that he was not a very impressive rebounder over the course of his career, especially not offensively, which is surprising considering how limited his role was. An athletic undersized 4-man like Tyus would have to make a living as a scrappy hustling type, and his numbers don't support that notion.
While Tyus is neither the most productive nor most fundamental player, he certainly helped himself at Portsmouth by shining in a supporting role and by playing with energy despite a lack of touches. His production over the course of his career at Florida was anything but consistent, but he came on very nicely late in the season to help his team make a deep NCAA tournament run.
The NBA may be not be a very realistic goal when it's all said and done given his age, lack of size, unpolished skill-set and limited potential, but Tyus certainly showed scouts that he has much to offer at the professional level and that he could emerge as a legitimate prospect down the line should he continue to improve.
John Holland, 6-5, Senior, Guard/Forward, Boston
15.0 points, 6.3 rebounds, 1.7 assists, 1.7 TO, 1.0 steals, 48.6% FG, 25.0% 3FG, 100% FT
Kyle Nelson
John Holland
put together a very good career at Boston University, ending with an impressive scoring display in a loss against top-ranked Kansas. While Holland was never considered much of a prospect, his performance at Portsmouth established him as an interesting player to watch during the pre-draft process.
Holland has average size for the shooting guard position, standing 6'4 without shoes with a solid 209-pound frame and a 6'8.5 wingspan. While he is just an average athlete overall, he looked both quicker and more explosive than in the past, as his aggressive and scrappy style of play in this setting maximized his athletic potential.
From an offensive standpoint, Holland has quite a few tools to work with and was one of the better scorers in attendance. Though he ultimately shot the ball poorly at Portsmouth, he was a prolific perimeter scorer in college and showed the ability to shoot from a standstill and off of the dribble with NBA range. His mechanics are solid, but sometimes he fails to square his body to the basket and his accuracy falters accordingly. He has been a streaky shooter throughout his career, however, and his 4/16 3FG at Portsmouth was an indication of this inconsistency.
His overall efficiency leaves much to be desired in fact, converting just 43% of his 2-point attempts this season and 33% of his 3-pointers.
Inside of the arc, Holland proved to be a capable scorer, pulling up off of the dribble to knock down mid-range jump shots. His above average first step and ball handling abilities allow him to slash to the basket with relative ease in this setting. He also used his understanding of his strengths and weaknesses to his advantage, as he utilized his strength to back down smaller guards in the post and to assert himself on the offensive boards.
He moved without the ball in his hands, as well, cutting to the basket and establishing good chemistry with point guard
Corey Fisher
. Furthermore, his willingness to scrap for loose balls and offensive rebounds allowed him to score even when his shot was not falling. His overall basketball IQ overall seems good and the aforementioned intangibles are all intriguing coupled with scoring instincts and physical profile.
Holland was solid on defense, showing solid fundamentals while playing with energy and effort throughout. His lateral quickness is just average for his position, but his active hands and scrappiness, allowed him to compensate accordingly. While he is likely not an elite defender at any level, he proved that he will not be a liability and that he is a hard worker on this end of the floor.
John Holland
entered Portsmouth distinctly under-the-radar and left clearly having helped himself. He must still prove himself as a more efficient overall player, but his scoring instincts, effort level, and intangibles were on display in this setting, surely earning him some looks from international scouts.