2:30 PM
Two Final Four tickets will be punched this evening, one of which is guaranteed to go to a member of the Big East. After a pretty disappointing Sweet 16, we're definitely overdue for some very good games. Missouri takes on Connecticut, and Villanova matches up with Pittsburgh.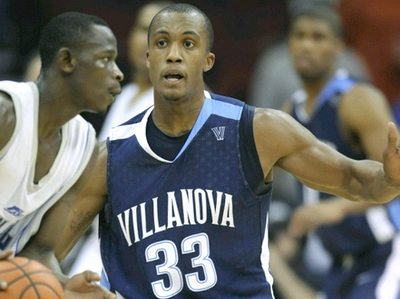 Here is what the schedule looks like for this evening:
#1 Connecticut vs. #3 Missouri, 4:40 PM, Glendale
#1 Pittsburgh vs. #3 Villanova, 7:05 pm, Boston
Questions that will be answered:
-Can
Hasheem Thabeet
have his way inside the paint with Missouri's frontcourt?
-Can
Dante Cunningham
continue his excellent play and minimize the effectiveness of DaJuan Blair on the glass?
3:30
Afternoon Links
•
Five things we learned on Sweet 16 Friday
Luke Winn of SI talks about, amongst many other things, how disappointing the Sweet 16 has been, and like us, hopes for a much more entertaining Elite Eight:
What did we do to deserve such lopsided basketball? On Thursday and Friday we got little redemption for the Cinderella-free first weekend, with Duke, Arizona, Syracuse and Gonzaga all flopping their way out of the dance. At halftime of Syracuse-Oklahoma here at FedEx Forum, folks on press row were examining a box score that showed 'Cuse 0-for-10 from long distance, and all they could do was shake their heads. In the back hallway, there was a telecast of the Louisville-Arizona game on -- by that time a 27-point rout that would only get uglier -- and people walked by that shaking their heads, too. They saw Gonzaga, normally a steady team, commit seven turnovers in the first 15 minutes against North Carolina. And, I at least, saw Matt Bouldin turn away from the free-throw line with 4:34 left in that half, look at the scoreboard, see 47-32, and just say, "F---." It was that kind of night, in all but the Kansas-Michigan State game in Indianapolis. It would only be fair if we received an epic Elite Eight.
•
Jonny Flynn has tough decision to make
Mike Waters of the Syracuse Post Standard caught up with Jonny Flynn after his team was booted out of the tournament by Oklahoma. His quotes this time around were far less emphatic than a week ago.
"I love my teammates," Flynn said. "I'm happy just being a student at Syracuse. That's all I got to say."
As we discussed last week
, Flynn likely got a little too caught up in the moment and got ahead of himself with his comments. While this is a definitely a strong year for point guards, as he'll be competing with a deep group potentially featuring the likes of Ricky Rubio, Brandon Jennings, Ty Lawson, Stephen Curry, Tyreke Evans, Eric Maynor and Jrue Holiday, he's helped his draft stock tremendously with the way he's played this past month, and might want to consider 'striking while the iron is hot.'
•
Austin Daye will consider jump to NBA
Bud Withers of the Seattle Times got some quotes from Austin Daye and his father indicating that they haven't ruled out declaring for the draft.
"It's a possibility," said Darren Daye. "I'm not saying anything right now."

As for what might be the determining factor for his son in the decision, Daye said, "If he were going high enough in the first round, it would make sense."
•
Nic Wise 'Most Likely' Testing the Waters
Steve Rivera of the Tucson Citizen talked to all three of Arizona's top players following their blowout loss to Louisville, and updates us on Nic Wise's thoughts on whether to enter the draft:
Wise said it was too soon after UA's 103-64 loss to Louisville Friday at Lucas Oil Stadium to say what he'll do with his future, but he said he'll "most likely'' test the NBA waters to see where he stands in this summer's draft.

He did say he has options and whoever the next Arizona coach is might be a factor in whether he returns.
•
Sherron Collins: "Strong possibility" of Returning to Kansas
Gary Bedore of the Lawrence Journal-World indicates that Sherron Collins appears to be leaning towards returning to Kansas:
"It's a strong possibility, a real strong possibility," Collins said of returning to KU. "Whatever coach tells me to do, I'm going to do. I'm not in a rush to go. Financially I'm fine. Nothing's hurrying me to go.

"I love this team so much. My roommate, Brady (Morningstar), Cole … I'd rather be around these guys another year. Right now I'm coming back," Collins added.
According to Bedore, Cole Aldrich had nothing definitive to add at this early juncture: ""I have no idea," Aldrich said. "I'm not worried about that right now. It'll take me a good while to get over this one. This hurts."
It looks like Bill Self will play a major role in both players' decision making process.
From the information we've gathered, Aldrich is one of the few first round prospects who does not appear to be dealing with outside sources. His parents have been very resistant about talking to anyone about their son's professional future, although NBA executives we've consulted with do believe there is a possibility he will decide to enter his name in the draft.
•
Trevor Booker will return to Clemson
Paul Strelow of the State informs us that Trevor Booker has released a statement indicating he's decided not to enter his name in this year's draft:
Booker, the Tigers' leading scorer (15.3 points per game) and rebounder (9.7 rpg.), announced Friday he plans to return to Clemson for his senior season, reaching a decision more than a month before the deadline for underclassman to enter the NBA draft.

Toward season's end, the 6-foot-7 power forward from Whitmire said he likely would return if he was not forecasted to be a first-round NBA pick.
But he left the door open after Clemson's first-round NCAA tourney loss to Michigan, suggesting he might need several weeks to reach a conclusion.
On Friday afternoon, he phoned coach Oliver Purnell as well as his mother, Tracey, to confirm his return.
"I'm thinking he feels he has a better chance next year of going in the first round if he stays and works on a few things," Tracey Booker said. "And he's looking forward to playing with his brother."
Booker is likely making the right choice, as he has only recently began to emerge as a serious NBA prospect in the minds of executives we've talked with, and still has plenty of room to improve upon his skill-level. He will likely be scouted very heavily next season and has a chance to solidify himself as a first round pick with an even stronger season. Clemson will lose K.C. Rivers to graduation, which is a big blow. Terrence Oglesby also may not return from what we gather, as his name is being heavily shopped around Europe (especially Italy) as a potential free agent prospect this upcoming summer. Oglesby has a Norwegian passport, which gives him Bosman A status in all European Union countries, and would make him a fairly valuable commodity.
•
Gaudio says that Aminu, Teague should be back
Dino Gaudio continues to openly discuss his thoughts on whether or not Wake Forest's underclassmen will enter this year's draft, in another article released on the Winston-Salem Journal. The head coach thinks that Jeff Teague may put his name in the draft, but will ultimately return, and mentions that Al-Farouq Aminu may not even test the waters. James Johnson is another story, though.
"I feel very comfortable, with the information that they have, that Jeff and Al-Farouq will be back here," Gaudio said. "And I told them after I had my meetings with them and I talked to their parents, 'You think about it this week and get back to me. And whatever you want to do, I'll help you with.'

"I feel very comfortable that Al-Farouq might not even put his name in. I would not be surprised if Jeff looks at it for the experience, and then comes back. Now James, I'm not sure where he's at. I'm not sure where he's at."
•
Expectations weigh on Paul Harris
As we talked about on Thursday, one of the best parts about the NCAA tournament is the added media coverage that comes along with it, which gives us a chance to learn a lot more about what makes many of these players tick.
Jerry Sullivan of the Buffalo News wrote a terrific story about local product Paul Harris, and his struggles living up to the heavy expectations that go along with being a consensus top-10 high school recruit.
Paul Harris was the can't-miss kid. Everywhere he went in Niagara Falls, people told him so. If the NBA hadn't put in a rookie age limit, he might have gone pro straight out of high school. At the least, he would be "one and done," right?

"People would say, 'When you get to the NBA, don't forget me,' " Harris said Thursday in the Syracuse locker room. "One time, a guy said it as he was walking away. I said, 'Wait a minute. What if I don't get to the NBA? Don't you forget about me.' "
•
Like it or not, it's best to pull for B.J. Mullens
A very thought-provoking article from Joe Arnold of the Lancaster Eagle-Gazette reminds NCAA fans not to judge their players too quickly for deciding to jump ship for the NBA.
It's obvious who stands to gain the most out of the situation. Mullens' battle from homelessness and poverty has been well-documented. It's hard to say no to everything when all you've ever known is nothing.

Here's a hypothetical: Mullens stays for another season, gets hurt during a successful NCAA Tournament run and never is the same player again. Ohio State has its national championship, the die-hards are dancing on High Street, and Mullens' value has depreciated faster than a Hummer H3 rolling off the dealer's lot…

…He's seen what can happen to even the most successful of college athletes. Maurice Clarett, now a punchline and pariah in Columbus, was the toast of the town as Ohio State marched to a national championship.

Clarett's poor judgment and choices eventually landed him in a Toledo-area jail for a minimum of three and a half years, but his stunning fall from grace and the swift U-turn Buckeye Nation pulled as Clarett spiraled out of control was striking. His contributions against Miami in 2003 have been eroded; his transgressions magnified.

That's not to say Mullens is following or will follow Clarett down a similar rabbit hole. But it's a part of a bigger picture. At some point, a person must decide what's best for him or her - thousands of unhappy scarlet and gray fans be damned.

Mullens may not be striking when the iron's hot, but lukewarm is better than ice-cold.
--
6:20
At half-time the score is 44-38 UConn in what has been an extremely entertaining game thus far. After an excellent 13-2 start, the Huskies have had some problems with Missouri's press, turning the ball over 10 times.
A.J. Price
looked a bit rattled at times, especially by the terrific defense of J.T. Tiller, as he tried to do too much with the ball, taking bad shots, and clearly showing his well-known limitations as a point guard. He had 4 turnovers in the first 17 minutes, but did score 10 points, mostly on impressive one on one plays.
Kemba Walker
has been huge for UConn off the bench, scoring 9 points and dishing out 4 assists. His ability to gash Missouri's zone right down the middle and either score or find the open man in transition has been a big key, but he's also been able to do quite a bit of damage in the half-court as well. His terrific quickness and ball-handling skills has been very evident on a number of occasions, as has his ability to find the open man off the dribble. We've really gotten a great preview of what to expect next season with
A.J. Price
graduating and Walker taking over the point full-time, and it's impressive to see how much confidence and aggressiveness the New York City native is bringing to the table on such an important stage.
Hasheem Thabeet
was fairly limited in the first half, being able to play just 8 minutes due to foul trouble. He made one surprisingly nice move posting up his man in the half-court early on, but hasn't been much of a factor on either end of the floor otherwise. The incredibly pace of the game and how perimeter oriented Missouri's big men are obviously doesn't suit him at all, and we've seen him get lost off the ball or struggle to guard him man outside of the lane on a few occasions.
Stanley Robinson
continues to show just how impressive an athlete he is, with three big time blocks and a couple of transition baskets.
For Missouri,
DeMarre Carroll
has been very aggressive, taking the ball strong to the basket, making a mid-range jumper, and being as active and energetic as always on defense. He has 8 points and 0 rebounds in 13 minutes of action.
7:55
UConn is the first team to advance to the Final Four, after knocking off Missouri 82-75. They turned the ball over 17 times and didn't shoot the ball well at all from behind the arc (2-12), but managed to advance thanks to the terrific play of
Kemba Walker
and some very strong second half half-court defense.
Walker was clearly the MVP of the game, scoring 23 points in 25 minutes to go along with 5 rebounds, 5 assists and 2 turnovers. He shot 7-9 from the field, with most of those baskets coming right at the rim, after driving to the rim incredibly hard in transition as well as in the half-court. The further we got into the game, the better Walker performed—he made an unbelievable 14-foot bank-shot with 2 minutes to go, and knocked down a slew of important free throws down the stretch. He also played excellent defense and came up with some huge rebounds—truly a complete performance from the freshman. The fact that he was able to alleviate Missouri's pressure and only commit 2 turnovers was possibly the biggest key to this game. Walker is not a very big guy, nor is he a great shooter or scorer, he showed that he has a great feel for the game and huge cojones today, though, which is something NBA teams are surely going to remember down the road.
A.J. Price
had a fairly average second half, finishing the game 6-17 from the field with more turnovers than assists—his second straight underwhelming performance. Any momentum he gained in the first two rounds of the tournament (where he was truly outstanding) has probably been nullified at this point, although he could probably care less since he's going to the Final Four.
Hasheem Thabeet
continued all the same issues that he has all season long, which leave many people skeptical about how his game will translate to the NBA level. His struggled to make clean catches because of his poor hands, lost his balance very easily when needing to make reactive plays, and showed very poor touch and overall offensive skill-level in the few opportunities in which he touched the ball. He was a big factor on the glass as usual, though, managing to grab 6 offensive rebounds on his way to 13 overall, but did not record a single block and for the most part had a very bad game defensively, looking like a fish out of water when needing to step out onto the perimeter.
We're moving onto the Villanova-Pitt game now.
11:00
Villanova advances to the Final Four in an epic finish that may very well go down as one of the best games of this NCAA tournament. Scotty Reynolds scored on a last-second
Tyus Edney
-esqe play that will be replayed over and over again over the next coming years, sending Pitt home disappointed after a phenomenal season.
This Villanova team is really one that the entire country will likely get behind this upcoming week, as they are true underdogs who embody the spirit of college basketball. They are incredibly unselfish, moving the ball around the floor extremely well and executing Jay Wright's innovative half-court offense to perfection. Tonight's game was a total team effort, with 7 players scoring between 5 and 15 points. What makes Villanova so fun to watch is how many different players they have that can step up at any given moment, but with that said, still all have very clear roles that they obviously embrace. Villanova's defense doesn't have a great deal of size, but they make up for it with how hard they play and how organized they are, which helped them outrebound the best offensive rebounding team in college basketball, led by the best offensive rebounder in the country—
DeJuan Blair
—who was held to just two tonight. Jay Wright very well may have earned himself an NBA head coaching position with the way he prepared his team and performed over the last few weeks.
While this was clearly a team effort for Villanova, there is a pretty good chance that
Dante Cunningham
helped his NBA draft stock with his performance in this game, and over the entire NCAA tournament for that matter. Cunningham was a big factor tonight in the low post, establishing deep position in the paint on a number of possessions and doing a great job converting three field goals with a pretty right-handed jump-hook. He showed nice touch on a couple of jump-shots as well, and was a key cog in their terrific ball-movement. He was in foul trouble for a decent part of the game, but was able to stay on the floor regardless by defending Pitt's least dangerous player (often a shooting guard) on a few possessions, as well as by being part of their zone. A player's NBA draft stock is hardly made or broken on a single NCAA tournament performance (especially since he had just a solid, but not overwhelming 14 points and 5 rebounds), but Cunningham is surely benefiting from the added exposure he's getting here in front of high-level NBA decision makers.
Pitt obviously comes away disappointed by the result of this game, but they did get two solid outings from their main NBA draft prospects
DeJuan Blair
and
Sam Young
.
Young was particularly impressive as a scorer, finishing with 28 points on 10-17 shooting from the field, and also adding 7 rebounds. His 0 assists and 5 turnovers definitely stand out in the box-score, though, highlighting one of his bigger weaknesses as a prospect. Young made jump-shots from all over the floor—drilling three 3-pointers (including one huge one with 39 seconds to bring the score to 73-72 Villanova), a ridiculous turnaround from 18 feet, and elsewhere. He utilized his trademark pump-fake and excellent first step to get by his defender in a straight line on a number of occasions, but ran into quite a few problems when forced to dribble the ball more than once, exposing his poor ball-handling skills and turning the ball over excessively in the process. His limitations as a shot-creator remain one of his bigger issues as a draft prospect.
Blair finished this game with a solid 20 points and 10 rebounds, on a perfect 9-9 from the field. He started this game off much like he did on Thursday against Xavier actually, quite lethargically, with just 6 points and 3 rebounds 13 minutes in. A big steal, which he took coast to coast and finished on his own seemed to get him going, though, even if he always seemed to be in danger of getting into foul trouble, which seemed to cause him to play quite tentatively on defense. He gave up deep post position to
Dante Cunningham
on multiple occasions, and was not a factor whatsoever in his off the ball defense. Offensively he was quite a presence for Pitt inside the post, making some solid moves and finishing quite well around the rim (with reverse layups and jump-hooks) when he was able to get the ball—which unfortunately wasn't all that often due to Villanova's tremendous team defense. He did show solid passing skills when doubled teamed, though. Most surprising was the fact that he managed to grab just two offensive rebounds—Villanova clearly made it their goal to limit him in this area, and Blair was unable to establish his will on them. Regardless of how he played in this game, Blair had a tremendous sophomore season and clearly established himself as a strong first round pick thanks to his excellent hustle and rebounding skills.
Tonight's Elite Eight games definitely did not disappoint…