5:45
The four best teams in the NCAA collide tonight in Detroit for one of the most highly anticipated events on the basketball calendar—the Final Four. We'll be here throughout the evening analyzing the whole thing, particularly as it pertains to the NBA draft.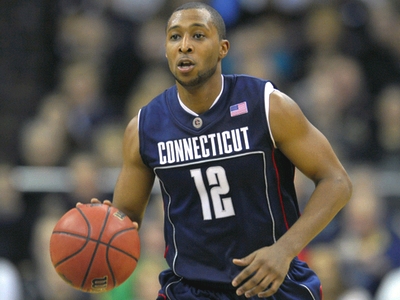 Here is what the schedule looks like for this evening (EST):
6:07 pm #1 Connecticut vs. #2 Michigan State
8:47 pm #1 North Carolina vs. #3 Villanova
Questions that will be answered
-Can
A.J. Price
bounce back from his shooting slump last weekend and find a way to have a strong performance against the pesky defense of Travis Walton?
-Can
Hasheem Thabeet
establish any kind of offensive presence for UConn inside, and will Jim Calhoun allow him to be neutralized by guarding
Goran Suton
out on the perimeter?
-Will either undersized underclassman point guard,
Kalin Lucas
or
Kemba Walker
, pad his NCAA resume with a memorable performance under the bright lights?
-Will
Ty Lawson
continue his ascent up NBA draft boards with another big game tournament game?
-Will
Wayne Ellington
show the toughness and intensity needed to compete with Villanova's feisty guards?
-Who will win the matchup of undersized big men inside—
Tyler Hansbrough
or
Dante Cunningham
—and in turn give their draft stock a boost?
7:00 PM
Evening Links
•
DraftExpress Rumor MillUpdate:
Earl Clark
has officially signed with
Byron Irvin
and Dan Fegan of BEST, according to Fegan himself. This will effectively end Clark's college eligibility at Louisville. The move comes as no surprise, as it was widely expected that he would be leaving follow this season.
-
Cole Aldrich
is returning to Kansas for his junior season, according to a source close to the program.
-
Craig Brackins
is leaving the Iowa State program, according to multiple sources. The coaching staff has already moved on, and is actively looking to replace his scholarship for next season. Brackins is considered highly unlikely to return next season. Some NBA teams we've spoken with have him rated as high as the late lottery.
-
DeJuan Blair
is getting heavy pressure from Pitt's coaching staff to return for another season, but is likely to announce his intentions to enter the NBA draft regardless shortly.
-
B.J. Mullens
has closed the door on his college career by signing with agent Andy Miller, and is already working out in Las Vegas to prepare for his upcoming workouts.
-St. Mary's guard
Patrick Mills
will announce he's declaring for the draft next week, without hiring an agent, according to multiple sources close to the situation.
-
Gerald Henderson
is also expected to announce he's leaving college shortly, and is expected to hire an agent with strong ties to Duke.
•
Jonny Flynn to Test NBA Waters
Adam Benigni of Buffalo TV station WGRZ breaks the big news about Jonny Flynn deciding to throw his name in this year's draft pool.
Rev. William Flynn, Jonny's father, tells 2-On-Your-Side's Adam Benigni that Flynn will in fact work out for NBA scouts and GM's to see where he might fall in the NBA draft. Syracuse coach Jim Boeheim had advised Flynn that would be the smartest course of action moving forward. Flynn had said he wanted to return to Syracuse for his junior season.
Interesting that there are no direct quotes attributed to Flynn or his father. Also it doesn't appear that any mainstream media outlets have picked up on this story. Regardless, Flynn is no dummy—it was obvious that things were going to end this way.
•
Ty Lawson's luck no cause for controversy
An interesting article by Dan Wetzel of Yahoo! Sports about the hypocritical "outrage" caused by Ty Lawson's innocent mention of winning $250 at the craps table in Detroit, and subsequent scalding by NCAA president Myles Brand.
Writing a column about NCAA hypocrisy is the proverbial fish in the barrel. And doing so on Ty Lawson's gambling only furthers the discussion of something that should be ignored. Lawson did nothing wrong. So, in a sense, this column is part of the problem.

Still, our nation's bizarre, inconsistent stance on gambling is always fascinating to witness, especially when enormous bureaucratic organizations are doing the scolding of single individuals.

College basketball games are occasionally played in casinos. Schools regularly hold 50-50 raffles at games. The Final Four is held in cities with casinos – it's not like Detroit's just sprung up overnight. When it's the NCAA or a member institution that could profit from gambling, it's mostly OK.

"You know where I was supposed to stay if my team hadn't come?" Roy Williams said of the coach's hotel here. "Caesar's Palace. The dunk contest last night; who is it sponsored by? A casino."
•
UConn's Thabeet Has Future as Bright as His Smile
•
Reilly: Hasheem Thabeet can't stop smiling
Two great stories about Hasheem Thabeet's fascinating background, one from Thayer Evans of the New York Times, and one from Rick Reilly of ESPN.
•
David Falk Podcast
Syracuse alum and NBA super-agent David Falk (who's book we're currently reading and may review in a few weeks when things slow down) sits down with Brent Axe of the Syracuse Post-Standard to discuss a number of topics, including:
…His appearance at the SU Sports Management Club's Auction Thursday night at the Carrier Dome and his new book, "The Bald Truth". Falk will sign copies of the book at the auction Thursday night.

In light of the news that Jim Boeheim will advise Jonny Flynn to test the NBA Draft waters, I asked Falk about how he would advise Jonny Flynn in this year's draft process. Falk indicated he hopes to chat with Flynn while he is in town. That led to the little nugget that he strongly advised Donte Greene NOT to enter the NBA Draft a year ago as he believed Donte was not a Top 20 pick by any stretch. We all know how that turned out.

Falk had some other great stories to tell including:

*How he signed Michael Jordan.

*Why you always deal directly with the owner when making a big NBA deal.

*His continued heavy involvement with Syracuse University.
•
Xavier Henry wants to go to Kansas, father says
Huge news for Kansas, via Gary Bedore of the Lawrence World-Journal:
"Henry's dad, Carl, said Friday that his son, who asked for a release from his letter-of-intent with the University of Memphis, most definitely wants to be a Jayhawk. I believe what it comes down to is Xavier wants to go to KU," former KU guard Carl Henry said of Xavier, a 6-foot-6 shooting guard from Putnam City (Okla.) High, who is Rivals.com's No. 3-rated player nationally.
If this indeed comes to fruition—and this is about as strong an indication as you can get without him actually signing—then Kansas looks to be in outstanding shape for next season. Cole Aldrich and Sherron Collins are heavily leaning towards returning to school, which would likely make Kansas the favorites to be ranked as the top team in the country in the preseason, at least in our opinion. It would also mean that Lance Stephenson would likely have to find another school—probably St. John's, which can't be anywhere near as attractive.
•
Wayne Ellington: A scout's-eye view
Mike Jensen of the Philadelphia Inquirer delivers an extremely interesting look at Wayne Ellington, through the eyes of an unnamed NBA scout:
This NBA scout makes it clear: He knows Wayne Ellington. He really likes Wayne Ellington. His appraisal of Wayne Ellington isn't personal, it's business.

Keep that in mind when this scout, a veteran guy, the main college scout for his club, says things like, "He's a decent athlete - he's an NBA athlete - but he's not special."

Or when he likens Ellington's sophomore season at North Carolina to horse manure.

Ellington, now a junior guard about to face Villanova in tomorrow night's second NCAA national semifinal, left Episcopal Academy for the Tar Heels with a future pro stamp.

He'd stay at North Carolina for a year, two at most, and take his rightful place in the NBA. It didn't turn out to be that simple. Ellington declared for last year's draft, which you're allowed to do once and return to school if you don't hire an agent. His test of the water?

"He gets exposed," said the scout, who was at the pre-draft camp in Orlando, Fla., last year. "He couldn't get a shot, make a shot, couldn't guard. At the end of Orlando, I told guys, 'I don't think he'll ever play in the NBA.' "

Villanova fans should understand this: That opinion has changed. The scout has seen a better version of Ellington lately.

"He can make shots off the dribble, which is really hard to do," said the scout, who offered his unvarnished opinions on the condition of anonymity. "He's almost better off the dribble. In the Oklahoma game" - the South Regional final - "he took a hard dribble left, took a step-back jumper, a 13-, 14-footer. He's added that. He added some middle parts to his game, to his credit. I think he's played himself into the first round."
•
Roderick Flemings to try NBA
Hawaii combo forward Roderick Flemings will make himself eligible for this upcoming draft without hiring an agent, Brian McInnis of the Star Bulletin reports.
"If I'm not (rated high enough) I can just come back and work on my game some more at Hawaii," Flemings said. "So just put my name in there and see where I'm at. Trying to keep my options open."
It doesn't sound like his coach Bob Nash is too happy about that decision, as he's pretty forthcoming on what Flemings needs to work on:
Hawaii coach Bob Nash, in Detroit for the Final Four, said he had no comment yesterday. But in early March the coach said he thought Flemings would be better served by returning for his senior year to hone his game, then take his best shot at the league.
"The thing that he needs to continue to work and improve upon to reach the next level is his ability to handle the ball, to create his own shot," Nash said then. "I don't see him as being a spot-up shooter. I see him as being more of an athletic kid, so he's gonna have to improve his ability to create his own shot.
"He's going to have to really improve his defensive intensity," the coach added. "He's very capable, but he's gotta be intense. Gotta work on that every single day to get better at that. And just compete every single day, can't take minutes or seconds off. He's gotta compete every time he's on the floor."
Ouch.
If Flemings' name sounds familiar, he was a consensus top-50 high school recruit back in 2005, when he committed to Oklahoma State. He left the school after his freshman season, and transferred to North Texas, where he redshirted but still couldn't become academically ineligible. He spent his sophomore season at a junior college, and then his junior season at Hawaii, bringing him to four schools in four years.
• Thoughts on the NIT tournament
Since DraftExpress is now based out of New York, we thought we'd spend some time last week scouting some of the top talent in that "other" post-season event, the NIT. Unfortunately, the NCAA decided not to even respond to our credential request, which makes this the extent of our NIT coverage for this year. Our apologies to the "student-athletes" participating.
10:40 PM
Michigan State has advanced to the Finals, after thoroughly routing UConn 82-73 in a phenomenal all-around game. Tom Izzo once again prepared his players masterfully for this contest, as his team showed unbelievable patience and smarts executing their half-court, and was just tougher and more active than UConn defensively and on the glass.
The star of this game for the Spartans was clearly
Kalin Lucas
, even if his 21 points, 5 assists and 3 turnovers on 7-15 shooting doesn't quite do justice to how important of a factor he was on the floor tonight. Lucas ran his team's offense with the poise of a 10 year NBA veteran, doing a great job getting everyone involved and keeping mistakes to a minimum, using clock when the situation called for it, and looking more than capable of going out and creating offense on his own when the situation called for.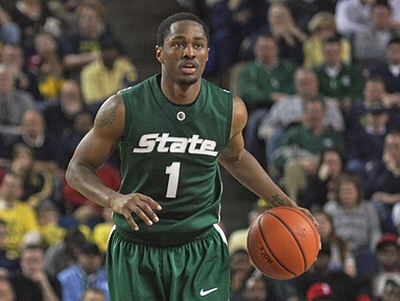 Michigan State had a decided advantage in transition tonight, and much of that had to do with the speed of their sophomore playmaker. He was able to get his team easy points in the form of layups and jumpers when UConn was late getting back on defense, and was also extremely effective in the half-court, particularly with his long-range shooting. Lucas made three 3-pointers in this game, both coming off screens and spotting up on kickouts. His ability to create off the dribble in one on one situations was incredibly important for the Spartans when things broke down, and he showed an extra gear that helped keep UConn's big men at bay when trying to rotate and block his shot.
Defensively, Lucas was solid as always, although he wasn't quite as important on this end of the floor as senior Travis Walton, one of the biggest keys to this win.
Assigned to guard UConn's star point guard
A.J. Price
for most of the night, Walton forced Price into one of the worst shooting games of his college career, at the absolute worst time possible. Rather than try to stay steady in the face of constant pressure and look to get others involved, Price forced the issue terribly in a very selfish manner, taking bad shot after bad shot, and completely exposing his lack of point guard skills in the process. He shot 5-20 from the field on the night and had just 1 assist compared to 2 turnovers, looking especially bad trying to make his way to the basket, where he struggled as usual with his lack of explosiveness finishing at the rim. It was hard to understand why he kept pulling up off the dribble time after time early in the offense with a hand in his face—this was likely a big reason why UConn's half-court offense never appeared to have any type of flow, as everyone was forced to create shots for themselves.
Hasheem Thabeet
really had a very enlightening game from a scouting perspective, illuminating very clearly what his strengths and weaknesses are as a prospect for the next level. He finished with 17 points, 6 rebounds and 2 blocks in 36 minutes, hitting 6-13 shots from the field.
Offensively, Thabeet managed to be far more effective than he's been in any tournament game thus far, with the exception of the Chattanooga contest in the first round. A major target for UConn inside thanks to his far superior size, his 17 points came almost exclusively off layups right at the rim and free throws, except for a small stretch in the second half where he managed to convert two very nice jump-hook shots, one with either hand. He also showed good agility in transition on one possession, converting an and one opportunity. Other than that, Thabeet showed his very obvious limitations on this end, missing the rim completely on two of his attempts, and showing very little touch on many others, often from just a few feet away. He really seemed to be forcing the issue at times, heaving up a couple of bad-looking bricks.
The most evident thing to come out of this game was how much Thabeet dislikes contact around the basket. He was knocked to the floor a good 12-15 times by the much more physical (yet extremely undersized) Spartans, and looked extremely frustrated in turn. His extreme lack of balance has never looked more obvious, as he looked about as clumsy as he has since his freshman year with the amount of time he spent laying on the ground.
A huge key to this game for Michigan State was the way they were able crash the offensive glass (to the tune of 16 offensive rebounds) despite their lack of size and athleticism, and Thabeet was clearly a big factor in this. He was easily boxed out by the likes of
Delvon Roe
,
Goran Suton
and
Raymar Morgan
all night long, being constantly bumped out of position, and only coming up with 3 defensive rebounds in 36 minutes in turn. His inability to go outside his area and come away with loose balls really hurt his team tonight, and it really seemed like he lacked some focus here, even being hit in the face by a potential defensive rebound on one occasion.
Defensively, Thabeet's shot-blocking ability was for the most part neutralized tonight, as Tom Izzo knew how to pull him just far away from the basket to make him a non-factor. He only came up with two blocks, and didn't change anywhere near as many shots as he normally does thanks to his incredible size and length.
There seem to be enough NBA teams in love with Thabeet to not make this one game that much of an issue considering his overall resume. After all, these are all well-known and well-scouted problems that have been on display for the past few years, and the fact that he did manage to score 17 points is clearly a positive development. You can't help but ignore how much he seems to struggle against good teams, though, and it's pretty obvious that there is going to be a huge transition he'll have to make to the size, physicality and athleticism of NBA big men before he's able to be anywhere near as effective a pro as he was a college player. Whoever drafts him will obviously have to be very patient, despite how high he is projected to be picked.
Possibly the most notable performance of this game, from either team, was the incredible outing by UConn forward
Stanley Robinson
, with 15 points, 13 rebounds and 2 blocks. He was a game changer on both ends of the floor with his remarkable athleticism, repeatedly coming up with incredible offensive rebounds from well above the rim, sometimes just hammering home tip-backs in highlight reel fashion. He also managed to knock down a 3-pointer, just his third of the season, a shot he took and knocked down very confidently. Robinson is an incredible asset to have in in-bounds situations, as he's the type of player you can just lob the ball up in the general vicinity of the rim and let him go get it, which he was more than willing to do tonight.
He also played tremendous defense, guarding multiple positions and absolutely smothering whoever he was with his outstanding combination of size, length and lateral quickness. The box-score only gave him two blocks, but it sure seemed like more based on the impact he had on every shot that was taken even remotely in his area. His poor skill-level was fairly evident with the 5 turnovers he committed, as he's not a good ball-handler or decision maker in half-court situations. He's looking more and more like a
Gerald Wallace
type small forward, and if he decides to return next season, could be on the verge of a breakout season.
1:00 AM
North Carolina moves on for a rematch with Michigan State after knocking off Villanova in a pretty lackluster game. The Tar Heels jumped ahead early by scoring 49 points in the first half, and never really got much out of a challenge from Nova in the second as both teams shot the ball poorly. The final score was 83-69. UNC's quartet of
Ty Lawson
,
Wayne Ellington
,
Tyler Hansbrough
and
Danny Green
combined to score 72 points on 11-22 shooting from beyond the arc, while Villanova managed to make a dismal 5 of 27 attempts.
It's hard to pinpoint one standout for North Carolina, but a good place to start would probably be with their point guard
Ty Lawson
. He made a pair of spot-up NBA range 3-pointers, executed his team's offense extremely well with simple and complicated passes, and was tremendous putting pressure on the defense both in transition and in the half-court with his terrific speed and aggressive mentality. Lawson is doing a far better job playing at different speeds this season, and his ability to tippy-toe around the baseline and find the open man off the dribble makes it extremely difficult to help off his teammates. He had an average game defensively tonight, but Villanova was not sharp enough to take advantage of that. Lawson also contributed with a strong 7 rebounds to go along with his 8 assists, 2 steals and 22 points. He did turn the ball over 4 times (more than in all 4 tournament games up until now) and also missed 7 free throws, which is very surprising and hopefully not a sign of things to come on Monday in a close game.
Wayne Ellington
got things started early for North Carolina, and despite cooling off significantly and not making a single field goal over the course of 20 minutes spanning from the middle of the first half to the middle of the second, still managed to finish with 20 points. Ellington was red-hot from beyond the arc, hitting 5-7 attempts from that range, all of which came in spot-up fashion with his feet set and a moment to calibrate. He was extremely aggressive for the most part, making quick, aggressive moves and playing with the typical great confidence we've seen from him over the past few months.
He did not get to the basket at all if we remember correctly, and only attempted a pair of free throws. He looked highly unselfish with the ball in his hands, making a number of extremely intelligent passes with no hesitation right into the teeth of the defense for excellent shot attempts for his teammates. Even the shots he missed tonight were good looks that he would normally convert—and he still shot 50% from the field. Defensively, he had some moments, but seemed to struggle with the physicality of Dwayne Anderson and Reggie Redding at times. He did contribute 9 rebounds and 4 assists to his team, while only turning the ball over twice.
Danny Green
played another simple, yet effective game, knocking down four open spot-up 3-pointers that came in the flow of the offense, to finish with 12 points. With his feet set, Green is absolutely outstanding, but he was unable to convert the shots he attempted off the dribble or on the move tonight. Green as usual contributed a great deal on the defensive end, always getting in a fundamental stance on the perimeter, and not being afraid to sacrifice his body to come up with a charge.
For Villanova, the best player on the floor was likely
Dante Cunningham
, who finished with 12 points and 12 rebounds. He was terrific in the first half knocking down shot after shot from mid-range and crashing the offensive glass, but seemed to cool off quickly in the second and was unable to make shots at quite the same rate as he did earlier. He seemed to struggle putting the ball on the floor or operating with his back to the basket, as Carolina definitely made it their game-plan to crowd him immediately and gave him all kinds of problems with their size and length.