DraftExpress was on hand at the Peterson Events Center this past weekend to take in top ranked Connecticut against #3 Pittsburgh in our latest college road report. In this edition, we take a look at Pitt forwards
DeJuan Blair
and
Sam Young
, as well as UConn prospects
Hasheem Thabeet
,
Kemba Walker
,
A.J. Price
,
Stanley Robinson
, and
Jeff Adrien
.
Hasheem Thabeet, 7'3, Junior, Center, Connecticut
13.6 points, 10.8 rebounds, 4.5 blocks, .5 assists, 1.8 turnovers, 64% FG, 63% FT
We will have a more comprehensive scouting report update on Thabeet coming in future weeks, so these are merely some observations from this game that stood out watching in person
It was truly the tale of two halves for Thabeet, looking like the potential top pick in the first half against Pitt, only to resemble a player a long ways away from contributing in the NBA in the second. This small sample of Thabeet gave a glimpse of how dominant he can potentially become down the road, but also how raw he still is at this point.
The game started with the Huskies looking to establish Thabeet immediately on the offensive end. He ran a number of successful pick and rolls with
A.J. Price
, making tough catches in traffic and finishing around the rim. UConn also got the ball to Thabeet early in the pivot, where he finished with a number of drop steps to the basket. He scored 12 of his 14 points in the first half before disappearing in the second.
Despite the fact he had one of his better offensive halves of the season early on, he still didn't read the defense at all on his finishes around the rim. There were many times in which he was given an opportunity towards his right shoulder and finish, yet he insisted upon going towards his left and finishing with his right hand. Hasheem's passing skills also showed mixed results, where he did a great job of reading the double team on a few possessions and made nice skip passes…only to make a number of downright careless passes later on in the game.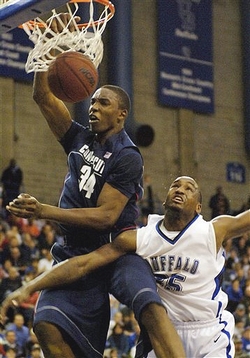 Thabeet's immense size couldn't have been more evident than on the defensive end. He clogs the paint so well with his size and length, providing an impact that does not appear in any box score. Thabeet was quite strong rebounding the ball and has improved his timing on the defensive end considerably, allowing him to block a number of shots this season while staying out of foul trouble. What was most impressive this game was the junior's improving ability to defend the pick and roll, though. While his lateral quickness is quite poor, he finally seems to understand that by merely offering a strong hedge on a ball screen, his length is enough to force the ball handler to loop around him…giving the player who was screened plenty of time to recover. That doesn't mean that Thabeet is an outstanding pick and roll defender by any stretch, but he is definitely not the liability at defending this facet of the game that he was earlier in his career.
The first glaring thing we noticed when observing Thabeet in person was his lack of balance and poor core strength. This was especially glaring on the offensive end when attempting to establish post position on the low blocks. He was easily forced away from the hoop by DaJuan Blair and the slightest amount of contact knocked him off balance and/or sent him to the ground. Unless this improves substantially, he's going to have obvious problems against the stronger centers the league has to offer.
The recurring issues with Thabeet losing focus, his questionable motor, and lack of strength with the ball were all apparent against Pitt. These are issues that are certainly going to have to improve quickly, given that he is a likely top 10 pick and should be heading to a team that will need some sort of contribution from him immediately. Either way, it's hard to imagine another center being picked before Thabeet when draft day rolls around in June.
DeJuan Blair, 6'7, Sophomore, Power Forward, Pittsburgh
15.6 points, 12.4 rebounds, 1.2 assists, 1.4 turnovers, 1.5 steals, 1.0 blocks, 60% FG, 62% FT
We will have a more comprehensive scouting report update on Blair coming in future weeks, so these are merely some observations from this game that stood out watching in person
Blair didn't have quite the showing that he did against Thabeet the first time the two tangled this season, finishing with a pedestrian 8 points, 8 rebounds, and 3 blocks. His performance was enough to frustrate Thabeet immensely in the second half and help his team to a huge victory, though.
Standing within an arm's reach of Blair before the game, it's clear that he's legitimately 6'7 and is not in that bad of shape. He's also quite toned when you see him up close and personal. Blair's shoulders are as broad as anyone's you'll meet, explaining why he is able to take up so much space in the paint when he's posting.
The first thing that really stood out about Blair watching him in person was his ability to set monster screens. This guy flat out lays people out, and seems to take great pleasure in doing so. The Pittsburgh native knocked down a number of UConn players down with his bruising picks, which were not dirty in the least bit. He simply knows how to use his strength and set a solid screen, something that will benefit him quite a bit once he reaches the NBA.
The aforementioned strength also allows him to gain incredibly low position on the pivots, to the point that he can basically work from 7 feet and in. He uses his body to get into defenders and create space, helping compensate for his poor leaping ability. He holds his position on the pivot down low on the defensive end as well, seen by his ability to force Thabeet away from the rim for the majority of the game.
Blair is not a high leaper, but possesses very quick leaping ability. This, combined with his length, is why he is able to get his hands on a number of balls that most players would not be able to, both in terms of rebounds and blocked shots. When you combine this with his outstanding motor, wingspan and strength, it's easy to see why this guy is such an animal on the glass.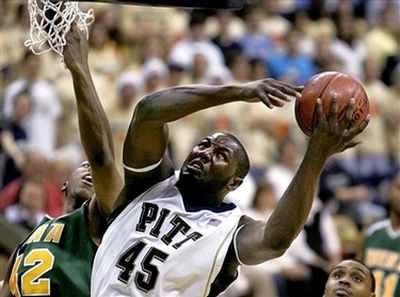 It was clear observing Blair in person that he definitely doesn't move the best laterally when defending players who face the basket. When he picked up a couple of fouls early on, Coach Dixon had Blair defend
Jeff Adrien
, who immediately faced Blair up and beat him off the dribble. Adrien isn't exactly what you'd call the most explosive guy off of the dribble, so imagine what will happen when he's matched up against one of the hybrid power forwards that are becoming more and more common in the NBA today.
From what we're hearing, it's looking likely that Blair gives the NBA a shot this season after a great sophomore campaign. He currently projects as a mid-first round pick, but that could certainly change depending on Pitt's success in the NCAA tournament.
Sam Young, 6'6, Senior, Small Forward, Pittsburgh
18.8 points, 6.2 rebounds, 1.2 assists, 2.4 turnovers, 1.1 steals, .8 blocks, 50% FG, 36% 3PT, 71%FT