KANSAS
-Based on the emails I've been getting, I think I better explain…again…why I have Kansas as a #3 seed before doing anything else.
-For starters, this is not a prediction of Selection Sunday, but a checkpoint of where teams currently stand. I say that every week. With that in mind, here is a list of all the current Top 25 teams Kansas has beaten so far this season.
1….
2….
3….
Notice how it's blank?? Their best wins are against Oklahoma, which was a home game, and on the road against USC from earlier in the year, which they barely won. Their overall schedule strength is 63rd.
Louisville (who is my lowest #2) has beaten Marquette twice, Georgetown, and Notre Dame, all of which are better than Oklahoma and USC. Louisville has also won at Pittsburgh, and was one of just two teams to do so. Three of Louisville's seven losses came when they weren't at full strength, and even though
David Padgett
was back for the game against Cincinnati, his minutes were limited. Since they've had a full, healthy roster they've lost three games, and two of them were on the road at Connecticut and Georgetown by three points or less. Basically, on paper, there is no comparison. Louisville's credentials blow Kansas's away so much that it's not even worth discussing. Everyone else on the #2 line has better credentials as well.
Having said all of that, Kansas is good, and with the Big Twelve Tournament coming up they definitely have a chance to make a case for themselves as a #2 or a #1 seed. I think the Jayhawks are good enough to win that tournament, and if they do, then they'll get a better seed. However, I am not predicting the future when I post brackets. I'm just offering up a checkpoint. If Kansas wants a #2 seed then they'll have to beat someone that's better than Oklahoma in order to get it, and up until now they haven't.
I get this a lot as well…
"Everyone else has Kansas seeded as a #2 or a #1 in their bracket, so you must be wrong!!"
Well, that's wonderful, but I really don't care what everyone else is doing. I don't really look at other sites, but I've been told I've been right before when everyone else was wrong. I certainly don't know why they have Kansas as a #2. I only know why I have them as a #3, and my reasoning is stated above…again.
CONFERENCE TOURNAMENTS
-San Diego upset Gonzaga last night to earn an automatic bid to the NCAA Tournament. I don't know how big of an upset it was because San Diego had been playing really well down the stretch and Gonzaga barely beat them earlier this season when the two squared off in San Diego, but everyone is calling it an upset, so I guess I will too. The WCC will almost assuredly get three teams to the NCAA Tournament because both Gonzaga and Saint Mary's should be receiving at-large bids.
-Middle Tennessee beat South Alabama for the second time this season, but this loss was much more damaging because it eliminated South Alabama from the Sun Belt Tournament. They can still get an at-large bid, and right now I'd have to say they probably will, but they would have been in much better shape had they won tonight. Had they lost in the championship game to Western Kentucky it would have looked much better because they've beaten WKU twice this season, and Western Kentucky appears to be a much better team than Middle Tennessee. Obviously had they won it all it would have been a non-issue. Western Kentucky is the new projected champion from the Sun Belt, but that will be decided for sure tonight.
-Siena blew out Rider in the MAAC Championship. After seeing virtually every game in the tournament go down to the wire leading up to this game, it was sort of surprising to see such a lopsided margin in the championship.
-Elon put up a better fight than I thought they would against Davidson, but Davidson still won without too much trouble. That's good news for the committee because now they won't have to spend time evaluating whether or not Davidson is worthy of an at-large. For that matter, I don't have to either, which is why I'm glad they won.
-William & Mary stayed with George Mason for about a half, but couldn't keep pace in the second half. It was pointed out several times during the broadcast that William & Mary had never been to the NCAA Tournament. While they didn't get to go this year, I'd also be willing to bet that before tonight no one had ever rushed the floor after beating William & Mary. As is customary after winning a conference championship, GMU fans stormed onto the court, although I'm sure W&M doesn't view that as much of a consolation.
-Temple and Ohio State were my last two teams in, but with South Alabama and Gonzaga losing, they've both been removed for now. Obviously a lot will happen as the week goes on and both of those teams will have the opportunity to strengthen their credentials and get back in, but at least by my projections I have them out right now. The new bracket is posted a little further below.
HORIZON LEAGUE CHAMPIONSHIP
-#2. CLEVELAND STATE AT #1. BUTLER (***Automatic Bid***). Butler is in the tournament regardless, but I don't see them getting seeded any higher than a #6 because they really haven't beaten anyone that's solidly in the field. They do have wins against Ohio State, Virginia Tech and Florida State who are bubble teams, but those teams are anything but solidly in the tournament right now. They also have a big win at Southern Illinois, who isn't in the dance, but did play well at home. I actually have Butler in as a #8 in my projections now despite the fact that they're ranked so high. Cleveland State is one of just three teams to beat Butler this year, and they come into this game with quite a bit of momentum, so I wouldn't be too surprised if they pulled the upset. Obviously they need to win this game to make the dance because unlike Butler they're not in a position to get an at-large.
SUN BELT CHAMPIONSHIP
#4. MIDDLE TENNESSEE STATE VS #2. WESTERN KENTUCKY (***Automatic Bid***). Some are saying that Western Kentucky is a bubble team, but to me it appears obvious that they need to win this game in order to make the NCAA Tournament. These two are conference rivals, so it should be fun watching them go at it in the championship game. Western Kentucky won both regular season meetings, but Middle Tennessee did manage to beat South Alabama twice this year. It's hard to say how big the crowd will be since the game is in Mobile. The fact that South Alabama was eliminated could result in sparse attendance. Nevertheless, the winner will be on their way to the NCAA Tournament. WKU is a very talented team and would be a tough first round opponent for whoever they end up facing, but they have to get there first.
SUMMIT LEAGUE CHAMPIONSHIP
-#2. IUPUI VS #1. ORAL ROBERTS. These were the top two teams in the standings, and they split the regular season series, so this is the rubber match with the ultimate prize on the line. I could see Oral Roberts ending up with a #13 seed if they're able to win, whereas the best IUPUI could hope for would probably be a #14. Both games were close during the regular season, so hopefully we'll be in for another thriller tonight. Oral Roberts actually trailed IPFW for most of the game, but kicked it into gear late and ended up winning 58-42. IUPUI jumped out to an early lead against Oakland, and although the game was close at some points, the Jaguars were pretty much in control the whole way.
WAC OPENING ROUND
#9. Louisiana Tech vs #8. San Jose State (winner gets Utah State)
This league has quite a bit of parity at the top, and it should make for a very exciting conference tournament. Neither of these teams are at the top, though, and the winner will have a tough time against Utah State in the quarters.
BIG SKY SEMIFINALS
-#3. Weber State vs #2. Northern Arizona
-#4. Idaho State @ #1. Portland State
Portland State finished first in the standings by a significant margin and won the right to host the tournament. They also went undefeated in league play at home, so I for one like their chances of winning the title. They aren't looking at a very good seed in the NCAA Tournament, but at least they'll be in it.
MEAC OPENING ROUND
-#9. Bethune Cookman vs #8. South Carolina State (winner gets Morgan State)
-#10. Howard vs #7. Coppin State (winner gets Hampton)
The winner of this conference will almost assuredly end up as a #16 seed, and in the unlikely event that one of the teams playing today goes on a streak and wins the title they'll almost assuredly be in the play-in game. Morgan State is the favorite, but the regular season winner has struggled in this tournament in recent years.
-Part two of my Conference Tournament Predictions is posted below the bracket, or by clicking
HERE
.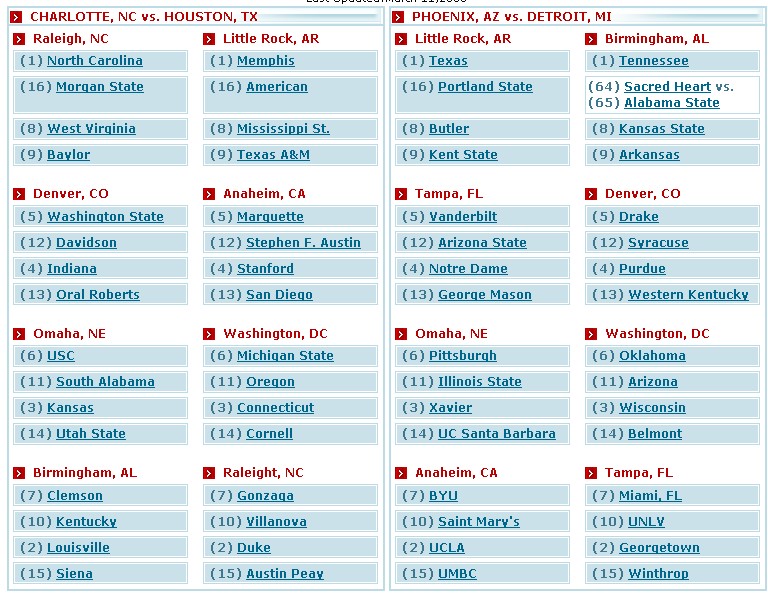 -The committee attempts to avoid rematches in the first two rounds of the tournament, but that is more of a guideline than a rule and sometimes it can't be helped. Louisville and Kentucky could potentially meet in the second round, but I believe in this situation the committee would make it a bigger priority to keep the teams geographically close to home than attempting to avoid a rematch. Kentucky could be switched with UNLV, but Louisville played them this season as well. They could also be switched with Saint Mary's, but that would involve shipping two teams across the country rather than keeping them geographically close.