After detours in Bradenton, Las Vegas and Los Angeles, our next stop on the road took us to Tim Grover's A.T.T.A.C.K. Athletics Training Center in the beautiful city of Chicago, where prospects such as
O.J. Mayo
,
Brandon Rush
,
Chris Douglas-Roberts
,
Bill Walker
,
Jason Thompson
,
Shaun Pruitt
and many others are preparing themselves for private workouts in possibly the most state of the art basketball training facility in America.
This is part one of a two part article.
Players at the spanking new A.T.T.A.C.K. Athletics Training Center have everything you could possibly ask for to help them get better as basketball players, starting from the moment they enter the gym in the morning to the time they leave at night. An incredible 10,000 square foot weight room, an underwater treadmill, a beautiful locker room, car detailing, a kitchen to prepare nutritious meals, a video room powered by Synergy Sports technology, bedrooms for a quick nap, a room where players can bring their barber and get their hair cut, massage tables, hot and cold tubs, a lounge with computers, internet access, a 110 inch high-definition TV, Playstations, and comfortable couches—the goal is to not give players any reason not to stick around all day and work with the phenomenal staff of trainers—Tim Grover, Mike Procopio, Greg Ryan and Rod Baker, or in their words, create a "total basketball factory."
Exclusive DraftExpress Footage of Procopio (light blue) and Grover (dark blue) at work with O.J. Mayo, Bill Walker, Chris Douglas-Roberts and DaJuan Wagner:
The first player we saw as we entered the gym was none other than a very sleek-looking
Dwyane Wade
, here to get an intense workout in (using FIBA basketballs) with Tim Grover before heading off to New Jersey later that day to help the Miami Heat secure the #2 pick in the NBA draft. Later on, other NBA players like
Bobby Simmons
,
Antoine Walker
,
Andre Brown
and
Dajuan Wagner
stopped in for their own personal skills and conditioning workouts, and also joined in for the five on five games, which is a big plus for those here trying to see what it takes to reach the next level.
The workouts consist of a great deal of individual instruction, tailor-made by position to what each player will need in order to maximize himself at the NBA level. Passing skills, shot-creating tools, off the ball movement, utilizing screens, pick and rolls, crafty finishing tools, floaters, pivots, step-throughs, jabs, fakes, ball-handling drills, lateral movement, understanding spacing and of course a great deal of shooting—off curls, catch and shoot 3-pointers, one dribble pull-ups going left or right, utilizing the glass effectively, turnarounds in the post and much much more.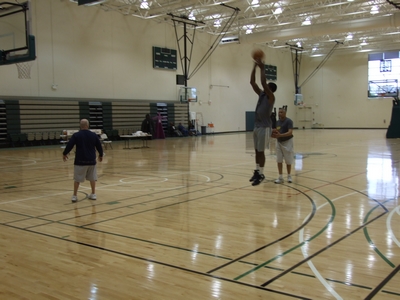 The degree of difficulty of many of the drills is extremely high—the players are really being challenged here to add new things to their game, and a huge emphasis is put on proper technique and understanding of where shots will come from, while Grover, Procopio and Baker are not afraid to stop the drill and correct a player while tapping into their extensive knowledge and experience of NBA and collegiate basketball. There is no question that the players have a great deal of respect for them, and you're not going to find any sugar-coating going on here about what they need to work on.
O.J. Mayo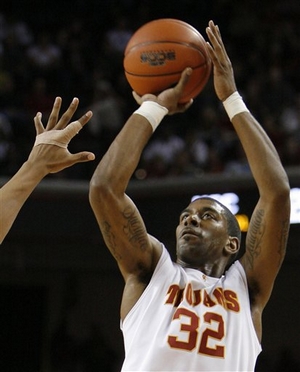 Mayo's workout was built by Grover and Procopio off the role he will play in the NBA, and is reinforced by a lot of Synergy Sports Technology footage of some of the great players in the NBA that he can learn from. While it didn't tell us everything we need to know about the type of NBA player he'll become, it was highly informative.
"We're trying to get O.J. comfortable using things he'll need to have in his game at a couple of different positions," told us the man who did possibly the most work with him over the two days we spent in Chicago, former Boston Celtics scout Mike Procopio. "O.J. is going to play a lot of point guard in the NBA—so we're working on scoring off pick and rolls, isolations, post-ups, cutting to the basket—taking advantage of his size and athleticism. In my opinion he'll be somewhere in between
Chauncey Billups
and
Gary Payton
. We're trying to work with him on the type of shots he'll be able to take on the court, and the situations he'll be put in."
The first thing that stands out about Mayo in this setting is just how smooth and instinctive a scorer and overall player he is. Everything he does is extremely effortless—his footwork, balance, body control and ability to create separation from his defender and create a shot for himself is already at an NBA level already.
During the season we noted that Mayo will need to learn the crafty tricks of the trade that all the great scorers in the NBA have in order to increase their efficiency and adapt themselves to the incredible speed, strength, length and agility that their defenders will possess to contest every shot they take.
That's exactly what he's working on here—we saw a great deal of emphasis put on utilizing the superior spacing (due to the much farther 3-point line) that NBA perimeter players enjoy as opposed to college in the mid-range area. Pull-up jumpers, fade-aways, floaters, high pick and rolls, jabs and shot-fakes in Iso situations, scoring over the top of top of outstretched defenders (thanks to the assistance of 7-foot dummies the trainers use in their drills), taking contact and finishing, and other tools Mayo will need to develop into the go-to scoring option his potential says he can become in the NBA.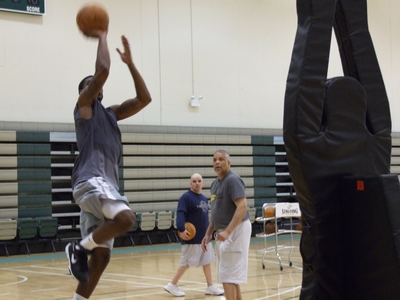 Most notable was the fluidity in which he executes his step-back and pull-up moves, particularly the agility and power in which he glides around with his sharp cuts, hops and strides to create space for himself on different parts of the floor, showing very little wasted movement and looking absolutely natural and incredibly confident executing very difficult sequences that will make him extremely difficult to defend at the next level. Already an instinctive player with an excellent feel for the game, Mayo is only being given more weapons to work with by the instructors here, as well as sharpening up the ones he already has. For a guy who struggled in his only season of college basketball at times with being able to consistently get to the free throw line and create high percentage shots for himself, this is extremely important.
"We have the honor of using Synergy Sports Technology, which as you know, is the best program that exists in basketball. We'll show him different moves players use in the NBA, whether it's a
Chauncey Billups
, a
Chris Paul
or a
Tony Parker
. 30 minutes after the drill is over, he'll have a DVD in his hand that reinforces the things we are teaching here so he can see how they are utilized in real life. It's easier when they see players do it. I love it, because our pre-draft training is going on when the playoffs are on, so they'll see a lot of the things we're doing the night before."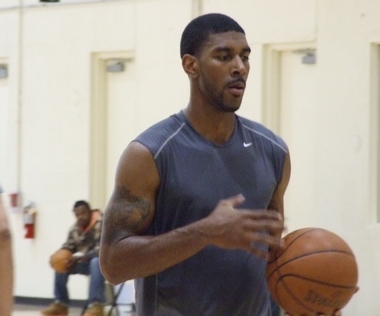 One thing that definitely stands out about Mayo is just how hard he is working right now, something that has probably gotten a lot more difficult lately with all the distractions surrounding his choice of agents and his relationship with Rodney Guillory. He was the first player in the gym when we arrived for the second day of our visit. There was no question that we were watching a player with a supreme work ethic, which becomes most noticeable when you take a look at the way he shoots the ball—showing outstanding mechanics that are identical every time, with terrific footwork, balance and arc on his shot, setting his feet instantaneously as soon as he catches the ball, and never looking rattled even when he has a man in his face heavily contesting his shot. Clearly this is the best part of his game at the moment
Mayo's competitiveness stood out the most when it was time for the NBA players and some of the lesser known prospects to go head to head in a five on five matchup. These types of games are usually not supposed to involved guys like Mayo (often for the fear of injury), but he refused to take no for an answer. "Juice, what the hell do you think you're doing?" Tim Grover asked him. Mayo pretended not to hear him, and proceeded to show off his playmaking skills and unselfishness by pushing the ball up the floor repeatedly, making some great drive and dish plays, and throwing a number of alleyoop lobs to his old running mate
Bill Walker
. He played great defense on
Jeremy Pargo
, not giving him an inch to breathe and absolutely shutting him down, but the fact that he had just completed a grueling workout in the weight room left him with almost no legs to finish his plays around the basket. Grover pulled him out after the first game was over, and Mayo looked visibly upset by the fact that his team lost.
"He pushes himself as much as any player I've seen" Mike Procopio noted. I've never seen a guy who is more focused than him. I feel bad for the guys who will have to work out against him. He reminds me of Clubber Lang [played by Mr. T] in Rocky 3 with the way he trained for that fight against Rocky. Rocky was in the disco having fun, and Clubber Lang was in some hole in the wall doing chin-ups. The guy is a nut when it comes to working out. You can see it in his eyes, he wants to be great. He'll spend all day doing something until he gets it right. The kid cannot fail. He will not fail. He's fearless. Some kids listen to the crowd around them, who tell them how good they are. They live on the hype. They live off the rankings of the scouting services around the country. He doesn't. He wants to rip your heart out, serve it to you on a plate, and then do it again. The kid is a killer, he's a total killer on the court. He'll be a special player."
Tomorrow:
Bill Walker
,
Chris Douglas-Roberts
,
Brandon Rush
,
Jason Thompson
,
Shaun Pruitt
.