When you search for
Demar DeRozan
on YouTube there are 93 results; not bad for a kid who has yet to suit up for his first college game. Of course when you're 18-years old and can dunk at eye level with the rim, chances are in this day and age of camera phones, someone is going to get you in action.
"It's crazy because sometimes I forget how many people record the stuff that I do," says DeRozan. "If I forget a dunk that I did, I can always go back and watch it."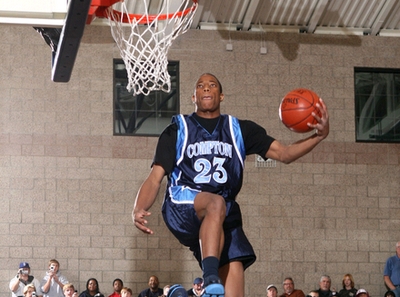 Don't take the occasional self-interest the USC freshman shows to be cockiness, quite the contrary. DeRozan is simply an individual still growing into his newfound celebrity. While the 6'7" athletic phenom was the big man on campus six months ago at Compton High School in California, he is still adjusting to being recognized on a national scale; a task that USC assistant basketball coach Bob Cantu says the youngster is handling well.
"He's really been great," says Cantu. "Demar always has a smile on his face, he's well liked by everyone in the program, and he's very humble. He's enjoying this experience so far."
DeRozan arrived on campus in mid-August as the most heralded member of the Trojan's recruiting class this season. A high flying, scoring machine at the high school level, he earned All-American honors as a prep player and was rated as a top-10 player
by every major scouting service
in the country.
While taking the floor as a blue chip prospect brings with it more than enough pressure, DeRozan has the added stress of stepping into the void left behind by
O.J. Mayo
, the third overall pick in June's NBA Draft. Mayo, who was a better known prospect when he arrived in Los Angeles last year, proved to be a big time scorer (20.7 ppg), though often while dominating the basketball. The Trojan coaching staff is aware of the obvious comparisons between the two former prep stars, but sees a difference in their games.
"In regards to star power, yes there is a similarity," says Cantu. "Demar is his own person and they have different games. I think he's capable of scoring 20 a game, but he gets his points in different ways, he's very good playing off the ball."
DeRozan says he often laughs about all of the "O.J. talk".
"I don't really look at it as pressure," he says. "I look at it as an opportunity to come in and help my team more, I'm just going to give everything I can to the team."
What DeRozan gives is a package of talent and athleticism that may not be matched in this freshman class. Blessed with the size and explosiveness to be a dominant perimeter player in college, he also brings a developing skill set that can develop into a lethal threat at the NCAA level in time. DeRozan scored 29 points in USC's intrasquad scrimmage a couple of weeks ago, and while a flurry of dunks had the student body talking, it was the freshman's poise that impressed the coaches.
"He's a gamer, a guy who really steps up," Cantu says. "Demar is a scorer, yes, but he's such a team oriented guy. He doesn't force his shots, but gets them in the flow of the offense."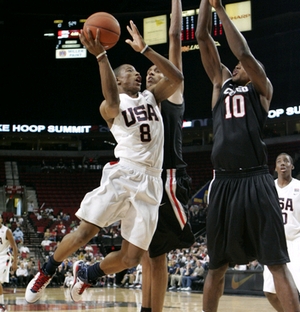 The Trojans have scoring, there is no question, with the return of veterans
Taj Gibson
and
Daniel Hackett
. With such a solid lineup, DeRozan may not be needed to score 20 every game, as Mayo was often looked to do last season. Despite that, what head coach Tim Floyd is expecting of his new star freshman, may come as a surprise, at least to those outside of the program.
"Defense, that's all he stresses of me is defense," says DeRozan.
Ultimately, the biggest question facing USC's newest basketball star won't have to do with what he can bring to the program, but rather, how long he intends to stay with it. Already projected as a lottery pick in nearly every mock 2009 NBA Draft, even his coaches can't deny that the guard is an NBA talent. Bob Cantu has already said that DeRozan is everything that scouts look for in a pro player.
DeRozan says he has no clue if he would have made the jump to the pros straight from high school were there no age rule in the NBA, but he knows for certain that thoughts of a multi-million dollar contract can wait until after March. One of his first orders of business when he arrived on campus was to sit down with Tim Floyd and put the NBA talk to rest for now.
"I went to Coach Floyd, with all of this hype going on, to tell him I'm not thinking about that," says DeRozan. "I'm focused on this team and this season. We have an understanding that I'm giving my all to USC basketball while I'm here, whether it's one, two, three or four years. We got an understanding with that before practice started."
Still, regardless of whether DeRozan is thinking about it, the draft talk will follow him. The USC coaching staff, having already dealt with a one-and-done player in Mayo, says that signing a player of that caliber is worth the risk. Bob Cantu harped on the fact that when a team knows there is a likelihood of losing a player early, it allows the team to prepare for it in advance by recruiting at that players position. The positives of signing these short lived talents may actually outweigh the negatives.
"
O.J. Mayo
opened the door for Demar," Cantu says. "If O.J. can come across the country to play basketball, why can't Demar stay home to play? These guys can attract future NBA talent to the program."
Of course having a head coach like Tim Floyd with years of NBA experience doesn't hurt the recruiting process either. It proved to be one of the biggest reasons behind DeRozan's decision to choose cardinal and gold over many other prestigious programs like North Carolina and UCLA.
"With a coach like that, who has years of experience in the NBA, to bring that to the college level, you really don't find a lot of coaches out there with that kind of experience," says DeRozan. "I thought it was a great opportunity for me to play for him."
Now, with all of the talk and the expectations, all that is left for DeRozan to do is take the floor at the Galen Center for his first collegiate game. He'll get the opportunity to do so on November 15th against UC Irvine, a game DeRozan has been waiting months to play.
"USC has made it to the tournament the last three years, and I just want to give a great push this year," says DeRozan.
With his help, the Trojans will be able to make it four.