1st Team
Jose Juan Barea
Rodney Stuckey
Marco Belinelli
Paul Millsap
LaMarcus Aldridge
Jose Juan Barea, 5-11, Point Guard, Dallas Mavericks, 1984
14.8 points, 6.4 assists, 1.8 turnovers, 2.8 rebounds, 53% FG, 40% 3P, 25.6 minutes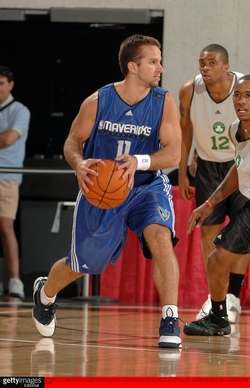 Leading his team to a perfect 7-0 record over the Vegas and Rocky Mountain Revue Summer Leagues, showing outstanding leadership skills an impressive skill-set throughout,
Jose Juan Barea
might have been the MVP of our two week trip.
A waterbug point guard with incredibly pure playmaking ability, Barea made his teammates better every time he was out on the floor. His team ran pick and roll plays ad nauseam nearly every possession down the floor, and Barea again and again made the correct read to pick apart the defense and either find the open man in a variety of ways or put the ball in the basket himself. When he wasn't executing plays in the half-court, Barea was usually pushing the ball up the floor intelligently. His feel for the game is what really sets him apart from the pack, and as he gains more experience playing at the NBA level, that should begin to shine through more in the "real" games as well.
Barea's combination of quickness and outstanding ball-handling skills allow him to get into the lane almost whenever he pleases at this level. He showed great body control and an excellent knack for getting his shot off above the outstretched arms of a rotating defender with a floater or crafty layup with either hand, to compensate for his lack of size. Barea is a shifty guy with outstanding footwork who loves to use a wide of array of fakes and hesitation moves to keep his man off balance. If given a little bit of breathing room, he is more than happy to pull up off the dribble to release a high arcing mid-range jumper.
Possibly the best sign to come out of what we saw in Las Vegas and Salt Lake City was the way he's improved his outside shooting. Just a 29% 3-point shooter from NCAA range his senior season, Barea went 8-20 (40%) from beyond the NBA 3-point line in 7 games. His shooting mechanics are much better than we remember from a year ago, and he's clearly worked on his range and consistency with the very highly regarded Dallas coaching staff. Becoming a true dead-eye shooter will be huge as far as his career is concerned, and will make the unfair
Steve Nash
comparisons we kept hearing that much more plausible.
As far as weaknesses are concerned, Barea will always be undersized with very short arms—he measured out at just 5-10 ¾ at the Portsmouth Invitational Tournament, with an identical wingspan. That hurts him on the defensive end of the floor against the bigger point guards many teams sport on their roster, making it easier for them to see the floor over him or get their shot off. To his credit, Barea has gotten stronger to help compensate, but still isn't fundamentally sound enough with his footwork to avoid being considered a liability defensively at the NBA level.
Offensively, he's a throwback, for better or for worse-- a very dominant ball-handler, which doesn't quite suit playing next to many NBA guards who aren't as good playing off the ball as they are on it (such as
Jason Terry
,
Devin Harris
and
Jerry Stackhouse
for example). His shooting—although improved—could still stand to improve as well.
All in all, there is a place in the NBA for a point guard like
Jose Juan Barea
. Based off what he showed in the summer league, he is ready to get solid playing time as a backup, as early as this year. As he continues to improve his shooting range and hopefully becomes a better one on one defender, he could even become a starting point guard down the road. It didn't take much for FC Barcelona's General Manager Zoran Savic to drop a cool one million dollar (net) offer on Barea's agent after watching him play in person in Las Vegas, but it's highly unlikely that the Puerto Rican playmaker will be dishing out assists anywhere else but the NBA anytime soon.
---
Rodney Stuckey, 6-5, Point Guard/Shooting Guard, Detroit Pistons, 1986
19 points, 4.0 rebounds, 2.6 assists, 2.8 turnovers, 1.2 steals, 46.4% FG, 33.3% 3P, 90% FT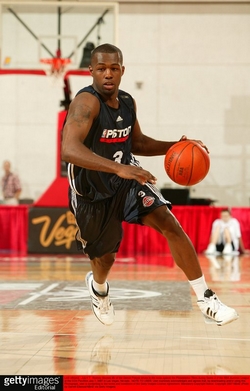 Showing impressive poise for a rookie at both guard positions,
Rodney Stuckey
got a great run in at the Vegas Summer League and looks well ahead of schedule relative to what we expected from him.
A combo guard from a low-major school who was expected to be Mr. Everything for Eastern Washington, it was quite surprising to see the patience he showed running Detroit's offense at the point guard spot.
Stuckey made good decisions for the most part in the half-court set, looking to execute the plays relayed to him from the sidelines and not having any problem at all feeding his teammates--particularly
Jason Maxiell
in the post. He took what the defenses gave him on pick and roll plays and did not get flustered when trapped/double-teamed at the top of the key. Stuckey didn't get caught up in the type of stubborn over-dribbling that we typically see from mid-major combo guards, which is a great sign as far as his future development within Detroit's offense is concerned.
Stuckey's fantastic first step (going both left and right) combined with his fearlessness and excellent strength give him immediate solutions to almost anything thrown his way—he'd often for example just split the traps right through the middle and make his way straight to the basket. He turns the corner incredibly well and got into the paint repeatedly in the games we saw, doing a great job finishing in traffic with contact, thanks in large part to his excellent body control.
Stuckey's ball-handling skills aren't polished enough at this point for him to make these type of forays into the paint with any kind of consistency at the NBA level, but as he continues to work on his game, this could become a major weapon that the Pistons are sorely lacking at the moment. Showing the raw ability to lower his shoulder and use his body to create space from his defender at such a young age (not a common thing) has to get the Pistons coaching staff excited about what they see from him.
Playing off the ball, Stuckey showed some nice potential as well in some of the moves he made. He doesn't seem to have a problem moving without the basketball, and was rewarded on a number of occasions with an easy basket after a strong cut to the hoop.
He likes to pull-up off the dribble for a very smooth looking mid-range jumper (with range out to the college 3-point line), and is also capable of finishing in the paint with a pretty high-arcing floater. It will take time and repetition to increase the range of his jump-shot out to the NBA 3-point line, but based on his touch and shooting mechanics, that doesn't look like an impossible task.
Defensively, Stuckey has great physical tools and competes pretty hard on top of that, but he'll look pretty clueless at times getting caught underneath screens for example or gambling for a steal. His learning curve on this end of the floor could very well be the deciding factor in how much he ends up playing in his rookie season under the defensive-minded Flip Saunders.
---
Marco Belinelli, 6-5, Shooting Guard, Golden State Warriors, 1986
22.8 points, 1.8 rebounds, 2.5 assists, 2.25 turnovers, 43.6% FG, 44.4% 3P, 37.2 minutes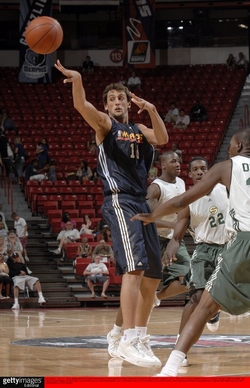 Marco Belinelli gave the Golden State Warriors plenty to think about with the offensive display he put on during the Summer League. Excluding his awful 0-9 3-point shooting night against
Kevin Durant
in his last game of the summer league, Belinelli shot a ridiculous 12-18 (66%) from behind the 3-point line in his first three games, showing absolutely no problem whatsoever making the transition to NBA range and converting most of his attempts in extremely difficult fashion.
Belinelli's first game was his most impressive. For that matter, it might have been the most impressive performance of the entire summer league. He scored 37 points on 14-20 shooting, and did it in every way imaginable—coming off screens, pulling up in transition, going to the basket after a pump-fake, and more. He takes and makes incredibly difficult looks with a quick, fluid flick of the wrist, exuding confidence and even arrogance as he drains shot after shot from well beyond the NBA arc. A volume shooter through and through, he is going to fit in perfectly into
Don Nelson
's system in that regard already starting next year.
Belinelli has a quick first step and pretty solid ball-handling skills. In Italy he was criticized for not making enough use of it at times, preferring to settle for step-back fadeaways instead of taking the ball to the basket and getting to the free throw line. Here in Vegas he showed more of an inclination to put his physical tools to use, going to the line 16 times in 4 contests. The advanced way in which he uses shot-fakes helps him out greatly in this regard, as once he establishes the credibility of his shot it's extremely ease for him to get his defender off balance just by threatening to hoist up a jumper. NBA defenders will likely learn to force him to put the ball on the floor eventually, because his percentages drop significantly when he's pulling up off the dribble rather than spotting up or coming off a curl.
On the negative side, Belinelli's shot-selection ranges from questionable to baffling depending on how easily his looks are falling on any given night. When he's on, he's incredible, but when he's off, he's just terrible. We saw both sides of the coin in this regard in Vegas, and it will be interesting to see how his confidence (as well as the confidence of his coaching staff in him) holds up as the NBA season moves on.
Defensively, Belinelli is going to struggle, plain and simple. His lack of strength is something that opposing coaches are going to want to take advantage of, and you could already see the way he was targeted on ISO situations on the perimeter in Vegas due to his lackadaisical footwork. It would have been nice to see Belinelli make more of an effort to stand out in some other parts of the game besides his shooting as well, as 1.8 rebounds per game in 37 minutes is terrible regardless of the position he plays. At any rate, Belinelli fell into the perfect situation as far as he's concerned in regards to highlighting his strengths and minimizing his weaknesses. There should be plenty of touches for him as well next season.
---
Paul Millsap, 6-8, Power Forward, Utah Jazz, 1985
17.2 points, 8.6 rebounds, 1.6 assists, 2.4 turnovers, 1.4 blocks, 61% FG, 50% 3P, 82% FT, 25 minutes per game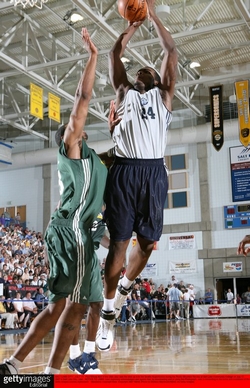 Paul Millsap was arguably the most impressive player seen at any of the Summer Leagues this year, but there is no arguing in our mind the fact that what he showed is going to translate over to the NBA better than anyone.

Millsap was simply on another level compared to every other big guy he matched up against, terrorizing his way to 17.2 points in 25 minutes per game on a fantastic 61% from the field. He can create offense for himself both with his back to the basket as well as facing it, making smart decisions regardless of always taking what the defense gives him.

With his back to the basket, Millsap was just a man amongst boys at this level. He clears players out of his way dismissively with the flick of his wrist and then scores on them shamelessly. His touch is fantastic around the rim, and he has a few simple, but very effective moves that work for him without fail because of how patient he is with the ball in his hands. Within five feet or so around the basket, you'll very rarely see Millsap miss. He doesn't jump very high, but his body control is so good that he usually doesn't have a problem just guiding the ball into the basket with his massive paws. A more advanced move he appears to be working on is the turnaround jump-shot, and from what we can tell, it's coming around quite nicely.

Facing the hoop, Millsap can put the ball on the floor fairly well for a player his size. He spins into the paint in controlled fashion with a clear understanding of where he's at on the floor. If his man gives him space, he can knock down a mid-range jumper, or even an NBA 3-pointer as he showed on one occasion—which just happened to be a shot that sent the game to overtime. As the week went on he even showed some advanced moves as well, for example pulling up off the dribble from mid-range or conducting an impressive step-back move from 16 feet. We scouted Millsap extensively at the college level and were as high as anyone on him (as you can read in his scouting report), but we never imagined him becoming this good this quick.

Millsap led the NCAA in rebounding in all three seasons he spent in college—so it's not really a shock to see him "develop" into a phenomenal rebounder in the pros as well. That doesn't make it any less fun to watch in person, though. Millsap uses his body incredibly well to box his man out and has phenomenal instincts and impeccable timing using his limited vertical leap to get the loose ball. He measured out at just 6-7 ¼ at the Orlando Pre-Draft Camp last year, but has a 7-1 ½ wingspan at his disposal to help compensate for that. His hands are phenomenal, which helps him come up with plenty of loose change around the basket in the form of tip-ins or put-backs. The fact that he never ever gives up on a play doesn't hurt him either. Millsap might have some kind of magnet for leather on his hands or something of that nature, because the ball has a knack for constantly ending up in his hands regardless of the situation. You'd think it might be luck, but it's been happening his entire life now.

Defensively, Millsap is solid, as he competes very hard and uses his length extremely well to contain his man from getting good shots off. He also knows how to use his strength to keep his matchup away from the basket, and has the toughness needed to make his presence felt. His lateral quickness isn't off the charts guarding the perimeter, and this leaves him a bit vulnerable to big guys who like to face up and have the skill-set to do so.

One negative we can clearly point out revolves around his passing. Millsap is a bit of a black hole once he gets the ball, but even when he wants to find the open man, he just isn't very good at doing so. As positive as we might sound about how well Millsap beat up on the mostly undrafted players that were thrown his way at the Rocky Mountain Revue, his upside is still a bit limited. He's 6-7, not particularly athletic, and has just an average skill-set offensively as far as his position in the NBA is concerned. With that said, Millsap works as hard anyone you'll find on the glass and is in an absolutely perfect situation in terms of his playing style with Utah. Considering where he was picked (#47 in a weak draft), the Jazz got an incredible steal.
---
LaMarcus Aldridge, 6-11, Power Forward/Center, 1985
21 points, 11 rebounds, 3 blocks, 0.5 assists, 2.5 turnovers, 58.6% FG, 72.7% FT, 34 minutes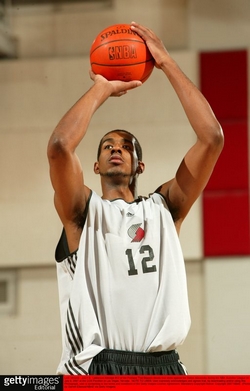 Only having played two games in Vegas, it might not be the wisest idea to go completely overboard heaving praise on Aldridge. But considering how good he looked, it was hard not to come away excited.
Aldridge showed a package of offensive skills that was unmatched among any big man in the summer league. He's added a good deal of weight to his frame over the past year, and is now doing a much better job using his body to carve out space in the post and attack the offensive glass. His physical tools are excellent for a player his size, having the extension and coordination to finish with incredible ease from anywhere around the basket, and being capable of running the floor like a guard stride for stride with his ball-handler. Aldridge got many of his points in Vegas just by taking off in transition as soon as his team secured the rebound, and was rewarded on many occasions thanks to his great hands and outstanding agility.
In the post, Aldridge can score in a variety of ways. He has a beautiful turnaround jumper from the post—his trademark in college, but can also come off a short curl and knock down a pretty looking shot from 15 feet out. The Blazers ran a lot of pick and pop plays for him out on the perimeter, and Aldridge showed the ability to knock down a catch and shoot jumper all the way out to the college 3-point line, but was quite inconsistent doing so. His footwork can get a bit sloppy and the extremely high release point on his shot means he loses accuracy when he's rushed or on the move.
In terms of creating his own shot, he did so both facing and with his back to the basket, utilizing a drop-step going into a jump-hook shot on one occasion, and putting the ball on the floor with his left hand on another. He even showed the ability to pull up off the dribble on an isolation move, which is obviously a highly advanced move for a guy who is 6-11. There is no doubt that his skill level is fantastic for a player his age --having only turned 22 a few days ago.
At times Aldridge has a tendency to settle for nonsense—difficult shots from tough angles with a defender draped all over him. His feel for knowing what he can and can't do will have to improve as he continues to mature and gain experience. He still has a tendency to avoid contact at times and not finish all that strong, but to his credit, this looked like much less of an issue than it was when he was in college a year ago. There is no reason why Aldridge shouldn't get to the free throw line 5-6 times a game next season, and that should be a goal of his.
Defensively, Aldridge did a very good job in each of the two games he played—using his length to alter and block a number of shots in both outings and sliding his feet gracefully to stay in front of his man. His potential here has always been extraordinary, and he showed the impact he's capable of making playing off of post-buddy
Greg Oden
. Those two playing next to each other for the next 10 years or so has to be a scary thought for most Western Conference General Managers. All in all, Aldridge seems to be progressing nicely, and at this point is clearly still scraping the surface on his potential.