Donatas Motiejunas has established himself as one of the top big men scorers in Europe this year. What does that do for this draft stock? Plus, an update on the whereabouts of
Jamine Peterson
, and scouting reports on
Nicolo Melli
,
Alessandro Gentile
,
Achille Polonara
and
Matias Nocedal
.
Jonathan Givony
Donatas Motiejunas
has found his groove.
After somewhat surprisingly electing not to enter his name in the 2010 NBA draft, Motiejunas has taken Italy by storm in his second season with Benetton Treviso. He currently ranks as the
2nd best per-minute scorer
in the Italian Lega A, and is doing so in spectacularly efficient fashion, shooting 66% from 2-point range and 46% from behind the arc.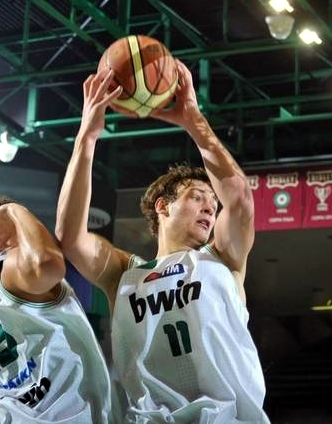 While we're only seven games into the season and those numbers will surely come down to earth, it's not a stretch to say that the 7-foot Lithuanian has blossomed into one of the best scoring big men in all of European basketball at the tender age of 20, and likely the most skilled power forward/center in the draft. Offensively, it's getting easier and easier to see where the comparisons with
Pau Gasol
are coming from.
Two things jump out at you immediately when comparing Motiejunas with how he looked last season: his comfort level offensively and improved body. He's added a solid 10-15 pounds of good weight to his frame over the summer, and is playing with as much confidence as we've seen since we
first laid eyes on him when he was only 15-years old.
Motiejunas' improved frame has helped him considerably when it comes to scoring inside the paint, as he's doing a much better job of establishing post-position, and is in turn attempting much higher percentage shots and getting to the free throw line at an outstanding rate.
He's still the same incredibly skilled big man we've always known, with his terrific hands, touch and footwork, but now he's added a degree of physicality that compliments his finesse game quite well.
Motiejunas has been responsible for some extremely impressive possessions inside the paint this season, creating his own shot with a wide array of fakes and spins, using the glass beautifully, finishing with either hand, and sometimes even throwing in some swooping sky-hooks running across the lane for good measure.
He looks about as comfortable and natural as a big man can with his back to the basket, but is also fast enough in the open court that he'll get himself at least one or two easy baskets a game just by beating his man down the floor.
Another area where Motiejunas' has made notable strides is perimeter shooting. Whereas last season he converted just 21 of 58, or 36% of his overall jump-shot attempts, according to Synergy Sports Technology, this year he's doing much better, knocking down 6/13 of his 3-point attempts in seven Italian league games thus far. He's being utilized much more frequently in pick and pop situations, and is showing absolutely no hesitation whatsoever when left open on the perimeter, showing a quick release and excellent range.
Facing the basket, he still has the ability to put the ball down and beat opposing big men with a quick first step and nifty handles, even being able to change directions with the ball and execute sharp pivot moves, which you rarely see from a player this size. At times you'll see him grab a rebound and ignite the fast break himself, racing up the floor with the ball with the utmost confidence in his ball-handling ability.
He's an easy player for a coach to utilize offensively, since he can hurt opponents in so many different ways with his terrific versatility.
Motiejunas unfortunately still struggles with the two very important areas that were pinpointed early on in his career as being major weaknesses: defense and rebounding. His defensive rebounding numbers have actually gotten worse this season, now down to a paltry 3.2 per-40 minutes, which ranks him dead last in the entire Italian league amongst
both power forwards
and
centers
.
While Motiejunas' average efforts boxing out and lackluster hustle could get better with age and coaching, he just doesn't have very good instincts for rebounding, making it tough to see just how much he can improve down the road in this area. He doesn't play with very much intensity, looking lackadaisical in his approach, rarely going out of his area for rebounds, and often going after loose balls with one hand. It's here where the
Andrea Bargnani
comparisons appear the most accurate.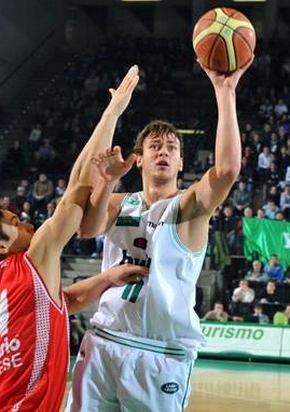 Defensively, we see much of the same. It's not a matter of ability –Motiejunas' physical tools and timing are outstanding— you'll occasionally see him make a spectacular block or hedge a pick and roll wonderfully, shutting down the entire play. Rather, it seems to be a question of passion, intensity, and his overall mentality.
He doesn't play with very much emotion on this end of the floor, not looking willing to sacrifice his body for the sake of his team and showing a distinct lack of purpose. He gets posted up frequently for example, not offering enough resistance to opponents trying to back him down, and not really looking overly concerned when inferior opponents score against him. He also doesn't seem to possess very good fundamentals on this end, as you often see him getting out of his stance way too quickly and he tends to get lost off the ball.
Motiejunas' body language leaves something to be desired too. He gets down on himself easily and still shows some signs of the immaturity that plagued him earlier in his career, complaining excessively and letting little occurrences on the floor throw him off his entire game. There have been some concerns earlier in his career that he may be a little fragile mentally, and these things don't do much to deter those thoughts.
Like many other European draft prospects, expectations and situation will likely play a huge role in how his NBA career pans out. If Motiejunas gets picked too high (like Milicic and Bargnani clearly were) and is put under a great deal of pressure and scrutiny, he may struggle in the early going. The type of coach that is working with him will also be key—he'll likely need some freedom to operate offensively, and a patient, supportive approach to his struggles defensively and on the glass.
Players with Motiejunas' combination of size, athleticism and skill-level don't emerge that often, but he's no sure bet to pan out. We'll be keeping track of him for the rest of the season to see how he continues to progress.
Jamine Peterson Weighing Next Move
Jamine Peterson
wanted to be a trendsetter, electing to leave the Big East after being dismissed from Providence for violating team rules following an impressive campaign in which he averaged 19.6 points and 10.2 rebounds . Instead, he's sitting at home right now.
The 22-year old combo forward with two years of remaining NCAA eligibility signed a modest contract with Kolossos Rhodes in Greece this summer, but was released after just a month into the season after the team lost three games in a row.
"Jamine experienced one of the realities of European basketball," his agent Mike Naiditch told us via text message. "Losing teams don't have patience."
Watching the footage of Peterson's play in Greece, it's pretty clear that he struggled with many of the things American rookies have problems with in their first experience playing overseas: the physicality of the European game, a lack of respect from local referees, the adjustment from being a first option in college on an incredibly high-paced team to a spot-option in a much slower tempo, and difficulties on the defensive end of the floor. These are not unique concerns, particularly when discussing a player with just two years of college basketball experience underneath his belt.
Still, his excellent physical tools, unique shot-creating ability and rebounding skills continued to shine through, and it's likely that if Kolossos had the time and patience to work through these issues, Peterson would have been able to show the qualities that made him such a productive performer in the Big East.
Now, Peterson is back home in New York, and he'll need to find a great place to finish out this season, as he has almost no margin for error. Signing in Europe made him automatically eligible for the 2011 draft, but he probably couldn't be any further off the radar of NBA scouts than he currently is.
According to Naiditch, Peterson "will soon decide between another team in Europe and the D-League."
D-League teams at the top of the waiver priority list should take notice, as Peterson could be an absolute force at both the 3 and the 4 spots—something along the lines of
Othyus Jeffers
of Iowa, but possibly with an even higher skill-level. He'll need to develop the same bulldog mentality Jeffers brings on the defensive end, but should be an extremely productive inside/outside threat and offensive rebounder nonetheless.
In addition, Peterson should draw a good amount of attention as a potential NBA draft pick, similarly to
Latavious Williams
last year, something that clearly benefited both the Tulsa 66ers that developed him and the D-League itself.
Peterson will need to decide to forgo the prospect of making better money in Europe for the sake of a looser leash and far better exposure to NBA decision makers in the D-League first, though.
Quick Hitters – Italian Edition
-
Last time we checked in on
Nicolo Melli
, he was fresh off a solid, but unspectacular showing at the adidas Nations Experience back in the fall of 2008. He spent last season with Trenkwalder Reggio Emilia in Lega Due, getting off to a slow start, but picking up his play in December before suffering a season-ending shoulder injury. Melli has taken a big step forward this season, leaving the comforts of his hometown behind to compete at the highest levels of European basketball with Armani Jeans Milano, but struggling with his recently-added weight while adjusting to his new, much more demanding surroundings.
Averaging right around 10 minutes per game both in Euroleague and Serie A competition, Melli has received consistent minutes off the bench as a jack of all trades, master of none power forward for a Milan team that is off to a fast start in Serie A, despite a number of injuries. Though he has struggled to score at times and isn't explosive or overly mobile—something that is even more noticeable now that he's bulked up as much as he has--he has some intriguing skills for a player his size, appears to have a great feel for the game, and does a great job anticipating angles as a rebounder. While he is certainly stuck in between the forward positions at this point as a prospect, Melli still has time to define his role, reshape his body to reach his full athletic potential, and become a more finished product.
The promising Italian forward does a bit of everything offensively in limited touches for Milan, but hasn't had the opportunity to handle the ball and make plays for his teammates with his heady passing like he did last season with Trenkwalder. Operating exclusively off the ball and primarily out on the perimeter as something of a stretch-four, Melli has also seen some possessions working the middle of zone defenses in the high-post and with his back to the basket down low. Displaying a pretty impressive skill level for a 19 year old, Melli is capable of putting the ball on the floor and getting to the rim with straight-line drives,, but will need to time improve his overall polish and consistency and seems to be in the process of adjusting to the more athletic defenders he's facing in the Euroleague.
Still lacking aggressiveness, a degree of toughness and possessing underwhelming explosiveness, which limits his ability to finish around the rim, Melli is still shaking the dust off of his perimeter shot after his shoulder injury, and tweaks to his mechanics have rendered him largely ineffective from perimeter. He has also turned the ball over at an extremely high rate in limited minutes, regularly getting called for traveling and struggling to deal with physical defenders when he puts the ball on the floor –two tendencies he could certainly overcome in time. His combined 35% shooting and extremely high turnover rate are pretty disconcerting, but his versatility certainly catches your eye when you watch him on film nonetheless.
Though Melli still has some adjustments to make to improve on his lack of efficiency offensively, his biggest weakness as a prospect remains his lack of lateral quickness defensively, as he currently looks incapable of defending the small forward spot on the NBA level, pegging him as an undersized power forward, which likely renders him a lot less intriguing long-term. Right now he lacks the foot speed to keep up with quicker wings and proves very foul prone around the basket.
Melli is still in the process of making the transition from LegaDue to the highest level of European basketball--something that will surely take some time-- and it will be important for him to continue seeing playing time to help him acclimate to his new body-type and role. If he can overcome some of his mental mistakes, improve his physical tools, and become more consistent from the perimeter, he could garner some looks in the second round of the draft when he decides to test the NBA waters. Right now his current contract has no exit clause for this coming summer, meaning we're likely talking about a prospect for the 2012 or 2013 draft at the earliest.
-
Another talented young player seeing consistent minutes in Serie A,
Alessandro Gentile
faces some of the same challenges that other European wing prospects have to overcome. Lacking great lateral quickness and NBA caliber athleticism, Gentile hasn't been terribly consistent for Benetton Treviso, but at just 18 years old, he has an incredibly promising future in the European game.
Standing 6'6 with a solid frame, Gentile has nice size for a wing on any level, but his suspect foot-speed is a big concern, especially on the defensive end. His strength and ability to score from the perimeter has allowed him to put up excellent numbers for Italy's junior selections. Leading the U18 European Championships in scoring and ranking third at the U20 European Championships, Gentile is able to impose his will on weaker guards, but he'll have to continue to gain experience and maturity to translate his superb scoring instincts against more experienced and stronger defenders this season in Serie A.
Gentile's offensive game is predicated on his streaky jump shooting ability. Sporting a compact, but somewhat awkward release on his perimeter shot, Gentile has very quick shooting mechanics that can at times lead to inconsistent results. He has good range, excellent touch and is capable of hitting shots off of one or two dribbles, but has been inconsistent this season and will force some questionable looks from the perimeter from time to time. Not terribly active without the ball in his hands, Gentile could stand to continue improving his all-around floor game, since he doesn't create opportunities for his teammates and right now is somewhat limited in other areas offensively.
Gentile's biggest weakness offensively, both in Italy and from a NBA perspective is his lack of finishing ability around the rim. Able to bully his way to the basket in junior play, the talented youngster has struggled mightily when putting the ball on the floor and shooting around the basket in Serie A this season. Able to use straight line drives to get to the rim and running the floor well in transition, Gentile regularly turns the ball over, gets his shot blocked at the rim, and doesn't defer when well-defended. As he continues to get playing time and learns how to get his shot off more effectively, Gentile's efficiency should improve.
On the defensive end, Gentile has an extremely difficult time keeping his man out of the lane due to his lack of lateral quickness, but does generate some turnovers by taking some risks. Whether he's defending the pick and roll or closing out shooters, he struggles to deny penetration, raising some red-flags regarding his NBA potential. His ability to improve on this end will likely play a large role in how he's ultimately judged by NBA decision makers, but he has plenty of time to continue to work on this part of his game until that time comes.
Considering that Gentile turned 18 just a few weeks ago, the fact that he's seeing regular rotation minutes at this level is a sign in itself that he's quite a talented prospect. If he becomes a more consistent shooter and adds some versatility to his offensive game, he could become a leading offensive player in the European game. As it stands, though, his physical tools put some restrictions on his NBA ceiling, something he'll have to work hard on to overcome. Questions about his attitude and less than stellar reports from the junior level on his intangibles don't help in that regard, though he appears to have made progress in that area according to reports.
-
One of the biggest surprises in Serie A this season has been
Achille Polonara
, a 6'7 combo forward playing for Banca Tercas Teramo. The long, left handed forward appeared in just a handful of games last season, but is averaging 16.4 minutes per-game this season and has impressed in a number of areas.
A good athlete with a rangy frame, Polonara proves to be an exceptionally active rebounder despite severely lacking physical strength. Similar to
Jonas Jerebko
when he arrived in Italy, Polonara needs to add some bulk to his frame, however his narrow shoulders lead us to believe he faces an uphill battle in that endeavor. Regardless, the 19 year old Polonara crashes the glass on both ends with energy, despite getting knocked around by stronger players on occasion.
Offensively, Polonara shows some intriguing potential, but will need some time to mature before he can be considered a consistent scoring threat. He displays some touch on his jump shot with range out to the three point line, but lacks the footwork and confidence to consistently make an impact from the outside. He's able to take the ball to the rim in a straight line, and while he struggles with physical defenders and forces some drives to the basket, he can make some athletic plays inside. More of a hustle player at the moment, Polonara's lack of strength hurts his finishing ability, but he gets to the line at a nice rate, is already an active rebounder (
ranking 7th in the league per-40 minutes
), runs the floor well in transition, and has some tools to work with down the road.
On the defensive end, Polonara shows a good work ethic, but lacks great fundamentals and discipline –two things he'll only developed with consistent playing time. His length allows him to block some shots around the basket (he in fact ranks
#1 in the Italian league per-40
in this category early on), where he plays especially hard to overcome his lack of bulk, and makes up for some of his mistakes out on the perimeter. While his lateral quickness isn't great, he could become a solid individual defender with additional coaching.
On the whole, Polonara has had a fairly impressive start to the season. Considering this is his first campaign seeing consistent minutes against high-end competition, he's performed admirably. A very good athlete for a European prospect, Polonara is a player to keep an eye on, especially if he continues to add weight to his frame and begins to see more minutes to shape his offensive repertoire. At his size, he'll surely need to show the potential to make the conversion to the small forward position eventually.
-
After spending the past few seasons bouncing around the Spanish LEB,
Matias Nocedal
has landed in LegaDue with Aurora Basket Jesi on loan from Caja Laboral Baskonia. Having seemingly been on the radar of scouts forever, Nocedal has certainly made the rounds as a European prospect. The Argentinian point guard has played at the Nike Hoop Summit, the Adidas Eurocamp in Treviso, a host of junior championships, and has even seen a few minutes in the Euroleague.
Averaging 8.8 points per-game this season next to former Georgia Tech wing
B.J. Elder
, Nocedal has been extremely efficient shooting from the perimeter in spot-up situations and scoring off the bounce when going one-on-one, but hasn't been functioning as Jesi's primary ball-handler. He's spent the vast majority of his minutes at the two spot since he is better at using his creativity to score than pass, gets a bit out of control at times, and is simply looking to score first when he attacks. Nocedal has improved his shot considerably over the years, but still likes to put his head down and attack the rim with reckless abandon. Though his forays into the paint sometimes results in a savvy pass to a cutting big man, more often than not, Nocedal attempts to finish his drives himself with an array of scoops and floaters.
An extremely active defender, Nocedal is limited on both ends of the floor by his skinny frame, and while he shows very good quickness, he lacks the physical profile and explosiveness to effectively play the shooting guard spot at the NBA level –making his lack of experience as a lead guard that much more significant. There's no doubting Nocedal's potential in the European game, and consistent minutes in Lega Due should be a nice stepping stone for him, but he has yet to emerge as the NBA caliber prospect some expected him to develop into earlier on in his career, and at this point, it's unlikely that he will.