Xavi Rabaseda is a 6-6 athletic shooting guard who is performing exceedingly well in the ACB in his draft-eligible year. Will that translate into hearing his name called on draft night? Also, updates on
Pablo Aguilar
,
Mamadou Samb
and
Lucas Nogueira
and
Nikola Mirotic
.
Jonathan Givony
After biding his time the past few years playing for Barcelona's affiliate teams in various Spanish secondary divisions,
Xavi Rabaseda
has finally received his chance to shine with a full-time gig on ACB squad Fuenlabrada. A veteran of the U-16, U-18 and U-20 Spanish junior national teams, the native Catalan is coming off a strong season playing for Cornella in LEB Gold and had a good showing at the adidas EuroCamp in Treviso this past June.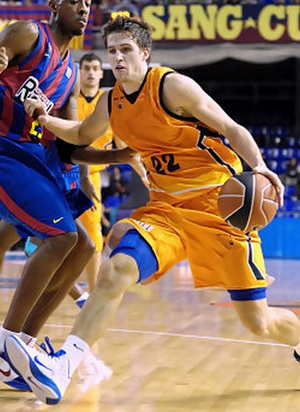 With Barcelona stacked at his position between the likes of
Juan Carlos Navarro
,
Roger Grimau
and
Gianluca Basile
, it made sense for the defending Euroleague champions (an organization Rabaseda has been a part of since age 13) to loan him to a smaller first division team (for two seasons, with an option at the end of this season) to allow him to show what he can do in an expanded role at the highest level of European basketball.
All Rabaseda has done since then is blossom into one of the best wing players in the league. He currently
ranks in the top 15 in PER
, averaging 11 points in 23 minutes per game. He's one of the most efficient scorers you'll find in the ACB, shooting 56% inside the arc and 44% from 3, and ranking
in the top 5
in free throw attempts per minute. His team is also enjoying success. Fuenlabrada holds a solid 6-4 record in league play.
Rabaseda stands out amongst this year's crop of European prospects first and foremost because of his intriguing physical profile. Standing 6-5 without shoes, with an excellent frame, he looks the part of an NBA wing, and plays like one too. Fluid and mobile, Rabaseda has a nice first step and shows the ability to play above the rim, taking the ball strong to the basket and often finishing with an emphatic dunk. Fuenlabrada has a couple of lob plays they like to run for him and, although he won't be competing in a dunk contest any time soon, he's definitely a lot more explosive than your typical European shooting guard.
From a skills standpoint, Rabaseda does most of his damage playing off the ball, where he's able to hurt opponents with his ability to spread the floor and make shots from the perimeter. He's blossomed into a pretty high level shooter this season, converting an excellent 44% of his 3-pointers on a good amount of attempts. He has a quick release and nice mechanics and looks extremely confident in his jumper this season. He's become exceptionally reliable when able to set his feet and get a clean look. That's not something that could be said of him in the past. He can still improve on his ability to make shots off the dribble though.
Rabaseda is much more than just a one-dimensional spot-up shooter. He is also able to create shots for himself effectively, showing a quick first step, good body control and a fair amount of creativity putting the ball on the floor. Highly aggressive in the way he attacks rim, he's not afraid to drive right down the middle of the lane and finish strong in traffic, drawing quite a few free throws in turn.
He's an excellent ball-handler for his size, and he can create and finish shots with either hand, showing great flair, particularly in transition, where he truly excels. He has good vision finding teammates off the dribble, resulting in some excellent drive-and-dish plays this season. Offensively, he has all the tools needed to play shooting guard in the NBA.
Rabaseda's creativity manifests itself in some truly spectacular sequences, but it can also get him into trouble sometimes. He's liable to make questionable decisions on occasion – trying to force a bullet pass through the teeth of the defense for example. All things considered, though, Rabaseda's turnover rate has been extremely low this season relative to his usage, as he's committed just 7 total turnovers in 231 minutes. Earlier in his career, he was known as being somewhat of an inconsistent player from game to game and possession to possession. It's clear that he's made big strides in this area, even if there's still room to continue to grow in the next few years.
Defense is where Rabaseda needs to improve the most to be able to earn significant minutes at the NBA level. His physical tools are just average. Despite showing good size and a nice frame, he doesn't have a very long wingspan and isn't exceptionally quick laterally. He'll struggle to stay in front of some of the ultra-athletic guards he'll run into in the NBA, which could make him better suited for defending small forwards, a position he's slightly undersized for.
It's tough to say whether we'll ever actually see Rabaseda in an NBA uniform. He has the necessary skills to excel at this level, but getting him out of his home country might be easier said than done. His value to ACB teams will probably always be higher considering the premium the league puts on local players. The frustrating experiences of
Juan Carlos Navarro
,
Sergio Rodriguez
and
Rudy Fernandez
could mean that the next promising Spanish guard will not be so quick to cross the ocean.
Regardless, Rabaseda is an interesting player for NBA teams to follow this season as a low risk, "draft and stash" candidate in the second round. There's a good chance he'll develop into a promising asset down the road. If a European-basketball friendly organization is able to build a good relationship with him over the coming years, he could emerge as a solid addition to its roster a couple of years down the line.
Spanish Quick Hitters
-
A player we covered in considerable depth last season,
Pablo Aguilar
opted not to stay in the NBA draft after declaring in late April. He was having a tremendous year for CB Granada at this point last year, and while he hasn't performed poorly for the new team he was loaned to after being signed by Real Madrid this summer--CAI Zaragoza—he hasn't been quite as productive either.
The biggest change for Aguilar from last season has been the role he plays offensively. 68% of his field goal attempts now come from 3-point range, as opposed to last year, where less than half of his shots were from behind the arc. Though he has a good-looking stroke, his shooting percentages from long-range have dipped considerably this year, from to 36.4% to a much less flattering 31.8%. For a player who relies so heavily on his perimeter stroke as almost his sole source of offensive production, this is a devastating development. Last season Aguilar would mix up his game a bit more and get himself to the free throw line on occasion. This year, he's attempted only 9 free throws in 213 minutes.
Closer to the rim, many of the things that we noted about Aguilar's last season game remain true, even if his usage is down. He's a very smart passer, can catch and finish, and will play within the team concept, but he doesn't create his own shot, isn't dynamic with his dribble, and hasn't been a factor on the glass since he's been pigeon-holed as a one-dimensional spot-up shooter of sorts. Aguilar's already underwhelming rebounding rate is down even further from last season, which likely makes him even less attractive to NBA teams.
We can draw similar conclusions about his defensive ability. He's competitive, and his high basketball IQ allows him to be in the right place at the right time more often than not, but it's questionable how he's fare against bigger power forwards, and his lateral quickness could be a major concern on the perimeter at the NBA level. Scouts question his toughness and ability to make his mark in traffic and on the glass, two areas where Aguilar's lack of assertiveness limits him severely.
Though Aguilar has not been quite as good this season as he was last year, he's still a quality role-player who does all of the little things. He's unfortunately not playing very well in his draft-eligible year, but he could still garner some NBA attention thanks to his ability to stretch the floor from the power forward spot.
-
Last time we checked in on
Mamadou Samb
, he was fresh off a quality performance in the U-20 European Championships. The Senegalese born, Spanish naturalized big man didn't dominate by any means, but he played with energy and made an impact with his 6'10 frame, length, and mobility. Samb had a nice season alongside
Xavi Rabaseda
for Barcelona's second team, CB Cornella, in the LEB gold before flirting with the NBA draft. Deciding to return to Spain, Samb has added some weight and found some success in limited minutes in his first full season in the ACB, but remains a work in progress.
Based on our observations from October of last year, Samb's game hasn't changed too much, but the level of competition he's competing at has skyrocketed. Able to impose his size around the basket on the youth and LEB levels, Samb has faced new challenges since first suiting up with CB Granada. Averaging just 9 minutes per-game behind former Golden State Warrior
Rob Kurz
and Minnesota Timberwolves draft pick Paulo Prestes, Samb is fairly low on Granada's depth chart. He isn't more than a fifth option when he steps on the floor, meaning he gets very few chances to show what he can do in the post or in one-on-one situations in general. This would likely be true in more situations, since his lack of physical strength would make it difficult for him to establish position down low and his floor game is only in its infancy.
Regardless, Samb still flashes some of the same skills that made him productive in the LEB and on the junior level. He stays active on both ends, allowing him to earn some easy looks around the rim, which he finishes at a good rate. He also flashes the ability to knock down jump shots out to the three-point line, something it took his brother Chiekh much longer to develop during his NBA stint. Samb's consistency from that range remains erratic at best, and though he can put the ball on the floor for an occasional straight line drive, his floor game lacks polish and he still needs to continue working on his hands and developing his skill-level to become a more attractive prospect from a NBA perspective.
Defensively, Samb lacks the bulk to defend the paint, the lateral quickness to step out and defend the perimeter, leaves his feet too easily down low, and is clearly still polishing his fundamentals. It will take him some time to get used to making crisp rotations to cut off driving lanes, as he seems a step slow. Despite his limitations, his tremendous wingspan causes some problems for would-be finishers at the rim, and he plays with nice energy and scrappiness that leaves some room for optimism if he improves his strength and awareness.
Looking forward, Samb may not be a prime candidate to hear his name called in the NBA draft when he becomes automatically eligible this June, but he has size, length, and is still gaining experience. His brother has made some strides over the years, but Samb should look to Boniface N'Dong as an example of how to parlay a long, skinny frame into a highly successful career in European basketball.
-
The breakout star of the U18 Tournament of the Americas,
Lucas Nogueira
(also known as Lucas Bebe) has continued his momentum from this summer to some degree. Playing for Asefa Estudiantes in the Spanish EBA, where most large clubs enter a youth team, Nogueira has shown marked improvement from last season. Averaging a double-double at 11.8 points and 10.5 rebounds while contesting shots all over the place in just 25 minutes per-game, Nogueira has made an impact on both ends of the floor with his tremendous size and wingspan. It will be important for him to continue improving his frame to ready himself to compete at a higher level, which he'll inevitably be doing once he receives the Spanish passport he's rumored to have in the works for next year. While the EBA isn't a great level of competition, it is certainly a start for the 18 year old center.
-
Last time we glanced over the ACB, we noted that
Nikola Mirotic
had not been seeing consistent action for Real Madrid. While he's still battling for minutes, the Montenegrin forward had his best game of the season against Unicaja, scoring 11 points in 19 minutes and providing a major spark off the bench for Ettore Messina. He scored nine consecutive points as soon as he was substituted into the game, including a catch and shoot three to beat the first quarter buzz and a pair of layups resulting from excellent recognition and timing with his cuts. Though Mirotic won't see big minutes for Real this season with their depth, if he can continue playing well and crack their rotation, the minutes he does see will go a long way towards improving his draft stock.
Edited by
Patrick Crawley
, Sports Editor for
Neon Tommy
and Managing Editor of
Basketball Fiend
.