Player of the Week: Milenko Tepic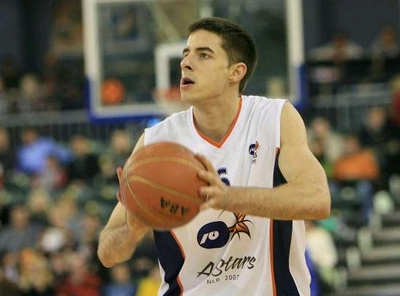 Year after year,
Milenko Tepic
continues to improve. Going into his third Euroleague season, and seventh professional campaign overall (despite being just 21 years old), he's finally taken over the reigns as his team's go-to guy, following the departures of the highly productive
Milt Palacio
, Dusan Kecman and
Nikola Pekovic
.
Although Partizan is as young and inexperienced a club as you'll find in this Euroleague, they currently are in second place in their group (tied with Efes Pilsen and ahead of deeper and much richer clubs such as Real Madrid, Armani Jeans Milano and Panionios), while still standing undefeated (6-0) and in first place in the local Adriatic League.
The biggest reason for that has clearly been the play of
Milenko Tepic
. The 6-8 versatile swingman spends heavy minutes as his team's defacto point guard, and has been stuffing the stat-sheet in virtually every game he's played thus far. Tepic's team fell behind by 22 points this week in the Euroleague at home against Milan, but managed to rally to victory in large part thanks to his 11 point, 8 assist, 6 rebound performance. Tepic currently ranks sixth in the Euroleague in assists with 4.7 per game, and sports a sparkling 7 to 1 assist to turnover ratio.
The biggest key to Tepic's improvement over the past few seasons has been the improvement he's shown in his perimeter shot. He's more than doubled his rate of makes thus far (he's 18/44 or 41% in 9 games thus far this season) while maintaining a steady accuracy rate. His jumper is not the prettiest shot you'll find in Europe, mostly flat-footed, lacking some arc, and still streaky off the dribble, but he's become very reliable with his feet set, which is key considering how good his shot-selection is.
Tepic's biggest appeal as a prospect has to do with the under control nature in which he plays, along with the versatility he brings to the table. He is extremely patient and unselfish, always staying within his limitations, rarely making mistakes, and never looking to be in a rush. He executes Partizan's extremely methodical half-court offense impeccably, doing a great job making the extra pass and finding the open man, which is how he racks up most of his assists—in simple fashion. The fact that he's 6-8 gives him a great advantage in this area.
Tepic has improved as a ball-handler over the past few seasons as well, to the point that he looks much more comfortable bringing the ball up the floor and taking his man off the dribble as well, using both hands effectively and doing a great job reading the defense and finding open seams. His first step is pretty underwhelming, and he often lacks the explosiveness to finish around the basket, but he's extremely under control with his drives and really knows how to find open shooters spotting up on the wing off the dribble.
Defensively, Tepic has some clear strengths and weaknesses. One on hand, he plays extremely hard, has great timing, is very fundamentally sound, and really understands the scouting report, but on the other, he lacks a significant amount of lateral quickness, and often looks very upright in his stance, which makes it quite easy for very athletic wing players to beat him off the dribble at times. Tepic is an outstanding team defender, but is just average in man to man, which will raise some question marks in the eyes of NBA talent evaluators since he's already lacking in some other areas.
Unlike a
Ricky Rubio
,
Rudy Fernandez
or even a
Nicolas Batum
, Tepic is rarely going to blow you away with anything he does on the court, as he's quite a conservative player. At at the end of the day, though, his style of play is highly effective and very much conducive to winning games. He looks far better suited for playing European basketball, and would probably only be able to thrive in certain systems in the NBA, such as San Antonio, Utah, Boston or other slower paced, defensive oriented teams. With that said, there is definitely some appeal in a highly intelligent 6-8 swingman who can shoot, pass, not make mistakes and compete on every possession defensively.
Similar to his teammate from last season
Nikola Pekovic
, Tepic does not look to be as enamored with the idea of playing in the NBA as some of his European counterparts. According to sources, he's likely to follow Pekovic's lead and sign a large multi-year year contract with a European powerhouse before the draft, with an NBA option after two years. He will very likely not be coming to the States for private workouts, and will heavily attempt to discourage teams from considering him in the late first round, as he will need the flexibility of a second round contract (without the restrictions of the rookie scale) and a significant financial investment on the part of the team drafting him down the road if he's ever to make it over the Atlantic.
Looking Beyond the Draft
Ilyasova Starting to Reach his Potential…
It's easy to forget about European players returning to the Old Continent after an NBA stint. Actually, we're yet to witness anyone actually coming back to the American competition. It makes sense for several reasons: if a player fails, it's highly likely that he doesn't have the goods to make it back there. Players coming back from the NBA rarely show the same hunger they displayed before, and even often struggle readjusting to the international game. If they finally overcome their flaws or were NBA material from the beginning, chances are they will be making a boatload of money in Europe. Plus, it's difficult to convince front offices that the reasons for a player's failure aren't there anymore.
However, with players returning to Europe everyday younger, sometimes opting for superior European offering even while garnering some other NBA interest, the day we'll see a player return to the NBA is surely not far away.
Ersan Ilyasova
is as good of a candidate as anyone. Still only 21 years old, (if we opt to believe his official birthdate) he left a promising enough impression during his days with the Bucks to have NBA teams checking up on his progress. And what they can see this season is a face-up forward who makes a difference thanks to his physical exuberance for European standards, which helped him to be named Euroleague player of the month in October, after averaging over 15 points and 9 rebounds per game in under 24 minutes. You can follow his numbers in both the Euroleague and ACB here on his DraftExpress stats page.
The Turkish player would most likely be able to still hold his own at the small forward position in the NBA, but he's certainly a much more effective player in Europe as a power forward. Struggling to play off the dribble against perimeter player (he is prone for traveling violations with his first step, which is called more rigorously in Europe), and not much of a low-post threat, it wasn't easy for him to deliver his stuff in the crowded international half-court offenses. And even if he provided a terrific physical presence for that position, he sometimes suffered defensively keep up with the plethora of guard-type small forwards that you usually see on European teams.
Now, as a face-up power forward, he usually enjoys more space to release his unorthodox long-range rainbow shot (his back-step pull-up jumper simply can't be contested), and finds less opposition to slash towards the basket. Hardly any power forward in Europe can keep up with his first step, and Ilyasova can go both ways, and even tries to attack them when they are unbalanced. He also enjoys more space inside to execute continuations on pick-and-roll plays, where he shows his excellent mobility and willingness to attack the rim.
In the end, he's not really a go-to player even in Europe, but instead a superb complimentary guy. Ilyasova is particularly standing out in the rebounding department, where he uses his length, strength, positioning, athleticism and, above anything, shows the hustle and desire to come up with the ball, which becomes especially obvious on the offensive glass. He's putting up outrageous production thus far in both the Euroleague and ACB in this category. Meanwhile, he also shows very nice activity on defense. After all, he's an energetic guy who earns his salary.
On the downside, he still lacks some refinement in his game, including a more consistent shot, and shows little mid-range game to speak of. He could also better use his size and strength posting up opponents more frequently, and might be trapped between positions especially on the defensive end, being slightly slow to match-up against quick small forwards, and not particularly big to battle the elite power forwards. Anyway, given the complementary nature of his game and his basketball tools, he would likely be heading back to the small forward position if he ever rejoins the NBA. His draft rights are still owned by the Milwaukee Bucks, but they will likely have to pay a pretty penny to bring him over this summer.
Quick Hitters:
-Tepic's main competition for player of the week honors came from Montenegrin forward
Vladimir Dasic
, whose team Buducnost got an outstanding result in the first leg of their EuroCup qualifier on the road in Istanbul against Galatasaray. After losing just 85-83 Buducnost will need to win by 3 points or more to get through to the group stage on the aggregate score, which would provide him with some outstanding exposure for the NBA draft. Dasic was the star of the match, scoring 23 points and pulling down 6 rebounds in 34 minutes of action, and was later
featured
on the EuroCup's official website this week as well.
We will be taking a closer look at Dasic in the next few weeks with an in-depth scouting report, and will also be keeping an eye on his young teammate
Nemanja Gordic
, a 6-4 very athletic point guard who has had some excellent games this season as well. Gordic had 18 points, 4 assists and 3 steals in 29 minutes against Galatasaray, and is emerging as quite an intriguing draft prospect in his own right.
-
Brandon Jennings
seems to have bounced back from his slow start in both the Italian League and Euroleague, and looks to be adapting himself better to European basketball these days. Jennings had 11 points and 3 assists in 19 minutes in a blowout victory over Teramo last Sunday in the Italian competition, and then tacked on 14 points, 2 assists and 2 turnovers in a road victory over Olimpija in the Euroleague. Next week we promise to take a more detailed look at him.
-Another youngster who is making noise in the Euroleague is Slovenian forward
Emir Preldzic
. He had the game winning offensive rebound and putback this week to help Fenerbahce come away with a very important road victory over the severely depleted Joventut. Preldzic had 17 points, 8 rebounds, 3 steals and 4 turnovers in the contest, while drawing a game-high 7 fouls.
-
Giorgi Shermadini
has officially signed a 4-year contract with Panathinaikos we've learned, and will stay with the Greek team all season long.
-Zalgiris point guard
Zygimantas Janavicius
continues to see big minutes in the Euroleague, especially now that American
Willie Deane
is out with a nose injury. He is shooting the ball well thus far, but is turning it over excessively unfortunately.
-One player who has been somewhat of a disappointment thus far is French point guard
Rodrigue Beaubois
. He continues to turn the ball over at a very high rate and has been unable to stay on the floor for long stretches due to foul trouble, which has limited him to just 18 minutes per game. He is relying way too heavily on his perimeter shot thus far, which has not fallen for him at all. Cholet is struggling in the French League as well after being booted out of the EuroCup, sitting at just 2-3 in the league thus far.