With the FIBA Americas U-18 Championship completed in San Antonio, we first take a look at the top prospects seen amongst the international (Non-US) teams in attendance.
Lucas Nogueira, 7-0, Center, Brazil, Estudiantes Madrid, 1992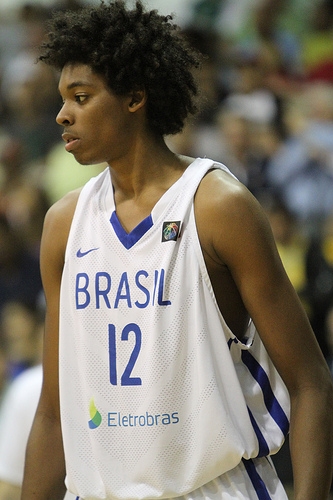 The best long-term prospect at the tournament outside of the U.S., Brazilian
Lucas Nogueira
(full name: Lucas Riva Amarante Nogueira or just Lucas in short) was probably the biggest revelation to emerge from this FIBA Americas tournament considering how little was known about him going in.
A legit 7-footer with a fantastic wingspan, Lucas is a very skinny center who reminds you a bit of
Hassan Whiteside
on first glance. Lucas has a narrow frame, particularly in the lower body, that he must work on substantially to reach his full potential. He is extremely athletic for his size, though, and has the ability and the propensity to finish everything above the rim.
Offensively, Lucas is a pretty raw player. He shows little to no back-to-the-basket scoring ability and mainly gets his points in transition, off offensive rebounds and drop-off passes around the rim. He takes great pleasure in finishing with emphatic dunks. Lucas will knock down an occasional mid-range jumper but shows average touch for the most part. He must continue to work on his feel for the game, which appears to be just average at the moment.
Defensively, Lucas is really intriguing. His size, length and athleticism allow him to touch every ball in his vicinity, and he displays terrific timing rotating from the weak side to block shots. His fundamentals are not exceptional. He is prone to leave his feet while wildly chasing blocks and his lack of strength makes him a clear target for post-up plays, rendering him somewhat foul prone.
Lucas' energy level and overall focus fluctuate pretty dramatically. At times he is a game-changing presence on both ends of the floor, but on other occasions he appears apathetic, particularly on the defensive glass. He's not the most mature guy you'll find, hanging on the rim after every big play and getting into minor off-the-ball tussles when he feels his opponents are being too physical with him.
Considering his physical tools and the flashes he showed on both ends of the floor, Lucas looks like an extremely intriguing long-term prospect, particularly as he continues to fill out and improve his fundamentals. His rights are already owned by Estudiantes in Madrid, a team known for its excellent development. He'll really have a chance to grow there as a prospect.
Lucas saw minor playing time on the junior team this season in the Spanish EBA. He's clearly a player to keep an eye on for the future, especially considering that he doesn't turn 18 until late July. His performance in the gold medal game against Team USA (22 points, 14 rebounds, 3 blocks) was particularly eye-opening.
Raul Neto, 6-2, Point Guard, Brazil, Minas, 1992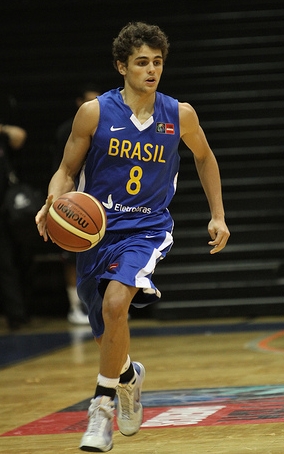 The engine of the Brazilian team that made the Finals of this FIBA Americas tournament, 6-2 point guard
Raul Neto
(full name : Raul Togni Neto, also known as Raulzinho) saw solid playing time at the professional level this season with Minas in the Brazilian first division.
Raul was pretty up and down throughout this tournament. On one hand, he exploded for an outstanding 34-point, 8-rebound, 7-assist, 2-turnover performance against Canada. On the other hand, he was unimpressive in other outings (the Argentina game, for example).
Raul has all the physical attributes to develop into an excellent player down the road. He stands about 6-2, has a nice frame and shows impressive athleticism. He's fast in the open floor and shifty with the ball, and he is capable of changing speeds nicely, making him extremely effective in transition.
Offensively, Raul is a capable shot creator in the half-court thanks to a strong first step and excellent ball-handling skills. He had some impressive moments in the tournament, executing crossovers and finishing around the basket with pretty floaters. He can shoot the ball with his feet set from the perimeter and can make shots off the dribble as well.
His playmaking skills are a mixed bag. He makes some terrific passes in the half-court, but he is also prone to tunnel vision, driving the lane and missing open teammates on the perimeter. He's wild at times, too, coughing the ball up a little more than you'd like at times. This is not a huge surprise considering his age, but is something he needs to work on down the road.
Defensively, Raul's fundamentals are average, but he shows excellent anticipation skills. He gets into passing lanes well and comes up with plenty of rebounds.
For Raul to reach his full potential, he'll have to continue to play against better competition in a structured environment, something he may or may not be able to do in the Brazilian league. The son of a coach, Raul's upside looks excellent. He'll be an interesting player to follow over the next few years.
Myck Kabongo, 6-1, Point Guard, Canada, Findlay Prep, 1992
The go-to guy on a talented Canadian national team,
Myck Kabongo
did a nice job showing off his strengths at this tournament.
Kabongo has average size (about 6-1 with a skinny frame that must continue to fill out), but he is an extremely quick and talented point guard. He's excellent in transition, has nice change of speed ability and is a true floor general. He makes the extra pass, shows a high basketball IQ and has strong leadership skills.
Just an average scorer at this stage, Kabongo didn't have enough weapons surrounding him to show off his skills as a pass-first point guard. He showed the ability to find the open man in a variety of ways, though, and is particularly adept at driving and dishing.
In terms of weaknesses, he looks a bit limited finishing around the basket and he struggles with contact at this juncture. He was also more turnover prone than you'd hope, showing a level of inexperience that is to be expected considering his age. He's not a great shooter either, displaying limited touch and struggling to make shots off the dribble in the mid-range area (something he must continue to work on considering his slight frame).
On the plus side, Kabongo is an extremely competitive player who puts out a good effort defensively and shows excellent anticipation skills off the glass and in the passing lanes. His feel for the game is obviously outstanding. His standing as one of the best point guards in the 2011 high school class appears to be well deserved.
Kyle Wiltjer- 6-9, Power Forward, Canada, Jesuit High School, 1992
Another highly touted member of the 2011 high school class,
Kyle Wiltjer
displays impressive skills for a 17-year-old. He's an average athlete who runs the court somewhat awkwardly and does not play above the rim, but Wiltjer makes his living by being smarter and more polished than his opponents.
He's first and foremost an outstanding shooter, showing a quick release on his jumper and excellent mechanics. He has NBA range as well as the ability to make shots both with his feet set and off the dribble. He also has some back-to-the-basket ability. He has good hands, an effective jump hook and the ability to put the ball down and get around opponents in the paint.
While Wiltjer clearly has all the makings of a terrific college player, he's a bit stuck between positions from an NBA perspective, and he does not have great potential as a defender and rebounder. He's already drawing comparisons to
Luke Babbitt
—and he'd be wise to take a similar path to the pros.
Kevin Thomas, 6-8, Power Forward, Canada, Christian Faith Centre High School, 1992
He's clearly not the best long-term prospect we saw in San Antonio, but Canadian big man Kevin Thomas looks like the kind of player who will make college coaches very happy. Thomas is undersized (between 6-7 and 6-8), but he has long arms and solid mobility. He's a blue collar power forward with a high basketball IQ.

Thomas plays hard defensively, is a good rebounder, blocks the occasional shot and shows flashes of potential offensively (both facing and with his back to the basket). He's not exceptionally skilled or gifted physically, but nonetheless Thomas has the makings of a very good high-major player and could potentially be a very useful player for Canada at the international level down the road.
Khem Birch, 6-9, PF/C, Canada, Notre Dame Prep, 1992
We wrote about Birch earlier this year after the National Prep Showcase. There isn't a great deal to add, besides confirming what we already know. He's an exceptionally gifted athlete with long arms and terrific leaping ability, but he must continue to fill out his frame, polish his skills and improve his basketball IQ. Right now his main utility is as an offensive rebounder and shot blocker—two areas in which he clearly excels—which will make him a coveted prospect at the college level and gives him desirable skills to build on down the road.