Emptying out our scouting notebook, we begin a short series examining a number of underclassmen that played for smaller, non-NCAA tournament teams who did not receive the same exposure that other players in this draft did.
Jason Smith
was not considered much of a prospect coming out of high school, but he now finds himself in a position to get picked in the top-20 portion of the draft, despite playing for one of the worst teams in the underwhelming Mountain West Conference.
Jason Smith, 6-11 ½, Junior, Power Forward, Colorado State
Although he's technically still testing the waters at the time this article was published, every indication we're receiving says that there is absolutely no chance at all that Smith will be returning to Colorado State for his senior year.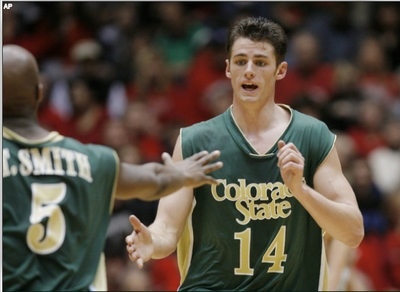 That's really not a surprise when you consider how good of a prospect Smith is on paper—being exactly the type of player that comes into a workout and makes scouts salivate at his potential.
Standing just a hair under 7-feet with an excellent frame, albeit with short arms, Smith has the tools to play either big man position, particularly once he adds more strength. He's also a very fluid athlete on top of that, being capable of running the floor almost as well as any big in this draft. Quick, coordinated and extremely agile, he has a nice first step and looks pretty explosive getting off his feet. In short, Smith's physical characteristics are never going to be an issue for him.
In terms of his skill-set, Smith is pretty unique here as well. He can handle the ball extremely well (for a player his size) in the open floor, particularly with his right hand, and shows the potential to create his own shot from the perimeter thanks to his solid first step.
Having a very nice touch on top of that, Smith can hit shots with range out to 18-20 feet (he shot 77% from the free throw line), and even pull up off the dribble on occasion from mid-range—a (still unpolished) skill you rarely see from a player at that position in college.
It's in this part of his game—doing guard-esqe things like utilizing jab-steps from the triple threat position and getting his man in the air intelligently with a shot-fake and then jumping into him for the foul (And-1?) ala Kobe or D-Wade—that the comparisons to
Dirk Nowitzki
come from. And while that its completely unrealistic to expect him to develop into
that
good of a player in the NBA, it's not hard to see how much upside he has.
In the post, Smith has a gorgeous turnaround jumper he likes to go to, showing nice shooting mechanics and great touch in the process. He can also use his quickness here to get around defenders at the Mountain West Conference level with ease, utilizing spin-moves and such craftily.
When double-teamed, Smith shows above-average awareness finding the open man, although you wouldn't necessarily say that his feel for the game is off the charts. Defensively, Smith has very nice lateral quickness and can step out and hedge screens on the perimeter with ease, although his awareness sometimes leaves something to be desired here as we'll get to shortly.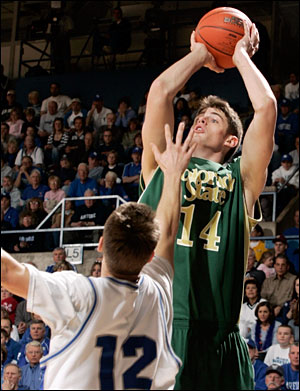 In terms of weaknesses, we find quite a few, although none that can't technically be improved on with time. For one, and most importantly, he's obviously an extremely late bloomer who is pretty far away from making a substantial impact in the NBA in his rookie season. He lacks a
lot
of small things in his game that will require substantial amount of one on one training to keep him on the right track towards reaching his full potential.
Smith's footwork, balance, decision-making, fundamentals, and more are all very much underdeveloped, as if he didn't receive very much coaching at all in college. He relies very heavily on his right hand in the post, even wanting to switch to it unnaturally when finishing on the left side of the rim. He doesn't have a real go-to move he can rely on in the paint, preferring to fade-away from his defender rather than go up and finish strong with contact.
Tougher, stronger inside players can really bother him by putting a body on him and sitting on his preferred right-handed moves, and Smith does not react extremely well when things aren't going his way—tossing up bad shots or making poor decisions. He looks a bit immature at times, and seems to get frustrated very easily. He's a guy that can tantalize with his potential, but doesn't seem to really know his limitations as a basketball player at this point.
The thing that might hold him back most from contributing significant minutes on most NBA teams (excluding the Golden State Warriors and Phoenix Suns of the world) right off the bat is the work he does (or actually doesn't do) defensively and on the glass. Although he averaged 10 rebounds per game in college, Smith doesn't project as an amazing rebounder at the next level. He has short arms, small hands, poor technique in terms of boxing out, and a tendency to get outmuscled and outhustled in the post. He probably does have more potential here than we're giving him credit for, though, because of his size, frame, quickness, reactivity and coordination, all of which are excellent. To really reach his full potential as an NBA player, though, Smith will have to develop the mentality of being a beast at all times—going after each and every rebound as if the outcome of the game depended solely on that. Right now you just don't see that enough out of him.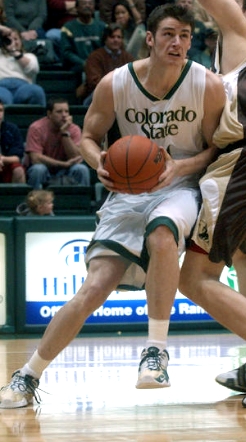 Defensively, Smith gives up position too easily to players he's matching up with—although there is always the legit possibility that these are direct orders from his coaching staff who can ill afford not having him on the floor. Still, he rarely looks like he's giving 100% on this end of the floor, not being fully committed to stopping his man and being pushed around far too easily for someone his size. A bit of toughness and character is what we often come away missing from him.
Sifting through the numerous game tapes we acquired, it doesn't seem like his teammates or coaching staff (who were unsurprisingly fired recently) did him any favors at all, though, which makes him particularly tough to evaluate compared with other players in this draft. Opposing teams knew that shutting him down would almost guarantee a victory, and for this reason he saw countless double teams throughout his career. He also played as a back to the basket center fairly often, even though he obviously projects as a face the basket power forward at the next level. It wouldn't be a stretch to say that Colorado State didn't get anywhere close to the maximum they could out of him, and that his best days are clearly still ahead of him.
Although some might consider this evaluation to be on the harsh side—he really would be considered a lock for the top-5 of the draft if it weren't for the weaknesses outlined above. Once you get outside of the top 10 portion of the draft, you really don't find players with the kind of upside Smith has as a super talented athletic 7-footer who is just starting to come into his own as a basketball player. As mentioned, his strengths are extraordinarily unique, while his weaknesses are all for the most part correctable, even though players rarely change their mentality significantly once they become pros. That makes him one of the more high risk/high reward propositions of this draft. Look for him to get serious draft consideration starting around the 10th pick in the draft (Sacramento), but more likely from 16-18, Washington, New Jersey and Golden State—all of which would fit him like a glove. He likely does not fall past pick #21 (Philadelphia), where he reportedly recently had a fantastic workout. Look for him to announce he's staying in the draft and hiring an agent on or very close to the 18th.