Scouting Report by Jonathan Givony. Video Analysis by Mike Schmitz
Considered a game-changing prospect already in middle school,
Jahlil Okafor
came into his freshman season with huge expectations, and did not disappoint in the least bit. He was named ACC player of the year and a First Team All-American, and played a major role in Duke's NCAA Tournament run culminating in a championship over Wisconsin.
Standing 6-11, 270 pounds, with a 7-5 wingspan, a 9-2 ½ standing reach and absolutely gigantic hands, Okafor has ideal physical attributes for an NBA center. He's extremely nimble and agile for a player his size on top of that, running the floor well when motivated, and being very graceful with his movements.
(Video may not load with Internet Explorer. Use Chrome or Firefox)
A huge share of Okafor's offense this season came with his back to the basket, where he shows a tremendous feel for the game and is nothing short of an absolutely devastating presence. He has the size to establish deep post-position, and the strength to move players around inside the paint once he catches the ball, showing an incredibly rare combination of power, quickness and finesse. Extremely nimble, Okafor has outstanding footwork, and he does an excellent job of feeling out his defender and reacting appropriately, having all the countermoves in the book, and being capable of executing beautiful spin-moves with superb body control, often using the glass. He uses shot-fakes well and draws a foul on over 18% of his post-possessions according to Synergy Sports Technology, often finishing through contact for an And-1. Unfortunately he only converts 51% of his free throws, which is something he'll need to improve on in time.
He's also a very good passer for a 19-year old big man, looking extremely patient with his moves and having no qualms whatsoever about throwing the ball out if he faces a double-team or sees an open teammate spotting up on the perimeter. His huge hands and long arms gives him the ability to pass over the top of the defenses to anywhere on the floor, be it with a bounce pass to his fellow big man, a skip pass to a shooter in the opposite corner, or anywhere in between. His basketball IQ is so high that it isn't hard to see this part of his game developing even further. Whatever coach he ends up with could certainly utilize this even more from different spots on the floor as a significant part of his team's half-court offense.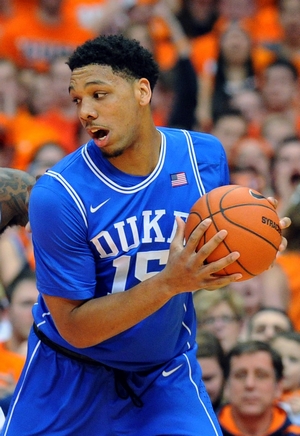 As good as Okafor is creating his own offense inside the paint, he's even better as a finisher when receiving the ball with a head of steam off cuts, pick and rolls, or running the floor in transition. He converted an outstanding 79% of his shots around the rim in the half-court this season in non-post-up situations, the top mark in the college game by a wide margin. His gigantic hands allow him to palm the ball like a grapefruit en route to the rim, and his incredibly long arms gives him a variety of vantage points to throw it into the basket with feathery soft touch and either hand. While not overly explosive, Okafor is extremely quick off his feet and shows no hesitation going up around the basket confidently.
While Duke didn't need to use this part of his game too often, partially due to the reduced spacing of the college game, Okafor can also face the basket and create his own offense off the dribble. He's a very good ball-handler for his size, and has the ability to make quick and precise moves in small spaces thanks to his terrific footwork and body control.
Okafor is also a major presence on the offensive glass, grabbing 4.6 boards per-40 minutes, third best in the DX Top-100. His big frame, long arms, soft hands and terrific instincts help him out quite a bit here, and he's not afraid to throw his body around and move opponents around en route to loose balls.
(Video may not load with Internet Explorer. Use Chrome or Firefox)
The biggest question marks around Okafor revolve around his play on the defensive end, where he was very inconsistent this season. He has the size, strength and length to be more than adequate if he puts his mind to it, and did show some flashes on this end of the floor from time to time, particularly as a post-defender.
With that said, Okafor typically looked far too lackadaisical on this end of the floor, jogging back nonchalantly and looking downright lazy in stretches. He gives up deep post-position too often and isn't aggressive enough looking to body his man when he does receive the ball, possibly out of fear of getting in foul trouble.
More concerning is how badly he struggles stepping outside of the paint in pick and roll situations, where he looks sluggish and slow-footed, showing poor awareness and being late to react on the fly. As gifted as he is offensively, he is almost just as poor on the other end of the floor. Duke was forced to play a very conservative style of defense on the pick and roll, with Okafor going way underneath screens to give himself a big enough cushion to recover and not get burned, which is certainly not ideal against the better guards he'll face in the NBA. He struggles hedging screens on the perimeter and certainly can't be asked to switch onto smaller players, as he already struggles in one on one situations against big men.
Not being particularly explosive, he offers very little in the way of rim-protection, which is a concern in today's NBA game where practically every team's defensive plan revolves around having a big man in the paint who can serve as an anchor, clean up mistakes and not allow easy baskets.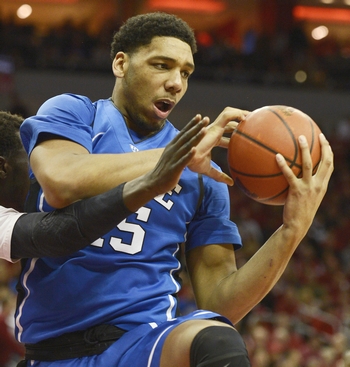 He's also not a very good defensive rebounder, posting just 6.5 per-40 minutes, one of the worst rates among big men in our Top-100. He looks somewhat lethargic here too, often standing and watching rather than putting a body on an opponent, and being a bit slow to react to loose balls coming off the glass.
Okafor would be best suited playing next to a power forward who can defensive rebound, protect the rim, and space the floor from the 3-point line, which is as rare a player as you can find (Serge Ibaka, and…?).
With that said, players in Okafor's mold who can have a half-court offense built around them thanks to an incredible wherewithal their his back to the basket are also rare and coveted specimens, although perhaps not as much in this era as they were in the past. Still, he's such a gifted offensive player that teams will certainly learn to live with his limitations and do their best to surround him with the right type of players to get the most out of him. At age 19, there is certainly time for him to work on his weaknesses, and he's already shown he can improve his conditioning and appears to be a highly coachable player as well.