Part One
Jonathan Givony:
Talking about sacrifices earlier, like giving up the possibility of being the first pick, not shooting fifteen times a game, not putting up 20 points a game, what do you think the positives that you take out of that, that people need to take into consideration also?
Joakim Noah:
Not a lot of players in college go through the day to day pressures that I went through this year. I don't think they understand what it feels like to have 25 people have an opinion about your life. I mean 25 times in a day is draining. I mean there were times in the season I was just going into the coach's office and I would just be stressed out. Coach would always tell me 'would you trade it for anything in the world?' and there's no way.
I feel like I get a lot of love out there in Florida when a lot of people had their opinions, good and bad, but I feel like I've learned a lot and those are going to be experiences that make me better. Whether it's now or five years from now, people are going to go through these things and I feel like I've gone through so much in these three years.
Jonathan Givony:
One of the things we struggled with writing your scouting report was the NBA comparison part. I don't think there really is a legit one. I don't know if there is any NBA player that you can really be compared with, and I've racked my brain trying to find one. Do you have any suggestions on guys you play like, or that you emulate; someone that you might end up being like in the pros?
Joakim Noah:
I really don't feel like there is another player like me. A lot of people say like
Marcus Camby
, but I think I'm very different from him. I love point guards, I love watching
Steve Nash
play, I used to love watching
John Stockton
play. I've just always been a fan of the guards, not the big centers and stuff like that. I mean, I couldn't tell you. A lot of people say the dude from Cleveland (Varejao) but I think it's more because of my hair and the energy.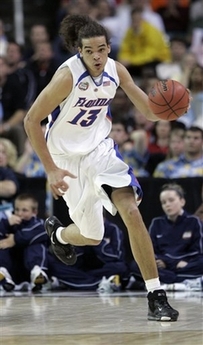 Jonathan Givony:
What was it about the Florida Gators that made them such an unselfish team? Is there something you can pinpoint?
Joakim Noah:
I think the reason that we were so successful was because of that sacrifice. It was not a question about being unselfish, it was that winning was more important than any individual and so many people try to make it about an individual. I feel like it was just understanding winning. We understood what it meant to win, and we knew that winning took sacrifice.
Everyone had to understand their role and my role this year was completely different than it was last year. Last year I would get a lot of baskets from Corey (Brewer) and Taurean (Green) driving to the basket and people just stepping up. But this year I feel like guys were just so worried about me just being around the basket they would prefer to give those guys lay-ups.
But, you know, at the end of the day the result was the same and we won basketball games, which is all that matters. I feel like because of that winning everybody is going to be fine. Guys like C-Rich, who is a great basketball player, should have a chance to do something in the draft.
Jonathan Givony:
A lot of players are really athletic. They can block shots, they can shoot, and they can dribble, but they don't have that "it" factor that is so instrumental in helping a team win games. Where does your energy, passion, and love for the game come from?
Joakim Noah:
I guess it was my upbringing. My father played like that when he played tennis. My grandfather played that way when he played soccer. My background, growing up in New York, just loving the game. Work ethic is important, but I feel like everyone at Florida had it. You look at a guy like
Corey Brewer
and Al (Horford) and me--Taurean and
Lee Humphrey
are a little bit different-- but we aren't guys that are going to go into a workout and people will be like 'these guys are the best workout dudes'. But at the end of the day we know what it takes to win basketball games. You can't teach a guy to dive on the floor for the basketball. You can't teach a guy to play hurt. To me, that is very important, and you know what, hopefully a GM will understand that, and the one that doesn't, then he won't pick me.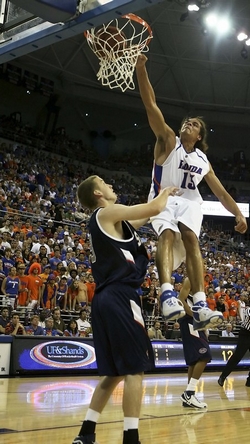 Jonathan Givony:
What's good is the one that picks you is going to understand that and is going to value that. That's what the draft is all about. Everyone has their needs.
Now, the French National team…is that something you're interested in doing? Maybe in the 2008 Olympics? Have you had conversations with them, are they interested in bringing you in?
Joakim Noah:
My priority right now is the NBA draft, but that is something I'm definitely going to do in the future, and it will be with the French team. Like I said, right now it's about being focused on the draft. That's how I'm going to be able to pay for my hamburgers.
The French National team is definitely something that has been in my dreams for a while. They used to talk to me a lot when I was playing with the Gators, but the Gators were my priority. I can't be worried about what is going to happen in the future. If Al was worried about the Dominican team during the season, and Corey had his agenda about the NBA, and everybody had their agenda, like I said earlier in the day, if I saw Corey or anybody on DraftExpress, I was turning off the computer. That was like the taboo thing in the room. You couldn't do that because we really had to focus on the moment and focus on the task at hand.
Jonathan Givony:
I'm kind of interested in you signing with your Dad's former agent Donald Dell, how did that come about?
Joakim Noah:
Donald has always been a close friend of the family. He came down to a couple of the games. He's somebody that I have grown up around so I'm very comfortable around him and he knows the business very well. He kind of invented the business. I mean he signed a lot of great guys out of college:
Michael Jordan
,
Patrick Ewing
and a lot of great players. His story is just unbelievable. I feel like he is a very smart guy and my decision was very simple.
To have a guy like Corey sign with him is just a plus, to have one of my best friends around. Somebody is going through some of the same things that I'm going through, that's just a great feeling. Nobody really understands the situation except for me and him, and we are together everyday and we're just enjoying it. I mean three weeks ago we were living in a dorm with just a bed in it. We were never spoiled kids. We were from different backgrounds financially, but I feel even through our college experience, we were never spoiled. We understood what it took and we wanted to, we could have easily gotten a house somewhere nice in Florida, but we decided to stay in a little complex, just like all the other students. It's right next to the basketball complex where we could work on our game at night and me and Corey would do that every night. I feel like we busted our ass and now we have a great situation ahead of us, and it is exciting.
Jonathan Givony:
What's going to happen with
Taurean Green
k? You guys are all set pretty much in the top ten, but Taurean hasn't solidified himself in the first round. Do you think people are missing the boat on him?
Joakim Noah:
I think Taurean is a great player, a great leader. He is a scoring point guard. I mean, you know, he's a little short and that's what people are saying, but at the same time, he won back to back national championships. He understands what it takes to win, he was in that locker room. Without
Taurean Green
this wouldn't have been possible. Give him a lot of credit. He won a lot of games for us in his career at Florida. He had a great college career.
I feel like when you have that much success, sometimes it's the right time to go and I feel like this is his time to go. He's always been somebody with an unbelievable work ethic, and that work ethic is serious. Not everybody has that and you look at these workouts and you see these guys with so much talent and where are they two or three years down the line? I feel that he is somebody who can really stick. I mean it's all about chemistry and we had it, we had that chemistry. I think he is somebody that teams should look at and give a great evaluation on, because the talent is there. But sometimes it's more than just talent. It's all the other things that GMs have to do their research on. Ask Coach Donovan, ask players that played with him, ask his high school teammates. He's a winner; he won high school state championships too.
Jonathan Givony:
Anybody impress you this past week, of the guys you're working out with?
Joakim Noah:
I feel like everybody is just really good. I mean you look at like
Nick Fazekas
; his abilities on the court are unbelievable. Everybody is good man.
Spencer Hawes
is good. I wish we could workout against each other, but we are just working out as individuals. I wish I could play against these guys in workouts.