Jordan McRae, 6'5, Senior, Shooting Guard, Tennessee
---
Latest DX Scouting Reports:
-Rodney Hood
-Doug McDermott
-Juvonte Reddic
-Jordan Bachynski
-Andrew Wiggins
-Elfrid Payton
-Aaron Craft
-Marcus Smart
-C.J. Wilcox
---
Matt Williams
Tennessee's season came to a close at the hands of the Michigan Wolverines in a 73-71 loss in the Sweet Sixteen as their frantic comeback late in the game came up just short. The loss also marked the end of Jordan McRae's four year career. Scoring nine points over four possessions in the final four and a half minutes of that game, the two-time All-SEC First Team Selection was key to his team's postseason run and embarks on the next phase of his career, standing among the top senior shooting guard prospects for the 2014 NBA Draft.
McRae's intrigue at the next level starts with his combination of size and athleticism. Standing 6'5 in shoes with a 7'0 wingspan, the former consensus top-40 recruit has good size and length for the shooting guard position. A good, but not elite athlete with solid quickness and great leaping ability, McRae is certainly on the light side weighing just 178 pounds, one of the biggest hindrances he might face at the pro level, but he has the requisite athleticism common among NBA swingmen.
Over the last four seasons, McRae has improved steadily on the offensive end, growing into one of the best scorers in the SEC. He's not particularly gifted in any one area, but he does a variety of things well, many of which could help him fit in as a role-player at the next level.
Using 30.5% of Tennessee's offensive possessions, McRae was the Volunteers' first option, primary perimeter scorer, and de facto shot creator in a pinch, complementing what the team's workhorses, Jarnell Stokes and Jeronne Maymon, brought to the table inside the paint. Playing an absolutely vital role in the teams' success given their lack of other prolific scoring options on the perimeter, McRae performed admirably considering how limited a player he was in his first two seasons at Tennessee.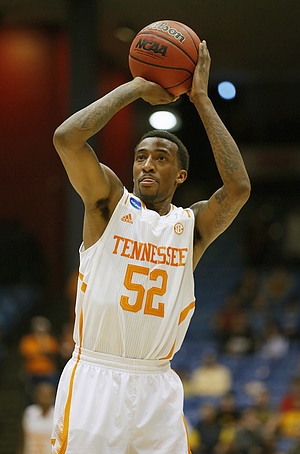 Doing most of his scoring with his jump shot, McRae had an up and down year shooting the ball from the perimeter as a senior. Knocking down only 34.4% of his catch and shoot jump shots after converting 42.2% as a junior, the Georgia native struggled late in the season. He was making a respectable 39.8% of his jumpers with his feet set through the end of February, but converted just 16.7% of those shots over nine games in March.
Shooting the ball with terrific fluidity but less than textbook form, McRae did not lose confidence during his slump, but did seem to lose his touch, struggling to maintain his mechanics under pressure as well as he did early in the season and a year ago. He did not make a catch and shoot jumper in Tennessee's last three games, and will need to tighten up his mechanics to improve his consistency as he makes the transition to the next level. His ability to space the floor and convert the shots created at an efficient clip will be a key to his ability to stick in the NBA long-term.
McRae was relatively more effective attacking off the dribble and scoring around the rim this season than he was spotting up outside. He made a very good 40% of his pull-up jump shots this season, but finished at only a slightly above average 53.9% clip around the rim, as he sometimes struggles with contact with his narrow frame and struggled with the lack of spacing created by Tennessee's two centers inside. McRae is not a great ball-handler or one-on-one scorer, but showed the ability to use ball screens to get a step on his defender where his rangy strides help him find angles to the rim and room to stop and pop and pull-up over when he sees daylight.
Averaging just 7.9 points per game as a sophomore, McRae's 18.3 points per game and 24.1 points per-40 minutes pace adjusted as a senior both rank in the top-five in the SEC and show just how far he's come since the mid-point of his college career. Always good for an occasional highlight reel dunk, McRae has become a terrific college scorer overall. Though he has the
5th best per-40 minute pace adjusted scoring average
among the players in our top-100 and the best mark among shooting guards, his lack of tremendous efficiency in any one area raises questions about where he fits in offensively in the NBA as he doesn't project into nearly as large a role as he played at the college level.
Furthermore, there are question marks about how his body may fill out in time, as the much more physical nature of the NBA could pose a problem with him due to his narrow frame.
Fortunately for McRae, his jack-of-all-trades talents extend beyond scoring the ball. Always ready to make the extra pass to the open man, McCrae was not a prolific distributor last season, but is a willing passer with good court vision. His lack of great ball-handling ability limits his ability to create for others, and he certainly won't be sliding to the point guard position regularly at the next level barring a very significant change, but he's an improved decision maker, averaging 2.9 turnovers per-40 minutes pace adjusted, down from 3.4 a year ago despite taking on more responsibility offensively.
He's also a versatile and engaged defender. Though he doesn't have elite lateral quickness, his length and consistent effort allowed him to defend multiple positions at the college level. He needs to get stronger to prepare himself to defend NBA wings, but he has the makings of a capable NBA defender in time.
One of the ten oldest players in our Top-100 prospect rankings, having turned 23 just a few days ago, McCrae may not have elite upside, but if he can get stronger and find his perimeter stroke, he seems like a strong candidate to carve out a niche at the next level. His development in recent season leaves some room for optimism on that front.