Much of the hype in the NCAA this season has been around the extremely talented freshman class, so what better way to start off our Marquee Matchup series this season than with an extremely entertaining battle between two freshman power forwards who appear to be among the best players at their position in their class?
This article breaks down the matchup between Kansas State's
Michael Beasley
and Oklahoma's
Blake Griffin
, two very athletic and talented power forwards with great careers in front of them.
The Setting:
This game was the first conference game for both the Wildcats and the Sooners, and took place at Oklahoma's Lloyd Noble Center. Kansas State came into the contest 10-4 with a notable win over California, while Oklahoma boasted a 12-3 record, with recent wins over Arkansas, Gonzaga, and West Virginia on their resume.
Starting off the conference season with a win was very important for both teams, playing in the extremely competitive Big 12 Conference, but only one could come away victorious. Both teams knew they'd have to lean on their powerhouse freshmen, and did they ever.
The Participants: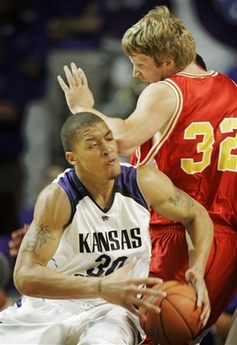 In one corner, we have 19-year-old
Michael Beasley
, the de facto leader of the Kansas State Wildcats, and the currently projected #1 pick in the DraftExpress 2008 mock draft. The 6'9 versatile and athletic power forward came into the game with questions surrounding his defensive focus, but no questions about his silky smooth offensive game.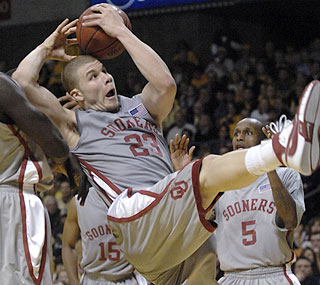 In the other corner, we have 18-year-old
Blake Griffin
, a less heralded prospect who isn't even a sure thing to declare for the draft following this season, but still a likely lottery pick when he does. The 6'10 bruiser is certainly a very noteworthy prospect in his own right, but hasn't had nearly as much hype surrounding him as the more offensively impactful Beasley.
The Outcome:
When it was all said and done, Kansas State had won the game by two points, 84-82, and it took a left-handed lay-up by Beasley with three seconds remaining to seal the deal. The box scores for the two participants were beyond impressive, with Griffin scoring a career-high 27 points, while pulling down 14 rebounds, two off his career mark. Beasley's 32-point, 11-rebound performance may not seem too special when stacked up against his 32-22, 28-22, and 40-15 performances from earlier in the season, but when you consider the higher level of competition in this game, this showing easily trumps those.
The game was a lot of give-and-take between both the battling teams and the two battling freshman, and really, it was everything a scout could ask for. Each player shined in his own way, and there were some interesting observations to come away with from both players.
It was only fitting that the game began with Beasley and Griffin jumping center court, and ironically, one could say the tip foreshadowed the rest of the game. Both players put their length and leaping ability on display, each getting their hand on the ball, but by the closest of margins, Beasley came away with the tip, just out of Griffin's reach.
The game didn't start off too great for either prospect, with Beasley trying a face-up drive down the baseline, turning the ball over by stepping out of bounds, and Griffin turning the ball over on the other end of the court trying to pass out of the post. Things quickly picked up from here, though, with both players taking little time to get into form. Beasley defended Griffin for most of the game when Oklahoma was on offense, but Griffin rarely matched up with Beasley when he was on the defensive end, as Oklahoma instead opted to give 6'11
Longar Longar
the assignment.
Beasley clearly had the better first half, scoring in a variety of ways, with no one on Oklahoma able to stop him. He did much of his damage from the 10-15 foot range, sinking smooth jump shots right in the face of defenders, either turning into them or turning away from them out of back-to-the-basket positions. He didn't do much traditional post work from the low block in the half, but had some quick scores in the lane, mostly off put-backs around the basket.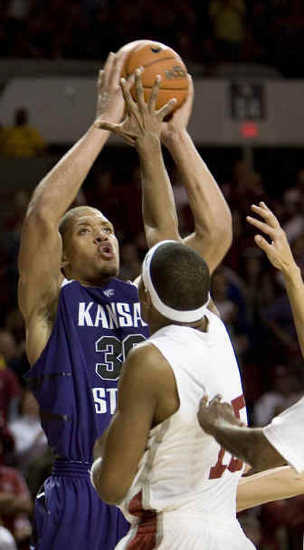 Beasley also came out of the gates with a commitment to defense that we haven't consistently seen from him in the past, showing good effort throughout and never looking lazy or disinterested. He picked off two perimeter passes by using his length to crash the passing lanes in the first half, then proceeding to lead the break for his team. His defensive stance in general was aggressive throughout, even if he didn't always show ideal awareness or reflexes.
Beasley's decision-making on defense was also questionable at times, though, which led to some costly blunders in the second half. On one occasion, he failed to hedge a ball-handler on a pick-and-roll, giving the opposing guard a wide open lane to the basket. On another, when Kansas State switched to a zone, Beasley failed to recognize that
Blake Griffin
had snuck onto the baseline in his area of the court, leading to a wide-open put-back. Late in the game, Beasley had a lot of problems guarding Griffin in fact, especially after Kansas State made a strange strategic decision to have Beasley front Griffin in the post with no other big man on the floor to cover his back side. This led to Beasley committing some fouls and over-playing entry passes, leading to a wide open Griffin rolling to the rim for a dunk.
Beasley didn't let up offensively in the second half, though, continuing to punish the defense from the mid-range, and showing some of his versatility on this end of the court. On a few occasions he faked the mid-range shot, only to take his man off the dribble and put up a pretty left-handed floater in the lane, not the typical move you see from a power forward. Beasley also had the key play of the game with three seconds to go, when Griffin rotated off him on defense to contest a driving guard, only to have the guard dish the ball to a wide-open Beasley, who easily put in the left-handed lay-up from right under the rim.
Even though most viewers probably tuned into this game to get a look at the much hyped Beasley, Griffin made sure his presence would be felt as well, as he elevated to the stage with his best performance of the young season. Griffin didn't take long to try and get into his offense, quickly trying a face-up drive against Beasley on one of the first possessions of the game. Griffin was blocked cleanly while trying to go up into Beasley, though it hardly dented his confidence. Griffin then went to work in his normal fashion, actively pursuing rebounds with his strength, and doing damage from the painted area. On one possession early in the game, Griffin got the ball pinned way under the basket, in a position that would be trouble for most big men, but he deftly maneuvered from under the hoop, using his length and footwork to reach out and put in a soft, left-handed lay-up off the glass, taking some contact with his strong frame in the process.
Griffin had some other nice moves in the game, beating Beasley and other defenders on spin moves in the post and face-up drives from 10 feet out. One of Griffin's most impressive plays on the game was a left-handed dribble-drive down the left baseline, where he looked caught under the rim once again, only to spin back into the lane for a right-handed baby hook.
Griffin was most dominant in this game on the boards, where he simply out-pursued everyone else in the game, pulling down rebounds with great authority on repeated occasions. He consistently boxed out his man, while showing good timing and strength to fight others for boards. Griffin actually beat Beasley on a few occasions in this game where Beasley had inside position, but went up for the ball too soon, leaving Griffin to explode around him to grab the rebound himself.
Griffin had some trouble on the defensive end, though, struggling staying in front of small forward
Bill Walker
, and showing questionable awareness at times. On one occasion, he lost his man on the perimeter by watching the ball on the other end of the court, leading to a wide open three-point shot. On another, he was in position to contest a shot in the lane, but didn't recognize it quickly enough. Griffin did have a few nice flashes on the defensive end, though, showing a good defensive stance at times and making one nice block on the perimeter by using his length and athleticism.
In the end, Kansas State had a slight edge in the final score, Beasley had a slight edge in the box score, and Beasley had a slight edge in overall performance on the floor. Griffin played an outstanding game and consistently kept up with a player much farther along in his offensive skill development, but ultimately, Beasley brought a little more to the table for his team. Unfortunately, Oklahoma and Kansas State don't have another game against each other on the schedule, but hopefully we'll be lucky enough to see them meet in the Conference Tournament for a much anticipated rematch of this great battle.
Final Stats:
Michael Beasley: 32 points, 11 rebounds, 8 turnovers, 2 steals, 2 blocks, 13-18 FG, 6-9 FTBlake Griffin: 27 points, 14 rebounds, 1 assist, 4 turnovers, 2 steals, 10-14 FG, 7-13 FT
Preliminary Conclusions:
It's still early in their college careers, but there's much to be excited about when looking at both of these young, talented players. There are also some areas for concern, but hopefully they can quell some of the doubts about their games in the remaining months of the season, where the competition level will be at an all-time high for both of them during Big 12 conference play.
Taking a look at Beasley first, there was much concern about his defensive awareness and effort
in our first look at his game earlier in the season
, but his defensive effort has been much improved over the past few games, and is hopefully something that will continue through conference play. There seemed to be a lot of "going through the motions" defensively earlier in the season with Beasley, but his aggressiveness has been much better of late, with him getting into tougher defensive stances, contesting more outside shots, and fighting a little harder to hold position in the post.
With that said, there is still much concern about his defensive awareness, as even though he's clearly trying harder, he can still look like a fish out of water here at times. He reminds of
Drew Gooden
a lot on the defensive end, in that he has the length and athleticism to occasionally make some impact plays, but can often look a little lost or confused, making some questionable decisions and not showing the greatest awareness of what's going on around him. It's obviously early in his development, though, and there is much room for improvement, especially if he is going to consistently devote the effort necessary on this end of the floor, and try to focus more with his awareness. Consistently doing these things would take Beasley to the next level as a prospect in the eyes of many, though it's no sure thing that he does.
On the offensive end, this game was an important step for Beasley, as he showed he's capable of outstanding performances against legitimate competition.
Longar Longar
and
Blake Griffin
may not put fear in the hearts of NBA players as defensive difference makers, but regardless, both of them are at an NBA level in terms of size and athleticism, and Beasley showed no problem scoring against both of them. This game told us a lot more about Beasley's potential than his dominant performances against Sacramento State and Winston-Salem, for example.
There are still some legitimate question marks about Beasley's game when projecting to the next level, though, notably what position he's ideally suited for. At 6'9, he'd be slightly undersized for a power forward, but his strong rebounding and length and athleticism may lend himself better to that position than the small forward position. In the early going, he also looks more competent defending the post than the perimeter. There are also some questions about how he's going to get off his turnaround jumper in the post against larger, more athletic defenders, as he has already showed some trouble there when matched up with California big man
Devon Hardin
.
Looking at Griffin, he has some notable questions surrounding his game as well, primarily because he's not as far along in skill development as Beasley is. On the offensive end, Griffin shows little outside of 10 feet, not possessing a reliable mid-range jumper and shooting a less-than-impressive 59% from the free-throw line, though his form doesn't look terrible. This is certainly something Griffin will need to add to his game, and because he's missing a few important ripples such as this, many believe he'd be best served spending an extra year in college developing these things.
To Griffin's credit, he does bring some excellent attributes to the table, and there's little reason to think he won't be a successful pro in time. If he can add that mid-range jumper to his repertoire, and continue developing the rest of his game, he compares pretty favorably to
Carlos Boozer
in terms of what he should be capable of doing on the floor. Adding that mid-range jumper is absolutely crucial for him to project into that kind of role, though.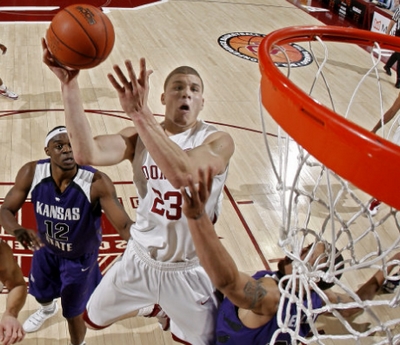 Griffin's post game is extremely intriguing, and there's a chance he develops into a better post player than Beasley in the long-term. While Griffin doesn't possess a heavy arsenal of moves in the post, his game has a deceptive quality to it that makes it look like he does. He mostly relies on spins and counter-spins down low, but he shows very good footwork and awareness, along with outstanding speed going from fakes into his counter-moves for a player his size, looking very fluid in the process as well. This ability to transition from move to move very quickly will be a huge asset as he adds more ripples to his post game, especially when combined with his strength, length, athleticism, and touch. Speaking of touch, Griffin's ability to finish with both power and finesse is another aspect of his game that should help him at the next level.
Another aspect of Griffin's game that is intriguing is his ability to adjust around the basket. Whether he's maneuvering from strange positions under the rim, showing off his best
Antawn Jamison
impression with an unorthodox scoop shot, or going to the basket on one power dribble, only to deftly turn his body to adjust around a defender in mid-air, Griffin shows a body control that's occasionally more reminiscent of a guard than a big man.
Speaking of guards, Griffin also has some cute ball-handling ability, which he'll show off at times, dribbling through his legs or going being his back, though he really doesn't do much constructive with it at this stage. His face-up game needs a lot more work, but he shows flashes here and there, as he does with most areas of his offensive game.
On the defensive end,
as mentioned in our previous report on Griffin's development
, Griffin doesn't show nearly the same motor as he does on offense or in attacking the boards. This will be important to his development, and it would help him considerably if he can apply this same motor to this end of the court.
As mentioned earlier, it's obviously still early in the development of both of these players, and there's a lot more basketball between now and July, but there's a lot to be excited about in watching the early returns, and it's something we'll continue to track here at DraftExpress for the remainder of the season.