D.J. Strawberry it seems has a knack for sneaking up on people. Coming out of high school, he certainly wasn't the most heralded of prospects in the University of Maryland's national championship recruiting class. With big time prep stars like
Mike Jones
headlining the group, Strawberry was not looked upon as a player that would have a major impact for the Terrapins early on in his career. Despite the low expectations, Strawberry quickly rose to become the leader of the Terrapins and now finds himself as the only player from his class with a legitimate shot at continuing his career in the NBA.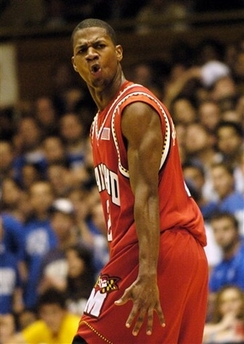 "It was just a lot of hard work," Strawberry said. "Coming into Maryland, no one really expected me to play that much as a freshman, or not really until I was a junior or a senior. I just worked hard, showed my abilities on the floor; I felt like if I brought some defense and some energy to the team, that I would make it on the floor quicker than other guys. After that, I just worked on other aspects of my game to become a better player, and now today I have a pretty good chance of getting drafted."
Strawberry's career wasn't without its ups and downs though. After helping Maryland win an ACC Championship in 2004 as a freshman, he saw his sophomore season cut short by a torn ACL. The woes continued for Strawberry, as the Terrapins missed the NCAA Tournament during his junior season, but a strong senior season and an NCAA Tournament birth made up for the previous two years.
"If you look back at it, it was pretty satisfying," Strawberry said. "After we had our struggles the past two years, that was our main goal, to get back to the tournament. Then it was to win some games; we got one win but then lost to Butler. After being down halfway through the season, and then being able to come back and win with the seven game winning streak, you know it was pretty satisfying for us."
It was a career year for Strawberry, who posted career highs in points, rebounds, steals and assist to turnover ratio. A major factor in his success this year was his return to his natural position. After playing point guard as a junior due to the lack of ball handlers on the team, Strawberry moved back to the swing man position for Maryland.
"It took a lot of pressure off me, not having to handle the ball at all times," he said. "I still played some point guard last year, but it was a lot easier with another guard that could handle the ball."
At the conclusion of the season Strawberry began individual training for the draft. Unlike many players, he didn't attend the Portsmouth Invitational Tournament despite being invited, instead he traveled 3,000 miles from home to hone his skills.
"My agent and I decided that it would be best for me to get away from California where I am from, so there would be no distractions with friends and family," Strawberry. "So I was training in New York with [basketball trainers] Milton Lee and Jerry Powell."
The biggest focuses for Strawberry during his training with Powell and Lee were his ball handling and shooting. Strawberry stated that a large percentage of his time was spent working on improving his ability to both catch and shoot, and shoot off the dribble. He also stated that being able to play point guard at the next level would do a tremendous amount to help his draft stock.
While his individual training was important, Strawberry caught a huge break when he was a last minute addition to the Orlando pre-draft camp roster a couple of weeks ago.
"After I didn't get an invitation, I just expected not to go," he said. "I wasn't really waiting for a call or anything, I made other plans. I continued to work out to get ready for the team workouts. Once I did get a call, though, I was ready to go. I was very excited about getting to attend a camp like that. It just happened to work out my way that I was able to go."
Strawberry made a good impression after playing well in his teams' games, playing tough perimeter defense, a trademark of his game. Where he really raised eyebrows though was in the physical skills assessment, where he tested out as the top overall athlete at the camp. When asked about how he thought being the top athlete at Orlando would help his stock though, Strawberry wasn't exactly sure.
"I really don't know," Strawberry said when asked. "I just did what I can do in those testing drills. That's pretty much what everyone works on after the season; working on your bench press, your agility drills and your shuttle run. I just used what I learned and I did well, but I really don't know how that is going to help me in this draft."
Despite his own uncertainty, Strawberry finds himself in very good company when it comes to being drafted.
Joey Graham
,
Troy Bell
and
David Noel
all were the top rated athletes at the Orlando camp when they attended, and all were drafted and draft fairly high. Strawberry himself didn't even realize the past success that had come with being the top athlete at Orlando, but stated that all he can do is his best and the rest is out of his hands.
Since the pre-draft camp, Strawberry, like so many other NBA hopefuls, has been working out individually for various teams hoping to make a good impression. At the time of this interview, Strawberry had already worked out for a dozen different teams.
"They've been going really well," he said. "I've been hearing good things, so hopefully if I continue to work hard I'll hear my name called on draft day."
Strawberry certainly brings qualities to the table that would make any GM consider him as a draft pick. When asked, he was very explicit in pointing out his strengths and weaknesses as a player.
"I think my strengths are my defensive abilities; being able to play defense on the one, two or three," Strawberry said. "I bring a lot of energy to the floor; getting out in transition and making plays. I think just being a big guard helps me against smaller guys. My weaknesses would be my jump shot. It needs to be more consistent and I need to extend the range on my shot. My ball handling and playmaking abilities in the half court set also could use some improvement."
One issue that has been cropping up in some publications that has continually befuddled Strawberry is his father, former major league baseball player Darryl Strawberry. Strawberry struggled throughout his career with drug problems and this in turn is drawing red flags for his son in some media member's eyes, something that
D.J. Strawberry
doesn't understand.
"What my father has gone through has nothing to do with me and trying to play basketball and get drafted," he said. "I don't know why people would put me in the same category as him. I've never gotten into any trouble; I've always been a good kid. You can ask any of my college coaches, I haven't done anything. I've represented myself well at the University of Maryland. I can't really speak about what GM's will think about my father, I can only say just look at me as a person, not what he has done in the past."
With the draft just days away, one would think that Strawberry would have trouble thinking about anything else, but always the calm and mature individual, the former Terrapin continues to stay focused.
"I really haven't had time to think about where I'm going to because I'm still working out. I'll be working out until the day before the draft, so that's pretty good for me to keep my mind off the draft, and continue going to these workouts and trying to impress somebody."