For a player as highly touted as
De'Angelo Alexander
coming out of high school, his college career was anything but conventional. As a senior in 2002 the RSCI had Alexander ranked ahead of current NBA players
Deron Williams
,
Randy Foye
and
Ike Diogu
. The Oklahoma native decided to stay close to home and attend the University of Oklahoma. Alexander played well in his two seasons with the Sooners, averaging 9.6 points and 4.8 rebounds in 31 games as a sophomore. His career at Oklahoma however would end after he dislocated his shoulder and missed a significant amount of time. It was at this time that Alexander realized he would be happier elsewhere and decided to transfer.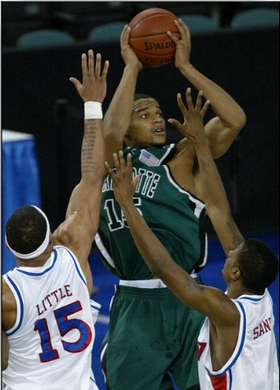 He was still a hot commodity even after his injury; North Carolina, Connecticut, Kentucky and Kansas all came calling for his services but Alexander settled on the Atlantic-10 and Charlotte.
"I felt like there was more freedom at Charlotte than at OU and I felt like I could really show what I could do," Alexander said. "I have family out there and I saw it as a program on the rise at the time. I felt even if I had to sit out there I could learn the system, and I wouldn't have to play behind anyone there. I thought it was the best thing for me, plus I thought they really fit my style of play and I love the coaching staff."
The summer prior to his transfer to Charlotte, Alexander was invited to be a member of the USA U-19 squad that took part in the World Junior Championships in Greece. On a team stacked full of future NBA players including
Maurice Ager
,
Deron Williams
,
J.J. Redick
, and
Paul Davis
, Alexander finished third in scoring at 11.9 points. Team USA finished 7-1 and 5th overall.
"That event was great," Alexander said. "I got to know the guys and I had a great coaching staff. I played under Ernie Kent. My stance at the time was kind of 'I can play with anybody'. We won the Global Games in Dallas, and then we went out there and placed fifth. The best thing was playing with the guys, going out and doing what I could do and meshing with the others talent, and just trying to win for team USA and knowing I was representing the country, I knew that was something I had to do. I felt great for that because I knew I was one of the best players."
Since that time Alexander said he has been impressed with the strides that some of his former USA teammates have made in their game.
"I think some of those guys really made strides after that;
Deron Williams
definitely. With those guys, I feel like I can be in the same category if I just keep working hard. I think [the World Championships] kind of got them going, and they felt it click."
The World Games were also a chance for Alexander to see some talented players he hadn't heard of before. One player in particular who stood out to Alexander was future number one pick
Andrew Bogut
.
"When I saw him, I was wondering who is this guy because I had never heard of him before," Alexander said. "Then he had 35 points against us, so I knew the talent was there but I didn't see him getting picked as high as he did. But again I did see the talent because he was dominating the game."
With the World Junior Championships set to take place again this summer, Alexander was nice enough to provide some advice for this year's crop of future stars. He said the key for this year's team, as it was for his squad, is to play solid defense and strong team basketball. With the variety of playing backgrounds that players will be coming from, the ability to work as a unit will be key, he emphasized.
After his experience with Team USA, Alexander went on to two solid seasons at Charlotte, averaging better than 17 points and 6 rebounds each season. Alexander was a first team All-Atlantic 10 selection his junior year, and was a third team selection this past season. For Alexander, though, his college career went beyond simply his individual statistics.
"I think it was a learning process for me," he said. "I mean the individual awards were cool, but if my team didn't win…I mean that was what was most important to me. I just always wanted to go far in the tournament; that's why I feel like I'm at my best in March."
While Alexander claims to be at his best during the postseason, what may be even more intriguing is that he claims he hasn't come close to reaching his peak as a basketball player yet.
Since his senior season ended, like so many other graduating players, Alexander took his game to the Portsmouth Invitational Tournament. During the four day event he played an integral role in helping his team win the tournament championship. For a player who in the past has been criticized for being too selfish at times, Alexander certainly didn't seem to fit that mold at Portsmouth.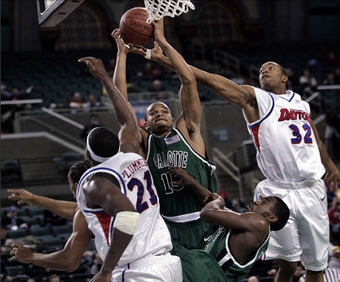 "I just wanted to show everyone that I can achieve," he said. "I can win. I can play team basketball, but overall, if you had watched us play, it was like we had been playing together forever. Basically what we preached was defense, playing hard, and playing together."
The most impressive part of Alexander's time at Portsmouth was he seemingly mastered the difficult task of playing well for the scouts, as well as playing well within his team.
"I think I can do both well. I feel like I can adapt in every situation," Alexander said.
Alexander thought he played well enough to earn an invitation to the Orlando pre-draft camp taking place later this summer. At the same time, he showed plenty of maturity by stating that he felt he still had plenty to improve upon, as well as stating that if he wasn't invited he would be ok because he had played within himself.
He showed further poise in his response to many pro scouts who question his shot selection.
"I think those comments came from how our team was at Charlotte," he said. Different things happened. With our season ending up the way it was, it's like everyone wasn't getting on the same page. So I feel like everyone was playing selfish; I wasn't trying to do that too. Sometimes I take bad shots, but I mean I feel like I can make anything."
This was the exact opposite of what transpired at Portsmouth. Alexander continuously mentioned the harmony within the team; stating that every player on the team had the same goal in mind, which was to win. In addition to this shared passion for basketball, Alexander was able to share conversations on a variety of topics with his teammates, in particular his roommate at the camp,
Russell Carter
of Notre Dame.
"I just happened to know
Russell Carter
already and we wouldn't really talk about ball all the time, I mean we'd talk about it, but we'd also talk about life and different things," Alexander said.
Having completed the agent signing process, which puts him ahead of many of his peers, Alexander has been able to look ahead at preparing for the draft physically. Alexander will be working with former NBA player
John Lucas
leading up to selection day to improve his all-around game, but has specifically mentioned his ball handling as an area of focus.
"I'm a good defender, I can rebound and I can score, but I think my ball handling could use some work," he said. "I have good shot selection but being a stronger ball handler will help me get off my shot."
For Alexander, who is always eager to get out and show his stuff on the court, the wait for private workouts will be a little longer than in years past. The new rule states that players may not workout for NBA teams until after the pre-draft camp in Orlando. This wait doesn't faze Alexander, who realizes that for a lifelong dream to be achieved it's now or never.
"This is my life; this is what I love to do. I think the extra time can either help or hurt you. If you get that chance, you've got to make it happen."