Mario Boggan has experienced a lot for a college athlete. Heck, he's experienced a lot for any college student. Since 1999, Boggan has played basketball at three different high schools, and spent time at four different colleges, in an amazing journey that now leaves him staring at the potential to be playing in the NBA next season.
Boggan spent time at two prestigious basketball programs in Oak Hill Academy and Hargrave Military Academy, where he was a top-50 national recruit, before he decided to play under
Billy Donovan
at Florida. At the time Boggan was packing nearly 300 pounds onto his 6'7" frame. He spent only one season with the Gators, averaging just six minutes of playing time in sixteen appearances. He decided to transfer to St. Bonaventure, but never played a minute of basketball there. He eventually wound up at Chipola Community College in Florida, where he averaged 20.5 points and 9.2 rebounds. His numbers, and the fact that he had lost nearly 60 pounds, drew plenty of big schools calling for his services, including USC, Cincinnati, and Alabama. Oklahoma State would be the school that Boggan would ultimately choose though.
"I was looking real hard at all three schools, but Oklahoma State kind of came in right at the end of my recruitment," Boggan said. "They originally didn't want to recruit me because they thought I was going to wind up going to Alabama. I didn't commit there so they opened up the recruiting process with me. I actually kind of contacted them just because I wanted to go out there and be in a winning program where there was a good coach. That's what I looked at when I went to Oklahoma State."
The newly trim Boggan made an immediate impact at his new school, leading the Cowboys and the Big 12 in field goal and free throw percentage for conference games, the first player ever to do so. While these numbers would dip his senior year, his scoring and rebounding numbers would explode, as he led the team in both categories with 19 points and 7.6 rebounds.
As much of a stellar year as it was for Boggan, his career would end in disappointment. Needing to make a serious run in the Big 12 Tournament in order to put itself in the NCAA Tournament picture, Oklahoma State fell in the semi-finals to Texas. After the game Boggan, knew the dream was over.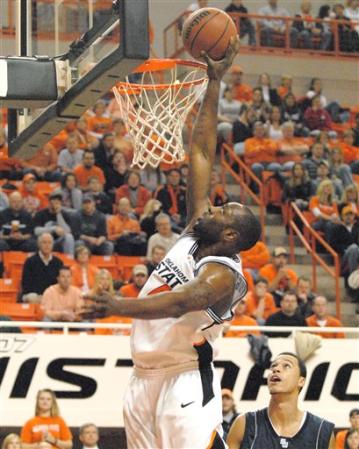 "I kind of felt that when we lost," he said. "Even if we had won that game I felt like we still wouldn't have gotten in. I think we would have needed to win the whole Big 12 tournament to get in, but I mean it would have made for a good argument had we beat Texas."
Boggan's career would come to an end just three days later as Oklahoma State fell to Marist 67-64 in the first round of the NIT. In an unexpected move, Boggan was on the bench for most of the second half, and played just 24 minutes, tying his lowest total of the season.
"I guess it was coach's decision, but as I was sitting on the bench I saw my team fighting out there on the court and I wanted to be fighting with them," he said. "At the end of the game I just felt like, what a way to go out. The last game of the year, after fighting the whole season, trying to get that NCAA tournament birth, and just playing strong all season ever game, and then in the last game I didn't get to play, so I kind of sad deep down knowing it was my last college game. I'm just taking that with me now as I go on and train."
Training is something that Boggan has only recently been able to start doing. A wrist injury suffered late in the season prevented him from doing much until just a couple of weeks ago. Always a competitor, Boggan refused to miss any games down the stretch for Oklahoma State.
"I played in so much pain that I had to get a shot before each game," he said. "Once we entered the tournament I had to start getting a shot every day. My wrist was real sore from playing with it. It was a deep bone bruise that I was told was going to need a lot of rest."
The injured wrist kept Boggan from appearing at the Portsmouth Invitational Tournament not long after the college season came to an end. His reasoning for sitting out was very simple:
"I couldn't really shoot with it, so if I could hardly shoot the ball, why go risk playing poorly at something so important," he said.
Now that his wrist is healed, Boggan is hard at work preparing for the NBA pre-draft camp in Orlando. He is in Houston working out two to three times a day with Wayne Hall,
Tracy McGrady
's personal trainer.
"I've just been working really hard to get my body in shape," Boggan said. "I've been down here two weeks. When I first got down here I weighed almost 260 and my body fat was like 13%, now I'm down to 250 and my body fat is like 9%. So my body has changed drastically since I've been here, and aspects of my game have gotten even stronger. So it's looking real good right now, I feel great, and things have just been going real well since the season ended."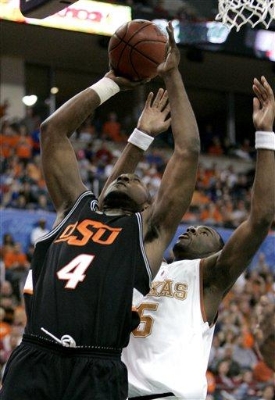 While getting his body into the best possible shape he can is priority number one, Boggan is working on plenty of other aspects of his game. He stated that his main focuses will be his ball handling, the range on his jump shot and polishing his post moves. As a very undersized 6'7" power forward, Boggan will have to be a solid all around contributor if he wants to find success at the next level. He is similar to
Ryan Gomes
of the Boston Celtics who was another undersized post player who was a prolific scorer in college. When asked if he felt he could see himself in the same sort of role that Gomes has found at the professional level, Boggan said he absolutely could, and he would like to think he can even go beyond what Gomes has done for Boston.
As a pro prospect, Boggan feels that he brings a lot to the table both on the court and as a person.
"I have good character," Boggan said. "I'm a good person first and foremost. I understand the game. I'm not simply just a scorer, I can distribute the ball, and I can be a team player. I think I know the game well because of my experience and because of the good coaching I've gotten in the past. Like I've said, I love the game; it's in my heart to play basketball. That's something that drives me to work harder."
With the NBA Draft still several weeks away, and with nothing but training to occupy his time, Boggan has had the chance to reflect on where his travels have taken him and what he has gained from his experiences.
"I look at it as a tough journey, but I learned a lot from it," he said. "I've had the opportunity to compete at the highest level of basketball; I've also been at the bottom though where I went to junior college. I got to experience all the things that junior college players go through, and all the guys that aren't fortunate enough to go Division 1. So like I said, the whole process was a learning process. I probably would have wanted a better route, but what I went through is all a learning experience, and it turned out for the best."
Boggan has come this far since his high school days, and with the chance he could be drafted in late June, there is still the potential to go even further.