Jonathan Givony
One month into the 2010/2011 season, there isn't a more productive player in all of college basketball than UConn junior
Kemba Walker
.
The New York City native took the Maui Invitational Tournament by storm last week, helping his team win the event with shocking upsets over the likes of Michigan State and Kentucky. Walker scored 90 points in 99 total minutes to take home MVP honors and officially stake his claim as the top point guard in college basketball. His production speaks for itself right now, as he currently ranks as the
No. 1 scorer in the NCAA
, and
No. 2 in PER.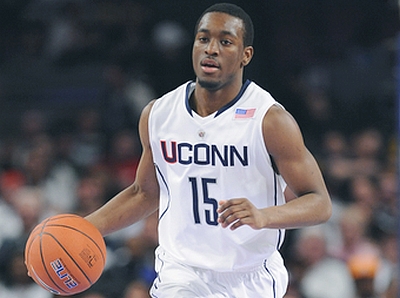 With the loss of seniors
Jerome Dyson
,
Stanley Robinson
, and
Gavin Edwards
, Walker has nearly doubled his field goal attempts per game, but he has also experienced a remarkable spike in efficiency, making an exceptional 59% of his 2-pointers. That rate – although sure to drop as the season progresses – is impressive, but Walker's perimeter shooting is what has caught our eye the most so far. He's converting 41% of his over six 3-point attempts per game and has been absolutely terrific pulling up off the dribble in the mid-range area (sometimes using the glass) and hitting shots from beyond the arc.
Walker wasn't known as a great shooter coming out of high school, but he has put an unbelievable amount of time into improving his mechanics and increasing his range over the past few years. He's absolutely deadly now – both with his feet set and off the bounce. The fact that he can find the space to get his shot off whenever he pleases makes him that much more difficult to guard, particularly at this level. It's also made his shot fake (a frequent part of his arsenal) more credible, which has, in turn, made him an even more effective threat slashing to the basket.
Walker has always had terrific quickness and ball-handling ability, but it's only this year seemingly that he's really learned to use them at all times. Often quick to defer to teammates in his first two years at UConn Walker is embracing his role as the end-all, be-all offensive catalyst for the Huskies.
It's simply impossible for defenders to stay in front of him – both in transition and in the half-court. His aggressiveness with the ball, ability to change speed and direction instantaneously, and phenomenal body control allow him to knife through defenses effortlessly. He's not afraid to drive full steam into the paint and draw contact at the rim, either. He shows great strength and toughness around the basket and is getting to the free throw line at an exceptional rate.
The Rice High School product was known as an unselfish playmaker earlier in his career. While his stats this season may lead some to the impression that he has gone away from that, his increased production stems from necessity more than anything. UConn cannot survive without Walker scoring in bunches.
Digging deeper into his film, there are still plenty of instances where Walker's outstanding court vision and creative passing shine through. He's capable of threading the needle to teammates rolling to the basket with bullet passes, finding open shooters on the wing, and making fundamentally-sound entry passes into the post for high percentage looks around the rim.
Walker is noted for his strong intangibles and has showed improved leadership skills this season. He seems to enjoy making his teammates better and there's no reason to think that won't continue in the NBA where he'll be surrounded by more talented players. The fact that he's already a prolific pick-and-roll threat will only make his transition to the next level easier.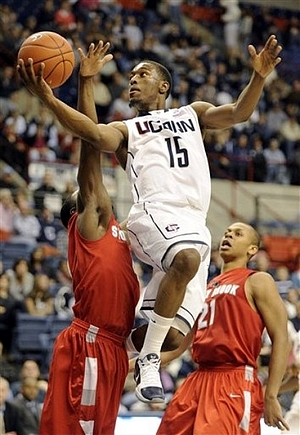 He is at times criticized for questionable shot selection and a penchant for playing out of control, but Walker's turnover rate is down substantially this year. This is a very good sign, especially considering the huge role he's forced to shoulder offensively. We've seen a handful of possessions this season that reminded us of Walker's old ways, but nothing that should make NBA decision makers overly concerned. This is something to keep an eye on as the season progresses, as opposing coaches will surely be throwing everything in their arsenal at Walker in an attempt to slow him down.
Defense is the part of Walker's game that will raise the biggest question marks from NBA evaluators – not because of his actual defensive ability, but rather his size. Standing somewhere around six-feet and change, Walker will always carry the "undersized" label, even though his height rarely affects him on the offensive end. He'll match up against bigger, stronger, longer point guards in the NBA, which could make things more difficult. To his credit, though, he shows excellent lateral quickness, terrific instincts in the passing lanes and the type of toughness you come to expect from a New York City guard. Nevertheless, there is a bias amongst certain NBA-types against shorter point guards, which must be taken into account.
Walker was projected as a lottery pick going into the season, and he's rising even further up our draft board following his impressive start. He's now solidly in the top 10 and is rated as the draft's second-best point guard after
Kyrie Irving
. Once drafted, he'll be one of the fastest players in the NBA, and he already looks ready to step in from Day 1 and help run a team, which is something that can't be dismissed.
While some will question his limited size and wonder how his game will translate to the next level, players such as
Aaron Brooks
,
Brandon Jennings
and
Tony Parker
have proved that point guards in this mold are incredibly valuable assets in today's NBA.
How Walker builds on his phenomenal Maui showing, and the type of success his UConn team enjoys this season, will ultimately decide how high he gets drafted.
Edited by
Patrick Crawley
, Sports Editor for
Neon Tommy
and Managing Editor of
Basketball Fiend
.