The Sonics battled injury and inconsistency for the second straight season and finished at the bottom of the Northwest division. The team has been able to collect quite a few valuable assets over the course of the past couple of seasons and still have some veterans that may yield a return.
First year GM Sam Presti has elected to take over a very interesting situation. The franchise's future in Seattle is still somewhat in question, but the improbable acquisition of the 2nd pick in this year's draft has put the Sonics in a favorable position going forward. That pick could be the signature player in this draft,
Kevin Durant
, whose marketability may be just what's needed to push popular support for a new arena deal through. Owner Clay Bennett paid a very steep price to acquire the Supersonics despite their marginal revenue potential, so the new arena will certainly be a hot topic moving forward.
Regardless of the politics of the team's current position, the franchise has just been blessed with the ability to solidify their competitive place in the league going forward. If Presti is able to sift through the pieces of his roster quickly and establish the "culture" that he wants going forward, the Sonics should be a team to watch very soon.
Roster and Financial Breakdown: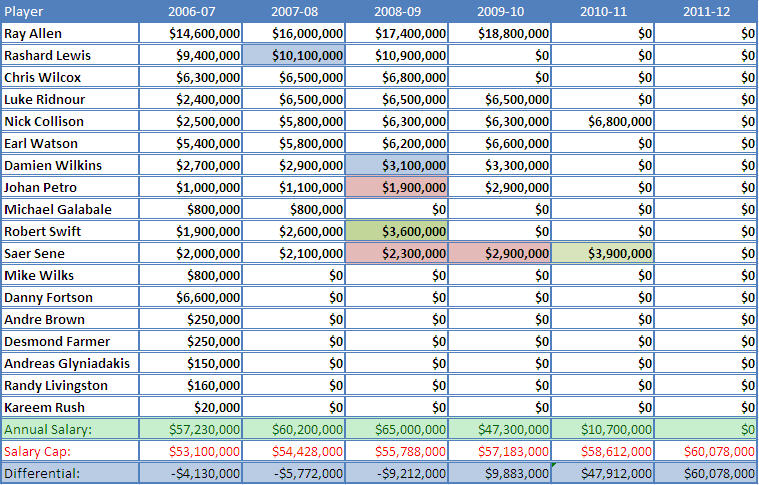 [c](Salary Cap projections were created taking the average increase over the past 5 seasons)[/c]
Efficiency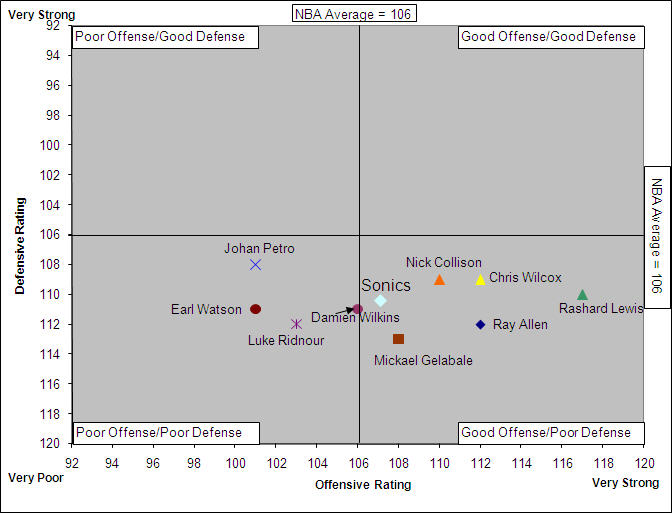 [c]courtesy of Paul Gearan and Heather Allen[/c]
Usage: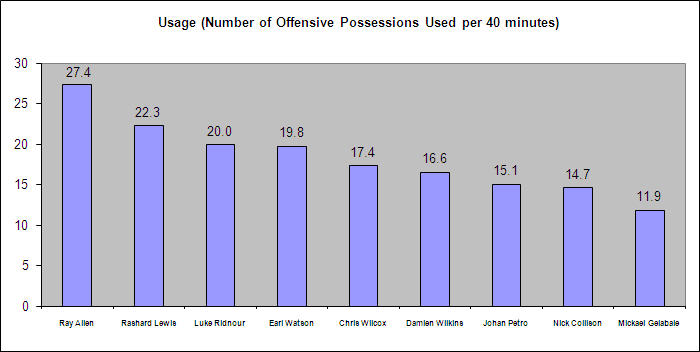 [c]courtesy of Paul Gearan and Heather Allen[/c]
Record/ Overview:
31-51, 5th place Northwest Division
There were few encouraging performances by the Sonics players. Both
Ray Allen
and
Rashard Lewis
missed some time, but both put up seasons that are pretty standard for each of them. Allen did shut it down late in the year, and his age and the team's increased reliance on his performance to win is an issue the team must address.
Both Lewis and Allen were used substantially more than any other Sonics player in terms of the minutes they played for the team.
Chris Wilcox
was third on the team in minutes played at almost 8 minutes below the All Star tandem. The team was substandard defensively, but it was their lack of continuity on offense and over reliance on their two main players that really led to some inconsistent moments.
Nick Collison
and Mickael Gelabale showed a lot of promise relative to their age and experience levels. Collison started the season off slowly, but broke out and showed a great deal of ability with his rebounding and court savvy. Collison had a great stretch of efficient offensive production before his shot opportunities diminished.
Gelabale had a nice showing as well after spending an extra season overseas. Gelabale has a lot to work to do, especially with his understanding of the tendencies of his opponents, but he gave the team some encouraging moments. It was surprising to see the French National Team pass on his services this summer, but that will only help him and Seattle as he continues to add new dimensions to his game through his hard work in the gym.
Current Assets:
The team has some nice assets to help them reconfigure around whichever franchise player they receive in the draft. The team has a slew of frontcourt talent that will have to be sorted through and an important decision will have to be reached regarding
Ray Allen
, who is 32 years old and really doesn't fit in well with a rebuilding effort centered around a teenager.
Expiring Contracts:
Rashard Lewis
is the team's largest potential off season loss as he has opted out of the last two years of his contract in order to hit the free agent market. There are a couple of suitors looking to acquire him for around the price he's looking for, but Seattle may be able to facilitate a sign-and-trade deal to get some quality return for the 28 year old before he walks for nothing.
If Lewis has a preferred location that doesn't have the cap room to sign him outright, the Sonics should be able to get a quality building block or two for him, perhaps a point guard and a wing. It's in Lewis' best interest to work with Seattle as much as possible, since he can get more guaranteed years and bigger contracts increases through the Bird Rights they own.
Total Cost: $9,400,000
Rotation Players:
The team is built around
Ray Allen
and
Rashard Lewis
, and that leaves Allen as the likely lone gunman going into next season. Allen has had some of his best statistical seasons in Seattle and is a model of professionalism as far as his preparation and approach to the game.
Allen would seem to be the type of veteran presence that Presti could use as he tries to establish the team "culture" that he spoke of during his press conference. But at 32 years of age, Allen might be starting to think about bringing his act to a contending team, something many of his contemporaries have been clamoring about recently.
Allen will be 34 when his sizable contract expires, but a potential Hall of Fame talent like Allen should draw some interest around the league and could net the Sonics a decent return package.
Chris Wilcox
was fairly inconsistent himself during the regular season, as were most of the other Sonics players. Wilcox has the ability to have explosive games, but wasn't reliable enough as a third option to carry the team through tough stretches. His post play is extremely valuable when he's on, but a greater commitment to defense would help his game tremendously.
Wilcox is only one of a group of five frontcourt players the Sonics have to work with. Wilcox is still young and is extremely talented, but he's never been a part of a winning environment since his days in Maryland and has developed some bad habits along the way. Making a determination on whether he has the character qualities that can be relied on going forward will be a major decision for the organization as teams typically pay a premium for productive big men.
Luke Ridnour
had another solid, but unspectacular season as the team's starting point guard. Ridnour is a reliable floor general, but would probably be better suited as a backup on a contending team because he lacks the explosive ability to truly take over games with penetration and playmaking. His 3-point shooting does not make up for his weaknesses in other facets of the game unfortunately.
Earl Watson
makes up the other half of the point guard equation in Seattle and is a nice foil to Ridnour's more offensively oriented game. Watson has solid defensive ability and can run a team pretty well, but he is even less of an offensive threat than Ridnour. Watson is another player who makes for a fine backup point guard, but carrying a combined 12 million in backup level talent will probably force the team to choose between the two.
Nick Collison
was probably the most consistent performer outside of Allen and Lewis considering he played in all the team's games. Once he was a fixture in the starting lineup he quickly became a reliable double-double threat every night and showed exceptional work on the boards. Collison has to polish his offensive game if he wants to be a true impact player, but he is the most solid all-around big man the team currently has.
Swingman
Damien Wilkins
provides occasional scoring punch, but isn't the type of player that should average 25 minutes per game for a winning team unless he can be more productive on both ends of the court.
Total Cost: $43,500,000
Prospects:
Robert Swift
is an interesting player to keep an eye on this season. Swift suffered a season ending ACL injury after having a solid training camp following a strong showing during the end of the previous season. Swift has offensive and defensive potential and has been the subject of interest from a number of teams with long memories who are looking to get him cheap. If he recovers and returns to form, he could really solidify the Sonics pivot position. Time will tell what level he reaches, but his value now is probably much greater for the Sonics than anything they can get for him.
Johan Petro
is another big man who has shown flashes of skill, but hasn't put it together. Petro is extremely athletic and mobile for a player of his size, but hasn't shown to have a great feel for the game as of yet. Petro is only 21 years old, so there is quite a bit of development time left ahead of him. He has the type of size and potential that will elicit a big time contract if he puts up a couple months of tantalizing statistics, so the team will have to really get a feel for the work he's willing to put in to become more.
Saer Sene
is another in the long line of young bigs that has many of the same questions surrounding him that Petro does. Sene was a disappointment for the coaching staff last year because of his lack of commitment to improvement and his sulky disposition. Sene has a world of raw talent, but needs to commit himself to improvement if he's to fulfill his potential. The Sonics probably can't get much for him, but it never hurts to gauge the value of your prospects.
Mickael Gelabale is another young Frenchmen who has shown the opposite disposition to Sene. He was a favorite of the previous coaching regime and should continue to improve his game under the next one. Gelabale has the chance to be a key defensive wing for this team going forward and maybe more. Again, his top level of development and the keys to unlocking it will be a matter of discovering which buttons to push as well as putting the right button-pusher at the helm.
Total Cost: $6,600,000
Free Agency:
The Sonics most likely won't look to make any mid-level acquisitions this early in Presti's watch. There is plenty of internal review of current personnel to be done before the team begins looking outward for help.
However, the team may very well be active on the trade market in the upcoming months and could have a different face before tipoff next season. Beyond the draft, this team has work to do, but plenty to work with going forward.
Draft:
There are two choices for the team as the draft stands now:
Greg Oden
or
Kevin Durant
. While it initially appeared that Oden would surely go number one regardless of pre-draft workouts, Durant has put a substantial impression into the minds of the Trail Blazers and may in fact leave Seattle with another center to build around.
Oden would allow the team to trade away the best of their frontcourt prospects in order to obtain another dynamic player to place alongside Oden. Oden should anchor the defensive middle or the Sonics and could make
Nick Collison
extremely effective as simply a cleanup man off of the defensive attention he draws in the paint.
If
Kevin Durant
still ends up going with the 2nd pick, the team is going to have to decide very quickly whether or not his long-term future will be predominantly at the 4 or the 3. Durant has the versatility to play multiple positions, but he probably will be more effective on both ends of the court as a 4 in the West, where his mobility, length, and timing make him a two-way nightmare for most opposing power forwards.
In either case, Seattle is in a position to establish one long-term cog in the championship wheel. The Sonics' other outstanding situations should be resolved with time as well.