Adam Morrison, 6-8 Small Forward, Los Angeles Lakers, 1984
When the Charlotte Bobcats made
Adam Morrison
the third overall pick in 2006, this is likely what they would have liked to see from him in his first summer out of college. Three years and one torn ACL later, Morrison was a dominant scoring threat from start to finish in Vegas. His knee appeared healthy and his offensive game looked much more like the one he displayed during his days at Gonzaga than the one that earned him 11.8 points per game on only 37.8% shooting as a rookie.
Not an impressive athlete by any standards, perhaps the most important thing Morrison showed here was not that he could still score, but that he was able to keep up in an NBA-style setting. In fact, his first basket of the summer was a two handed slam off a give and go in transition early in a Laker's victory over the Toronto Raptors. In addition to knocking down the type of shots that earned him national attention years ago, Morrison even got to the rim off the dribble in a few half court situations.
Always the aggressor, Morrison came out firing in each of his four games in Las Vegas. Though he didn't get hot from the perimeter until the second half of the Toronto game, he made his presence felt in a hurry, hitting a pair of off balance pull up jumpers to set up a drive and dish pass that earned a teammate two shots from the foul line. Morrison's shooting stroke is still a thing of beauty, and his ability to get his jumper off at his size with his quick release and terrific accuracy leaves some room for optimism regarding his ability to stick in the NBA.
With his confidence at what was probably a three year high, Morrison used the triangle to his advantage, making the most of his open looks from the perimeter and using hand offs to create driving lanes which he used to get off his midrange jumper. His terrific scoring instincts are obviously still very much intact, as he showed on a number of occasions with his ability to convert floaters, step-backs, and execute complicated spin moves. Possessing deft touch on nearly all of his shots, one of the biggest issues Morrison had this week in terms of offense was his tendency to settle for bad shots. Not all that efficient a player at the collegiate level already, his inability to convert the fade-aways and contested jumpers he attempts inside the arc at an acceptable rate is one of the major reasons he's struggled to get his NBA career going thus far. Morrison's 2-point percentages hover well below the 40% range, which is simply unacceptable for a player his size.
When he was able to get closer to the basket, he showed a couple savvy up and under moves, but wasn't able to connect with very good consistency from in close. His lack of strength and athleticism hurts him here in a major way, and is yet another reason why his game just hasn't translated from the WCC-level to the NBA at this point. Playing for Gonzaga, Morrison was able to get to the free throw line almost at will, but without getting the type of calls now he was used to a few years back, that part of his game has completely evaporated, and with it, his scoring efficiency.
In addition to having some issues around the rim in half court sets, Morrison also had a number of passes deflected in the paint, though he did create a few good looks for his teammates when giving the ball up closer to the elbow, despite never being known for his passing skills. With his shot back in working order, the name of the game for Morrison moving forward will be to get the other offensive moves that used to make him effective back to a consistent level, since many of his other weaknesses may not be correctable.
Despite all the success Morrison found offensively on his way to a 20.8 point per game average, he showed both of his biggest weaknesses: his poor defensive presence and the offensive inefficiency that has hampered his NBA career. As always, his lateral quickness was an issue defensively, as he had a hard time running around screens and had no chance to recover if he closed his man out off balance. While he won't ever be a decent defender on the NBA level, he had a couple of nice possessions in Vegas where he at least wasn't a liability due to the intensity he displayed.
At this point, the two things Morrison needs are confidence and consistency. He showed both here in Las Vegas, though his final game was eerily reminiscent of some of the contests from his rookie season. Despite being in a shooting funk, things could have been a whole lot worse given that he scored 17 points and led his team to victory. The Lakers won't need him to be quite that prolific moving forward. Morrison would be well served on tightening up his game and trying to become as efficient and versatile a role-player as he can, as he clearly doesn't possess the athleticism to emerge as a feature scorer. His spot up shooting could be a welcomed asset, and if he can find a way to at least become an acceptable passer, rebounder, and defender, he could earn some minutes off the bench. Looking at his full body of work this week, he may be heading in that direction, although the jury is still out.
Marcus Williams(UConn), 6-3 Point Guard, Memphis Grizzlies, 1985
The 22nd overall pick in the 2006 draft, Williams has started only 9 games in his NBA career. After taking a big fall on draft night, the player that many considered a potential steal came into this week just looking to claw his way back into the NBA. Despite shooting just 33% from the field, he may have done just that here in Las Vegas. It seemed like almost every time Williams passed the ball to a teammate, the subsequent shot found the bottom of the net. Despite showing the same questionable scoring arsenal that we're used to seeing from him, he looked like a completely different player than the one that was
amongst the most turnover prone players in the League early in his career
.
It is not difficult to tell just how important Williams was to the Grizzlies. He made things happen the entire week, leading his team to a 5-0 record while tallying 13.4 points and 8.2 assists per game. Williams has always been considered an exceptional passer, but seldom has he proven capable of running the show like he did here. Never eclipsing an assist-to-turnover ratio of 2.0 in his NBA career, Williams turned the ball over only 11 times in 5 games, 6 of which came in a game against the Spurs that he won with a late floater.
This isn't the first time that we've seen a point guard carry his team with heady play, as
Jose Juan Barea
accomplished a similar feat with the Mavericks a few years ago. However, Williams wasn't just making every smart pass, he was making difficult passes look smart. Over the course of the week he took advantage of virtually every type of situation, splitting defenders to hit cutters on the pick and roll and pick and pop alike, driving and dishing out of spot up opportunities, and throwing a handful of 30-foot bullet passes to
Hasheem Thabeet
when hedged aggressively near half court. Many of his miscues were the result of good defense, especially against the Spurs where
George Hill
gave Williams very little room to breathe and made great use of his quick hands and enormous wingspan
Every now and again Williams did make a bad decision, mostly with his shot selection, where he took a couple of ill-advised pull up jumpers. His three point jumper remains too flat to be effective, but his ball handling remains crisp, and he was quick and strong enough to earn himself some easy shots at the basket. Though Williams' floater was the difference against the Spurs, it could still use some work as well. Regardless of what wasn't working for Williams, he did a tremendous job getting to the line, averaging more than 7 free throw attempts per contest –more than compensating for his poor outside shooting and showing much more decisiveness when attacking the rim than he normally does. Based on all the other things he did this week, Williams' lack of perimeter scoring ability didn't hurt his productivity as a passer, but there's no question that he needs to continue working on that part of his game to become the player many though he could become when he left UConn.
Possibly the only part of William's game that has been more maligned than his perimeter scoring has been his defense. Though his stance remains a bit half-hearted, Williams did not look nearly as bad here as he has historically. He isn't the most disciplined perimeter defender when closing out or defending the ball in half court settings, but he has improved his recognition on the pick and roll, doesn't show as poor awareness as he used to, and at least makes an effort to get a hand up on shooter. Due to the cushion that he often gives his man, Williams doesn't have too hard of a time deterring dribble penetration. He does give up the lane when he overcommits in hand off and pick and roll situations, but he'll try to stay in position when he can anticipate the drive. Overall, Williams may never be much of a defender, since he isn't super quick and forces essentially no turnovers, but he has shown some minor improvements over time.
Williams is at a turning point in his development, seeming to have reeled in his decision-making and his shot selection to an extent. Best of all, he seems to have shed quite a bit of weight, which has always been a major concern dating back to his college days. At the bare minimum, he's earned himself the opportunity to be someone's third point guard, and potentially more than that. He still has the same weaknesses he did coming out of school, but should he ever change his mentality on the defensive end or improve as a scorer, he could still emerge as an intriguing player.
Jason Thompson, 6-11 Power Forward, Sacramento Kings, 1986
One of the most intriguing prospects in attendance, Thompson came into this year's Summer League fresh off of a very impressive rookie season where he instantly became one of the
top offensive rebounds in the NBA
. Coming into the week facing lofty expectations, Thompson didn't disappoint. His 19.0 points per game was amongst the top marks posted here, but while he was highly productive, he showed some of the same raw decision-making he showed at this event last year.
Possessing a big frame, and a fine blend of strength, athleticism, and skill, Thompson's ability to score in a variety of ways didn't always help him here, as he tossed up some very questionable shots over the course of the week. He took a handful of fadeaway jumpers on the block that barely drew iron, forced some guarded pull ups, and rushed a handful of put back opportunities. Though Thompson is capable of making some jump shots, he showed last season that his midrange game is still a major work in progress. He's not a capable shooter off the dribble, and he still doesn't shoot well when his defender gets a hand in his face –two things he can work on moving forward.
While Thompson didn't show very well in limited perimeter touches, he didn't look too bad around the rim. He's sometimes too eager for his own good, but his ability to get up the floor in transition as well as make tough baskets in the lane is interesting to say the least. The name of the game for Thompson in the future will be to better use some of his opportunities around the rim by developing a go to move. He appears to have spent some time working to develop a turnaround jumper, but needs to focus on an up and under move or drop step. Though such a maneuver will require him to develop more polished footwork, it would yield significantly better results. Considering how easily Thompson gets to the line, the fact that one of his favorite post weapons is an inconsistent turnaround jumper tells you just what he could be capable of if he develops more polish, discipline, and patience inside.
A similar statement could be made about the way Thompson plays defense, showing solid lateral quickness and excellent length, the former Rider star can keep up with most players at his position, and even looked good against
Anthony Randolph
for stretches. Thompson still needs to learn to finish plays out on the perimeter, but he showed nice competitiveness and a knack for contesting jumpers this week. By comparison, his perimeter defense looked better than the work he put in down low.
Playing an average of 33 minutes in each contest, Thompson showed one of his biggest weaknesses –his lack of discipline when defending inside. Though he's good for an occasion highlight reel block and will get his hand on a loose ball every now and again, Thompson averaged seven fouls per game in Vegas, and had three games where he tallied 9 fouls in total. A bit too quick to initiate contact with his upper body down low, Thompson is prone to hacking shooters and generally is caught with his hand in the proverbial cookie jar on a regular basis. Some of his problems have to do with his footwork, which is still a work in progress, and his lack of experience is often apparent when he's contesting shots around the rim.
Given how productive Thompson was this week, Sacramento is undoubtedly optimistic moving forward, even if he won't solve their interior defensive woes. Still a few years away from competing, Sacramento fits Thompson well, since he is still a few years away from reaching his potential. While he accomplished some nice things this season, most young big men make noticeable strides in their second and third years. With added polish, Thompson could be a very solid player, making him a prospect to keep an eye on this year and down the road.
George Hill, 6-2 Guard, San Antonio Spurs, 1986
Another unsung rookie, Hill made a name for himself with a solid, but inefficient rookie season in San Antonio. After having a hard time impressing with his play last summer at the Las Vegas Summer League and Rocky Mountain Revue last year, Hill looked very solid this week aside from one poor showing against the staunch defense of
Jerryd Bayless
,
Pooh Jeter
, and the Portland Trailblazers.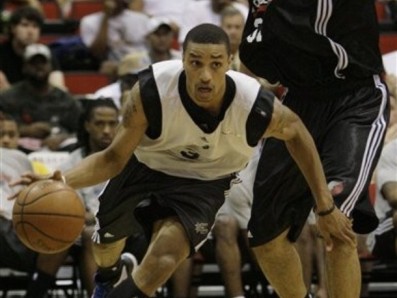 A solid athlete with a ridiculous 6-9 wingspan, Hill primarily functioned as a point guard for the Spurs, but also spent some possessions working off the ball. A dominant scorer at IUPUI, Hill still appears to be adjusting to playing the point. More than quick enough to get to the where he wants to go on the floor against most defenders in this setting, Hill did a very good job creating offensive for himself from the inside and out, but didn't always look very comfortable distributing the ball, especially at full speed in transition. He made a handful of smart passes in half court sets, mostly when running the pick and roll, but for every good decision Hill made, he seemed to make a poor one shortly after.
Many of Hill's problems came when he was either making a tough pass at a full sprint of when he was surveying the lane after turning the corner off the dribble. More often than not, these are situations in which Hill would normally look to score, which was likely his biggest issue here. Sometimes driving at the rim from bad angles, Hill seemed to have an especially hard time with his decision-making when he was forced towards the baseline. Stuck in no-man's land, Hill still has a lot to learn about distributing the ball, but his scoring ability, length, and attitude make him a promising player for the Spurs both this year and down the road.
Much of that promise manifested itself around the rim in a game against the New Orleans Hornets where Hill used an
Ian Mahinmi
screen to free himself for a back door alley-oop pass that he effortlessly flushed with two hands on his first touch. On a subsequent possession, he was able to clear his defender's shoulder on the pick and roll before rushing to the rim for an impressive one-handed slam. Though he added to his highlight reel with those plays, the more important development Hill has made lies in his physical assertiveness at the rim. He struggled to finish at the rim last season, and still does at times, but he got to the line at a fantastic rate here in Vegas due to his willingness to take contact at the rim. While he doesn't make things look as easy as
Jerryd Bayless
, he's beginning to complement his smooth finishing ability with some stronger finishes as well.
Though Hill definitely showed some good things when he was in attack mode, his perimeter arsenal is still a work in progress. Able to get to where he wants to go on the court against many players he's matched up with, Hill's lack of catch and shoot ability isn't a major concern, but it will limit him in some ways moving forward. With
Tony Parker
running the show for the most part and a number of other potential ball handlers to compete with, it would be nice to see Hill develop a more reliable three point stroke to be a better option playing off the ball. If nothing else, it'll give him a little more room to operate when looking to pass off of his drives and open up more space for the solid midrange jumper he showed here.
Defensively, Hill had a solid week, but had his share of troubles. Often matched up with the opposing team's point guard, Hill found himself at a disadvantage at times.
Darren Collison
and
Pooh Jeter
both gave him some problems, especially Jeter, who kept him perpetually off-balance when the two were matched up one-on-one. In contrast, Hill was the only player able to slow down
Marcus Williams
(UConn). A competent defender who has some trouble getting around screens, Hill is the type of player that can be successful in a well run system like the one the Spurs implement. He's going to have problems in certain matchups, but he's more than capable of playing his many into his help side defender and not taking too many unnecessary risks. His length actually made him look a bit better against opposing shooting guards, since he had an easier time keeping up with them, and gives him the ability to close out shooters more effectively than the average player his size.
Though he finished with an even assist-to-turnover ratio and didn't blow anyone away with his shooting, this week offered a nice opportunity to see Hill playing out of his NBA role. With clearly defined weaknesses and some nice tools to work with, the IUPUI product is a player to keep an eye on this season. His ability to run the point off the bench for San Antonio may be a point of interest during their probable run deep into the playoffs.
Trey Johnson, 6-5, Point Guard/Shooting Guard, NBA D-League Select, 1984
It has been more than two years since we've checked in on Johnson, and while he remains a fringe NBA player, he's developed significantly since his days as a dominant scorer at Jackson State. Standing a bit shorter than his listed 6-6, Johnson doesn't have a big wingspan, nor is he a great athlete. However, he's a gifted scorer and passer whose play with the Bakersfield Jam of the NBADL earned him some time with the Cleveland Cavaliers last season. Despite playing only two games for the NBA D-League Select team due to a minor injury, Johnson impressed those in attendance with his ability to put points on the board –scoring 32 points in 49 minutes of action.

Aggressive and exceptionally smart, Johnson has always been known for his jump shot. His ability to knock down shots from the midrange made him a terror to defend at the college level, and remains a staple of his offensive arsenal. He shows excellent body control when pulling up off the dribble, seldom showing any inconsistencies in his form. In addition to very good footwork and great elevation, Johnson has also gotten considerably better at choosing his spots, utilizing the same polished ball fakes and jab steps that he did as a collegiate to create enough space to get his shot off. When he's not going one-on-one, Johnson shows great poise on the pick and roll, recognizing when he can use the screen most effectively to create space. The footwork and patience he shows running the pick and roll is extremely impressive, as is his ability to feed the post and find his shooters spotting up on the wing.

Johnson showed his most promising development this week when getting to the basket. Not blessed with great quickness or explosiveness, Johnson has clearly spent some time developing his floater, which allows him to score efficiently around the rim. He's a bit more aggressive when driving the ball all the way to the rim then he was two seasons ago, showing the same fearlessness that earned him more than 9 trips to the line each game during his final season at Jackson State. Still only a decent finisher due to his average leaping ability, Johnson also offers some value in mismatch situations, having the ability to beat bigger defenders off the dribble and take smaller guards down low to utilize a couple of polished post moves.

In addition to the strides Johnson has made offensively, he's taken some small steps on the defensive end. Not blessed with the lateral quickness or length necessary to force many turnovers, Johnson plays a solid, but unspectacular brand of defensive. Giving his man a cushion to help himself prevent dribble penetration, the biggest improvement in Johnson's defense is on the pick and roll, where he is much better at getting over screens and using his body than he once was. He still lets his man beat him off the dribble periodically, and needs to show more consistent focus, but his time with the Cavaliers appears to have been a positive experience for him in terms of defensive development.

One of the top players in the NBADL last season, Johnson is the type of player that could either catch on with a team in training camp, or become an excellent combo guard in Europe. He offers obvious value on the offensive end with his playmaking skills and scoring instincts, and seems to be interested in improving his game. Though he didn't get a chance to play in his team's last three Summer League games due to a right heel contusion, he's once again taken advantage of an audition in front of NBA decision-makers.