A look at the prospects who saw their stock drop or remain neutral in the second day of games at the NCAA tournament.
Aaron Gray
plays a solid, but not overwhelming game against an undersized VCU frontcourt.
Greg Oden
has a poor first half but recovers nicely in a near-loss to Xavier.
Darren Collison
, DJ White,
Terrence Williams
,
Mike Jones
and much much more.
Final Update
NCAA Tournament: Stock Watch (round of 32, Saturday games)--Stock Up
NCAA Tournament: Stock Watch (round of 64, Friday games)--Stock Up
NCAA Tournament: Stock Watch (round of 64, Friday games)--Stock Down/Neutral
NCAA Tournament: Stock Watch (round of 64, Thursday games)--Stock Up
NCAA Tournament: Stock Watch (round of 64, Thursday games)--Stock Down/Neutral
Final Update
Stock Neutral
Aaron Gray, 7-1, Senior, Center, Pittsburgh
14 points, 8 rebounds, 5 assists, 1 block, 1 steal, 1 turnover, 6-8 FG, 2-4 FT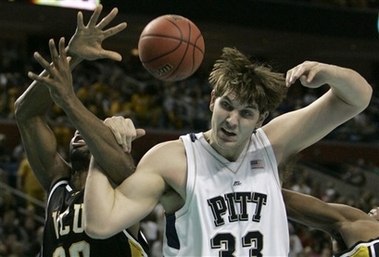 Joey Whelan
After some less than stellar performances of late, Gray came back with solid numbers in Pitt's thrilling overtime win against VCU. Despite playing just 26 minutes due to a few periods of foul trouble, the Panther's big man was able to put up very solid numbers thanks to his efficient and alert play down low.
Gray didn't blow anyone away with his scoring, hitting right on his average for the season, but he was very efficient going 6-8 from the field. He hit most often on his go to move on the block, his baby hook shot, but also mixed in a turnaround jumper, and a few thunderous dunks. Gray also did a great job not giving up on plays in his typical fashion, earning a couple of trips to the foul line by following his own shots and getting fouled on the put back attempts. The only area in the game where Gray did surprise was his passing. He got more touches in this game than he normally does, and therefore more than doubled his assist average by recording 5 in a great effort setting up teammates. Gray recognized when and where VCU double teams were coming from and was able to dish to teammates on the perimeter as well as hit teammates a few times cutting through the lane.
Defensively, Gray accomplished plenty simply by stepping on the court. The majority of VCU's shots were jumpers from outside the paint, with the Rams not wanting to take the risk of going against Gray and Pitt's other front court players. Just for good measure though, Gray had a big block on a lay up attempt from
Eric Maynor
.
Gray did well to come back with a solid performance in this game after a couple of poor performances, but he didn't dominate VCU's severely undersized post players like he should have. With a potential match up now looming against UCLA in the Sweet 16, Gray has a chance to make a real statement with a good showing against a team with a much stronger frontcourt.
---
Greg Oden, 7-0, Freshman, Center, Ohio State
14 points, 12 rebounds, 2 blocks, 4 turnovers, 2 steals, 5-12 FG, 4-7 FT
1968
Jonathan Givony
Xavier head coach Sean Miller did a great job exposing
Greg Oden
's biggest weakness at the college level—his perimeter defense—something we've spoken of at length over the course of this season, but at the end of the day, it's not really clear how much of an impact that should have on NBA scouts trying to assess his pro potential. Oden was matched up with the 6-6
Justin Cage
and surrendered 23 points (7-7 FG) to him, being unable and unwilling to go out and defend him out on the perimeter.
In the first half, Oden struggled on the offensive end as well, bricking a number of easy shots around the basket and looking extremely mechanical trying to create shots for himself in the post. He could not create a fluid move for himself, and turned the ball over a number of times after being stripped or called for an offensive foul after lowering his shoulder into the defender. Oden is a lot more comfortable going to his left shoulder in the post, and Xavier was very much aware of that and did their best to force him to his right. He started the game 0/4 and only got his first points with 9:30 to go, scoring on a simple jump-hook with his right hand. His highlight on this end of the floor came in the 2nd half where he received the ball on a cut to the basket in the mid-post and did a tremendous job finishing the play backwards thanks to his strength while being fouled simultaneously.
When allowed to do what he does best, which is man the anchor of Ohio State's defense from the post, he did a fine job, altering numerous shots despite only blocking 2 officially. Foul trouble got the best of him eventually, though, and he fouled out after decking
Justin Cage
to the ground with a hockey check to send him to the free throw line with 11 seconds to go. Luckily for him,
Ron Lewis
was able to tie the game on a deep three and Mike Conley took over in overtime to secure the win, because this surely wasn't the way Oden wanted to end his college career.
---
Darren Collison, 6-0, Point Guard, Junior, UCLA
15 points, 5 rebounds, 2 assists, 1 turnover, 2 steals, 4/8 FG, 6/7 FT
Mike Schmidt
Darren Collison didn't play as well against Indiana as he did in the opening round of the NCAA Tournament. He did provide enough key plays for UCLA to hang on for a win, and a trip to the Sweet 16, which is all that really matters at the end of the day.

Despite Ben Howland's preference for grinding it out in the half-court, Collison is usually better suited in up and down transition games, where he can pick the tempo that UCLA plays at. He tried to push the ball up the court early, with mixed results, but was unable to get his team away from the slow down style that Indiana likes to play at. In the opening round, Collison displayed an impressive ability to create for his teammates in the half court, but he seemed comfortable letting his teammates work out of the post and on isolation plays against Indiana. He did mix in some of his own scoring, hitting a couple of layups and jumpers coming off pick and roll plays.

Late in the game, Collison really stepped up, scoring a layup coming off a high screen, and grabbing a steal from an Indiana player after Aaron Afflalo made free throws to give UCLA a two point lead. He then stepped up to the free throw line, and knocked down the ensuing shots to put the game out of reach.

For UCLA to reach their full potential, Collison will have to do a better job imposing his will on the game in terms of dictating tempo and creating for teammates off the dribble than he did tonight, but his scoring is right where it should be at this point. His point guard skills and defense will be key things for UCLA to make a run at a national championship.
---
D.J. White, 6-9, Center, Junior, Indiana
12 points, 14 rebounds, 5 blocks, 3 turnovers, 4/9 FG, 4/7 FT
Mike Schmidt
Returning from an injury that cost him most of his sophomore season,
D.J. White
really stepped up his game during Big-10 play. Despite a slow start, he kept Indiana within striking distance for much of the game today, and was a force on the defensive end.
On the offensive end, White struggled with the constant double teams he faced early on. He turned the ball over on a couple of occasions, and also forced some jumpers from around 18 feet. White eventually adjusted by passing the ball out of the post the second he was double teamed, and thus got some better looks as the possession advanced. Sophisticated footwork and a few counter moves allowed him to get some shorter jumpers off near the basket after he spun the opposite direction of the double team.
Defensively, White was a presence in the paint throughout the entire game. He blocked most of his shots playing help defense, showing good position and quick reaction time while getting to the shots of the UCLA guards. When it came to rebounding, White used his body well, and anticipated the movement of the UCLA big men well to keep them on his back.
It wouldn't surprise us to see White test his draft stock this season—as that's been rumored as his plan all year long-- but he will likely have to return to Indiana next season to work his way up the draft boards considering how loaded this draft is with big men. The Hooisers have an excellent recruiting class coming in, and White will be less of a focal point on the offensive end. This means he will receive more one on one looks on the block, and his team will have a great chance at success in the NCAA tournament, something that is very important for NBA personnel if history is any indication.
---
Terrence Williams, 6-6, Sophomore, Forward, Louisville
17 points, 5 rebounds, 1 assist, 4 turnovers, 6/16 FG, 3/6 FT
Mike Schmidt
Terrence Williams, playing in the final game of his sophomore season, displayed the ups and downs of his game that perfectly magnify where he stands as a prospect at this point in time. On one hand, he forced shots and turned the ball over, but he also displayed flashes of talent and athleticism that make him an intriguing player to watch over the next season or two.

The biggest problem for Williams today was his love for the three point shot, despite the fact that he has only converted 26% of his attempts from this area on the season. Many of these shots came off the dribble and were closely contested, which caused Rick Pitino to pull his leading scorer from the game and talk to him on multiple occasions. With the clock winding down in the first half, Williams lost control of the ball out on the perimeter, and recklessly threw it out of bounds when he regained possession. Plays like these show off how underdeveloped his feel for the game is right now, and tell us that it will take some time and experience before he well be ready to think about the NBA.

Williams does have a great deal of talent to work with, and it all starts with his physical attributes. In addition to having a great body, he is an incredibly explosive athlete, as he proved with both an alley-oop dunk and a big block shot in the second half. He can get to the basket with ease thanks to his quick first step, and his ability to draw extra defenders and pass it off has allowed Williams to average nearly 4 assists per game on the season.

Williams quite obviously needs to return to school, and make a concerted effort to improve his shot selection and all-around polish. Physically, Williams he may be ready for the NBA, but there are some large holes in his game that will hold him back at this point. With another year or two of college, he just might evolve into the consistent scoring threat that he has the potential to be. He's in a perfect situation under Rick Pitino to get there.
---
Mike Jones, 6-5, Senior, SG, Maryland
21 points, 4 rebounds, 1 assist, 3 turnovers, 8-13 FG, 0-0 FT, 5-6 3P
Joey Whelan
With a loss against Butler on Saturday, Jones's collegiate career ended much the same way it started: anticipation followed by disappointment. With .6 seconds remaining and Maryland waiting to in-bound the basketball down by 3, Jones had a step on his defender and appeared to be in position to get a good shot off, only to have the pass bounce off his hands, ending the game. Jones, who had done so much to get Maryland back in the game after trailing, could only pull his jersey over his head in disappointment as the buzzer sounded.

The entire game was really a microcosm of Jones's career, especially the last two seasons. He was very quiet in the first half, hitting just a pair of threes, and providing little other production on either end of the floor. His second three was an important one though, knocking it down to end the half and pull Maryland back within 6 points.

The second half was where we got to see Jones at the height of his potential. He is one of the streakiest players in the entire country, but when he is on, he is one of the deadliest outside shooters around. Jones promptly hit 3 of 4 threes in the first five minutes of the second half, sparking Maryland on a run that tied the ball game. He hit several other pull up jumpers off of screens, exploding for 15 quick second half points.

What was so impressive about Jones's second half performance was that it involved more than just hitting jumpers. Jones suddenly became active inside, grabbing two offensive rebounds, and scoring on both second shot attempts. The second one was very impressive, as Jones skied over everyone to tap the ball back in.

This game did not change any opinions of Jones, as it has been his calling card since he came to Maryland. He is an inconsistent player, plain and simple. Some scouts may fain interest in him simply because of his athleticism and deadly outside shot, but even that comes and goes. Besides shooting, Jones doesn't do anything else well enough to contribute to a team at the next level, and many times even a college team. Jones certainly has the potential to play professional basketball, but unless he absolutely goes nuts at one of the pre-draft camps, it probably won't be in the NBA.
---
Stock Down:
Jeff Green, 6-9, Junior, SF/PF, Georgetown
11 points, 12 rebounds, 2 assists, 5 turnovers, 5 blocks, 4-12 FG, 0-2 3P, 2-2 FT
Jonathan Watters
It wasn't a great night for
Jeff Green
, who was thoroughly outplayed by
Jared Dudley
on both ends of the court and finished the night having shot just 4-12 from the floor and having committed 5 turnovers. Early on it was Dudley and Marshall repeatedly getting behind Green (and the Georgetown defense in general) for easy baskets, and Green really forcing things on the offensive end. BC didn't make much of an effort to come out and guard the multi-talented forward, and he spent the entire night clanking outside shots off the rim. He rushed a couple of ill-advised post moves as well, and made a poor pass midway through the second half that led to an easy Boston College bucket and kept the Eagles' dwindling momentum alive for a bit longer.
But Green would also play a role in finishing off the pesky Golden Eagles, blasting home a spectacular offensive rebound dunk that got the crowd going, and coming up with another offensive rebound late in the game to add to the Hoyas' lead. Green did his job on the glass the entire night, finishing with 12 rebounds on the game. This was a contest that showed why Green isn't a lock to find success in the NBA – he doesn't have that one dominant trait he can go to. He can create mismatches, but there are downsides to mismatches as well. Green appears to be a first rounder whenever he wants to be, but has the look of a situational pick if selected too high in the first round.
---
Arron Afflalo, 6-4, Shooting Guard, UCLA, Junior
10 points, 2 rebounds, 2 assists, 2 steals, 2/11 FG, 6/7 FT
Mike Schmidt
In a sloppy game against Indiana, Afflalo provided UCLA enough of a boost eventually to advance to the Sweet 16, but it sure wasn't pretty. With the way he struggled with his shot today, it was hard not to have flashbacks to UCLA's postseason run last year, where Afflalo was absent for the majority of the tournament.

Early on, he was able to score on a transition layup, but struggled with his shot early. He was trying to free himself up by moving off screens, but was unable to hit these looks. Afflalo also had his fare share of open jumpers that rimmed out, looks that he normally would knock down with ease. Towards the end of the game, he did step up, making two key drives to the hoop off of isolations. In both of these situations, Afflalo was able to get to the free throw line, where he went 4/4 in crunch time. Despite his struggles offensively, he still managed to play tough defense throughout the game on Roderick Wilmont, a player who lit it up from the outside in Indiana's opening round game.

One bad game won't hurt Afflalo's draft stock in the grand scheme of things, but it gives room for pause when you consider how he's played collectively in the most important games he's been a part of in a UCLA uniform. From here on out, UCLA will count on Aaron Afflalo to be their go-to scorer, and it will help both his team and his draft stock if he can step up and carry them into the Final Four.
---
D.J. Strawberry, 6-5, Senior, SG, Maryland
8 points, 8 rebounds, 3 assists, 2 steals, 1 block, 4 turnovers, 3-10 FG, 1-2 FT, 1-2 3P
Joey Whelan
In a disappointing finish to his collegiate career, Strawberry did not play up to his usual standards for most of Saturday's game against Butler. The senior leader of the Terrapins was detached for the entire first half and most of the second half as well, not taking a big part in his team's offensive attack.

Strawberry, usually a very active player in transition who loves to drive to the basket, was held in check by a stingy Butler defense that gave Maryland fits all afternoon. Typically very good around the basket thanks to his great athleticism, Strawberry only converted on 1 of four lay up chances, and missed several other shots inside the paint. It wasn't until the final 3 minutes that he began to become an active player on offense, picking up quick back to back baskets in pulling Maryland within 2 points of the Bulldogs. That was as close as Maryland would get down the stretch, eventually losing by 3.

Some positives for Strawberry were his rebounding and passing. An average rebounder usually, Strawberry pulled down 8 rebounds by being aggressive going after the basketball and coming down strong. He also did a fantastic job finding teammates in the half court set. Strawberry finished with only 3 assists due to several easy misses by teammates, and several fouls committed by Butler. Had shots been falling for the Terrapins, Strawberry would have wound up with several more assists.

Though undersized for the shooting guard position at 6-5, Strawberry will still garner plenty of looks because of his great perimeter defense and his high energy style of play. This performance won't stand to help his stock, after failing to show up in a big time game, but Strawberry can still land himself in the NBA next season with a strong showing at Portsmouth and private workouts.