Austin Daye, 6'10, Small Forward, Freshman, Gonzaga
11.5 points, 4.5 rebounds, 1.2 assists, 1.6 turnovers, 1.8 blocks, 47% FG, 91% FT, 43% 3PT
Joseph Treutlein
Freshman forward
Austin Daye
isn't getting nearly as much hype as some of the more highly touted freshman in his class, and he's not getting as many minutes either, but he still has shown some outstanding potential in the early going this season, and is definitely a player to keep an eye on in the years to come. Standing 6'10 with outstanding length while being a very smooth athlete, Daye is very intriguing as a prospect. At first look, the 190-pounder with the baggy t-shirt may look very raw, but as you spend more time watching him, you start to notice the various offensive skills he's already developing in his arsenal.
When analyzing Daye's game, one of the first things to stand out has to be his jump shot. With his length and elevation, Daye has an extremely high release point on his shot, and it doesn't hurt that he completely maximizes that release point with the upward trajectory of his shooting motion. Strong, complimentary adjectives get thrown out a lot when assessing prospects, but in this case, there are only a handful of three-point shooters in the NBA today that have a higher release point on their shot than Daye (
Dirk Nowitzki
,
Rasheed Wallace
,
Mehmet Okur
,
Andrea Bargnani
,
James Jones
), and we're talking about a player that projects primarily as a small forward. It doesn't hurt that he's also been very effective from deep in the early going, hitting 43% of his shots on 30 attempts. When he gets his feet set and has time to be deliberate with his motion, Daye's shot looks as smooth as it gets. That shooting ability has also translated to the free-throw line, where he's shooting a very strong 91% in the early going, on a noteworthy 67 attempts.
Daye's shooting is not without flaws, but his effectiveness in the early going has been pretty strong and his overall potential in this area is immense. To reach that potential, one thing Daye will need to work on is better consistency with his release, specifically when pulling up or being rushed by a contesting defender. In these situations, he often doesn't hold his follow through and doesn't always have a picture perfect release, and his accuracy suffers because of it. It should be noted, though, that with his upward motion and high release, Daye doesn't need much space to get off his shot, and shows some nice flashes of putting up shots when closely guarded, having good, but very inconsistent success with it.
Looking further at his pull-up shooting, Daye definitely has some problems with decision-making at this stage in terms of shot selection. He can be prone to taking unwise shots, such as spotting up from NBA three-point range in transition with no one on his team under the basket or forcing up a 15-foot jumper off the dribble when guarded by two or three defenders. To his credit, he'll occasionally swish some of these shots and make them look easy, but more often than not at this stage, it winds up in a bad miss, especially against top conference competition. Daye in general has shown less success thus far with his dribble-drive and pull-up game against stronger competition, looking much better against weaker competition. It's no coincidence that four of his five single-digit scoring games on the season came against Washington State, Texas Tech, UConn, and Oklahoma.
Moving on to the rest of Daye's dribble-drive game, he shows very nice potential here, and shows flashes of nice ball-handling skills for a 6'10 freshman. He looks fairly comfortable in space with both his left and right hands, can mix in some crossovers and hesitation dribbles, and can take the ball to the basket or pull up from mid-range off the dribble. This aspect of his game is not without problems, though, as his dribble isn't especially low to the ground, he has trouble adjusting directions at times, which has been exploited against tougher competition with him committing charges, and he can struggle a bit with his timing when going into his first dribble, often faking and then moving his foot before putting the ball on the ground, or carrying on his first dribble, resulting in traveling violations. All in all, he shows some very nice flashes in space, and definitely shows nice potential here, but really needs to work on refining his dribble to consistently use this facet of his game against strong competition.
Daye gets to the basket a decent amount, usually on his dribble-drive or in transition, and he shows very good touch at the rim along with the ability to score with his left and right hand at times. He makes good use of his athleticism and length here, and will take advantage of using the glass when necessary. He also shows a very nice right-handed floater in the lane, which is of great use to him with his body not being up for much physical contact just yet. One especially impressive play against Pepperdine that illustrated his potential around the rim was a pushed ball situation where Daye waiting on the right block for the ball; he caught a pass and on one small step without much momentum, and easily jumped from outside the painted area on the right block, only to reverse it off the glass on the other side of the rim by using his hangtime and length.
As for the rest of his offensive game, Daye shows a strong desire to get the ball whenever he's on the court, moving fairly well without the ball and constantly calling for the ball. He's shown some bad tendencies in seemingly making his decision to shoot before he puts the ball on the floor, but has done a much better job in his past two games of using his pretty good court vision by making some quick passes to open teammates for assists.
On the defensive end, Daye has shown quite a few disturbing tendencies early in the season, in terms of both fundamentals and effort level. With fundamentals on the perimeter, while he occasionally shows an aggressive defensive stance, he's not consistent in shuffling his feet to move laterally, makes some unnecessary swipes at the ball leading to blow-bys, doesn't consistently keep his center of gravity low, and doesn't seem to have the best reflexes yet. In the post, Daye does a better job maximizing his effectiveness, being active with his quickness and length in switching from fronting to straight defense, while also using his length to deflect entry passes when he's behind his man. He might be able to get away with some gimmick defense like this for a little while at the next level if forced to defend post players, but if he wants to play the power forward position, he's going to need to improve considerably in standard post defense. When he does get caught in the backdown situation on the block, he shows no concept of leverage or fundamentals, and with his very small build and lack of strength, he is backed down with virtually no effort whatsoever. To Daye's credit, his defensive effort seems improved as the season has gone on, and he's showing a better effort moving his feet on the perimeter and making better use of basic fundamentals. Daye also has some nice potential in terms of blocking shots and making deflections with his length, athleticism, and pretty good sense of timing on shot blocks, showing some proficiency already in this facet of his game.
All in all, Daye shows some outstanding potential, though he definitely has some notable concerns with his game right now, primarily in his decision-making and his slight build. Part of the decision-making can be attributed to normal freshman mistakes, and it's something he can improve on as the season goes on, but he is very lacking in strength and size, and he definitely has a lot more room to put on weight, which is why he should probably stay at least another year in school, where he could also do a good job further refining the fundamentals of his game. He also hasn't been given a huge role yet with Gonzaga, as coach Mark Few appears to be taking his time rather than just handing him the starting job, though Daye has averaged 19.6 minutes per game and played in all of Gonzaga's games thus far coming off the bench. Daye could always make a bold decision and come out after this season, where it'd be tough to see him falling out of the lottery with his tools and physical attributes, though he has a chance of being a top-5 pick next year if he makes some nice strides with his game, and that would probably be best for his long-term development, as it's tough to see him competing in the NBA so soon with his very lacking strength and size.
---
Kyle Weaver, 6'6, PG/SG/SF, Senior, Washington State
11.2 points, 4.5 rebounds, 4.0 assists, 2.2 turnovers, 1.7 steals, 46.2% FG, 81.3% FT, 38.1% 3PT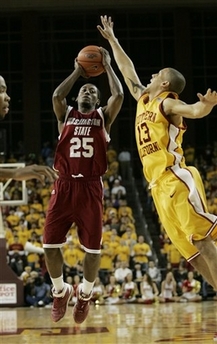 Kyle Nelson
Washington State's
Kyle Weaver
is an interesting prospect because, by the time the season ends and he begins training for various pre-Draft camps and workouts, very few people will have seen what he is actually capable of doing on the court. This is because of the three "point"-guard system that Washington State runs and the fact that Weaver is the tallest, most athletic, and most versatile player on the floor for the Cougars. Thus, Weaver exemplifies the dreaded "point-forward" label. However, unlike many who are given this misnomer, Weaver actually embodies such a role for the Cougars and has shown the ability and skillset throughout this season to potentially run the point guard position at the next level.
Since last season, Weaver has seemingly made strides in his offensive game. Most notably, he has worked on his perimeter shooting, which has improved from 23.7% to 38.1%. Last season he only attempted 38 shots from the perimeter last season, but this season, he has already attempted 21 in 15 games. Watching him play, he has become more comfortable shooting from long range. He does not only take set shots anymore, but also will give his man a fake and take a dribble in order to get open for a shot. His mechanics, however, need significant work. When Weaver shoots, he tends to push forward with a low release point. While his elevation is good, his form is inconsistent and despite his growing comfort with the perimeter shot, he must continue to work on his form if he wants to play at the next level.
However, most of Weaver's offense comes off of the dribble. He is a relentless slasher, usually going to the basket when he has the ball in his hands. Weaver is not the quickest player in the world, but he somehow manages to get into the lane at will. When he does, he uses his combination of intelligence and body control to finish. However, the level of difficulty of most of his drives is represented in his lower field goal percentage (46.2% this year compared to 48.7 last season).
Considering how good his handle is and his high basketball IQ, the absence of a mid-range game this year is confusing. He showed last season, particularly against Vanderbilt in the NCAA tournament, that he can successfully execute pull-up and baseline jumpers, but this year, it has largely been perimeter shots or penetration to the basket. Occasionally, he will post up smaller guards, but his basketball IQ suggests that he can become a far more advanced offensive player with practice and work on correcting his form and some fundamentals.
However, this ability to penetrate demonstrates Weaver's potential to be a point guard both at the college level and the professional level. While most combo guards settle for their own offense, Weaver is not only constantly moving in the Washington State offense, but he is also constantly thinking. He uses penetration to his advantage, and will kick the ball back to the perimeter if he the lane is too congested. He is the best passer on the Cougars and he uses a variety of passes, rarely throwing the ball away when deferring to his teammates. His offensive awareness allows him to find his own offense, but also to dictate the tempo of his team's offense. He ranks in the top 10 of prospect shooting guards in assist to turnover ratio as well as in assists though he ranks very low in percentage of team possessions.
While he rarely is the primary ball handler, Weaver is a quarterback for this Washington State team. It remains to be seen whether or not his high basketball IQ will translate to him being able to play point guard at the next level, but he does a very good job at this level being a major facilitator. The Washington State offense requires him to play a role, one that unfortunately does not allow him to showcase his full ability.
However, before he emerges as one of the premier players in the PAC-10 he must escape his current shooting slump (10/30 from the field against Washington, USC, and UCLA). If anything, this slump shows how Weaver is still an incomplete player on the offensive end. Then, he must prove that he can overcome his physical limitations to be an effective scorer at the next level. Weaver is a good prospect now, but he has to continue to work if he wants to achieve his potential.
That being said, Weaver is still one of the best defenders in college basketball. Using his long arms, solid lateral quickness, and average hands, he can often be seen guarding point guards, shooting guards, small forwards, and at times power forwards because of his defensive prowess. He is just as active on defense as he is on offense and is constantly in motion. He has quick hands and is able to poke, deflect, and grab the ball away from his man, almost at will. Though his defensive prowess is not as statistically evident this season, he is just as impressive as he was last season guarding some of the best players in college basketball on a nightly basis.
Despite the improvements he has made this season, Weaver still has a long way to go and a lot of convincing to do concerning his ability to compete at the professional level. He has many of the tools to compete against NBA guards, but he must continue to work on his offensive arsenal before somebody is willing to take a serious chance on him.
---
Luke Harangody, 6'8, Sophomore, Power Forward, Notre Dame
18.9 points, 9.8 rebounds, 1.9 assists, 2.3 turnovers, 0.9 blocks, 0.8 steals, 53% FG, 80%FT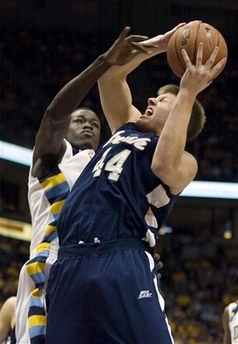 Rodger Bohn
After a promising freshman season, Harangody has been downright dominant as a sophomore. He has been remarkably consistent in Notre Dame's 16 games thus far, scoring in double figures and grabbing at least six rebounds in every game but one. Not bad for a player who could be mistaken for an NFL tight end at first glimpse.
Luke's game is centered around his skills in the low post, where his favorite move is clearly his right handed jump hook. Seemingly understanding his deficit of size and length, he gets his post moves off in a hurry before opposing defenders are able to gather themselves to attempt to swat his shots away. The former SYF player has no problem turning towards either shoulder out of the post or finishing with either hand at the rim, utilizing his girth to shield off defenders. Harangody has expanded his range to out to17 feet this year, but still has mixed results in terms of accuracy. He is much more consistent facing the basket when within 12 feet of the rim, and must continue to expand his range if he hopes to maximize himself at the next level.
The Indiana native is very nimble for a big man, light on his feet and owning a pair of soft paws. He is able to finish so well around the cup partially because of his ability to establish such good post position and catch anything thrown his way. Once Harangody has the ball in his hands, his movement is uncommon for a player with his stature. He usually finds his way to the rim no matter where he is on the court, gracefully dodging defenders that try to step up and take charges on him. It is another testament to how coordinated the Notre Dame sophomore is.
Harangody is a good positional defender, making opposing post players battle for any position that they receive while he is defending them. He does his best to alter shots despite his marginal athleticism, while playing surprisingly well defense against quicker players facing the basket. The most impressive feat about Luke's defensive potential is his ability to rebound the ball. Excelling at boxing out, he often puts himself in situations in which he doesn't even have to jump to snag down a rebound. He currently ranks third in DraftExpress rebound leaders per 40 minutes when playing over 25 minutes per game, behind only
Michael Beasley
and
Kentrell Gransberry
.
The most glaring weaknesses that Luke has as a prospect are his physical traits. He is undersized for a power forward at a generous 6-foot-8 and is not exceptionally long or blessed vertically. In terms of long term potential, he does not offer as much as the vast majority of other legitimate draft prospects comparable in size. Whether or not Harangody will be able to maintain his "bruiser" style of play at the next level is up in the air, at the moment.
There is not much more that one could ask out of Harangody throughout his first two years of college, given the productive player he has been. His main deficiencies lay in areas that he cannot control, unless he chooses to do a total body transformation a la
Udonis Haslem
. Any way that you look at it, Luke is an outstanding college player and one whom has the potential to eventually become a nice role player at the next level if he is able to expand his range and improve upon his athletic inadequacies.