Team USA Practice, Day One
The high school squad takes a much different approach than the World Team each year at the Nike Hoop Summit. This year is no different. Coach
John Olive
spends his seasons at Torre Pines High School in San Diego, and was promoted to lead team USA after acting as an assistant last season.
The adjustment period for Team USA is much shorter than that of the international squad. All of these players speak the same language, and all of them have encountered each other at some point, whether on the summer AAU circuit or the McDonalds All-American Game. A pair of players,
Abdul Gaddy
and
Avery Bradley
, spent some time as high school teammates.
Unlike the World Team, USA only has two days to practice together before the game, with two practices each day. The time constraints are easily seen in the practice schedule, where rather than drills and development, Coach Olive focused on game-planning and offensive execution.
After warming up, the team immediately put in three offensive sets to run in the half-court. The plays are designed to create isolations for the wing players, and allow the low post players adequate space to operate around the basket. After walking through the plays, they split up into two teams and spent 20 minutes running one way with the newly learned sets. This process was repeated with the zone offense, and practice concluded after a brief scrimmage period.
Committed to playing: Xavier Henry
One of the stand-out prospects today also happens to be one of the hottest stories in the world of recruiting at the moment. One time Memphis commit
Xavier Henry
displayed a good package of skills today, and particularly excelled in transition.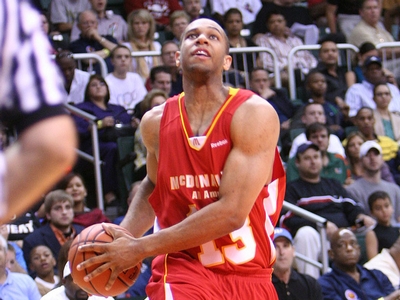 Physically, Henry has everything you look for in basketball player, starting with great size and a very strong body as well. The lefty shows a nice shooting stroke from long range, and good creativity when finishing near the basket. His defense was nothing special today, but he does have the strength, length, and athleticism to become an excellent player on the defensive end of the floor.
Ball-handling seems to be the biggest weakness for Henry at this point in time, and it showed a couple times today where he lost the ball, first on a hesitation move in transition, and also while trying to create his own shot in the half-court. He seems to really favor his strong hand at this point in time on the dribble drive, though it's impossible to make that definitive conclusion based on a small sample size of his play.
Most basketball fans probably know the name
Xavier Henry
if they have followed the recent coaching carousel at the NCAA level. Memphis head coach John Calipari took the head job at Kentucky, and Henry had a provision that voided his letter of intent with Memphis as a result. This all happened the week of the McDonalds' All-American game, and with the Hoop Summit coming so soon after, Henry still really hasn't had a chance to take it all in.
"It really caught me off guard with Calipari leaving," Henry said. "I didn't think he would go."
The thought for the talented lefty was to immediately de-commit from Memphis, and re-open his recruitment. Henry said he became distracted by the situation for the first couple of days, before getting some sound advice from his mother.
"My mom told me to just forget about it, and we'd sort it out after the high school all-star games. She said I need to enjoy these games, because they are a once in a life-time thing."
Henry seems to be very close to his family, which actually might make his recruiting situation all the more complicated. His brother C.J. played professional baseball for three years before walking on at Memphis last season, and the brothers had planned on teaming up under Coach Cal. Xavier's father was a basketball stand-out at Kansas (the runner-up to Memphis), and played professional basketball overseas.
One early report indicated that new Memphis head Coach Josh Pastner was planning on hiring Xavier's father,
Carl Henry
, to become the Director of Basketball Operations for the Tigers. Xavier dismissed those rumors entirely.
"That's not true at all. People start rumors so they have stuff to talk about. My dad was the most shocked to hear he got a job at Memphis."
The decision now looms for
Xavier Henry
, who must decide between his father's alma matter Kansas, his brother and Memphis, or the coach he originally committed to play for who now heads a storied program in Kentucky. It will be interested to see how it plays out over the coming weeks at the Hoop Summit, but for now he's just focused on the game Saturday.
Other Notes From Practice
The top rated player in the class,
John Wall
, was not eligible to participate in the McDonald's All-American Game as a 5th year high school senior. Instead, we get our first look at him in a high school all-star setting here in Portland.
If there was any player who went hard the entire practice today, it was Wall, an incredibly talented point guard who also has yet to commit to an NCAA school. Physically, he has every tool you could ever ask for in a point guard. His quickness with the ball is unbelievable to watch in person, and it comes in handy on the defensive end as well. Wall also shows a very explosive vertical leap, and has a strong, well developed body, with long arms.
The point guard plays his best ball in transition, and will excel in any up-tempo system, but he also showed a nice ability to pick the defense apart in the drills today. His passing ability really stood out while the team worked on zone offense. Wall found the right holes to penetrate in the defense, and had no problem finding the open man from the short corner to the post to the shooter awaiting the skip pass on the weak side.
It appears that the talented senior needs to work on his three point shooting, but his pull-up from 18 feet is fairly accurate. We will take a much more in-depth look at
John Wall
tomorrow, but he did display both impressive talent and focus today.
Another impressive prospect,
John Henson
, showed off outstanding physical tools and the ability to play inside and out. A freakish athlete with long arms and a very explosive leap, the North Carolina commit displayed excellent movement off the ball on a number of back-door lobs. He also has a very smooth shooting stroke with nice rotation, and has solid ability both facing and with his back to the basket. With all the makings of a one and done prospect, it will be very interesting to see what improvements he can make to his skinny frame next season, which is the main thing holding him back at the moment.
Tomorrow, we'll bring you a closer look at other players and stories from the two Team USA practices.
International Practice, Day Two
Today can be described as a much lighter day for the international squad, who had spent their first three days in Portland practicing twice a day, and running fairly extensive scrimmages at the conclusion of each practice. Instead, today focused more on skill-work and drills, with a little bit of 'run one way' at the end.
The practice started with a unique form of basketball tag, implemented by World Team Assistant, Serbian Marlin Sedlacek. The 10 players broke off into two squads, and the red team was given the ball first. In the timed exercise, the red team had to 'tag' the players on the white team with the ball, by touching them with the ball while holding it. The team to get the other players out the quickest was awarded the victory, which was the red team on this particular day, who did it one second faster than the team in white.
There seems to be a shuffling of scouts here in Portland, as some leave from Portland to check out the action in Portsmouth, and others arrive from Portsmouth for the rest of the Hoop Summit. At least 25 teams have been represented so far in Portland, with
Kiki Vandeweghe
of the Nets and Tommy Sheppard of the Wizards among the more prominent names in attendance. Front office super-agent Warren LeGarie also made an appearance.
The various scouts in attendance can only attend the World Team practices, and their opinions on the game this year seem to differ to a large extent. A couple seemed to indicate that this class lacks the depth of years past, while others seemed to think
Donatas Motiejunas
has more potential than any prospect we've seen at this even in the past three to four years.
Yesterday, we looked at one French player, and today we'll take a look at another.
Kevin Seraphin
is an interesting case for a number of reasons, but most notably the fact that he has only been playing basketball for a couple of years now. He plays for Cholet in France, a young team that has struggled in domestic league competition this season, but features notable NBA draft prospects such as
Rodrigue Beaubois
and
Nando De Colo
. Seraphin's team competes in the EuroChallenge, where he has not made much of an impact, but the big has put together a few nice games in France's ProA league this year.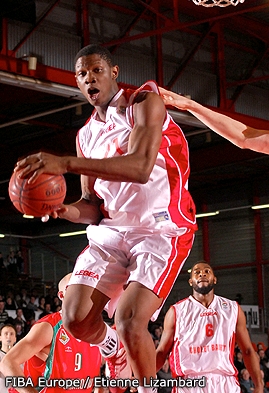 Seraphin has everything you could ask for in terms of measureables. He stands 6'10" without shoes, with a 7'3" wingspan. Weighing 263 pounds, Seraphin has a great body with chiseled arms, thick legs, and great all-around strength. In transition, he runs the floor like a guard, and often finishes the break with a thunderous dunk.
Skill-wise, there is a long way to go before he becomes a real player, but he has progressed quickly considering how new the game is to him. Seraphin really has a nose for the ball on the offensive glass, and often creates second looks. He rebounds the ball effectively on the defensive end as well, using his frame to push away opposing players, and his length and leaping ability to collect the board.
Defensively, Seraphin has a long ways to go. The Frenchman lacks weak-side shot-blocking ability, not for lack of leaping ability, but mostly due to timing and anticipation. His understanding and reaction to pick and roll coverages must improve greatly for him to become an effective defender as well. In the low-post, the big man uses his strength well to bang against opposing big men, but he needs to become more effective at pushing his man out of position and denying the entry of the ball, two things which he should do easily considering his measurables.
On the offensive end,
Kevin Seraphin
isn't the type of player who will ever have to become a go-to scoring threat, but he has a long way to go to even be considered acceptable for the NBA. His hands aren't great when it comes to catching the ball down low, and he shoots the ball quite poorly at this point in time. Down low, he tries to finish everything with a right handed hook if he can't dunk, and his accuracy on this shot needs improvement. The big man has displayed flashes of a face-up game, driving and finishing on a couple occasions during the practices.
To become a more effective offensive player, Seraphin could just focus on setting bigger screens on offense, and flashing to the dunker's spot down low. For all of his size and strength, he doesn't really look to find the guard on a pin-down, or make himself big on the pick and roll. Setting better screens would also create more guard penetration, which would likely lead to more easy looks for Seraphin around the basket.
Kevin Seraphin
has all the tools you look for physically in an NBA caliber big man, but must focus on polishing his skills over the next couple of seasons. Right now he would likely be the type of player a team takes in the second round to stash overseas for a couple of years, and see how he progresses skill-wise. Considering that he's still two years away from being automatically draft-eligible, though, he could still emerge as an even more intriguing prospect if he continues to make strides with his game.
The second prospect we'll take a look at today shows a number of unique tools for his size, yet leaves you wondering if the NBA will fit anywhere into his future.
Tomislav Zubcic
is an athletic Croatian forward with incredible talent on the court, but seems to be soft both physically and mentally at this point in his development.
Zubcic has bulked up since the last time DraftExpress was able to look at him, with most of the added bulk coming in his upper body. Though he has the skills of a three on the offensive end, his size (6'11" without shoes) will probably place him at the four before all is said and done.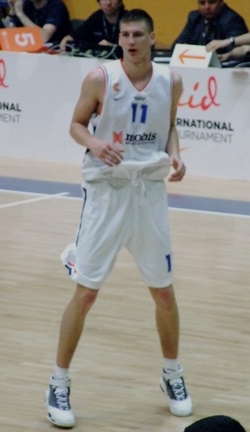 A very good athlete who gets up and down the court, Zubcic has good explosiveness to go with his size and length. A solid finisher at the rim, the Croatian has an excellent shooting stroke with range that should extend beyond the NBA three point line without a problem. The forward plays exclusively facing the basket at this point, but will be able to attack opposing 4s off the dribble, and his excellent feel for the game allows him to find the open shooters on the drive.
On the down-side, Zubcic doesn't really defend all that well at any position at this point. Physically, you hope that some added strength would toughen him up as a player, but there's no guarantee for this to happen. He tends to get frustrated when his perimeter shots aren't falling, and his lack of intensity doesn't help when it comes to defense and rebounding.
Zubcic has the skills to evolve into a very unique player, however it's tough to evaluate his draft stock until we see if he can make further progress with his body, and find a way to make an impact in European basketball. He currently plays for Croatian powerhouse Cibona Zagreb, which had a fantastic season but was unable to get him any playing time whatsoever.
Check back tomorrow for our final update on the World Select Team, who has one final practice to prepare for the game on Saturday.