A week after competing in the McDonald's All-American Game, the high school stars comprising the 2010 USA Basketball Men's Junior National Select Team took to the floor at the Portland Trail Blazers Practice Facility for their first two sessions of practice for this year's edition of the Nike Hoop Summit. Featuring nine players that were in attendance in Columbus last week in addition to newcomers
Meyers Leonard
and
Will Barton
, the top high school players in the country are looking to make up for the loss dealt to their counterparts in last season's Hoop Summit.
Hoop Summit Day One (International focus, official measurements)
Considering this was their first day here in Portland, it wasn't surprising to see the group appear a bit fatigued by the end of the second practice, and while play got a bit sloppy at times, a few players were able to stand out.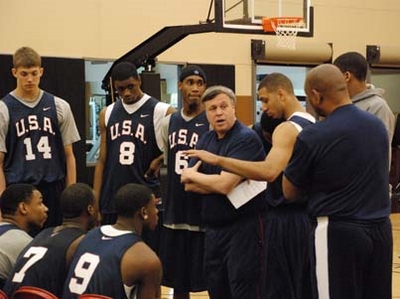 The first practice began with a brief stretching session using bands and foam rollers followed by a few minutes of five man weave drills. With warm ups out of the way, Bob Cimmino began to focus the group on the two things he hopes to emphasize during the game: defense and transition play. Taking jetlag into consideration, Cimmino, the coach of the storied Mt. Vernon High School, decided to slow things down a bit in the first session, installing a few variations of the half court set the team will be running on Saturday and letting the group break into pairs to do some shooting to rest their legs for the second session.
One of the more interesting pairs to watch was
Harrison Barnes
and
Kyrie Irving
. Committed to different sides of the Duke – North Carolina rivalry, the two have become very good friends in the last year. Taking playful jabs at one another throughout practice, fans of Tobacco Road basketball will have a lot to look forward to next season, as their friendship only adds another dimension to the competitiveness and talent they'll bring to the rivalry. On the whole, this group of high school stars seems to have developed an excellent rapport.
The second session featured a four quarter scrimmage pitting the high schoolers against a collection of local college players from the University of Portland and Oregon State. Despite coming out a bit flat and losing the first quarter 25 to 17, the Select Team picked up their intensity despite tired legs to pull out the next two periods by one point before winning the last scrimmage in convincing fashion 36 to 27. Matching up with players almost four years their senior, it was interesting to see how the team fared against outside competition.
The player who stood out the most today was
Brandon Knight
. After struggling to find his stroke last week until the waning moments of the McDonald's All-American Game, Knight looked extremely good during the scrimmage, hitting a couple of threes from behind the NBA line and looking much more active and in control than he did in Columbus. Knight also put his athleticism on display, coming away with a couple of dunks on broken plays and using his jumper to set up his first step.
Though we didn't see the playmaking from Knight that we'd hoped, he was splitting time between the one and the two. When he was running the show, Knight was more vocal than we saw him in any other practice we've watched recently, telling his teammates where to go. On top of his showing offensively, he also showed some nice things defensively. Knight has exceptional lateral burst, allowing him to prevent dribble penetration and create some turnovers with his length. Built like an NFL wide receiver, this was much closer to what we expected out of Knight coming in.
Quick Hitters
-
Kendall Marshall
also looked significantly better in both sessions than he did during McDonald's practices. A big point guard without freakish athleticism, Marshall stood out today distributing the ball off the dribble. Showing terrific creativity when threading the ball through traffic when he gets into the paint, Marshall may not have a fantastic first step, but he changes direction on a dime, has a tight handle, and is always looking for his teammates, often at the expense of his own offense. Showing a savvy array of scoops around the basket when he did look to score, Marshalll is clearly prepared to compensate for his lack of great leaping ability on the next level with his current offensive repertoire.
Here is an interview (and highlight reel) we conducted with Marshall last week, which perfectly highlights his outstanding intangibles and unselfish nature, things that will greatly benefit him in making the transition to the high level of college basketball.
-
Kyrie Irving
went shot for shot with
Brandon Knight
throughout the day, showing great range, catch and shoot ability, and a quick release off the dribble. An extremely well rounded player, Irving's competitiveness was apparent in the scrimmages, as he was always looking for the ball down the stretch.
-
Jared Sullinger
and
Harrison Barnes
, the MVPs of the McDonald's Game, both showed many of the positive qualities they did in Columbus, but weren't getting touches as consistently as they likely will on Saturday. Two of the most polished high school players in this glass, each contributed in multiple ways with their court vision, intelligence, and touch from the inside and out.
-
Terrence Jones
looked exponentially more comfortable in transition than he did in half court sets today, able to use his athleticism to his advantage. His length, speed, and ball handling make him an extremely effective player in up-tempo settings. He'll need to round out his perimeter repertoire to improve what he brings to the table when games slow down.
-
Tobias Harris
is in attendance, but won't be practicing or playing in the game because of a broken foot. Spending most of today's practices on the bench in an immobilizing boot, Harris is a handful of weeks away from returning from the floor. Considering the timeframe, he'll likely be back to 100% in time to spend the summer preparing for his freshman year at Tennessee.
-
Meyers Leonard
is far from a finished product, but he flashes the ability to knock down catch and shoot jumpers out to the college three point line on multiple occasions today –an interesting asset for a near 7-footer to say the least.
Select Interview Excerpts
-
DraftExpress:
You and
Harrison Barnes
were named Game MVPs down in Columbus, are you excited to be playing with him instead of against him this week?
Jared Sullinger:
Definitely, Harrison is a really good player, he can get involved in a lot of ways offensively and he has great intensity. He does so many things well. He's an awesome player, he's kind of hard to describe.
DraftExpress:
What are your thoughts on next season at OSU?
Jared Sullinger:
I'm excited about what we can do. I know Evan [Turner] just signed an agent recently, but I think we're going to surprise a lot of people. There is a lot of talent still there and we have a lot of guys coming in. I think we can prove people wrong.
-
DraftExpress:
Aside from
Cory Joseph
and
Tristan Thompson
, are you familiar with any of the players on the international roster?
Harrison Barnes:
Aside from those two, no, I don't know any of them.
DraftExpress:
Some analysts have questioned the strength of the 2010 class, what are your thoughts on that, and does the fact that last year's team lost motivate you to prove the critics wrong.
Harrison Barnes:
I think our class is as good as any. We have a great class. It is our priority to win the game.
-
DraftExpress:
After all the trash talking done in the video we posted, have you gotten back at the UNC commits now that your committed to the National Champions?
Kyrie Irving:
I haven't yet. Initially, they wouldn't talk to me. I haven't gotten back at them yet. I'm waiting for the game next season.