Game Seven: Team Two 93 - Team Three 92
Daequan Cook, 6'4, SG, Freshman, Ohio State
22 points, 2 assists, 2 steals, 9-15 FG, 3-4 3PT, 1-2 FT
Joseph Treutlein
---
Jared Jordan, 6-2, Senior, Point Guard, Marist
6 points, 5 assists, 2 turnovers, 3-4 FG
Jonathan Givony
---
Dominic James, 5'11, PG, Sophomore, Marquette
7 points, 2 assists, 1 steal, 3-8 FG, 1-3 3PT
Joseph Treutlein
---
Sammy Mejia, 6-6, Guard, Depaul Senior
9 points, 2 assists, 1 steal, 3/7 FG, 3/5 FT
Mike Schmidt
---
Taurean Green, 6'1, Junior, Point Guard, Florida
9 points, 1 reb, 3 ast, 2 to, 2-6 FG, 5-5 ft's, 0-2 3-pt
Jonathan Watters
---
Antanas Kavaliauskas, 6'10, Senior, PF/C, Texas A&M
6 pts, 4 reb, 2 stl, 2 to, 2-7 fg's, 2-3 ft's
Jonathan Watters
---
Sun Yue, 6-8, 1985 International, Small Forward, Aoshen
2 points, 4 assists, 2 steals, 6 turnovers, 3 rebounds, 1-3 FG
Jonathan Givony
---
Dashaun Wood, 6-0, Point Guard, Senior, Wright State
2 points, 2 rebounds, 2 assists, 2 turnover, 1 steal, 1/6 FG
Mike Schmidt
---
Game Eight: Team One 93 – Team Six 89
Zabian Dowdell, 6'3, PG/SG, Virginia Tech
13 points, 3 assists, 1 to, 4-10 fg's, 3-4 ft's, 2-4 3-pt
Jonathan Watters
---
Mustafa Shakur, 6'3, PG, Arizona
8 points, 3 rebounds, 5 assists, 1 turnover, 1 block, 3-8 fg's, 2-3 ft's
Jonathan Watters
---
Jermareo Davidson, 6'10, PF, Senior, Alabama
16 points, 7 rebounds, 2 blocks, 1 steal, 6-11 FG, 4-4 FT
Joseph Treutlein
---
Chris Richard, 6'9, PF/C, Senior, Florida
12 points, 4 rebounds, 6-8 FG
Joseph Treutlein
---
Herbert Hill, 6'10, PF/C, Senior, Providence
5 points, 9 rebounds, 1 steal, 4 blocks, 2 turnovers, 2-5 FG, 1-1 FT
Joseph Treutlein
---
Private Workouts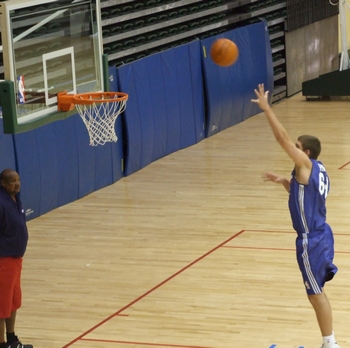 [c]Spencer Hawes shows off his beautiful jump-hook[/c]
There were some rumors early on that there will be workouts conducted with the top prospects in the draft on the last day of the camp, and that turned out to be true after the first game of the morning. Three to four of the "physical only" players were added to each of the six pre-draft camp teams, and they ran a light 30 minute or so workout doing things like the 3-man weave, the "long legs" outlet pass drill, and the pitch and fill. Other basic fundamental moves were also conducted, such as using a simulated screen to get to the basket off two dribbles, pull-up jumpers and floaters (for guards), and post moves (jump-hooks, drop-steps, turnaround jumpers, etc) for the big men. Opinions here were firmly split as to whether these workouts mean very little, or absolutely nothing at all. No one we talked to thought there was really anything major to be taken away from this at all, but the better teams in the league were at least pleased to be able to get a chance to see the top picks in the draft up close and in person, to evaluate the way they move, the technique they show in the drills, and their body language.
The first three players to work out were
Acie Law
,
Brandan Wright
and
Spencer Hawes
. Law seemed to blend in to a certain extent with the other pre-draft camp guards he was working out with, showing a flat-footed jump-shot that didn't always fall and fairly limited intensity throughout.
On the other side of the court
Spencer Hawes
seemed to be taking things quite seriously, looking absolutely phenomenal in the post drills with his gorgeous jump-hook shot and incredibly soft touch off the glass. He's clearly one of the most fundamentally sound players in the draft. He told us he'd help himself here a few weeks ago when we interviewed him, and if this is any indication of how the drills portions of his NBA private workouts are going to go, he is absolutely right.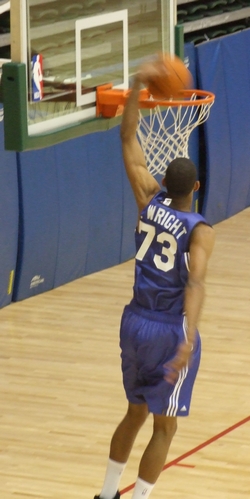 [c]Brandan Wright[/c]
Next to him,
Brandan Wright
did not do much to quell most of the fears about him, even if there was only so much you could take away from this setting. He doesn't appear to have added any weight to his frame since the season ended, and his jump-shot and ball-handling skills were virtually non-existent as we've been mentioning all season long. The fact that he was working out in the 3rd gear didn't really help him out. On the positive side, he did look pretty effortless getting off his feet and ran the floor extremely well. In the post, he also showed great fundamentals, with a beautiful hook-shot and great touch spinning to either shoulder. His arms are freakishly long.
The next workout featured
Josh McRoberts
,
Al Horford
and
Mike Conley Jr
. McRoberts looked pretty nervous and therefore didn't shoot the ball all that well, at least not anywhere near the way he did when we saw him a few weeks back working out in Santa Monica. Besides that, though, he seems to be in great shape and looked even more athletic than
Al Horford
getting up and down the floor, executing his moves in the post, and getting off the floor to finish. He's obviously an extremely smooth and fluid player with solid fundamentals and technique, even if he missed some easy shots that he normally would convert.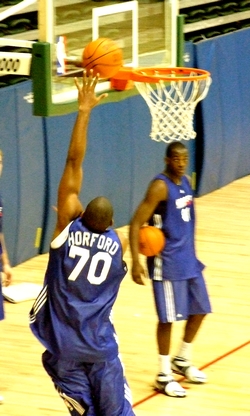 [c]Al Horford[/c]
Al Horford
looked a little stiffer than McRoberts in the drills, but was night and day compared with the Duke sophomore off the court. He was extremely relaxed, smiling constantly and playing around with his new teammates (for example
Jared Jordan
). He's in the same incredible shape he's always been in, and did a very nice job shooting the ball with his feet set and executing his post-moves with his back to the basket.
Mike Conley shot the ball very poorly throughout the workout, not looking to have any range at all outside of 16 feet. Expanding his shot to the NBA 3-point line is going to take him quite a bit of time and effort. In terms of his demeanor, he looked very serious and business like, executing the drills crisply and picking up on everything he was told to do almost instantly, as the first player in line. His floater looked terrific and did his quickness getting up and down the floor.
Julian Wright
,
Rodney Stuckey
and
Al Thornton
were next, and we quickly began to lose interest as the intensity level seemed to level off. Wright seemed to take things very seriously, but he was paired with the big men once they were split up, meaning he was just asked to do things like shoot jump-hooks and turnaround jumpers. Needless to say, there isn't a lot of value in that.
Al Thornton
was part of the perimeter players' drills, but didn't seem like he wanted to be there at all. He looked lackadaisical in his effort and pretty average in the amount of shots he hit. Stuckey looked a bit better, but not by much.
We skipped the
Nick Young
and
Jason Smith
workout for the 2nd half of what turned out to be a terrific ending to the pre-draft camp games between teams 4 and 5, but were told by some scouts that both looked pretty good.
Nick Young
apparently shot the ball extremely well.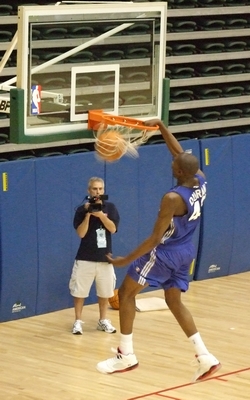 [c]Kevin Durant[/c]
Kevin Durant
was marched out next with
Thaddeus Young
. Durant looks as skinny as ever, but he drew were some gasps once the dunking drills kicked off. It's pretty amazing to see how high above the rim his arms get when he's elevating for dunks. For some reason he was also given the big man workout drills, so we didn't get to see any real shooting except on occasion (which he was just so-so at). While he wasn't screwing around the way some other players here were, it didn't seem like he really wanted to be here either.
Thaddeus Young
seemed to be taking thing a lot more seriously on the other hand, punishing the rim every time he dunked it and showing off his sculpted
Corey Maggette
esqe-physique. Him shooting jump-hook shots for the remainder of the workout didn't tell us much more than we already knew.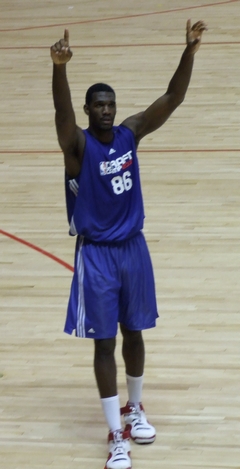 [c]Greg Oden[/c]
Greg Oden
,
Corey Brewer
and
Joakim Noah
were the last ones to work out. Oden impressed big time with the way he ran the floor and got off the ground dunking the ball, even if he seemed to be sleepwalking as well at times. His shooting and ball-handling looked good for a player his size. At the end of the workout, he insisted on not leaving until he managed to knock down an NBA three. On his third attempt, he finally got one to drop, and promptly turned around towards the crowd with his arms in the air like a prize fighter to celebrate his accomplishment with a big grin.
Joakim Noah
ran the floor hard, handled the ball well, shot the ball decently, and seemed to put in a solid effort.
Corey Brewer
shot the ball better than you might have expected, even though he's clearly more of a five on five player than someone who is going to shine in this type of setting.
---
Game Nine: Team Four 95 – Team Five 93
D.J. Strawberry, 6'4, PG/SG, Senior, Maryland
13 points, 5 rebounds, 2 assists, 2 steals, 5 turnovers, 5-7 FG, 2-3 FT
Jonathan Watters
---
Jared Dudley, 6'7, SF, Senior, Boston College
12 points, 6 rebounds, 2 steals, 2 turnovers, 5-10 FG, 0-1 3PT, 2-3 FT
Joseph Treutlein
---
Dominic McGuire, 6'7, SF, Junior, Fresno State
6 points, 6 rebounds, 4 assists, 1 steal, 3 turnovers, 2-6 FG, 2-2 FT
Joseph Treutlein
---
Coleman Collins, 6'8, PF, Senior, Virginia Tech
18 points, 5 rebounds, 2 assists, 4 turnovers, 7-8 FG, 4-4 FT
Joseph Treutlein
---
Aaron Brooks, 6'0, PG, Senior, Oregon
14 points, 2 assists, 3 turnovers, 4-7 FG, 2-3 3PT, 4-4 FT
Joseph Treutlein
---
Carl Landry, 6'7, PF, Senior, Purdue
12 points, 8 rebounds, 2 blocks, 1 steal, 3 turnovers, 5-9 FG, 2-2 FT
Joseph Treutlein