DraftExpress All First-Team

MVP
Jared Dudley, 6-7, Senior, Small Forward, Boston College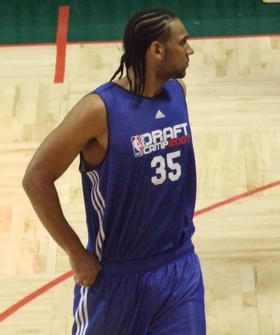 Jonathan Givony
Our staff's unanimous MVP,
Jared Dudley
embodies exactly the type of underrated role-player that NBA teams can seek out here to help them win games. He did a terrific job showing off the many facets of his game, crashing the boards with 14 rebounds in 40 minutes over the last two games, pushing the ball up the floor with terrific poise, dishing out some excellent assists, playing very smart, tough defense at the small forward position, and shooting the ball extremely well from 18-22 feet out. He played unselfish, winning basketball—shooting 60% from the field and 89% from the free throw line—showing outstanding leadership skills amongst his teammates and carrying Team Four on his back late in the last game when they needed some clutch points to pull off the victory. As it turns out, he didn't lead the strongest conference in America in points and rebounds while shooting 56% from the field and 44% from behind the arc and dishing out 3 assists per game for nothing. Who would have thought?
While most ACC player of the year award winners wouldn't come anywhere this event if not for the physical only portion of the camp, Dudley was here showing NBA executives how he can be of service to them next year. He certainly has his limitations—shot-creating ability, a lack of explosiveness around the rim, lateral quickness—but to his credit, he is very much aware of them and wants to be drafted by a team where he can minimize them in an effort to compliment other players and win games. He clearly has the basketball IQ to do so, already having "figured out" how to get the most of his skills. Now that he's figured out that he needs to abandon the college mentality of outmuscling the competition to outquicking them (he's already lost over 12 pounds), he's already improving his physical attributes, with even more room to go. His teammate
Craig Smith
at Boston College was underappreciated by draft gurus (DraftExpress included) similarly exactly one year ago, and went onto be one of the best rookies in the NBA this past season. We learned our lesson not to dismiss the non-prototypes even if they don't physically look exactly like most NBA superstars…will NBA GMs do the same?
---
Taurean Green, 6-1, Junior, Point Guard, Florida
Jonathan Givony
Although his assist numbers might not have been quite as impressive as his teammate
Jared Jordan
,
Taurean Green
did a much better job showing NBA GMs that he has the tools and versatile skill-set to play a role in the NBA.
Immediately as the camp kicked off it became evident that
Taurean Green
has played on much bigger stages than this. His college team won back to back national championships, and Green didn't lose a game in this setting either. He looked poised and confident in his abilities as a point guard, not being ashamed in the least bit to pull up off the dribble for a long 3-pointer or take the ball strong all the way to the basket in traffic despite his limited size. They say that believing in yourself is half the battle, and Green clearly has that part down pat.
Besides
Demetris Nichols
, no other player in Orlando will have an easier transition to the NBA 3-point line than
Taurean Green
. His shooting mechanics aren't picture perfect, but his release is extremely quick and consistent, and you certainly can't argue with the results. To back that up, he hit the second most NBA 3-pointers at the camp, and did so at a 57% clip. He can hit shots with his feet set or in motion pulling up off the dribble, which is an added bonus.
As a point guard, Green does a solid job at running an offense and finding the open man, particularly in transition—even if he is naturally more of a scorer than a distributor. With the direction the NBA is headed these days, though, that doesn't seem to be such a bad thing. Green is a smart player who knows how to facilitate He can create his own shot and has multiple gears he can go to to keep his man off balance and get into the lane. And while he isn't the biggest guy in the world, he has plenty of toughness and ample upper body strength, which helps him tremendously in terms of getting to the free throw line and finishing around the hoop. If there is just too much traffic around the paint, he can either finish with a beautiful floater or pull-up from 12-15 feet for a mid-range jumper.
The biggest drawback standing in the way of Green's chances of NBA success is his very related combination of average size and defensive ability. NBA coaches are biased against smaller guards and Green doesn't do them many favors with the awareness he shows on this end of the floor. He could also still improve his ball-handling skills and the overall way he "values" the ball, as evidenced by a few unforced turnovers he had here
With that said, there is no reason why Green can't develop into a solid backup point guard at the very least. He has a great combination of shooting, slashing and playmaking ability, combined with more high-level experience playing winning basketball than any other guard in this draft.
---
Demetris Nichols, 6-8, Senior, Small Forward, Syracuse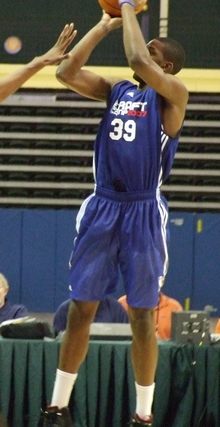 Joseph Treutlein
In terms of scoring the ball,
Demetris Nichols
was probably the most consistently impressive scorer here at the camp, showing just how deadly he can be as a shooter and how quickly he can put points on the board, going on a few scoring runs where he hit multiple shots in minutes. Looking at the final statlines of all the players here, one of the most notable ways a player really separated himself was how Nichols shot the ball from NBA three-point range. He hit a remarkable 9-of-13 from behind the arc, shooting a ridiculous .692. Other than Nichols, only one player at the camp even hit four NBA three-pointers.
Nichols is extremely confident with his outside shooting, and it's interesting how in all the times we've seen Nichols in drills, both here at Orlando and at a private workout we viewed last week, he's probably just as good a shooter in the real games, coming off screens, with a hand in his face, as he is taking place in the simulated drills. Other spot-up shooting forwards have come through this camp in recent years, with
Steve Novak
first coming to mind. Nichols did a good job in separating himself from these other players, in that it's evident that he doesn't consistently need players run for him and that he really makes the most of his possessions, finding open space on the floor and getting off a good shot attempt most times he touches the ball.
Nichols didn't really impact the game in many other ways when he was on the floor, not filling up the stat sheet in any way other than scoring, but he played pretty good perimeter defense for the most part, showing he can play outside of Syracuse's zone. Nichols didn't do much to dispel the concerns about his ball-handling abilities, but he did make a few moves off one or two dribbles and got to the basket when there were open lanes, and he shows that he has the potential to improve his ball-handling over time.
The things that Nichols does excel at should definitely translate to the NBA, so there's a very good chance he can make a contribution in his first year, coming off the bench and providing a scoring punch, as he doesn't need much space to get off a high-percentage shot attempt from long range. Nichols will likely be an early second round pick in the draft, and it's not tough to envision him having a
Jason Kapono
type season not too far down the road.
---
Aaron Gray, 7-1, Center Pittsburgh, Senior
Mike Schmidt
Aaron Gray put together three solid performances at the pre-draft camp in Orlando to earn himself a spot on our first team. Though he produced each day, he didn't really do much to help his stock greatly at the camp here despite his performance, as he was already firmly on the first round bubble without too much room to move back up. While it is important to remember that
Aaron Gray
will have limitations in the NBA, he has a great chance at carving out a long career as a rotation big man at the next level, particularly if he continues to shed weight the way he has nicely over the past two months.
Most of Gray's points came from within 8 feet of the basket in Orlando, and this trend will likely follow him to the next level. The former Pittsburgh center displayed good mobility in the low block this week, and used a combination of hook shots and lay-ups mixed in with the occasional turn-around jumper to score all of his points. Though Gray was able to get these shots on nearly anybody, he struggled with his touch inside at times, sometimes just throwing the ball near the basket with the hope that it would find its way in.
In the drills, though, Gray showed off a pretty nice shooting touch all the way out to the NBA 3-point line. This didn't translate to the actual games, at one point even passing up a wide open look from 18 feet out that he clearly should have taken.
The physical limitations of Gray were also displayed this week in Orlando, and were especially apparent on the defensive end of the floor. The 7-footer lacks the speed to get up and down the floor quickly, and will be much better off in a half-court oriented system in the NBA. Gray lacks the reaction time to be an active defensive player, and at times will stand flat-footed on the ground as a rebound sails by him in his area. He isn't afraid to use his body against players down on the block, but this can only take you so far in the NBA.
Aaron Gray
displayed a good skill-level this week in Orlando while showing that he will likely be a fixture in the NBA for the next 8-10 years. He could find himself in the late first round, and a team looking for a future rotation guy could find great value if Gray remains on the board in the second round.
---
Zabian Dowdell, 6-3, Senior, Point Guard, Virginia Tech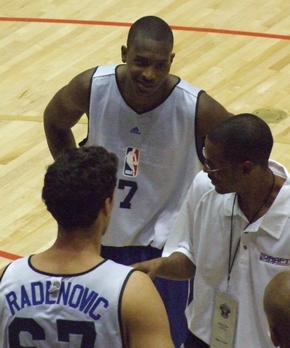 Joseph Treutlein
Zabian Dowdell had a very strong camp here, putting up 11 assists to only 3 turnovers, shooting a respectable .440 from the floor, hitting two NBA three-pointers, showing good range, and playing tremendous defense, using all of his 6'9.5 wingspan to lock down his man, even though he picked just one steal in the camp. The thing that really jumps out about Dowdell is how all of his strong points would seem to translate very well to the NBA level, especially with his NBA body and that wingspan. He may not have starter potential, as he hasn't really ever shown he can dish out a lot of assists consistently, but he runs his team pretty well, can hit the spot-up shot from outside, has a very tight handle, plays excellent defense, and was probably the most deadly player pulling up from mid-range here, being nearly automatic coming off his crossover in the lane.

Dowdell possesses all the characteristics one looks for in a backup point guard and/or an NBA role player, and his strong build and wingspan will allow him to play well alongside undersized shooting guards, something many teams have coming off the bench playing major minutes. Dowdell's long arms and excellent defensive fundamentals will allow him to defend most NBA shooting guards adequately, especially back-ups, who he shouldn't have any problem with. The only thing there really is to dislike about Dowdell is that he isn't the kind of player who is going to take over a game, and he's probably never going to be a great scorer or a great distributor, just doing everything adequately well on the offensive end, while providing great defense on the other end of the floor.

Dowdell will likely go somewhere in the second round in the draft, very possibly in the 30's if a team really likes him and is in need of a back-up point guard. He should be able to make an impact almost immediately, and most teams should be pretty comfortable with him running their second unit.
---
DraftExpress All Second-Team
Jared Jordan, 6-1, Senior, Point Guard, Marist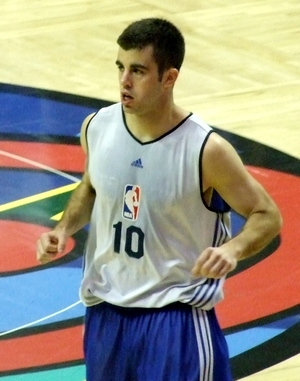 Jonathan Watters
Jared Jordan's statistical accomplishments at Marist were well known, but nobody was quite sure what he would be able to accomplish in the draft camp setting or at the next level. There were questions about his shooting and athleticism, with the MAAC giving little in the way of competition or exposure.
But the ability to run a team is certainly developed above the shoulders, and tends to translate over better than other tools. Jordan might be undersized and a step slow, but this week he proved once and for all just what a special point guard he was at Marist and will be as a professional. The first two games were run almost to perfection – Jordan handled more athletic defenders with relative ease, created basket after basket with crisp full court passing and dazzling looks from within offensive sets.
While Jordan's shooting percentages weren't ideal at the NCAA level, that could have had a lot to do with his leading role. In this setting, he did a phenomenal job of picking his spots to look for his own. He didn't light it up from the outside, but showed off improved form on his jumper and was deadly in the midrange. Almost never did he force the action, but was able to burn defenses that dared him to score quite easily. At the end of the day, he was as impressive as any point guard in the camp.
So does this camp get Jordan drafted, or a guaranteed contract next fall? It is hard to say for sure. He probably doesn't have the physical attributes to be more than a backup, but this kind of court vision can make up for a lot. It isn't a lock by any means (no projected 2nd rounder ever is), but we wouldn't be surprised at all to hear
Jared Jordan
's name on draft night.
---
Ramon Sessions, 6-1, Junior, Point Guard, Nevada
Jonathan Watters
In a camp full of solid point guard play, it would be hard to argue that anybody fared better than Nevada underclassman
Ramon Sessions
. Sessions, much like Jordan on our second team, isn't the most imposing athlete out there. He has decent quickness, but a slight frame, and was at an overall physical disadvantage against almost every point guard in the camp. Yet it was Sessions who put up the most impressive statistics (13 points per game, 13 total assists compared with just 1 lone turnover). He was able to get to the basket, and did as good a job as any point guard in the camp at creating for his teammates and running the offense.
Sessions clearly has that natural knack for running a team, something he first displayed as a freshman. After injuries derailed his sophomore year, Sessions got back on track this season, showing major improvement as a scorer. His mark was all over this camp, and he does it with solid decision making, and a patient, probing way of making a defense commit to stopping him or stopping the pass. At this point Sessions would probably rather pull defenses toward him and use his excellent court vision to find teammates, but he is improving with the pull-up jumper and a creative array of floaters and other finishing moves if he makes his way into the lane.
In short, Sessions did exactly what the camp is intended to do for underclassmen. He had nothing to lose by coming, and now GM's have an extended, first-hand impression of his game. Now Sessions needs to go back to school, and work on shoring up a few weak points that will keep him out of the first round in 2007. Sessions has the stature and patient, yet dangerous play style of a young
Tony Parker
, but Parker was always on a different level in terms of quickness and strength. Sessions needs to spend the rests of the summer in the weight room, continue to polish up his shooting and scoring game, and put in a solid senior season at Nevada. If he puts in the work this summer, Sessions will have significantly benefited from his decision to attend the camp.
---
Jermareo Davidson, 6-10, Power Forward/Center, Senior, Alabama
Mike Schmidt
Throughout his three games in Orlando, Davidson showed a wide array of skills that automatically made him one of the more intriguing players in attendance. The effort didn't always match the skills, however, and the former Alabama big man managed to only put it together for one full game out of the three.

Offensively, Davidson prefers to shoot jumpers and fade away from the basket with his moves inside rather than using his body to draw contact after using one of his many moves in the paint. It is possible that added weight would help in this aspect, but the soft mentality also hurts in this area. In terms of offensive skills, Davidson can hit the jumper from 15 feet and has the footwork to create a nice series of hook shots and up and under type moves from the low block. At different times this week, he made some absolutely outstanding moves going to the basket after facing up from 12 feet as well. The natural tools are there for Davidson to become a threat from either the power forward or center positions at the NBA level.

Defensively, his lack of toughness hurts him here as well, though he does use his combination of length and good instincts to be competent in this area. To improve, he will need to play with a much better focus on defense and rebounding. There were times during the week where Davidson used his body well to box out before using his leaping ability and big hands to rebound over other big men. On other occasions, he lacked the effort to get easy rebounds that nearly fell right into his hands.

Despite the lack of effort at times, Davidson helped his stock overall at the camp here in Orlando. His skill-set on the offensive end in combination with good defensive potential make him a good value for any team picking in the early part of the second round. It is important to remember that Davidson also dealt with a great personal tragedy this season, which almost certainly affected his focus on the basketball court.
---
Antanas Kavaliauskas, 6-10, Senior, PF/C, Texas A&M
One of the nicer surprises of this camp,
Antanas Kavaliauskas
pulled off a feat we see a few times every year seemingly, having a much stronger showing at the Orlando pre-draft camp than against the weaker competition found at Portsmouth.
A Lithuanian born player through and through, Kavaliauskas combines a nice shooting touch with the rugged tough-nosed mentality his countrymates are known for to make his presence felt on the basketball floor despite not being the most naturally talented player on the floor. He kicks, fights and scraps his way to plenty of rebounds (6 per game in 23 minutes per) and loose balls, throwing his body around and not being afraid of a cheap shot or two to gain the slight advantage he needs to get what he wants.
Playing alongside two excellent point guards in
Jared Jordan
and
Taurean Green
, Kavaliauskas took full advantage, playing the pick and roll or pick and pop nicely to finish efficiently around the basket or step outside to the elbow and knock down a shot.
His efforts here probably won't get him drafted, but he at the very least will get some serious summer league love and a couple of six-figure offers from Europe thanks to his Bosman status.
---
Ali Traore, 6-9, 1985 International, Power Forward, Le Havre (France)
Joseph Treutlein
Ali Traore quietly put up one of the more dominant performances here at the camp, averaging 14.7 points per game on .704 shooting, going to quick work in the post when he got the ball, showing a nice array of simplistic, effective moves combined with great strength and pretty decent size at 6'10, with a 7'5 wingspan, something he didn't really stand out with here. His performance reminded a lot of
Kenny Adeleke
's last season in regards to his post scoring, primarily because Traore didn't show much in the athleticism department, but it's been learned that Traore suffered from a foot injury and has only been working out again for the past few weeks, so he may not be fully up to speed just yet. Taking a look at his profile picture as compared to what we saw here, it's very clear that Traore has put on a lot of weight, and was not playing at his ideal build here. Traore didn't look overweight by any means, but if he could play at a slimmer size like he was in that picture, he could improve on his speed and maneuverability in the post, making him a more versatile scorer.
There are some other concerns about Traore as well, most notably that he averaged just 3.3 rebounds per game in his three games here. For a player of his size and strength, that's extremely concerning, and something he will definitely need to work on to be an NBA player. Maybe it was just an aberration, but Traore has the potential to do a lot more in that aspect of the game. Traore did knock down a few spot-up shots from the 10-15 foot range, showing he can contribute more than just interior scoring, but he still could use some improvement in the other areas of his game, including defense and passing. Traore made just one assist as opposed to eight turnovers here.
There's a pretty good chance a team takes Traore in the late second round, as he has some nice potential with a good groundwork of NBA skills, and because he can be stashed overseas while not taking up a roster spot, letting him develop there and get back into game shape without costing anything. It's really tough to say just how different a player Traore is when he's in better shape, as we don't have much to go off, but I'd be pretty certain that NBA teams with late second round picks will be looking into his play pre-injury, as Traore could turn out to be a real steal somewhere down the road.
---
DraftExpress All Third-Team
Daequan Cook, 6-5, Freshman, Shooting Guard, Ohio State
Joseph Treutlein
Daequan Cook was the highest ranked prospect on our 2007 mock draft coming into the camp, and while he didn't consistently play to that level, he showed flashes of how dynamic a scorer he can be, putting everything together in his final game for what was one of the most dominant individual performances here. Cook already can score the ball at an NBA level, and with the trend towards undersized shooting guards of late, he has a very good chance to make significant contributions for a team in his future. The most notable thing about his scoring ability is how he can hit a shot with a hand in his face and how he's so strong and able to hit shots nearly effortlessly from long range, as easy as he does from 10-15 feet out. Cook showed some nice ability with his floaters and pull-up jumpers from mid range, but he didn't really get to show how deadly he can be hitting from long range when he gets on a roll, something that's tough to do here when you're playing in five-minute shifts and plays aren't being run for you.

In terms of things Cook brings to the table other than scoring, he's not really going to wow you in any other area just yet. He shows some nice vision and passing ability at times, but he doesn't have the making of being a point guard or even a combo guard unless he makes some drastic changes, though he should be a pretty good passer for a two-guard at the next level. Cook did a solid job on the defensive end, but at 6'4, he'll be at a bit of a disadvantage at the next level, even with his good physical tools. The area Cook needs to work on the most would definitely be his ball-handling, as being able to create for himself would definitely take his game to the next level, and it's something many teams would want an undersized scoring guard to possess. He can do some nice things off one or two dribbles, sometimes more, but doesn't look very comfortable when handling the ball for much more than that, and he may have trouble with that at the next level.

Cook projects as a late first or early second rounder if he remains in the draft this year, as all indications say he will. Some teams may shy away from him because he still has things to develop and because of how the final half of his freshman season turned out at Ohio State. But for whatever team that does take him now, before he has the chance to fully develop and rise up the draft charts, something he'd likely have done had he gone back to school, they will have pretty good value to look forward to a few years down the road, if Cook doesn't make contributions sooner. It's tough to see Cook falling very far into the second round, if he even does, just because it's not easy to leave as dynamic a player on the board for long.
---
Trey Johnson, 6-5, Shooting Guard, Jackson State, Senior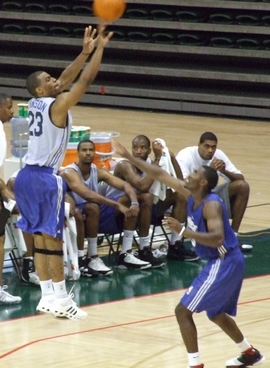 Mike Schmidt
Johnson was effective at times during the pre-draft camp, but will have to make some adjustments in order to become NBA ready. He certainly has the talent to play a role in the NBA some day, and did a nice job this week of showcasing what he can potentially offer a team.
The majority of Johnson's points came on mid-range jumpers off the dribble, many of which were created when he was given the ball on the pick and roll. He shows good elevation in shooting the mid-range jumper while getting the shot off very quickly. Despite good accuracy from out to about 20 feet, Johnson didn't show range out to the NBA three point line, even as a set shooter, going 0-5. While the senior guard received a number of nice looks off the pick and roll, he rarely decided to turn the corner and penetrate to the basket. On the few occasions Johnson went to the hoop, he seemed to lack the creativity or explosiveness near the rim to be an effective slashing threat right now. At Jackson State, some of his points came from the low post, but he lacks the size and strength to translate this to the NBA.
Johnson's shot selection at times seemed fairly questionable, even if he was able to create good shots for himself from mid-range thanks to his excellent array of jabs steps and hesitation moves. He is both smart and extremely strong, meaning he has considerable potential here.
Defense will need to be an area of focus for Johnson, whose lack of length and lateral quickness puts him at an immediate disadvantage. To become an adequate defender, better positioning and use of his body will be necessary. Focus was also a problem from Johnson at times on defense. Despite the limitations, he could become a passable defender with better effort in this area, especially when it comes to team defensive rotations.
Johnson was among the leaders in scoring throughout the NCAA season, but he will be a role player at the NBA level. For this reason, the guard from Jackson State made need to become more selective with the type of shots he takes on the court. NBA teams rarely run plays for guys like Johnson, but he has the tools to make the adjustment to the NBA game. On draft night,
Trey Johnson
will likely hear his name in the second round, but his combination of feel, natural scoring ability and strength will give him a good chance to carve out a career in the NBA.
---
Aaron Brooks, 5-11, Senior, Point Guard, Oregon
Jonathan Watters
Brooks isn't a true point guard, no matter what people might have been saying during the regular season when Oregon was on its run. But when viewed from a different angle, as a complementary scoring guard, Brooks has a bit more appeal as a professional. The former Duck didn't knock anyone's socks off in Orlando, but did put in the solid type of effort that will get him a few more looks in the 2nd round.
The first thing to come away with from his play here is just how impressive Brooks is on the defensive end. He has always been jet-quick, but this really showed on the defensive end in Orlando. Brooks knocked down
Dominic James
a couple of pegs in day one, easily staying in front of him every time James tried to take the ball to the basket and shockingly looking a step quicker. Brooks is by no means thick, but had enough muscle to really bother most of the point guards in this camp in their attempts to initiate the offense.
Brooks' own scoring was a bit of a mixed bag. He was able to get to the basket occasionally, but his lack of size showed when attempting to finish at the rim. He didn't really make much of an impact as an outside shooter, either. But for all the limitations we saw from Brooks during the regular season, he actually ran his team's offense pretty well here. It is hard to say how much interest there will be in a 5'11 (that's being generous) combo guard, but Brooks certainly helped himself here. He certainly has a handful of NBA-caliber tools that could allow him to stick in the right situation, as long as his attitude holds up.
---
D.J. Strawberry, 6-4, PG/SG, Maryland
Jonathan Watters
Strawberry appears on these teams thanks to an absolutely stellar game three performance, where he completely changed the flow of the game on both ends of the court. Strawberry has always defended as well as just about any guard in the country and he continued to do that here in Orlando, but in the first two games the same lack of offensive pop that kept him off of draft boards his entire college career was quite evident.

That changed in game three. Strawberry had been showing off better form on his outside jumper during the drills all week, and finally started draining shots in the final official contest. These weren't 3-pointers, but we have never seen Strawberry look so comfortable putting the ball in the basket. He scored a decent amount at Maryland, but would tend to go through long cold stretches and rarely showed much of an instinct for scoring of any type. But in this game he was hitting contested midrange jumpers, pulling up off the dribble, and slashing all the way to the basket.

The offensive success seemed to spur further intensity on the defensive end, where he actually turned it up a notch, wreaking havoc all over the court. This could have been the most complete and impactful performance of the camp, if more than a handful of scouts had actually seen it. So it will be interesting to find out if Strawberry was able to help his stock here, because he didn't show anything we hadn't already seen in the first two games.

But in case you're a GM and you missed it, Strawberry has the potential to bring a lot to the table as a roleplayer in the NBA. He isn't a natural point guard, and has struggled whenever he was asked to run the show at Maryland. That didn't change here, but he does have some appeal as a secondary ball-handler off the bench. He has the athleticism and court sense to push the tempo in the open court, and only starts to struggle when forced to slow down and make team-running decisions. And on the other end, he most certainly can defend point guards. At a solidly built 6'4, Strawberry has what it takes to be a pest. His shooting and all-around scoring has always been the knock, so if Strawberry can repeat his game three showing in a workout or two, he might end up hearing his name called on draft night.
---
Coby Karl, 6-4, Senior, PG/SG, Boise State
One of the best stories at this pre-draft camp any way you slice it,
Coby Karl
came in here determined to show that he is a lot more than that. If there was one name on the invite list that people would scrutinize due to his father's obvious NBA connections and the fact that he already played here (poorly, besides the last day) last year—its
Coby Karl
. With all that off our chest, we can say with full confidence that Karl not only deserved his invite, but he was also one of the best players in attendance as his spot on this list would indicate. What makes this fact even more surprising is the fact that he is coming off (his second) throat cancer surgery just 2 months ago—meaning he probably isn't even at 100%.
Karl surprisingly played the point guard position for most of his time on the floor, looking quite natural doing so. He has excellent ball-handling skills and the imagination and flair needed to make some highlight reel caliber passes. Karl clearly has spent some time watching footage of his father's team, the Nuggets, showing no shame whatsoever in throwing an unexpected alleyoop lob or behind the back feed to complete a pick and roll play. A Denver scout told us after one particular game with a grin that Karl Sr. threatened to fine his son $500 for one careless turnover caused by his over-enthusiasm. Regardless of the turnover, Karl was responsible for some excellent assists, particularly in the first game where he had 6 compared to just one turnover.
In the drills, Karl looked a bit overmatched in the one on one portions, where his average quickness and first step really showed. In the actual games, though, this didn't seem to be nearly as much of a problem, as he utilized screens beautifully and showed little hesitation making strong moves to the paint instantly right as the ball was swung to him. He drew a fantastic 7 fouls per game on average in just 20 minutes per game, some of which were converted together with the and-1.
As a shooter, Karl excels, thanks to a quick, but unorthodox release. He shows little hesitation getting his shot off, and already has NBA range as indicated by the 3-5 he shot from behind the arc at this camp.
Even though he played extremely well here, it would be surprising to see Karl getting drafted. His combination of size and athleticism is just average for a player who isn't quite a point guard at 6-4. On the defensive end is where he'd probably struggle the most, but it wouldn't shock to see him get a solid look in summer league, if the Nuggets don't just snatch him up. Although most people would raise eyebrows at Coach Karl signing his son to a free agent deal (how exactly would they be able to cut him is anyone's guess…), he does actually fill somewhat of a need with his passing and perimeter shooting skills. If all else fails, there is likely an excellent paycheck waiting for him overseas.