When you're a freshman high school point guard measuring in at a petite 5'9", the NBA can seem like a long way off; so can the prospects of starring in one the nation's most underrated conferences this season. Thanks to an almost unheard of growth spurt, though, Saint Joe's
Pat Calathes
finds himself as one of the most unique prospects in this years senior draft class.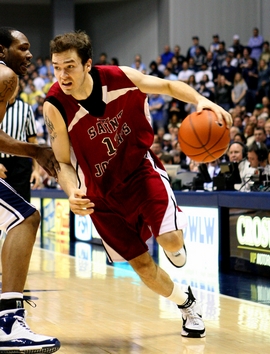 The Casselberry, Florida native would shoot up to 6'4" by his sophomore year of high school, and tack on three more inches as a junior. By the time Calathes arrived in Philadelphia as a bright eyed college freshman, he was a rail thin 6'9". In his time with the Hawks, the senior has grown to his present height of 6'11". Calathes views the subject of his skyrocketing growth with a touch of humor.
"I would think I would be done by now, but you never know, I thought I was done my freshman year too," he said.
The growth spurt made for a couple of difficult years of adjustment on the basketball court. While he always remained at the point guard position, he was regulated to his JV high school team for a couple of seasons. Calathes said that during those years he definitely lost a bit of his speed, and that his play at times could be described as awkward.
Had growing pains been the only adversity Calathes had to face growing up, he would have been no different than many kids his age, but unfortunately that wasn't the case. While younger brother Nick, who is starring at Florida, may be the other well known Calathes brother, there is a third; Pat's twin brother John. Pat and John were teammates growing up. They both started on the 1996 10-and-under AAU national championship team. While things looked very bright for the twins on the basketball court back then, things would take a dramatic turn when Pat and John turned eleven.
It was discovered that John had a life threatening arteriovenous malformation (AVM). An AVM is an abnormal collection of blood vessels, and it was located on John's brain stem. According to a January 2008 story from the Philadelphia Daily News, Pat and John's mother estimates that John had anywhere from eight to twelve procedures over a period of several years to help with the condition. While John had to deal with no longer being able to play the game he loved, Pat had to deal with the difficulty of not having his brother alongside him.
"It was really tough," he said. "My parents downplayed it a lot when we were younger, so we really didn't know the severity of how bad he was. But as we got older, it was really tough watching him not be able to do what we were doing, going to the basketball camps and playing in the AAU tournaments. It was really hard watching him go in and out of the hospital."
Calathes says a lot of the time he feels like in addition to playing for himself, he is playing for John as well. The number twelve that Calathes has worn during his time at Saint Joe's is in honor of John, who wore the number when the two were growing up playing together. John has gone on to lead a normal life to date since the original diagnosis. He is currently a junior at Rollins College.
Both boys got to experience playing for their father John Sr. while growing up. Described by Pat as a man to whom winning was everything, John was tough on his boys on the court, but always a loving father off it.
"When we were little kids he would yell at us on the court, and obviously after the game we would be kind of upset, but this was when were like nine and ten," Calathes said. "But normally he would try and keep everything on the court just as a player/coach relationship, and then off the court he was our dad again."
While Pat and John are now enjoying life as upperclassmen, youngster Nick is in his first year of college at the University of Florida. The freshman arrived at Gainesville with plenty of hype as the nations #14 recruit according to Rivals. To date, Nick hasn't disappointed, leading the Gators in scoring and assists. While it has been tough at times for Pat to see his younger brother play due to the similarity in their schedules, he has been happy with what he has gotten to see.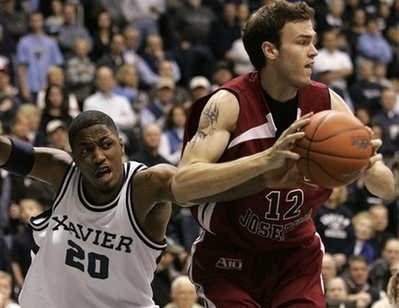 "I'm really excited for him," Calathes said. "You know he's not the typical freshman where he has to go in and get used to the college game. He's real smart basketball wise. He didn't go in cocky at all, which was perfect; he just went in and did what
Billy Donovan
needed him to do. He's really been playing well, and I'm real happy for him."
The two brothers talk before and after each of their games, and while Pat may be one of Nick's biggest critics, the elder Calathes says there hasn't been much necessary.
"It's just a couple of small things that I critique every now and then."
While Nick may have gotten more hype coming out of high school, Pat has made plenty of noise this season, wracking up career bests in nearly every major statistical category. A major reason his career year is due to his body finally slowing down and filling out. After checking in last season at less than 200 pounds, Calathes spent a tremendous amount of time in the weight room in the off-season looking to bulk up. His hard work paid off, as he entered his senior season tipping the scales at 215 pounds. Calathes feels he can add even more weight to his frame now, something that will certainly help him handle the physicality of life at the professional level.
"I think I can definitely add another ten to fifteen pounds, without losing my speed," he said. "I think the weight will go up gradually, but if I was to put on a lot say in the next year, it would slow me down for sure."
When a high level division one player is still developing physically as a senior, it begs the question, how much more growth is there as a player, and how close is he to his full potential? Calathes will tell you, he isn't close in either respect.
"In my opinion I think I have a lot of go," he said. "I know that there are a lot of things that I can do in the off-season, so I'm looking forward to being able to work on all of that."
You can bet that he will be working at his weak points hard. A self proclaimed gym rat, Calathes says his coaches always complement him on his tremendous work ethic.
"Whatever I need to get done to make it to the next level, or whatever aspect of my game I need to improve, I'll work at," he said. "I think there are a lot of things though that I can perfect and get better at."
With the tremendous success that Calathes is having this season, it can be easy to forget where he was as a player just a few seasons ago. As a freshman, he saw limited time, just eight minutes and two points per game. Perhaps most surprising, though, was his abysmal shooting from the perimeter, just 15.4% from beyond the arc. So how does Calathes explain nearly tripling his three-point shooting percentage in just a few seasons?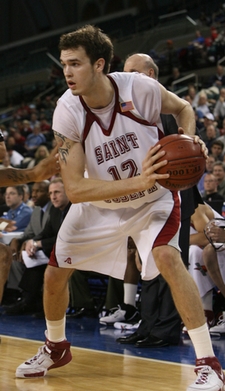 "All the hard work, hundreds of thousands of shots put in over the summers and in the preseason," he said. "It's pretty much just me living in the gym. The coaches at St. Joe's and my trainers at home help me out a lot. One of my assistant coaches here, Mark Bass, helped me with me mechanics. But other than that, it's pretty much just putting in the time."
Calathes may be getting plenty of attention for his individual play this year, but it isn't hard to see that he is the consummate team player. While he won't deny any of his personal success, he is quick to point out what is most important to him in his final year as an Hawk:
"I really just want to make it to the NCAA Tournament, we haven't done that since I've been here, and I think we definitely can."
While Saint Joe's may not be a unanimous pick amongst college basketball experts to appear in the Dance, Calathes says that he and his teammates feel there is a need for them to.
"We definitely have the talent and the capability to make it there," he said. "I think it would be a real letdown if we didn't make it. I think the first few years I was here, we didn't have the overall talent and ability to make it, but I think this year we definitely do."
The confidence that Calathes shows in his own team, extends to the Atlantic 10 Conference as well. He is quick to point out the abundance of talented players on A-10 teams this year, specifically mentioning
Brian Roberts
of Dayton, Jimmy Baron and
Will Daniels
of Rhode Island, and
Gary Forbes
of UMass. In a year where there has been talk of as many as five A-10 teams appearing in the NCAA Tournament, Calathes feels that playing outside of one of the major conferences isn't necessarily going to hurt his chances of getting drafted.
"Some people think it may be a disadvantage," he said. "It pretty much depends on who you talk to, but this year I don't think so. Maybe in one of the league's weaker years it might be, but this year a lot of A-10 teams have knocked off lot of the top 25 schools, or at least really competed with them. So I think the level of competition here, it may not be at an ACC level, but its real high. I think a lot of scouts and teams can kind of see that this year."
When it comes to his position at the next level, Calathes is quick to point out his versatility. In his time at Saint Joe's, he has lined up at every position on the floor, an impressive feat not often seen in today's college game. As for what he can bring to an NBA team, Calathes will tell you, he is here to please.
"If I'm needed to distribute the ball I can do that," he said. "If there's a guy on the floor like a
Kobe Bryant
or
LeBron James
, I can get ten assists a game. I can draw the defense and get the ball to the scorer. I can run the offense; I can get you rebounds, pretty much whatever is needed. I don't want to sound cocky, but I don't know how many limits there are to my game"
With no guarantees that he will end up on an NBA roster next season, Calathes has taken steps towards ensuring himself other options. He recently acquired a Greek passport and has stated that while he does feel the NBA is within his reach, he does consider playing overseas to be a back up option.
Calathes did take another step in the direction of the NBA though when he recently received his invitation to the Portsmouth Invitational Tournament, which will take place after the season. It will be an opportunity for Calathes to show his stuff against some of the top seniors in the country, in front of dozens of NBA executives. For now, though, the focus is on finishing the regular season strong and getting Saint Joe's to the NCAA Tournament. All in all, not too bad for the former 5'9" point guard.