The opening game of ESPN's Old Spice High School Showcase pegged UCLA recruit
Jrue Holiday
against fellow top 15 player
Delvon Roe
, a Michigan State commit. Campbell Hall, ranked 7th in the country by USA Today made the journey to Lakewood, OH to take on St. Edward's, ranked 12th in the country. Neither future McDonald's All American disappointed in this overtime thriller.
Holiday started off of the game hot, but Roe finished it for St. Edward's, leading his team to 78-73 overtime victory on ESPN2. Roe and Indiana recruit Tom Pritchard combined for 41 points, 36 rebounds, and 10 blocks to dominate Campbell Hall inside. In a losing effort, Holiday finished with 31 points and 10 rebounds, showing everyone why he is such a highly touted prospects in the process.
Here is an in depth look of the top prospects the game had to offer:
Jrue Holiday, 6'3, PG/SG, Senior, Campbell Hall, Committed to UClA

31 Points, 10 Rebounds, 11-25 FG
Holiday started off the game on a tear, scoring 13 points in the first quarter for the Vikings. He was downright unstoppable, scoring in every way imaginable. Able to shoot the ball from deep just as well as he can get to the rack, it was a matter of picking your poison Thursday night for opposing defenders early on. The UCLA recruit began the game by showing off his silky smooth outside jumper that has NBA range, pulling up off of the dribble in transition to net a three pointer in his defender's face. Complimenting his dribble drive was his ability to get to the rim early on, where he was able to convert near impossible buckets at the rim with either hand. Simply put, he single handedly willed his team to a 23-20 advantage after the first quarter.
St. Ed's came out in the second quarter making adjustments on how to stop Holiday, having a man face guard him at all times with another defender shadowing him. This frustrated the young guard, who was unable to get his hands on the ball the way he was in the first stanza. When he did touch the ball, showed off a pretty pull-up jumper from midrange and continued to put points on the board with ease. Jrue showed off a super tight handle that allowed him to make his way to the rim, although he did get a bit too flashy for his own good early on. His ability to break down the Eagles defense with such ease enabled Campbell Hall to jump out to a 37-29 lead at the half.
The second half and overtime didn't fare quite as well for Holiday, who wound up missing 12 of his final 17 shots. He was a bit passive down the stretch in terms of commanding the ball, failing to make his immense presence felt out on the floor. Holiday continued to show off why he is such a highly touted prospect even when the shots weren't falling. He displayed downright nasty body control, able to seemingly float through the air around defenders en route to the rim. Using both hands to get up shots from difficult angles, he was able to get up scoring attempts over Roe and Pritchard that most guards would have had swatted into the stands. With so much attention focused on Holiday, he did an outstanding job of finding open teammates even though he proved unable to put points on the board for himself late in the game.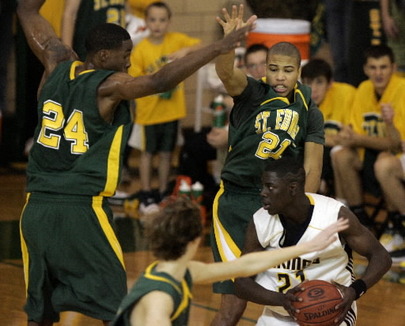 Although he did not score well in the latter part of the game, he played suffocating defense on whomever he was guarding. The potential that Jrue shows as a defender makes him extremely interesting, quick enough to defend guards but also strong enough to guard players much taller then him. As the tallest starter for Campbell Hall he was forced to guard
Delvon Roe
for much of the game, a player much longer and five inches taller then himself. While only 6'3, Holiday's length and athleticism allowed him to be a force on this end of the court, no matter what player he was guarding.
Holiday's lack of assertiveness on the offensive end hurt Campbell Hall late in the game, during the time they needed their electric guard most. His teammates struggled to create for themselves off of the dribble, forcing up bad shots and looking completely out of their realm. It was awfully puzzling why the Campbell Hall coaching staff did not do more to get their superstar the ball, allowing other players to bring the ball up the floor when they were having nightmares getting Holiday the ball in their half court sets. Either way, Holiday should have tried harder to get the ball in his hand himself to help his team to victory.
Jrue offers as much long term NBA potential as just about any guard the class of 2008 has to offer. Both the Rivals and Scout recruiting networks have him pegged as one of the top 2 guard prospects in the country, and it's safe to say that they are accurate with their ranking. He follows the mold of successful combo guards such as
Randy Foye
and
Gilbert Arenas
, able to score on just about anyone but also capable of putting up impressive assist numbers. With the likely departure of
Darren Collison
to the NBA after this season, there will be plenty of opportunity in the backcourt for Holiday as a Bruin. He comes in along with two other impressive guard prospects in
Malcolm Lee
and
Jerime Anderson
, both fellow top 50 players nationally and California natives. If Ben Howland and Co. are able to convince
Kevin Love
to hang around for his sophomore season, UCLA would have to enter the 08-09 season as one of the two or three top favorites to take home the national championship in 2009.
Delvon Roe, 6'8, PF, Senior, St. Edward's, Committed to Michigan State

18 Points, 12 Rebounds, 6 Assists, 5 Blocks
While Holiday may have gotten the upper hand in the stat sheet, it was Roe who took home the victory on national television. It was a typical day at work for Roe, whose gritty play has made him a consensus top 15 player nationally for the class of 2008. He did the most of his damage from 15 feet and in, struggling to get much going on the perimeter in the few times he tried to do work out there. The Michigan State recruit's passing ability and tough play around the rim was enough to get St. Edward's a victory, however.
Roe definitely passes the look test for a power forward prospect, standing a legit 6'8 with a 7'0 wingspan. He is already a chiseled 220 pounds with a frame equipped to add another 20 pounds if desired. A much improved athlete, the Euclid native showed off a quicker first step and explosive leaping ability, evidenced by the two monstrous dunks that he threw down on the evening.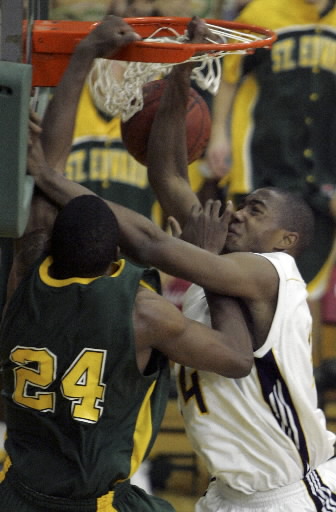 Not just an athlete, Delvon exhibited some nice footwork in the low post via a series of drop steps, spin moves, and counter moves. Able to finish around the rim with either hand, he converted on the majority of his scoring attempts around the rim. What was most impressive about Roe's performance was his ability to pass the ball from the high post, where he ran the high-low game to perfection with Indiana recruit Tom Pritchard.
The toughness and ferocious play that Roe showed off on the offensive end also transcended to his performance on the defensive side. He did an excellent job boxing out Campbell Hall's stable of smaller, quicker players en route to corralling 12 rebounds. Utilizing his nice wingspan, he was able to block 5 shots and alter many more. Finishing off his impressive showing on the defensive end, Roe surprised many with his ability to move laterally, doing a nice job of keeping the much smaller Holiday in the situations that he was forced to defend the speedy guard on the perimeter.
While Roe is one of the more skilled post players the class of 2008 has to offer, he does not offer the long term upside of other elite power forward prospects such as
Greg Monroe
or
Samardo Samuels
. He will need to vastly improve his perimeter player over the next few years if he hopes to maximize his potential as a draft prospect. Delvon will be a great fit at Michigan State, where he will have the opportunity to compliment fellow Ohio native and former AAU teammate
Raymar Morgan
next season. His blue collar style of play will allow him to make his presence felt as a freshman, and will surely make him a fan favorite for the Spartans.
Tom Pritchard, 6'8, PF, Senior, St. Edward's, Committed to Indiana

23 Points, 14 Rebounds, 5 Blocks, FG
Pritchard surprised many with his performance versus Campbell Hall. Known as a role player, he showed that he is able to score when the situation presents itself. He and Roe ran the high low game remarkably well, where the Indiana commit showed off his nice passing skills and ability to hit the midrange jumper. He has worked diligently over the last year to improve upon his athleticism, which he put on show with his five blocked shots and two thunderous slams. The skilled post was able to get many of his points through tough catches in the paint that he finished at the rim with either hand, converting on big plays down the stretch for his St. Edward squad.
Pritchard is not an elite prospect by any means, but is one should be a very nice role player at the high-major level. His 250 pound frame is already equipped to handle the rigors of Big 10 play, where he should see some playing time early on for Indiana. He is a part of an excellent recruiting class for the Hoosiers, which includes elite forward
Devin Ebanks
and guards Terrell Holloway and Matt Roth.
James Johnson, 6'6, PF, Sophomore, Campbell Hall, Undecided

9 Points
Johnson was the only big man that Campbell Hall had to combat the team of Roe and Pritchard. He displayed very nice hands, a great body, and super toughness for a player so young. The sophomore played very hard in the paint, showing promise to be a nice role player at the high major level down the road. Not overly skilled, his game basically predicates off of his athleticism and length. There is plenty of time before we even begin to consider speaking of Johnson as a potential draft prospect, but the tough play that he showed against Roe and Pritchard definitely deserves a mention.