Can he run the point, or is he an undersized shooting guard? Will his game translate to the NBA? Will he be a problem off the court? The flood of questions surrounding
O.J. Mayo
's draft prospects appear to have been a reflection of what can happen when a player spends too much time on the NBA radar. After a while it became all too easy to forget just how precocious of a talent Mayo is, while highlighting all the potential problems the talented guard could run into –finding reasons why the overexposed high school star couldn't reproduce the success he found during his freshman year at USC.
Only a few months into his rookie season, Mayo is proving it doesn't matter what position he plays, his game is translating very well, and that his only focus is becoming a better basketball player and helping a young Grizzlies team improve. He has surpassed all expectations, and even though it's early, has shown that he's a rising star in the League. In our third installment of our new "Rookie Retrospectives" series, we'll be analyzing the play of the third of three former freshman standouts that are vying for the Rookie of the Year Award.
Rookie Retrospective: O.J. Mayo
Guard 6'4 ¼, 200, 1987, Memphis Grizzlies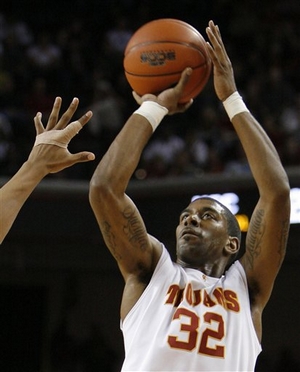 Part One: Shooting
Then:
"Mayo's best attribute right now actually might be his shooting ability. He has deep range on his jumper, with picture perfect mechanics, and the ability to come off a screen and create separation elevating sharply off the floor. If his defender goes underneath the screen while he's executing the pick and roll, he won't hesitate to punish him instantaneously by knocking down a shot. He can also pull-up off the dribble from mid-range, stopping on a dime and creating terrific separation from his man with a high arching release. He can hit difficult shots with a man in his face, moving left or right and using the glass when needed"
NCAA Weekly Performers, 1/9/08-- Part One
"There was no question that we were watching a player with a supreme work ethic, which becomes most noticeable when you take a look at the way he shoots the ball—showing outstanding mechanics that are identical every time, with terrific footwork, balance and arc on his shot, setting his feet instantaneously as soon as he catches the ball, and never looking rattled even when he has a man in his face heavily contesting his shot. Clearly this is the best part of his game at the moment."
Cross Country Workout Swing, Part 4, A.T.T.A.C.K. Athletics, Chicago
Now:
Mayo's merit as a shooter is undeniable. In the early season he has shown a level of variety in his offensive game that most rookies lack, showing the ability to make shots off the dribble, coming off screens, or spotting up when his teammates penetrate or push the ball in transition. His shooting mechanics are nearly flawless, as he has a high release point and always gets full extension on his follow through. In addition to his mechanics, he never wastes a motion in from the time he receives the ball to the time it leaves his fingertips, never dipping the ball on a catch –just going straight up and out. His form lets him get great arc on his perimeter shots, an important quality for any player taking as many jumpers as he does. In addition to his ideal form, Mayo also gets great elevation on his jumper, enabling him to get his shot off against the bigger opponents that he is facing regularly.
He's currently sporting a 56% true shooting percentage, with the majority of his shots coming from the outside (17-20 feet). As a freshman in college, with a much shorter 3-point line, he shot exactly the same true shooting percentage. His range and results from beyond the arc have been superb as well –his 41.4% shooting ranks him competitively with most of the top shooting guards in the NBA. Clearly Mayo is a supreme shooter.
A great deal of his shooting success has a lot to do with what he does before he even has the ball. His preparation when he moves without the ball allows him to get shots off, despite his height and lack of a particularly quick release. His footwork is usually impeccable, as he stays low coming off screens, catches the ball on a quick one-two step, and then explodes up into his shot. However, there are instances where Mayo won't come off hard on a screen and settles for catching the ball further out. He's much more effective when he catches it at the 3-point line or inside of it.
One of the most impressive things about Mayo is his lack of concern for the proximity of his defender. He is not fazed in the slightest bit by an opponent being in his chest as he still somehow manages to get his shot off and looks very comfortable in doing so. This strength can also be also be construed as a weakness with some of his shots seeming rather questionable at times. His confidence probably contributes to his shooting prowess more than anything. The guy truly believes every shot he takes is going in and will not let a few misses affect future attempts.
Part Two: Getting to the Basket
Then:
"Mayo doesn't seem to be getting by defenders the same way he did in high school, meaning that once he's at the rim, he usually has one defender that he hasn't quite fully beaten, and another shot-blocker rotating over—a situation that he's not really used to dealing with right now. He's getting his shot blocked too often, and is trying to get too cute with his finishes in others. Small adjustments to his game—for example knowing how to use his body better to initiate contact and keep his defender at bay, and using some crafty tricks to finish once inside the paint—will make him much more productive. He still has plenty of time to pick up these small nuances, and if he indeed has as good of a work ethic as reports indicate, should be able to in due time."
NCAA Weekly Performers, 1/9/08-- Part One
Now:
Mayo clearly does not possess the explosiveness that many of the perimeter stars of the game have. When attempting to get to the basket, defenders often stay with him –not allowing him to get all the way to the rim. His lack of a quick first step is evident in the half court, as he often resorts to floaters or pull-up jumpers when he can't beat his man to the basket. As a result, Mayo is only attempting 4 free throw attempts per game, which is way too low for someone with his skill level and who is shooting 88.5% from the charity stripe. He also has a tendency to shy away from contact by fading away for a tough shot or getting too fancy which contributes to his lack of free throw attempts. He has a very strong upper body, and when he learns to use it when attacking the cup, he'll draw fouls at a much better rate.
Right now, Mayo relies extremely heavily on his jumper as a huge source of his production. 10.3 of the 14.5 shots (71%) Mayo averages each game come on jump-shots—of which he makes an impressive 45%. He's far more likely to pull-up off the dribble than take the ball all way to the basket, which will continue to hurt his shooting percentages until he makes the adjustment. The problem is that once he does inside the paint, he's just an average finisher at the rim, converting on a poor 50% of his attempts around the basket (which includes wide-open layups and such).
Even though he lacks an incredible first step, Mayo has shown that he can get to the basket at times because of the cerebral nature in which he plays. He reads defenders very well and is able to get opponents leaning, either with a ball or shot fake, opening up paths to the hoop. He has a great handle and keeps the ball very low as he is often below his defenders shoulders when trying to drive –a must for a player without great speed.
When handling the ball in pick and roll situations, his deceptiveness enables him to get in the lane as he's either going away from the screen or splitting it nearly one-third of the time according to Synergy Sports Technology, which keeps the defense guessing. When he splits screens however, he tends to force the action which can lead to a great play but also result in turnovers going the other way.
If Mayo wants to develop into the first-option type elite NBA scorer that he appears destined to become, he must continue to work on getting to the free throw line and finishing his drives around the rim. There will be nights that his jumper is off or teams are focused entirely on not allowing him to get his shot off—in those games, he must learn to impose his will on defenses and create high-percentage scoring opportunities. This is likely the part of his game that will decide whether he indeed becomes an all-star level player.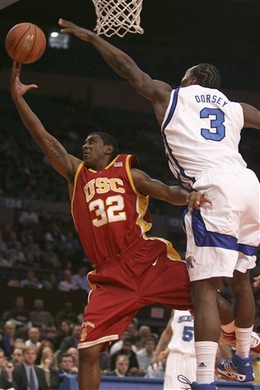 Part Three: Scoring Ability
Then:
"The first thing that stands out about Mayo in this setting is just how smooth and instinctive a scorer and overall player he is. Everything he does is extremely effortless—his footwork, balance, body control and ability to create separation from his defender and create a shot for himself is already at an NBA level already… During the season we noted that Mayo will need to learn the crafty tricks of the trade that all the great scorers in the NBA have in order to increase their efficiency and adapt themselves to the incredible speed, strength, length and agility that their defenders will possess to contest every shot they take. That's exactly what he's working on here—we saw a great deal of emphasis put on utilizing the superior spacing (due to the much farther 3-point line) that NBA perimeter players enjoy as opposed to college in the mid-range area. Pull-up jumpers, fade-aways, floaters, high pick and rolls, jabs and shot-fakes in Iso situations, scoring over the top of top of outstretched defenders (thanks to the assistance of 7-foot dummies the trainers use in their drills), taking contact and finishing, and other tools Mayo will need to develop into the go-to scoring option his potential says he can become in the NBA."
Cross-Country Workout Swing, Part 4, A.T.T.A.C.K. Athletics, Chicago
Now:
Mayo's ability to score the ball has surpassed even the highest hopes for him. He's ranked 22nd in the league in scoring at 20.2 PPG and 1st amongst rookies.
The advancements that he's made as a diverse scorer in such a short time, from college to his first couple months in the NBA, are very encouraging. His mid-range game is off the charts, as Mayo has thrived—shooting 51% from 17 feet out to just inside the 3 point line according to Synergy Sports Technology. His pull-up jumper is deadly as he can go right or left (although he does prefer going right overall) and uses an aggressive jump stop to create just enough space for him to get a good look. He has already proven capable of creating space not only effectively, but also consistently. Whether he's using long jab steps or a step back dribble, he can get his shot off against anyone. As mentioned previously, how he reads a defender also plays a role in his scoring. Whenever his man's hands are down for example, Mayo is surely going to rise up and shoot without any vacillation.
His craftiness is also a contributing factor to his scoring. He has veteran type moves in his arsenal, like swinging the ball through a defender's arms when their playing too close like
Kobe Bryant
often does, and walking his man under the basket and then changing directions quickly to come off a screen like
Richard Hamilton
tends to. He's definitely a student of the game and incorporates the games of many of his peers into his own.
The other aspects that he has added to his game are the in-between shots: floaters, tear drops, etc. This is a shot he gets off quickly as he shoots it on his way up. He is only going to improve the consistency of these shots with experience, and it is really impressive to see him taking and making these shots in his early NBA development. He chooses to rely on these shots now however, instead of taking the extra stride to get to the line. Playing for a bad team that is seen by many elite NBA squads as being somewhat of a "night off," he probably isn't being as scrutinized as heavily defensively as he might in the future. As mentioned, the development of his slashing game will play a large role in deciding whether he's able to get over the hump and become an all-star type scorer.
Part Four: Guard Skills and Passing
Then:
"With that said, Mayo is still very much an impressive prospect. He has very good size at 6-5, with a terrific body that looks ready to compete right away in the NBA. He's a powerful athlete with outstanding body control and great ball-handling skills going either left or right, and excellent instincts finding and creating shots for himself, as well as for others. Mayo's court vision is much better than his 2.9 assists per game would indicate. He brings the ball up the court regularly and for the most part looks quite unselfish executing his team's half-court sets, making the extra pass and finding the open man when he's trapped/double-teamed off a pick and roll play time after time, but too often only to see his teammates miss a wide open shot."
NCAA Weekly Performers, 1/9/08-- Part One
Now:
Mayo seems to have very good vision as he sees plays develop ahead of time and anticipates where defenders are going to be. Despite that, he doesn't always throw a catchable pass. He often throws a pass too far ahead of a teammate leaking out, an off target lob, or a pass too hard to handle in the half court – as a result he's committing just about 3 turnovers a game. He gets a little overzealous when he spots an open man, where if he slowed down like he does as a scorer, he would find more success as a passer.
As it stands now, he has a subpar assist/turnover ratio at 1.05 (only 2.9 assists a game). These low assist numbers also partially be attributed to the way the Grizzlies play however.
Rudy Gay
and
Kyle Lowry
, are both players that need the ball in their hands and prefer to create for themselves. There is no doubt that Mayo needs to become a better playmaker however.
The low assist numbers and high scoring numbers would lead one to believe he's selfish, which is not necessarily the case. He actually makes the extra pass and gives up his own opportunities to his teammates, just not always at the right time. He plays at a nice pace and does a good job of letting the game come to him, making him easy to play with, but still needs to improve on his shot-selection and decision making. He doesn't always know his limitations it seems, and will take questionable shots on occasion. Cutting down on unforced errors and continuing to learn the tendencies of opposing matchups will help Mayo drop his already decent turnover rate. Learning how to make the simple pass and playing on a better team will likely help him improve his poor assist rate.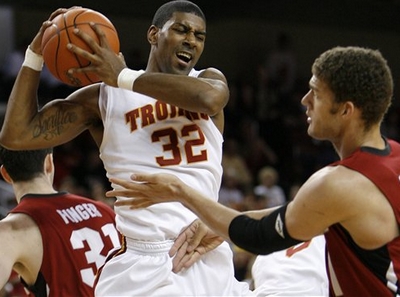 Part Five: Decision Making
Then:
"The problem with Mayo this year seems to be that he's trying to do too much at times. This is likely for a combination of reasons--by design from his coaching staff, out of frustration with his teammates or the scoreboard, or from habit from spending so much time on the AAU circuit. His shot-selection needs a lot of work, particularly in transition where he shows an especially fast trigger. He's not reading defenses the way a point guard needs to, lowering his shoulder and driving right into defenders, possibly expecting to get bailed out with a call. Some box-score reading pundits might mistake this type of play with selfishness, but you really don't get that sense when actually evaluating his game footage. Even with how good of a shooter he is, he's taking way too many contested jump-shots, which is killing his shooting percentages. On top of that, he's been far too careless with the basketball, exposing it excessively to his defender, taking too many risks, making lazy passes, and therefore turning the ball over at an extremely high rate (3.9 per game). Again, experience here is paramount. Getting to the free throw line far more often (3.7 per game), and shooting less 3-pointers (6.5 per game) would be very beneficial for him as well"
NCAA Weekly Performers, 1/9/08-- Part One
Now:
Mayo has certainly become a better decision maker but still needs to improve –which is expected for any rookie. His shot selection has gotten better, which is evident from his high shooting percentages, but he still takes about two shots a game that make you scratch your head.
There are two habits that Mayo will have to break in order to elevate his game. First, he tends to hold the ball too long at times. The longer he holds it, the more passive he seems and that shifts the advantage over to the defense. There are times to hold the ball and set your man up, although Mayo wastes away precious seconds several possessions a game.
Lastly, when Mayo doesn't have the ball and isn't coming off a screen, he disappears. There were several occasions over the course of past games where Mayo stood flat footed in the corner and didn't move or get a touch. Part of this is because of the one-on-one ability of his teammates (Gay, Conley, Lowry), and the offensive set-up, which aims to spread the court and allow for one-on-one play. A player of Mayo's caliber however, should never go minutes without touching the ball. He should be trying to give his teammates an outlet on the weak side when they drive, attempting to cut back door, or flashing to open areas –three things he rarely does.
Part 6: Defense
Then:
"The silver lining from this season has to do with Mayo's defense, which has been nothing short of outstanding so far, when he's put his mind to it. He's doing a terrific job putting pressure on the ball, denying space and overwhelming his matchups with his combination of size, strength, length and lateral quickness. The work he did on Derrick Rose in Madison Square Garden was particularly notable, rendering him fairly ineffective when were matched up against each other. Mayo still needs to show that same commitment on each and every possession, but the early signs have been fairly promising."
NCAA Weekly Performers, 1/9/08-- Part One
Now:
Mayo's commitment and excellence on the defensive end has been very impressive for any player, let alone a rookie. It's rare to see him out of a stance as he stays low and pressures whoever is in his way. He never gives up on a play – always contesting shots even when beat or late to close out. He takes players out of their comfort zones, by bodying up to them, being physical and taking away their strengths. When bigger guards try to post him, he'll make them pay by pushing them away from the basket, nullifying their height advantage. He does all of this without fouling, (2.2 fouls a game) which shows his understanding of how to play on this side of the court. That ease that he plays with on offense is transformed to aggression and feistiness on the defensive end.
Off the ball he isn't as successful, but not because of a lack of effort. He seems to take it as a personal challenge when defending opposing guards, which at times can hinder his ability to fulfill his defensive responsibilities in the team-concept. He'll often swipe at an off guard driving by his side instead of taking a half a step in stop him. On the other hand, when guarding a three point threat, he does a good job of faking at a penetrating guard and recovering back quickly to his man.
One area the he can stand to work on is boxing out. Once a shot goes up he leaves his man trying to anticipate where the ball is going. He can completely lose sight of his man, which is never a good thing. If he could locate his man first, bump him a little bit, and then pursue the ball, he would benefit greatly and increase his very pedestrian 4.2 RPG average.
Part 7: Intangibles
Then:
Jonathan Givony: What do you view right now as your biggest strength? What is your strongest selling point to an NBA team?
O.J. Mayo: I feel like I'm a tremendous competitor. I really want to win, hands down, more than anything. Whatever it takes to win, I'm willing to do. O.J. Mayo: "There are more than two players who could go number one"
May 24, 2008
Now:
Without a doubt,
O.J. Mayo
is a fierce competitor. In games where the Grizzlies have been blown out, Mayo can be seen going all out as if it's overtime, until the last horn. This competitiveness will serve Mayo well and ensure his team success down the road. In addition to that, the maturity and poise with which he plays the game are those of a ten year veteran, not a twenty one year old rookie. He rarely argues with the refs, never displays any negative body language-- which is important on a young team--and is noticeably excited for his teammates' success.
All things considered, the Grizzlies have to be thrilled with the way their draft pick has performed so far, as he's very much in the running for Rookie of the Year honors and still has room to grow as a player. Mayo has shown that the hoopla around him in high school was clearly not for naught, and he has a chance to develop into an all-star type guard down the road if he continues to progress the way most rookies do.