Josh Riddell
In his two seasons at Miami after transferring from Texas,
Sheldon McClellan
became one of the ACC's best players and a crucial part of the program's turnaround that culminated in a Sweet Sixteen appearance. His 19.4 points per 40 minutes with an impressive 64.5% true shooting percentage (2nd highest among shooting guards in our top 100) was enough to land him on the
​http://www.draftexpress.com/article/2016­NCAA­Postseason­Conference­Awards­5387/ and give him a big boost as he prepares for the NBA Draft.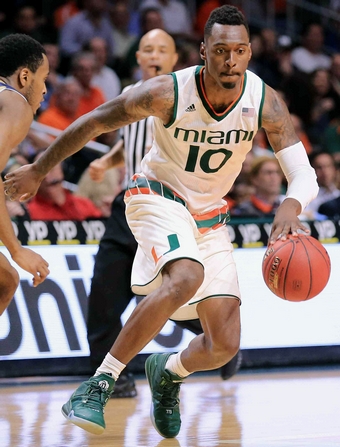 McClellan has average size at 6'5", 205 pounds, but makes up for that in other areas. He has a solid wingspan, impressive explosiveness, good acceleration in the open court and the quickness needed in the half­court to allow him to more than hold his own against other shooting guards.
McClellan has really improved as a perimeter shooter since his Texas days, topping out at 39.5% from the three point line as a senior. He has NBA range on his jump shot with a fluid motion and quick release that lets him get it off uncontested. He can make tough shots with the shot clock winding down and a hand in his face, often making it look effortless. He still has a tendency to be streaky at times, making any shot he takes when he gets going but being just as bad when he is cold. This can affect his shot selection, as he is prone to heat checks or forcing shots when he is cold to get back on track. If he can improve his shot-selection, temperament and overall consistency as he continues to mature, his shot making ability will be coveted by nearly every NBA team.
McClellan is comfortable shooting off the bounce as well as catch and shoot situations, making an outstanding 47.1% of his jump shots off the dribble according to Synergy Sports Technology. He'll put his defender on his heels and explode into his shot using his impressive athleticism to create elevation, giving his defender no chance to contest. While he's undoubtedly a big time shot-maker off the dribble, he does have a tendency to pound the ball at times, and while he can sometimes lose his defender after multiple dribbles, the offense will come to a halt at times as everyone stands around and watches him dance with the ball.
McClellan has experience running off ball screens, playing a featured role on one of the most advanced pick and roll teams in college basketball, and that is a set that a NBA team could feel comfortable with him running. When he puts the ball on the ground, he is primarily looking for his own offense,though, and will put his head down once he gets into the two point area. This is evidenced by his 2.1 assists per 40 minutes pace adjusted,
​http://www.draftexpress.com/stats.php?year=2016&league=NCAA&per=per40pace&qual=t and he's just not that willing of a passer when he thinks he is going to be able to get a shot off.
While McClellan is extremely athletic, he doesn't get all the way to the rim as often as you might expect, at times preferring to shoot runners and pull-ups instead. He possesses a variety of moves that can get him into the paint, and finishes well at a rate of 64.6% according to Synergy Sports Technology, but has a tendency to shy away from contact and settle for difficult looks in the mid-range instead (which to his credit he can hit at a very nice clip, making 44% of his two point attempts longer than 17 feet). He did do a better job of getting to the line as his career moved on, increasing his free throws per 40 minutes pace adjusted from 4.4 to 6.7 as a senior, so continuing to find a balance between attacking the paint and punishing defenses from the mid-range and 3-point line will be key to remaining efficient offensively against NBA level defenses.
Defensively, McClellan is somewhat of a mixed bag, as his effort level comes and goes, his focus level wavers and his intensity can be contingent on how things are going for him on the other side of the floor. He doesn't always fight through screens with his narrow frame, and is just average defending off the ball. To McClellan's credit, he did show some improved effort defensively in big moments in the postseason, but his fundamentals still need some work. He will be hunched over instead of in a stance which can leave him vulnerable and he can be so focused on his man that he will lose sight of the rest of the floor.
When he is locked in, he can move his feet well enough to contain dribble penetration, but he'll need to be more consistent with his approach to carve out a niche for himself at the NBA level, particularly on nights when his shot isn't falling.
On nights that McClellan's points are coming, he can look like a very impressive prospect, capable of buyring an opponent with some deep and tough shots. When they aren't, though, he can get a little mopey when he doesn't get enough touches to his liking, hoist up a bad shot if he hasn't taken one in a while, and outwardly complain to teammates for making mistakes. Already 23 and one of the oldest prospects in our top 100, this might not be a matter of simply needing to mature at this point. As a role-player being surrounded by better players, he'll have to either grow out of this or prove he is indispensable in other areas for coaches to put up with it on a regular basis.
With his overall physical profile and ability to make shots, McClellan will get serious draft consideration. If he can find the right organization that can help him develop his weaknesses and figure out how to find his niche on a team, he could have a long NBA career as an athletic, sweet-shooting wing scorer.