Jonathan Givony:
How's everything going?
Spencer Hawes:
It's going well. You know, working out, trying to get bigger, stronger, and more athletic; just trying to improve as much as possible.
Jonathan Givony:
What are you up to these days?
Spencer Hawes:
I'm still enrolled in 15 credits and I'm trying to balance that. I worked my schedule out so I only have class twice a week, so I'm able to lift weights and do plyometrics in the morning, and pretty much work out all afternoon.
Jonathan Givony:
When is school finished?
Spencer Hawes:
For me, not until June, because I'm on the quarter system. So it's kind of a long haul.
Jonathan Givony:
When are you going to know whether you're just testing the waters, hiring an agent, staying in or pulling out?
Spencer Hawes:
It's hard for me to tell now. I mean, I'm just going to go through the process. I'm not in any rush right now to hire an agent. I don't think at this point it's that necessary. Right now I'm just as focused as can be on improving and going into the draft camp and the workouts after that.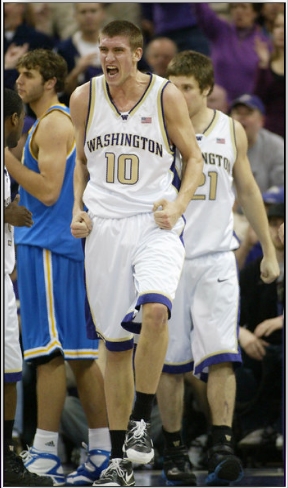 Jonathan Givony:
You said you're taking fifteen credits, what classes are you taking?
Spencer Hawes:
An ethic studies class, a class on murder, and a class on public debate.
Jonathan Givony:
Are you a political science major?
Spencer Hawes:
Maybe, I really haven't decided on a major yet.
Jonathan Givony:
How are you liking the classes and the school in general?
Spencer Hawes:
It's pretty good. I was prepared well in high school so it's really not that hard. You know, it's fun. I have some better classes, you know, more interesting this quarter, so it makes it easier.
Jonathan Givony:
How have things changed for you at UW (University of Washington) since you've declared for the draft?
Spencer Hawes:
Not really a whole lot. Most of my workouts I do on my own now, versus the more team oriented ones. No one has really taken it out that hard on me, no one has really been as bad as some people might have thought. It hasn't really been that much different.
Jonathan Givony:
People don't bug you to come back next year?
Spencer Hawes:
I get a lot of that, but no one really takes it too far.
Jonathan Givony:
The stuff we read earlier this week, some article about you not being as motivated in the classroom, an editorial type thing, was that accurate? How did you feel about that?
Spencer Hawes:
I think that was kind of taken out of context. I'm just as motivated. I said sometimes it's just hard to focus. But I'm not the kind of kid that's just letting school slip by. I've got a 3.75 cumulative GPA and I'm trying to keep that up. A lot of the time they [journalists] know what they're looking for and they don't really stop until they get it.
Jonathan Givony:
They know want they want to write before they ask you the questions. We've been there before. So what is it going to take for you to keep your name in the draft? Is somebody going to have to make you a promise, are you looking for a specific guarantee? What is it going to take for you to stay in on June 18th?
Spencer Hawes:
Obviously that would be a big step if I got a guarantee, in the right range in the right kind of opportunity. But I'm kind of looking at the full spectrum of things, if that's going to be the best thing for me to do to develop my game long term, and situations with a team, the right kind of play. It's obviously difficult to predict, but I think as you continue to get closer and closer to the draft you tend to get a better idea, especially after the ping pong balls work themselves out.
Jonathan Givony:
So for you, it's more about 'what team I'm going to' rather than 'I need to go in the top seven, or the top ten, or the lottery'?
Spencer Hawes:
Yeah, I think that factors in, the spot you're going to be taken. You know, there's a lot of situations where you might go a couple spots lower to a better situation, that, long term, ultimately is more productive for you. There's so many things you have to consider in regards to that.
Jonathan Givony:
We've written a lot of articles about that and I agree 100%. It's all about the second contract. Getting that second contract means you have to be in a good spot in your first contract.
Patrick O'Bryant
for example went real high last year--number nine--but
Don Nelson
is the exact opposite coach of what O'Bryant needs. He doesn't like seven footers like that. He'll never play them.
Roger Bohn:
Spencer, you were talking about working out differently back at school. How has your relationship changed with your coaching staff since entering the draft?
Spencer Hawes:
They've been really good about everything. They've been supportive and helping me look at things objectively rather than persuading me one way or another. Coach has just been really good filling in the facts and giving me the positives and negatives both ways. I've been really lucky that I've gotten that kind of support.
Jonathan Givony:
Are they actually going out and pursuing feedback from teams for you so they know here you stand in their eyes?
Spencer Hawes:
A little bit, but I don't think they've done a whole lot of that. You know, I think I've kind of tried to handle that more.
Jonathan Givony:
How do you gauge that without an agent? There are so many rules. Do you know any people that are allowed to talk? Did they show you
the memo that the NCAA sent out?
Spencer Hawes:
Yeah, I just saw that.
Jonathan Givony:
I think that if your parents talk to an NBA team, they are considered an agent and then you might lose your college eligibility if they try to schedule workouts or "market you". Is that the feel that you got reading it?
Spencer Hawes:
I'm going to be honest. I was pretty confused. Really, it doesn't make a whole lot of sense. Along with the workout schedule being pushed back the way it was, it makes it that much harder to get feedback from different people.
Jonathan Givony:
I actually think that-- first off, Coach Romar is a great guy, I've met him a couple of times and he's clearly a man of integrity-- but most coaches don't want their star players to leave, and if they're the ones that need to go out and get the feedback from NBA teams, and be the one conveying that to you, and then schedule your workouts and stuff like that, it seems like a total conflict of interest.
Spencer Hawes:
I think on the surface it might look like that, but I think Coach Romar has the right intentions. He's a players coach and I think he looks out for his players. I think he knew that when I committed there, that one day it was going to be this kind of situation. I think having communicated so much about it over the past two years he knows my situation. He's just looking out for the best for me.
Jonathan Givony:
I agree 100% about Coach Romar of course. I was talking about early-entries in general. On the other hand, you have to balance the agent recruitment process, because if you do stay in the draft you only have ten days and you need to know, who's working for you since you only have a certain amount of workouts you can do. So, what is the agent recruitment process like for someone who is a lottery pick, or top 15 pick?
Spencer Hawes:
It's a whole lot of meetings and talking with different people. I'm just trying to gauge character and what they bring to the table, and experience. All those factors kind of remind me of the recruiting process when you're looking for colleges. It's kind of similar in a way. As much as there are rules around it there's kind of a gray area.
Jonathan Givony:
We wrote
an article last year about how the NCAA isn't really allowing players to test the waters
in the truest sense. You either go or you don't. And we kind of feel bad for the kids who aren't guaranteed first round picks who do want to test the waters and come from really poor backgrounds that aren't able to get the feedback since they don't really have that option. They have to sign, or they put themselves at a huge disadvantage compared to other players to do.
Spencer Hawes:
It really makes it difficult that you can't have someone out there vouching for you without getting in trouble for it.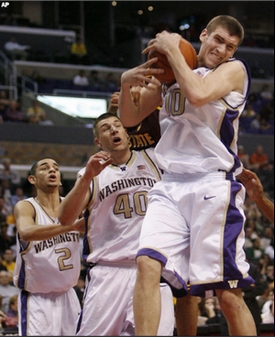 Jonathan Givony:
When you declared for the draft, you said something about playing at the pre-draft camp. Do you still feel that way? Were you going to go to do measurements?
Spencer Hawes:
No, I don't think I ever said I was going to be playing. I think I'm going to go through the measurements. I think they might have skills testing this year. I don't know if that's required or not. I don't know how that's going to work out. I think for someone like me that would be to my advantage. I'll try to take part in that and see how that goes. I want to go down there and use the opportunity to show people I'm a lot more athletic than they think.
Jonathan Givony:
The pre-draft camp in Orlando… that might the most fun we had last year, with media day especially. So how are you and your family educating yourselves about the pre-draft process? All the rules and where you stand, are you going to be picking up the phone and calling GMs yourself?
Spencer Hawes:
It's hard to tell, but I'm lucky because I have one uncle who played ten years in the league and another who was part of the ownership side of the Sonics. So he has the experience seeing it from the NBA side and he has a lot of insight into that as well. So, I have a lot of resources around me that can use so I won't get into trouble.
Jonathan Givony:
In terms of the season you had at Washington, I know that this is a different draft and you never really know until you're in it, but do you feel like considering where your draft stock was out of high school, do you think you went up or down based on the season you had at UW?
Spencer Hawes:
I think it's kind of hard to tell. I think it went up to a certain extent, but having not bee able to play in the tournament and not being able to showcase myself there. I think mine kind of stayed neutral while other people's kind of rose around me. And if I hadn't lost 15 or 20 pounds in the middle of the season, those stretch of games would have helped me. But you can't change the past and that's the way it went. I'm just trying to prepare myself the best I can to put myself in the best position in this next month.
Jonathan Givony:
So what happened there that made you lose all that weight? It was kind of confusing to us trying to follow it.
Spencer Hawes:
I mean, we came home from LA and I ate dinner that night and I felt pretty good. Then I went to sleep and woke up in an hour and pretty much threw up on the hour for the next eight hours or so. It was some kind of virus, is what they said. It lasted about three weeks and I couldn't really eat or practice a whole lot. It was kind of crippling and even when the energy came back, I was still way too light. It took its effect trying to play my best.
Jonathan Givony:
How much of that weight have you gained back at this point?
Spencer Hawes:
I'm back at about my playing weight. I'm at 246 right now. From the lowest point, almost twenty pounds. It almost feels like it was an opportunity to gain back the right type of weight and gain back muscle weight when I feel like I'm almost just as athletic as I was when I was light. Having the weight allows me to bang, but still not lose the quickness.
Jonathan Givony:
What do you think your optimal playing weight is now, and when you get into your prime?
Spencer Hawes:
I think I've got a ways to go in terms of that. I'm only eighteen years old. I think by the time I'm 21 or 22 I will have filled out a lot more. I think 260 or 265 is where I'll be best at once my body finally physically matures to as big as it's going to be.
Jonathan Givony:
Watching you play this year, it was kind of frustrating at times. It didn't seem like you always had the kind of post entry passers on your team that you might have needed, and sometimes it felt like you could be doing a lot more. At times you got the feel like you were relegated to a role where you had to go outside and shoot, because otherwise you weren't going to touch the ball unless you get an offensive rebound. I didn't see you that much in AAU or anything. Did you ever have a really good playmaking point guard alongside of you? I wonder sometimes where your stock would be if you had a Mike Conley type point guard next to you.
Spencer Hawes:
AAU I was lucky to get to play with Mitch Johnson, who's a point guard at Stanford. He did a real good job we where got setups with a lot of dunks, and just a lot of easy one dribble dunks in the paint. I think our guards did a solid job this year, but I think it was tough in a lot of games for them and it kind of forced me to step out a little bit more. But I think the strength of my game is still back to the basket. Depending on the situation, it kind of differs on where you go. Down by the hoop is where I like to play and where I'm more successful.
Jonathan Givony:
For people who only saw you play this year at UW, or scouts that weren't allowed to watch you last year in high school, have we seen the full potential of
Spencer Hawes
yet?
Spencer Hawes:
I don't know. I think the biggest thing that I get knocked for is my athleticism. People say, 'yeah, he's good and he's skilled, but he's unathletic.' You know, I hear that and it kind of makes me laugh because I've always considered myself fairly athletic for my size. I don't jump out of the gym, but I think I move pretty well up and down the court and laterally and I think I'm kind of underrated as a jumper. I think that I'm just going to have to try to show off as much as I can. If that is the way I needed to play, and had more opportunities to show that, I think I could. That's kind of the part of my game that I think everyone is seeing, you know, the skills, and the passing, and the shooting for a big guy. I think showing the athleticism, which I knocked for, will show another aspect of it.
Look out for part two on Tuesday