Just as the NCAA tournament is about to kick off, we take stock of eight of the top NBA draft prospects in college basketball, including
Blake Griffin
,
Hasheem Thabeet
,
Gerald Henderson
,
Jeff Teague
,
Stephen Curry
and others.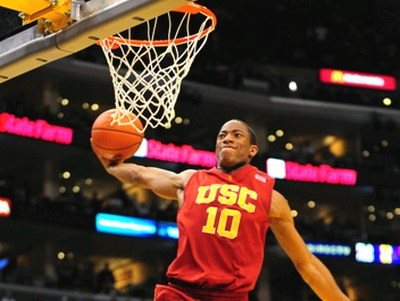 DeMar DeRozan, 6-6, Freshman, SG/SF, USC
After struggling for a good part of the season early on,
DeMar DeRozan
looks to be finishing the year very strong, stringing together a very impressive Pac-10 tournament, winning most outstanding player award honors and helping his team qualify for the NCAA tournament in the process. DeRozan compiled 63 points and 27 rebounds in three games in Los Angeles, looking far more confident and aggressive than we'd seen him at any point this season thus far. He hit a 3-pointer in every game, doubling the amount of 3-pointers he's made, and breaking his previous record for free throw attempts in a single game (seven) against UCLA. He's slowly learning how to put his excellent athleticism to better use at this level, as evidencde by the two double-doubles he put up in this tournament, his third and fourth of the season. He had a couple of big time highlight reel dunks in the UCLA game in particular, which is something we hadn't seen a great deal of this year.
DeRozan's mid-range pull-up jumper was his main weapon this past weekend—he gets great elevation that allows him to create separation from his defender and has very nice touch and shooting mechanics, which leaves a lot of room for optimism regarding the future. His ball-handling skills continue to look shaky, though, and you rarely see him able to get to the basket in half-court situations, showing that he still has a long ways to go in terms of developing into a player who is ready to see minutes in the NBA.
DeRozan isn't the first freshman who didn't light the NCAA on fire from day one and needed some time to figure things out. It's pretty clear what his limitations are after all. Whether or not his recent performance is enough to make NBA teams completely reevaluate his draft status remains to be seen, as he still looks like a long-term project. It will be interesting to see if he can continue his good play in the NCAA tournament, as USC has a very winnable game against Boston College before likely matching up with Michigan State if they advance.
Blake Griffin, 6-10, Sophomore, PF/C, Oklahoma
Griffin continues to put up monster numbers, particularly on the glass, where he has been an absolute force all season long. His team has been struggling lately, though, losing four of their last six games, and looking like a team with very little chemistry and identity. Their role players (Austin Johnson, Juan Pattillo and
Tony Crocker
especially) don't seem to understand what their roles are, as they continue to play selfishly and take away shots from their star player, who shoots 64% from the field. The Sooners are a poor defensive team plain and simple, ranking a paltry 46th in defensive efficiency
according to Ken Pomeroy
, which is a sure-fire sign that they are not serious contenders to make the Final Four. Griffin deserves his fair share of the blame for their struggles on this side of the floor, as he's been a complete liability defending the pick and roll all season long, and often looks completely invisible when it comes to sliding into the paint on defensive rotations. Griffin offers very little as a shot-blocker considering his athleticism and gets in the passing lanes at an extremely poor rate. It's been very disappointing to see how little he's improved on this end of the floor, and at least part of the blame for this has to go to his coach Jeff Capel.
Oklahoma got a manageable draw in the tournament, as their road to the Final Four begins with Morgan State, and then the winner of Clemson/Michigan before likely facing either Arizona State or Syracuse in the Sweet 16. North Carolina drew the top seed in their bracket, which would be a fascinating matchup if both teams were to advance all the way to the Elite Eight. Griffin will undoubtedly be the #1 pick in the draft because of how incredibly gifted he is physically and how big his upside is on both ends of the floor, but it will likely quite a bit of time before he'll be considered even a passable defender at the NBA level.
Jrue Holiday, 6-4, Freshman, PG/SG, UCLA
While other freshman seem to be figuring things out as the season moves on,
Jrue Holiday
looks to be moving in the opposite direction. Averaging just 5 points per game over his last 11 contests, there is no way to describe Holiday's performance over the past two months as anything less than a major disappointment. Many NBA scouts and agents still insist that they are hearing Holiday will put his name in this year's draft regardless, but considering his underwhelming finish to an already average freshman campaign, that might not be his best option anymore.
Stephen Curry, 6-3, Junior, PG/SG, Davidson
America's NCAA tournament darling will have to settle for being an NIT darling now, as his team failed to advance past the semifinals of the Southern conference tournament and did not have a strong enough resume to warrant an at-large bid. Davidson defeated South Carolina this Tuesday in their first NIT game thanks in large part to Curry's 32-point performance. They now face a St. Mary's team that defeated Washington State in the first round, setting up a fascinating matchup between Curry and
Patrick Mills
. That game will be played Monday (11:30 EST, ESPN2), a day after the first weekend of the NCAA tournament.
Jeff Teague, 6-2, Sophomore, PG/SG, Wake Forest
Teague has been mired in a horrible shooting slump as of late, having made 19 of his last 57 shots in the past five games. Wake Forest does not look like the same team it was earlier in the season, losing six of their last 14 games. Teague has been moved off the ball full time in favor of the highly unpredictable Ish Smith, who is more of a pure point guard but is far more deficient in every other areas, which has seemed to hurt both Teague and the entire team. He doesn't seem to have lost too much of the luster he garnered early on in the season from what we can gather (probably because of plays like this), but would definitely benefit from a strong NCAA tournament showing in order to remind scouts what got them so excited early on in the year. Wake's bracket looks very manageable, with first weekend games against Cleveland State and then the winner of Arizona/Utah, until they reach the prospect of a matchup with #1 seed Louisville in the Sweet 16.
Hasheem Thabeet, 7-2, Junior, Center, Connecticut
Thabeet really looked bad in the first 25 minutes or so of his lone Big East tournament appearance, the six-overtime thriller against Syracuse. With a number of NBA GMs on hand to evaluate him, Thabeet showed why many of the concerns people had about him earlier in his career are still very much an issue, as he bobbled a number of easy passes, showed poor balance and coordination, and really offered little to nothing offensively –often looking like he doesn't even want the ball. Defensively, he was a huge presence when he put his mind to it, blocking plenty of shots, often in impressive fashion, but also gave up deep position in the post on a few possessions. As fatigue and foul trouble begun to set in amongst Syracuse's frontcourt, Thabeet was able to make his presence felt on the offensive glass and get a number of easy baskets that played a big part in his team keeping things close. The fact that he was able to play for 53 minutes and not collapse from exhaustion at his size tells quite a bit about just how unique he is as an athlete. With that said, he also showed why he's a serious project for the NBA-level and that he could seriously struggle against NBA-caliber big men (a huge step up from the college ranks) until he adapts his game.
Gerald Henderson, 6-5, Junior, Shooting Guard, Duke
After struggling somewhat over the past few weeks, Henderson really took his game to the next level in the ACC finals, exploding for 27 points (and 4 assists) against Florida State, many of which came on NBA-plus caliber moves. Henderson's confidence level has never been higher throughout his career, he's playing the game as if he knows that he's a far superior talent and athlete compared with anyone he matches up with, and that isn't more evident than it is in his free throw attempts, which have skyrocketed as of late. In the nine games Duke played over the past month, Henderson has attempted 77 free throws, after getting to the line just 87 times in his first 23 games. Not only is he taking the ball strong to the basket, he's trying to finish with a thunderous dunk every time, taking it right at his opponents and forcing them to either foul him or end up on a poster. We talked about Henderson's just-average shot-creating abilities in the past, and while he still might not be the world's greatest ball-handler, he's clearly taken his slashing game to the next level over the past few months, and may have a lot more potential in this area than we've previously given him credit for. This is a part of his game that NBA teams will study very closely in private workouts, as it will likely decide whether he ends up as a terrific role-player, or if he can become a legit offensive option at the shooting guard spot.
Earl Clark, 6-9, Sophomore, SF/PF, Louisville
Jeff Goodman may
have said it best:
"It must be the postseason because
Earl Clark
is making shots, snatching rebounds well above the rim and making NBA types question whether he's a lottery pick."
Clark was terrific in helping Louisville win the Big East tournament, scoring 54 points in three games, which is even more impressive considering Louisville's usually stagnant offense. He also made 5/12 of his attempts from beyond the arc, after making under 30% of his 3-pointers prior to that. Most notable was his passing, though, his 14 assists help tell the story and played a big part in the way Louisville's half-court offense performed. Defensively he was outstanding as usual, and on the glass he was terrific too. All things considered, it wasn't hard to see why Clark makes NBA scouts salivate at his upside.
The question is what took so long for the light bulb to come on? And will Clark take a similar approach to "picking his spots" once in the NBA?
Jonny Flynn, 6-0, Sophomore, Point Guard, Syracuse
Flynn picked a great time to step up and produce some of the best basketball he's played at the collegiate level, being the catalyst behind Syracuse's improbable run to the Big East tournament finals. He was nothing short of brilliant in the sextuple overtime victory over UConn, with 34 points, 11 assists, 6 steals and 7 turnovers—hitting all 16 of his free throws in the process. Flynn's boundless energy and never-ending ability to create offense off the dribble for himself and his teammates has to look attractive over the course of an 82 game season—where his athleticism, ball-handling skills and unflappable confidence are a pretty good bet to translate. He certainly won over the hearts of a number of NBA decision makers we spoke to, who previously had doubts about his lack of size, streaky jumper, porous defense and excessive turnovers. Syracuse will need Flynn to continue to make big plays for them as they enter the NCAA tournament as a 3-seed, with big matchups against Arizona State and then Oklahoma or Clemson should they advance past Stephen F Austin.