As the NBA becomes more conscious of salary cap and luxury tax implications and looks to get better value from the rotation players they bring off the bench, we are beginning to see a growing trend of exploring the overseas markets for more mature and polished help from established players that put up excellent numbers in the various international leagues.
The groundwork for this trend was again evident in this past draft, where we saw teams like Phoenix and Philadelphia balk at committing guaranteed money to late first round picks and instead preferred to sell off their picks or trade into the second round. This was even more obvious once again in the 2nd round of the draft, where we saw no less than 8 trades involving second rounders and 8 international players picked. Only 3 of the 13 total international players selected plan on playing in the NBA immediately starting next season—and the league loves every minute of it.
When considering the option of signing an "overseas free agent," it is worthwhile to split this category into a few different categories. On one hand we find plenty of intriguing European talent in the mold of
Andres Nocioni
, Sarunas Jasikevicius,
Jorge Garbajosa
,
Walter Hermann
and
Fabricio Oberto
and
Jose Calderon
, formerly undrafted players with impressive international resumes that were viewed as difference makers by the teams that signed them and spawned an increasing demand for similar caliber players from the NBA. We'll talk about that class of players—headlined by Theo Papaloukas--in another article later this week.
On the other end of the spectrum are ex-American NCAA stars who were not good enough to make it and/or stick in the NBA immediately out of college and have polished their game in Europe to the point that they've become viable free agent targets this summer.
Anthony Parker
is the best example from last year, a player who dominated the Euroleague and finally received the credit he deserves for his phenomenal versatility by delivering an excellent season playing for the Toronto Raptors. Parker cashed in right away with a 3 year-12 million dollar contract, but there are other American players in Europe who would be more than happy to land a guaranteed deal to play in the NBA.
These are usually younger guys who haven't become huge Euroleague commodities yet overseas, and are still holding onto hope of returning to the NBA and using their newfound skills and confidence to "break the bank" on their second contract. Playing overseas can be tough business, and there is something to be said for living in your home country, speaking your native language, and being able to have your friends and family watch you on television—even if it's only to watch you sit on the bench.
These are the players we'll be discussing in today's article.
Marcus Slaughter, 6-8, Power Forward, Pinar Karisyaka (Turkey), 1985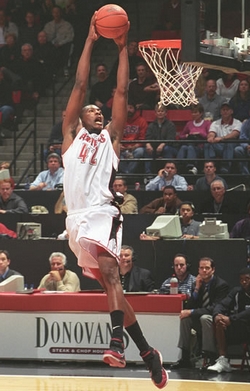 If the name
Marcus Slaughter
sounds familiar to you, there is a good reason for that—he barely left the US and already should be on his way back if NBA teams are paying attention at all. Slaughter left school a year early possibly, but certainly showed that there is more than one route to making the NBA. He went to Izmir, Turkey to play for a team that does some of the best scouting, but is also notorious for not being particularly reliable in terms of paying those players on time.
Slaughter went undrafted in 2006 and immediately decided to take a six-figure gig to play for Karisyaka. The team only finished 12th in the league, but Slaughter made his impact felt immediately by averaging a double-double—13 points and 10 rebounds—which is very rare for a rookie in Europe, let alone one that should have been a senior in college.
Slaughter is a fantastic athlete with a 6-11 wingspan and a fantastic frame—and should be able to translate his rebounding ability over to the NBA, particularly on the offensive glass. He still has work to do on his mid-range jumper and overall perimeter skills, but there is surely a place for him somewhere in the league in a role similar to the one James Singleton played over the past two years with the Clippers. He's already reportedly drawing heavy interest from a few NBA teams, and would be a solid target to sign for the minimum.
---
Aaron Miles, 6-1, Point Guard, Pau Orthez (France), 1983
The all-time assist leader in Kansas history,
Aaron Miles
is quite a familiar name with NBA teams. He hasn't quite found a way to latch onto a team since going undrafted in 2005, but surely made a great case for himself as an NBA player this past season. Pau Orthez quickly found out that they made the wrong choice early on by signing
John Gilchrist
, and decided to bring in Miles to help get their season back on track. Miles did that and then some, helping Pau to reach the Top 16 of the Euroleague for the first time in their history, knocking off mighty CSKA Moscow once in the process, and finishing 2nd in the French league in assists with 5.8 per game. Things weren't all that rosy as Pau did miss the Pro A playoffs, but Miles regardless had a very nice season.
He'll be playing with the Washington Wizards summer league next week, and in our estimation should have a good chance at making the team. He's a pass-first point guard who is as steady and mistake-free as they come. He also plays fantastic defense, but has never been known as a scorer or outside shooting threat, something that we saw sparks of improvement from in the summer league last year. At the very worst, he's a cheap 3rd string point guard to sign for the minimum, although we think he can be more than that.
---
Kareem Rush, 6-6, Shooting Guard, Lietuvos Rytas (Lithuania), 1980
After surprisingly being cut from Charlotte's roster (implied as due to poor work habits) before the season started, Rush also could not cut it in Seattle's training camp either. The former first round pick hung out for a month and then signed to play in Lithuania for Lietuvos Rytas, a fairly wealthy team who won the ULEB Cup in 2005. Rush helped lead them back to the Finals of the ULEB Cup once again, but the team came up short losing to Real Madrid. Rush regardless sparkled in seven games of action in the competition, putting up 16 points per game on 46% shooting from behind the arc. His numbers in the Lithuanian and Baltic Leagues were more modest, but this was widely considered a successful season for the former Missouri product. His outside shooting stroke will be attractive on the free agent market this summer for a team that only has the minimum at their disposal. In fact, he's rumored to be close to signing in Indiana.
---
Michael Bradley, 6-11, Power Forward/Center, Bruesa (Spain), 1979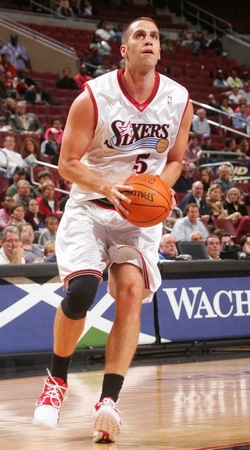 The #17 pick in the 2001 draft,
Michael Bradley
showed sparks of why he was considered such an intriguing prospect coming out of Villanova this year in Spain. Bradley has suffered through injury problems for much of his career, but finally had a breakout season playing for the worst team in the ACB—averaging 13 points and 8.4 rebounds per game, the latter being good enough for 2nd in the league. Bradley looks to have shed many of the confidence issues that hampered him in his NBA stints as well, taking the ball strong at the basket and shooting the ball extremely well from behind the arc (47% on a limited number of attempts). He's a long and fairly athletic big man who runs the floor well and has a fairly decent skill level as well. He's a poor defender, but no one should be too surprised if he gets a second chance from a team this summer. He'll be playing summer league with Phoenix and may consider playing for the minimum according to his agency Priority Sports.
---
Mike Wilkinson, 6-8, Power Forward, Aris Saloniki (Greece), 1981
One of the best players in the Big 10 back in 2005 and the consummate role player in Bo Ryan's offense playing for Wisconsin,
Mike Wilkinson
didn't take long to make his presence felt on the European scene. He stepped into a tough situation in Aris and made the most of it immediately, taking his team deep in the ULEB Cup and straight to the cup of the standings in the rugged Greek league. This year he made his debut in the Euroleague and did not look out of place in the least bit, averaging 12 points and 6 rebounds. Somewhere along the way, he picked up a dodgy Macedonian passport, making him a Bosman player (meaning he doesn't count against the quota of American players) as well as a candidate to land a seven figure deal sometime in the future if he can keep improving. We don't see how any team in the NBA can compete with that, but Wilkinson at the very least deserves consideration. He's a smart, tough, face the basket power forward with outstanding footwork who can shoot with range and pass the ball extremely well thanks to a terrific feel for the game.
---
Boniface N'Dong, 7-0, Center, Unicaja Malaga (Spain)/Spartak Moscow (Russia), 1977
A year after signing a guaranteed deal with the Los Angeles Clippers and promptly suffering a serious injury, Boniface N'Dong was back on his feet playing terrific basketball in the Russian league (15 points, 9.5 rebounds per game) before finishing off the season in Spain. N'Dong will be back in the States playing summer league once again, this time with the Cavs, and has a chance to make the roster depending on how things shake out with
Anderson Varejao
. N'Dong is a big, semi-athletic center with decent coordination, a nice jumper out to 15 feet, and a pretty good feel for the game. He's very skinny, but plays extremely hard, even if he wouldn't be considered anything more than six fouls off the bench in today's NBA most likely.
---
Kennedy Winston, 6-6, Shooting Guard, Panionios (Greece), 1984
Considered a likely first round pick before poor workouts and red flags surrounding his knee tanked his draft stock,
Kennedy Winston
has spent the past two seasons in Europe putting up solid numbers in Spain and Greece. Now a much better player than he was in 2005, there's a legit chance that a team takes a flyer on him on the free agent market. Winston is a silky smooth 6-6 shooting guard with a sweet stroke and the first step and ball-handling skills needed to create his own shot. He's not the toughest guy in the world in terms of the way he finishes around the rim, nor is he a great defender, but he does have upside and this could be an opportunity for a team to bring him on board before he prices himself out of the NBA minimum next season.
---
Chuck Davis, 6-8, Power Forward, TED Koleji (Turkey), 1984
Winston's former teammate at Alabama,
Chuck Davis
' career has taken a turn for the best since he unfortunately tore his ACL midway through his senior season—removing any option he had at going through the NBA pre-draft process. He signed in Turkey with TED Koleji and had a fantastic rookie season, finishing 3rd in the league in scoring with 18 points per game and 5th in rebounding with 9.5 per game. He's already been snatched up for next season by Oostende in Belgium, one of the best scouting teams in all of Europe who will play in the ULEB Cup next season after winning the championship. He does have an NBA escape clause in his contract, though. Davis is a long and extremely intelligent big man who can score both facing and with his back to the basket. He's an excellent passer with great hands and is considered a real mismatch threat due to his versatile skills. He's a bit undersized and not quite a prototypical athlete for the NBA, but someone could give him a look down the road if he continues to produce such impressive numbers.
---
Erik Daniels, 6-8, Power Forward, Biella (Italy), 1982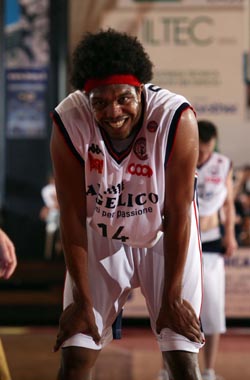 Statistically, Daniels was one of the most impressive players in high-level Europe, averaging 17 points and 10 rebounds per game playing for a playoff team in Biella—another one of the best scouting teams in all of Europe. Daniels went undrafted out of college but made the Sacramento Kings roster and stuck for his entire rookie season, he then went to the D-League for a year where he put up similar numbers to what he did in the Italian league.

Daniels is now getting looks from teams as high up as the Euroleague, so it's not quite clear that the NBA can compete for his services as well anymore for the minimum. He's a 6-8 combo forward who used to play point guard in high school and has retained many of the perimeter skills from then—particularly his passing. He has a great basketball IQ and is an extremely versatile player, sticking his nose in all kinds of places and representing a tremendous mismatch threat. He's a fantastic rebounder with great hands and toughness, and can score in a variety of ways with shaky range out to the 3-point line.
---
Terrell Everett, 6-4, Point Guard, Chalon (France), 1984
Already considered a very intriguing NBA prospect coming out of high school, Everett shot himself in the foot a bit by pleading no-contest to a Marijuana charge just before the pre-draft process started. He was blackballed from the pre-draft camp, and struggled to get any serious looks before heading to Europe.

Everett did a pretty good job making people forget about the mistakes he made in the past by putting up one of the most impressive rookie seasons in all of Europe, averaging 12 points, 5 rebounds and 5 assists for the 3rd best team in ProA France. Everett is a big natural point guard with great instincts directing a team and finding the open man. He's athletic enough to create his own shot, and will at times explode for the type of scoring outburst that makes you wonder just how much upside he has left in him. He's not a great shooter and still has work to do on his overall decision making and leadership skills, but it probably wouldn't shock anyone to see him make an NBA roster fairly soon. He has that kind of talent, and from what we were told by his agent Noah Croom, would sign for the minimum if the contract was fully guaranteed. He'll be playing for Phoenix's summer league team in Las Vegas next week.
---
Carl English, 6-5, Shooting Guard, KK Zadar (Croatia), 1981
The pride of Newfoundland had himself a very good year in the Adriatic League this past season, leading the entire league in scoring with 20 points per game on 44% shooting from the field and 37% from behind the arc. After stubbornly insisting on making the NBA from the D-league for his first two years out of college, English should now get his fair share of looks after showing scouts that he is an NBA caliber shooter all year long with Zadar. He is not the biggest or most athletic guy in the world (although he does have some crafty quickness to his game), but he'll always be one of the most confident guys you'll find—never showing any conscience in heaving up contested shots (which he'll often make) from well beyond the NBA 3-point line. English has solid ball-handling skills and will make his way into the paint from time to time against weaker defenders, but it's his shooting stroke that will be getting him offers from some of the biggest clubs in Europe this summer. He has great mechanics, a sweet release and a great nose for coming off screens to find an open look. He's not much of a defender, but a team looking for some scoring punch off the bench might decide to take a flyer on him this summer.
---
Casey Jacobsen, 6-6, Shooting Guard, Brose Baskets Bamberg (Germany), 1981
Another excellent shooter, with even more size and versatility to his game,
Casey Jacobsen
has already spent four of his last six seasons since graduating from Stanford on an NBA roster, so making it back for another one wouldn't be a shock. He spent this past season playing for the eventual German champions Bamberg under renowned coach Dirk Bauerman—where he shined--and was in the Euroleague the year before with Tau Vitoria, as a role player. Jacobsen is a smart and extremely tough swingman who isn't afraid to take the ball strong to the basket or fight for an offensive rebound down low. He's made a name for himself, though, more as a shooter, for his ability to come off screens and knock down shots from NBA range thanks to his picture perfect stroke. He's not a bad athlete and will compete on the defensive end as well, even if his handle is weak and his shot is prone to bouts of streakiness. He's hasn't been quite an automatic enough shooter to lock up a permanent spot in the NBA just yet, and the other wrinkles he has to his game don't really come to the surface in the role he was usually asked to do. Regardless, teams could probably do worse than to pick him up for the minimum, even if he won't be playing summer league this time around.