As the NBA season is about to tip, we take a look at how five members of the 2011 NBA draft class fared in their time overseas.
Jonas Valanciunas, 6'11, Center, 1992, Lietuvos Rytas
Drafted in the First Round (5th Overall) by the Toronto Raptors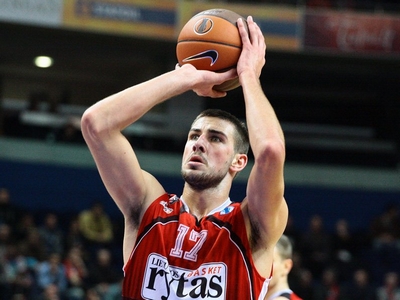 The second European player off the board in the 2011 NBA Draft,
Jonas Valanciunas
spent the summer continuing to build his resume across the pond by leading Lithuania to a U19 World Championship victory and playing rotation minutes for the nation's Senior National Team, which finished 5th at the 2011 Eurobasket.
Returning to Lietuvos Rytas for the 2011-2012 season, the Lithuanian 7-footer has continued to make small, incremental strides, leaving plenty of room for optimism for his future arrival in the NBA.
Though he could not help Rytas advance out of the Euroleague qualifying round and has not shown tremendous improvement in any one area, Valanciunas is having a solid season in a bigger role that better reflects what the Raptors are likely going to expect from him long-term.
His efficiency as a scorer has not wavered significantly this season despite playing next to a more scoring oriented guard in
Tyrese Rice
who doesn't create pick and roll opportunities quite as well as
Sarunas Jasikevicius
did a year ago.
Seeing a much higher rate of touches with his back to the basket compared with last season, Valanciunas continues to score both prolifically (19.5 points per-40) and efficiently (66% FG%, 83% FT%) through 20 games –a trend worth keeping an eye on as he matures offensively.
Valanciunas still hasn't had the time off needed to properly work on his body due to his incredibly busy summer schedule, and thus remains underdeveloped physically.
He continues to foul at a high rate as well, but is showing more flashes of midrange jump shooting potential—which will surely serve him well in the future. His new role has had somewhat of an impact on his proficiency on the offensive glass and passing numbers, but Valanciunas continues to stay true to his game, and execute, two big reasons why he was selected to play in last summer's Eurobasket.
Considering his increased playing time and usage this season, the fact that he continues to score with deft touch in the paint, make an impact with his work ethic on both ends, and play with impressive efficiency are all promising signs for a 19-year old only scratching the surface of his potential.
Nikola Mirotic, 6'10, Power Forward, 1991, Real Madrid
Drafted in the First Round (23rd Overall) by the Chicago Bulls
Drafted in the latter part of the first round due in large part to the 5-year contract extension he signed with Real Madrid after winning the Euroleague Rising Star award last season,
Nikola Mirotic
has been nothing short of terrific in recent months. Garnering MVP honors while guiding Spain to the U20 European Championship this summer, Mirotic led the competition in scoring at 27 points per-game and finished second in rebounding at 10 boards per-contest.
Returning to Madrid for the 2011-2012 season, Mirotic has gone from being a sparkplug scorer off the bench for Real to one of the best power forwards in European basketball.
Last season, Mirotic wasn't expected to be much more than garbage-time performer for the iconic club considering the depth and experience ahead of him. He surprised many by carving out of a role as arguably Etorre Messina's most consistent big man, averaging a combined 7.3 points and 3.4 rebounds in the super-competitive ACB and Euroleague.
Thus far this season, Mirotic is playing 7 more minutes per-game than he did last season, but his per-40 minute numbers are nearly identical to those that he posted in his breakout season last year –quite an impressive feat.
Still seeing his touches come first on the perimeter, second with his savvy movement and hustle off the ball, and third in the post, Mirotic's versatile, but highly efficient offensive game has been a big reason why his club is in first place in the most difficult group of the Euroleague and tied for first in the ACB.
Mirotic is not an elite athlete and may lack a degree of NBA upside because of it, but he's playing great basketball for one of Europe's best teams and couldn't be showing too much more in the way of role-player potential for the NBA.
With the departure of
Rudy Fernandez
, Mirotic will be called upon to step up his scoring even more on the perimeter. He's clearly a rising star in Europe who could be a significant piece for the Bulls down the road, if he's able to make it over the ocean someday.
Nikola Vucevic, 7'0, Center/Power Forward, 1990, Buducnost
Drafted in the First Round (16th Overall) by the Philadelphia 76ers
A mid first-round pick whose stock rose dramatically late in the draft process,
Nikola Vucevic
spent the summer playing for the Montenegrin National Team at Eurobasket 2011. Stuck in a role off the bench behind
Vladimir Dragicevic
and
Nikola Pekovic
, the former USC Trojan averaged 5 points and 3.2 rebounds as the team failed to advance out of group play.
Signing with Buducnost for the duration of the lockout, Vucevic returned to Montenegro to compete in the Adriatic League, and after losing to
Jonas Valanciunas
and Lietuvos Rytas in the Euroleague Qualifying Round, the Eurocup.
Vucevic emerged as one of the most productive players in both the Adriatic League and the Eurocup during his 14 game European tour, which is quite an impressive feat considering his age and lack of experience. Ranking 3rd in PER in both the Adriatic League and Eurocup, Vucevic showed the same advanced inside-outside game that made him such a dominant force in the Pac-10 last year.
Similar to his role at USC, Vucevic was Buducnost's primary post threat, and nearly 30% of his possession came with his back to the basket according to Synergy Sports Technology. Despite all the touches he saw on the interior, the rookie big man spent more time running the pick and roll and spotting up on the perimeter than he did in the NCAA.
Vucevic knocked down his jump shots at respectable 36% rate and finished at the rim at a tremendous 72% clip, while showing the same array of post-moves and touch at the rim that caught the attention of scouts at USC.
It was his ability to score in a variety of ways both at and away from the rim, as well as utilize his size and tremendous length on the glass, that resulted in his 22-point, 10-rebound performance against Dexia Mons that garnered him Week 4 Eurocup MVP honors.
Though Vucevic may not be an elite athlete, his physical tools and well-rounded offensive game allowed him to make an instant impact in the European game. He may not have shown dramatic development in any particular aspect of his game, and is certainly going to face new challenges in adapting to the NBA style of play in Philadelphia, but he was
among the more productive players overseas during the lockout
and there's plenty to be said for how quickly he was able to adjust.
Donatas Motiejunas, 7'0, Power Forward/Center, 1990, Asseco Prokom
Drafted in the First Round (20th Overall) by the Minnesota Timberwolves before being traded to the Houston Rockets
Donatas Motiejunas
watched his draft stock rise and fall quite a bit over the years before ultimately leaving his name in the 2011 NBA draft. After spending last season with Benetton Treviso, Motiejunas expected to spend the summer competing for Lithuania as they hosted the 2011 Eurobasket, but was cut during exhibition play.
The young forward signed with Polish club Asseco Prokom who are competing in both the Euroleague and VTB United League this season. Though his team is just 4-12 on the season, Motiejunas has posted some huge games this season, which likely has Houston fans excited about his future.
Motiejunas has continued to do many same things for Prokom that he did for Benetton Treviso on the offensive end. With the departure of
Alonzo Gee
, Motiejunas ranks as Prokom's leading scorer in both of the leagues they compete in, and is for all intents and purposes, filling the role of #1 option for his team.
The 7-footer is spending more time on the perimeter than he did earlier in his career, and while his 32% three-point shooting is just shy of the mark he posted last year, he's attempting 3.5 3-pointers per-game, indicating an increased confidence in his jump-shooting ability. Around the rim, Motiejunas remains an agile finisher for his size, and that's been especially useful to him with his back to the basket, converting an excellent 54% of his 2-point attempts.
The biggest development we've seen from Motiejunas this season has come on the glass. Often maligned for his rebounding ability in the past, the Lithuanian big man broke the Euroleague record for defensive rebounds in a game with 18 against Union Olimpija.
While he's posted games of 1 and 3 rebounds this season, his occasional outburst on the glass has him averaging nearly 3 rebounds per-40 minutes more this season than he averaged last season. It's not a stretch to say that had he shown more of an inclination to crash the glass occasionally last season the athletic and skilled 7-footer would have been picked much higher than 20th in the 2011 draft.
For the second straight year, Motiejunas is a top interior option playing and producing at a high level against quality competition. He's had some moments of brilliance, though the inconsistency we've outlined in previous reports are still very much there as he's spending more time away from the basket.
Fiery Lithuanian Head Coach Tomas Pacesas has managed to get the most out of Motiejunas thus far, and though his team is struggling to win games (particularly in the Euroleague, where they are completely overmatched), he remains one of the top young players in Europe and it is worth keeping an eye on him as he seems to be improving on his weaknesses.
Kyle Singler, 6'9, Small Forward/Power Forward, 1988, Real Madrid
Drafted in the Second Round (33rd Overall) by the Detroit Pistons
Wrapping up a storied four-year college career at Duke that included a NCAA Championship in 2010 and numerous individual ACC and Tournament accolades,
Kyle Singler
's slide to the second round was somewhat surprising, but not entirely unexpected.
Opting to start his career in Spain with Lucentum Alicante, Singler seemed to have taken the fact that he wasn't selected in the first round in stride and has been one of the most pleasant surprises in the European game this season prior to the end of the lockout. With the lockout coming to an end, Singler made a significant career move electing to play for Real Madrid, though some may be disappointed not to see him in a Pistons uniform this season.
As a rookie for Alicante, a club that has narrowly avoided relegation each season since being promoted from the LEB in 2009, Singler quickly emerged as an offensive leader among the European veterans playing around him. Leading the team in scoring at 14.4 points per-game as they shot out to a 7-3 start, the second round pick made a significant impact by doing many of the same things he did as a college senior.
While not scoring inside the arc or rebounding at quite the same level, he's shown a more consistent shooting stroke from beyond the 3-point line, taken what defenders gave him off the bounce, and made heady plays with and without the ball in his hands.
As the lockout ended, Singler found himself in a unique situation, as his opt-out clause gave him to opportunity to not just return to the NBA, but pursue a contract with any club. With the exodus of talent from some of the ACB's top clubs, Singler's ability to adapt, produce, and win earned him an opportunity to sign with Real Madrid for the remainder of this season.
Making the unconventional decision to snub the NBA for a significant raise with one of the wealthiest teams in Europe, the former Blue Devil was in inserted into the starting lineup for Real Madrid on December 14th game against Partizan Belgrade as
Rudy Fernandez
's replacement. Though he won't be a top offensive option like he was in Alicante, Singler's move to Madrid will give him a chance to play against the top competition in the world outside the NBA before reassessing his future this coming summer.