The Big 10 is up next as we continue to go conference by conference looking at the top non-freshman NBA draft prospects in college basketball.
Manny Harris
tops the list, followed by
Evan Turner
,
David Lighty
,
Raymar Morgan
and
Robbie Hummel
.
Top NBA Draft Prospects in the Big 12, Part One, Part Two, Part Three
#1 Manny Harris, 6-4, Sophomore, Shooting Guard, Michigan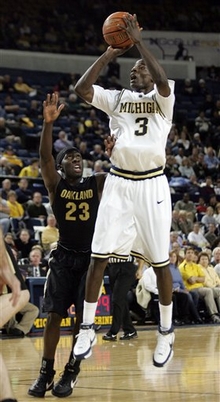 Jonathan Givony
While
Manny Harris
is definitely a fine NBA prospect, we should point out right off the bat that the weakness of the Big 10 can be seen right here at the top of the list.
Although he's the leading returning scorer in the Big 10 at over 16 points per game, you can't help but get the feeling when watching him that we're talking a player that still looks very far from being a finished product at this point—as evidenced by the 38% he shot from the field combined with his extremely high turnover rate. Harris was the best/lone shot-creator on an otherwise extremely weak squad (10-22 overall, 5-13 in the Big 10) and thus garnered an absurdly high 26% of his team's offensive possessions, good for
22nd in the NCAA
in that category. It's safe to say that if Michigan is going to be any good next season, and Harris will be able to iron out the many wrinkles in his game, that number will have to come down to a more normal rate (20-22% or so).
Harris has fairly average size for the shooting guard position, standing somewhere between 6-4 and 6-5, without a great deal of meat on his bones. His main virtue lies in his outstanding scoring instincts, which are extremely advanced for a player who won't turn 19 for another few weeks, making him younger than many members of this year's incoming freshman class. Harris is an extremely tough, confident, aggressive player who gets to the free throw line at a superb rate. He has a good first step, excellent body control in the lane, and a knack for making his way to the rim, even if his ball-handling skills are improvable. He doesn't finish particularly well once there (due to his average size and strength) but manages to draw 6.2 free throws per-40 minutes pace adjusted, good for
19th in the entire country last year
. As he gets older, he should be able to get stronger and craftier and capitalize better on his shot-creating tools, for example his floater, which shows promise.
Harris is a very tough matchup with his right hand, but is far weaker with his left hand, both finishing around the basket and dribbling the ball. His mid-range game still isn't very developed at this point, partially due to the excessive amount of wasted motion we find in his shooting mechanics. He tends to kick his feet out violently or spread his legs out while releasing his pull-ups, and seems to jump forward quite a bit on his catch and shoot jumper.
He's able to make shots at a solid rate when he's open with his feet set, displaying a nice follow through, a slow release and range that extends out to NBA range, but tends to rely on his 3-point shot far too heavily, which combined with his improvable technique led him to shoot just 32% from this range, on a large number of attempts.
His shot-selection and decision making looked very poor at times in his freshman season, but that might be partially due to the quality of teammates that surrounded him. Regardless, Harris was one of the more turnover players in the country last season, indeed ranking 2nd in that category, which is not a great distinction to have by any means.
Defensively, Harris is a bit difficult to evaluate at times, as his team played quite a bit of 1-3-1 zone, a very bizarre style of defense that traps ball-handlers near mid-court and relies a great deal on switching and rotating depending on which matchup is in a player's part of the zone at any given moment. Harris played at the top of this zone, and got in the passing lanes at a very nice rate, usually showing good effort and solid lateral quickness, but looking a bit questionable at times with his lack of size, strength and fundamentals in others, giving us mostly a mixed bag on this end of the floor.
All in all, there is a lot to like about the raw tools Harris is showing early on in his career, even if he's obviously very far from being a finished product at this point. It would be nice to see how he's able to function in the context of a normal team where he isn't asked to take so many responsibilities offensively before he decides to jump to the NBA, as it's very hard to project his role until then. Putting up huge scoring numbers in a losing effort on terrible shooting percentages isn't going to impress that many scouts, which is why it will be important for Harris to go out and develop the rest of his game as well, even if he has to do that on his own.
#2 Evan Turner, 6'6, SG/SF, Sophomore, Ohio State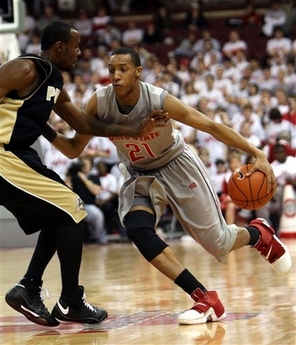 A player who flew under the radar for most of last season,
Evan Turner
should definitely be getting more attention at Ohio State this year with
Kosta Koufos
and
Jamar Butler
now out of the picture. Turner, a versatile and scrappy two-way wing player, showed a lot of nice flashes last season, including his 17-point and 20-point performances in the semifinals and finals of the NIT Tournament, helping lead Ohio State to the title.
Turner brings a lot of positive things to the table on the offensive end, including good ball-handling skills for a wing, possessing a low, controlled dribble with both hands, and a decent array of advanced moves in his arsenal, including a crossover he uses frequently. He doesn't have a very explosive first step, but he is quick with the ball in his hands, barely slowing down from his normal speed. This is a great asset to have, but sometimes it's to his disadvantage, when his body gets ahead of his mind, leading to turnovers. While Turner is skilled with the ball, he has some major issues with turnovers at this point, having the 7th worst turnover-per-possession ratio in our entire database, turning the ball over on 30% of all possessions. One of the biggest things he needs to work on to improve this is doing a better job of protecting the ball in the lane, and always being aware of defenders around him (especially those coming from behind). He also is prone to a lot of rookie mistakes, like leaving his feet before making a pass, moving his feet before putting the ball on the ground, or just trying to force a pass or drive into too small a space. At times he actually shows very good decision-making skills and court vision, and it seems most of the issue here is just playing the game faster than he's ready for.
Turner's jump shot is a work in progress, but something that seemed to improve later in the season, where he cleaned up his mechanics some, keeping full extension on all his releases and cutting down on a tendency for his arm to drift to the right. When he has space and gets his feet set, his shot is pretty good, but he struggles when rushed, as his release isn't the quickest in the world. Pulling up, Turner has nice touch and body control, and can go to floaters and runners consistently, but he often has times transitioning the ball from dribble to shot, going too quick and losing full control of the ball. When he takes the ball to the basket, Turner shows nice craftiness on reverses and can hit some good floaters, but he's lacking the strength and/or explosiveness to be a consistent finisher around the rim at this point.
Turner shows some flashes of point guard ability with drive-and-dishes and pick-and-rolls, but he's going to really need to cut down on his high turnover rate if this position is in his future, even part-time. With
Jamar Butler
out of the picture, he'll have some more opportunities to show what he can do here.
On the defensive end, Turner is a standout, playing with great intensity, focus, and fundamentals. He reads opposing players well, and has good reflexes to boot, which coupled with his intensity-level makes him very tough on the perimeter. He recovers well when he makes mistakes, rarely is caught out of his stance, and always runs out to contest shots. His biggest weakness is his lateral quickness, which isn't great, as he can get beat by quicker opponents, but he compensates for this somewhat with his length, intensity, and by having good positioning and awareness. On the weakside, he anticipates very well and has nice hands, which help him get his 1.3 steals per game.
While Turner definitely has a lot of things to work on, he's shown flashes of good things in almost all areas, and could be on the verge of a breakout season with more touches available, if he put in the proper work this offseason. If he fills in some of the weak areas of his game, it'll be interesting to see if he can improve on his consistency, as his scoring totals fluctuated wildly from game-to-game, with 15 games with 5 points or under and 15 games with 10 points or more. He's probably another season or two away from the NBA, but he could become a very versatile option at the wing if he continues to improve.
#3 David Lighty, 6'5, Junior, Shooting Guard/Small Forward, Ohio State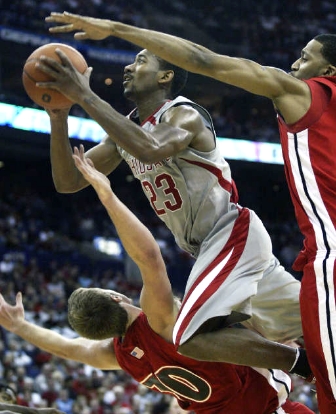 Rodger Bohn
Lighty followed up a promising freshman campaign with a relatively marginal second season. Although he put up respectable numbers, he did not quite live up to the expectations that many had for him after his strong performance at the U-19 Championships in the summer of '07. Regardless, the combination of size, strength, and defensive potential displayed by Lighty is enough to make him one of the top prospects that the fairly weak Big 10 has to offer.

Sporting the same muscular physique that he has in the past, Lighty has the total package physically for a power wing player. He is blessed with legit height, a nice wingspan, and appears to have reacquired the explosiveness that he had as a prep star before he suffered a serious knee injury.

On the offensive end, Lighty does the bulk of his damage slashing to the rim and scoring in transition. Using his exceptionally strong frame and nice first step, he is able to finish around the cup with either hand and shield off bigger, more athletic defenders in the process. When unable to find his way to the rim Lighty has shown nice potential as a passer, showing nice vision with his unselfish style of play.

Over his first two years in college Lighty, who was an accomplished scorer in high school, has struggled mightily in terms of getting in a scoring groove. His jumper (although improving) has lacked consistency, even though he displays nice form and release. David is not overly creative off of the dribble due to his weak ball-handling skills and won't hit you with a variety of scoring moves either. His left hand needs work and his in-between game looks underdeveloped. The 11.6 points he scored per-40 minutes is one of the weaker rates you'll find amongst top prospects in any other conference we'll preview.

The defensive end is where Lighty offers the most intrigue as a prospect. His size and strength allow him to hold his ground against whomever he's guarding, enabling him to body up opposing guards who might be slightly quicker then him. This strength has also given him the versatility to guard players ranging from point guards to power forwards. The Cleveland native has shown the ability to get his hands on a ton of balls, especially in Ohio State's three quarter court press, making himself much more of a presence then his numbers reflect on the defensive end.

The Buckeyes will rely upon Lighty to step up on the offensive end in his junior season if they hope to achieve more success than they did last year. He will be counted upon as a team leader and catalyst, given the abundance of youth and inexperience that OSU will have this season. David is still not a sure fire NBA draftee at the moment by any means, although a strong junior season could easily solidify his status as an NBA prospect.
#4 Raymar Morgan, 6'7", Junior, Small Forward, Michigan State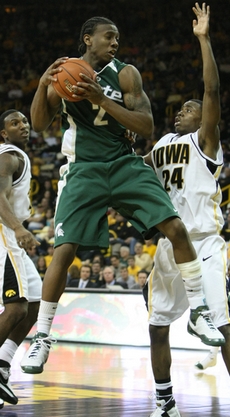 Joey Whelan
Raymar Morgan
made tremendous strides during his sophomore campaign with the Spartans, improving significantly in nearly every statistical category without seeing an increase in playing time. The athletic small forward became even more of a fixture in Tom Izzo's offense than he was as a freshman, leading the team in scoring while seeing his shooting percentage jump from 48% to 55% even when taking more shots per game. With the departure of
Drew Neitzel
, Morgan will have to shoulder even more of a load for Michigan State and has the potential to have an All-Big Ten caliber season. He was outstanding in the first half of the season last year and then saw his numbers drop off dramatically in the second half (particularly in the NCAA tournament), and will need to be consistent all year long for the Spartans to have the type of season many are expecting.
At 6'7", Morgan has average size for the small forward position, but compensates for this with his length and solid athleticism. He has good open floor speed and quickness, but his weak ball handling skills slow him down considerably and prevent him from being more of an offensive threat. His wiry 225 pound frame is much stronger than it looks and this allows Morgan to finish with contact around the basket at a tremendous rate and to post up smaller players.
As was the case last season, one of the biggest areas that Morgan needs to continue working on is his range. He has shown continual improvement in his ability to connect from mid-range as a catch and shoot player. His release point is inconsistent, but quick enough that he can get his shot off against most defenders. Morgan gets into trouble when he tries to create for himself off the dribble; usually he winds up off balanced, firing a line drive at the basket. He still isn't much of a threat from beyond the perimeter, attempting just 33 shots from beyond the arc last season and connecting on 10 of them.
Morgan's ability to score effectively in the post makes him a versatile scorer. His strength and athleticism allow him to back down smaller opponents on the block. While he doesn't have any developed post moves, he shows pretty good instincts when playing with his back to the basket. Morgan does tend to panic and make poor decisions when he is doubled down low though.
Rebounding and versatility continue to be the appealing aspects of Morgan's defensive game. Last season he pulled down over 6 boards per game and that was without ever really doing an effective job of boxing out opponents. If he can add proper technique to his length and aggressiveness, there is no reason to think that Morgan can't be among the Big Ten's top rebounders. He also does well covering various types of players, whether it be bodying up power forwards or guarding more perimeter based players on the wing. He does struggle from time to time with his lateral quickness going up against quicker matchups though.
Morgan has already done himself plenty of good in regards to making an impression on NBA scouts, this season he can make the leap from promising underclassmen to legitimate pro prospect. If he can become a more consistent shooter from 18 feet and improve his ball-handling skills, Morgan will show that he's fully made the transition from power forward to small forward.
#5 Robbie Hummel, 6'8, Sophomore, SF/PF, Purdue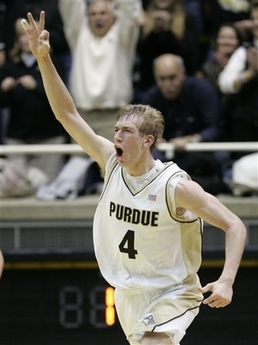 Kyle Nelson
As a freshman, Purdue forward
Robbie Hummel
helped the rebuilding Boilermakers finish the regular season with a 23-7 record and win an NCAA tournament game. He finished his freshman campaign as the Big 10's top marksman, shooting a blistering 44.7% from beyond the arc on 2.8 attempts per game on his way to 11.5 points, 6.1 rebounds, and 2.5 assists per game. After his freshman season,
Robbie Hummel
established himself as a great perimeter shooter with an extremely aggressive mindset, a terrific basketball IQ and big holes in his game on both sides of the floor.
At 6'8 and capable of playing on the perimeter as well as in the post, Hummel is the ultimate college mismatch. He is not a bad athlete by any measure at the college level, though compared to most NBA small forwards, he is well below par. Weighing in at just 208 pounds last season, it is essential that Hummel add muscle to his frame and get stronger, especially if he wants to be more effective around the basket and in the post.
As of now, though, the post does not factor much into Hummel's offense. He is first and foremost a scorer away from the basket. His spot-up perimeter jumpshot is relatively consistent, but despite his high percentages, seems to be a work in progress. He possesses a quick release, but begins his shooting motion too far away from his body and releases his shot off-balance. That said, he can and will take his shot from anywhere within his range, which extends to beyond the NBA three-point line.
Hummel also showed the ability to attack the basket off of the dribble. Though he doesn't have a very good first step, he is a crafty and competent enough dribbler by a lot of the collegiate post-defenders that have the misfortune of guarding him 20-feet from the basket, even if he clearly favors his right hand. Off of the dribble, he also shows nice court vision and creativity, passing the ball extremely well. Out of all players in our database, Hummel ranked in the top 25 in assist to turnover ratio, which is impressive considering that he's a forward and most of the players alongside him there were point guards.
If he's to make it, Hummel's future in the NBA will obviously be on the perimeter, and thus he would be best served working on polishing up his skill-set over the next 2-3 years in college. His mid-range pull-up jumper is fairly weak right now, and he avoids going to his left hand any time he puts the ball on the floor.
Unfortunately, many of his physical flaws follow him to the defensive end. He shows poor lateral quickness on the perimeter and is often beaten by his man. In the post, his lack of strength hurts him both in one-on-one situations as well as on the defensive glass where he averaged 3.5 defensive rebounds per game. Basically, he must become a better defender both inside and out if he wants to have a shot at the next level.
Despite his flaws, he was still one of the most versatile and skilled freshman forwards in the NCAA. Without ideal NBA athleticism, however, he is going to have to show scouts that he has grown as a basketball player on both sides of the floor in this coming season if he wants to keep his name firmly in future draft consideration. It will likely be his smarts, aggressiveness and winning mentality that endears him to NBA types, rather than his natural physical tools.