We conclude our coverage of the top NBA Draft prospects in the Big 12 with scouting reports on prospects 14-17:
Wesley Iwundu
,
Frank Mason
,
Deonte Burton
and
Ishmail Wainright
.
---
More DX Conference Previews
-The Top NBA Draft Prospects in the Big East
-The Top NBA Draft Prospects in the Pac-12
---
Top NBA Draft Prospects in the Big 12
Part One
(#1) Josh Jackson
Part Two
(#2) Jarrett Allen
Part Three
(#3) Devonte Graham
Part Four
(#4) Monte Morris
Part Five
(#5) Johnathan Motley
Part Six

(#6) Carlton Bragg
(#7) Sviatoslav Mykhailiuk
(#8) Andrew Jones
(#9) James Banks
Part Seven

(#10) Jawun Evans
(#11) Kerwin Roach
(#12) Landen Lucas
(#13) Zach Smith
#14, Wesley Iwundu, 6'7, SG/SF, Kansas State
Julian Applebome
Senior Wesley Iwundu will be an integral piece of a Kansas State team that looks to bounce back from a disappointing season in which they finished 5-13 in Big 12 play, and missed the NCAA Tournament for a second straight year after five consecutive appearances from 2010 to 2014. A late bloomer out of Westfield High School in Houston, standing just 5'10 as a sophomore, Iwundu was a rather unheralded recruit who received only a few high level Division I offers, but has since turned himself into a dynamic player with intriguing professional upside.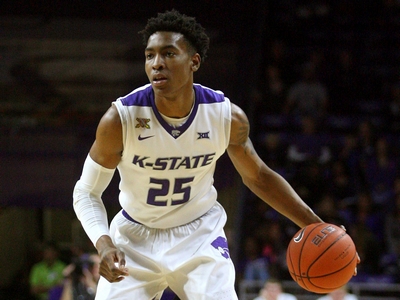 From a physical perspective Iwundu definitely passes the eye test. At 6'7" with a plus wingspan (possibly around 7'1), and an excellent frame that will continue to fill out, Iwundu has the physical tools to play either wing position at the professional level, and has the athletic ability to match his physical profile. He moves fluidly in space, has a quick first step, gets off the floor well, and has the ability to finish above the rim. He has the upper body strength to finish through contact, but his lower body is a bit on the thin side, somewhat limiting his verticality in traffic. It's possible that as his lower body strength improves, he could improve his just-decent explosiveness to form a terrific package of overall physical tools.
What stands out about Iwundu offensively is his playmaking ability from the wing position. He was one of only two players in the Big 12 last season to average more than 4.5 assists and 5.5 rebounds per-40 minutes. A major share of his half-court offense was centered around him being the ball handler in pick and roll situations. He is very comfortable handling the ball with either hand, and has a variety of shifty dribble moves including an in and out crossover that he uses to get by his defender. Iwundu is adept at handling ball screens for a player of his size, and does a good job keeping teams off balance by rejecting screens, and tilting the defense into difficult rotations. He uses his size well to make passes over the top of the defense, but also does an excellent job finding the open man once he has gotten into the paint and caused the defense to collapse. His turnover numbers (3.6 per 40, 21% TO%) are on the high side, but is somewhat to be expected from an aggressive player who handles the ball as frequently as Iwundu does. He is aggressive getting downhill, and flashes some impressive footwork on spin moves getting to the rim. Once he has gotten to the rim, he does a good job creating contact around the basket and averaged 5.8 free throw attempts per 40, but lacks consistency finishing at the rim when he is not able to initiate contact. He only finished 51% percent of his half-court field goal attempts inside the paint, (per Synergy Sports Tech) a number which you would like to see much higher given his size and physical profile.
While he's made significant improvement since arriving on campus at Kansas State, Iwundu can continue to refine his advanced ball-handling skills, as he isn't always quite in complete command of the ball on some of his drives to the rim, leading to some very difficult looks. He isn't blessed with outstanding touch, nor overwhelming explosiveness, to compensate for this, and tends to favor his right hand even when he's on the left side of the basket.
Despite Iwundu's unique playmaking skills for a player his size, he has yet to show that he possesses consistent perimeter shooting skills, which significantly limits him in the half-court at times. As a freshman he made a career high seven 3-pointers on just 17 attempts from deep, but has fallen off drastically the last two seasons, and hit only 12 of his 49 attempts from beyond the arc as a sophomore and junior. Iwundu's struggles as a shooting threat are not solely limited to his catch and shoot abilities. He shot only 3 for 21 on jumpers off the dribble last season, and showcases mechanics that need serious refinement. He releases the ball from the left side of his body, bringing the ball across and often looking extremely off balance on his attempts. He appears to lack confidence in his jump shot, opting not to take open looks and rarely being ready to shoot on the catch. He was quoted this summer in the media saying he has completely reconstructed his jumper, and has put in significant work on this part of his game, so it will be interesting to see if he gets better results as a senior. An improved jump shot would go a long way for Iwundu, if he forces defenses to respect his shooting ability, only opening up more playmaking lanes for the versatile swingman.
Voted to the 2016 Big 12 All-Defensive Team, a significant part of Iwundu's potential rests on his versatility on this end of the floor. With his size, length, and mobility, Iwundu has the tools to defend guards and wings, and can occasionally switch on to some small-ball power forwards, even if struggles with bigger and stronger players. He's an effective and aggressive on ball defender who averaged 1.7 steals per-40 last season, but also picks up some unnecessary fouls away from the basket which you would like to see him eliminate if he moved his feet more and relied less on his length. He shows some lapses off the ball at times, getting caught out of a stance, putting himself in difficult close out situations that he can only sometimes make up for with his length.
Iwundu is an effective rebounder from the wing position on both ends of the floor. He uses his length and athleticism well to attack the glass and is quick off his feet seeking second chance opportunities on the offensive boards. He is very effective grabbing rebounds and pushing the pace in transition, and is able to find a good deal of his offense in the open court by putting pressure on the defense with his ball handling, vision, and ability to get to the rim.
Wesley Iwundu's senior year will be an important one, as he looks to build on a solid junior season and get his name solidified in the NBA draft conversation. He has shown a great deal of potential as a playmaking wing with defensive versatility, but in order to boost his professional stock, he'll need to show an improved jump shot and continue to play with more efficiency on the offensive end of the floor. As the senior leader, he'll have ample opportunity to show NBA personnel that he has the overall skill set to match his physical profile. He appears to have significantly more upside than your average senior, and looks like a player who will continue to improve into his 20s due to his late blooming status out of high school. It shouldn't surprise anyone if a NBA team decides to invest in him to see if they can continue to refine his skill-set and try to develop his jumper due to the extreme lack of wing players in Iwundu's mold we're currently seeing available to teams.
#15, Frank Mason, Senior, 5-11, Point Guard, Kansas
Jeremy Bauman
Frank Mason has come a long way from the fall of 2013, when he was committed to play for Towson in the Colonial Athletic Conference. Mason didn't qualify academically and wound up back on the summer circuit, where he impressed the Kansas staff with his competitive fire and potential and pledged to play for the Jayhawks following a postgraduate year at Massanutten Military Academy.
As C.J. Moore of Bleacher Report
profiled
, Mason was known as more of a scoring guard at the prep level, and never fully adjusted to his role of off-the-bench combo guard during his freshman season, oftentimes playing alongside starting junior point guard Naadir Tharpe, whose departure from the program in the summer of 2014 created an opportunity for Mason to take control of the team as a sophomore.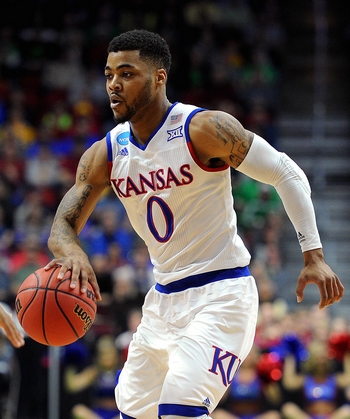 Now a rising senior, Mason has since extinguished any doubts about whether he is capable of being a productive player and floor general against Big 12 competition, as he has morphed into one of Coach Bill Self's most reliable players over the past two seasons. The Petersberg, VA native, who started just three games as a freshman, started 62 out of 63 games during his sophomore and junior seasons while posting solid passing metrics across the board.
The 22-year old lead guard has the keys to a Kansas team that has national championship aspirations, so he should be in the limelight with substantial opportunity to prove himself to scouts.
At 5-11 and 185 pounds, Mason lacks ideal height or length for an NBA point guard prospect. He compensates for his small stature with toughness, athleticism, strength and a solid basketball IQ.
A prolific jump shooter off the bounce, Mason scored 1.017 points per possession in such situations during his junior season, which ranked in the 90th percentile amongst all players in college basketball last season. At his best when he's in-rhythm, Mason is efficient as a shooter off the dribble because he is decisive, low to the ground and catches the defense off guard with his release.
He has improved as a catch-and-shoot option during his three seasons at the college level but still has to work on his shot preparation, as he often catches the ball standing straight up before dipping and starting his shooting motion, which wastes valuable time and causes him to rush shots as the defense closes out on him.
Boasting a 2.1-to-1 career assist-to-turnover ratio, the rising senior leader is generally a solid good decision maker with keen vision and the willingness to deliver passes to teammates on-time and on-target in their comfort zones. He is unselfish, moving the ball from side-to-side with speed and precision. Extremely fast in transition, the point guard pushes the ball up-court in the hopes of creating scoring opportunities for open cutters, perimeter shooters or himself.
Even though he has developed as a playmaker, Mason needs to take better care of the ball when facing pressure. He has bad habits of leaving his feet and killing his dribble before he knows where he wants pass. He also must tighten his handle and be more calculated with his dribbles to cut down his turnovers.
An excellent scorer in the pick-and-roll, Mason scored 1.017 points per possession and ranked in the 92nd percentile last season, according to Synergy. Adept at utilizing the screen or refusing the screen, the diminutive guard thrives when attacking in space. He's extremely quick with the ball in his hands and shows the ability to use a variety of dribble moves to find openings.
Mason has developed a consistent floater and running layup as options to catch the defense off guard and finish over the length of big men, necessities for a potential undersized NBA guard who has significant trouble finishing at the rim and doesn't have enough confidence to consistently finish plays with his left hand. His small stature will always likely be a hindrance around the basket, though, despite his extremely impressive explosiveness, as he converted just 43% of his half-court field goal attempts inside the paint last season, a very poor rate.
A member of the 2016 Big 12 All-Defensive Team, the lead guard is especially disruptive because he's capable of pressuring his assignment far from the rim, using his speed and strength to repeatedly turn the ball-handler. He is a determined competitor with quick hands and anticipation skills, which he has utilized to become an excellent rebounder considering his size, hauling in 136 total defensive rebounds last season (3rd most for the Jayhawks).
Still, there are instances where you would like to see him navigate pick-and-roll and off-ball coverage plays better. He needs to move with more force as he fights through screens and gets caught standing straight up as a help-side defender. When projecting Mason to the point guard position at the NBA level it's tough to see him being a true impact defender because of his limitations in terms of size, wingspan and strength as it feels like he's nearly maximized his potential on this end of the court.
Mason, who will turn 23 in April, is as an older guard who has improved year-over-year, and it is crucial for his NBA stock that he continues to produce and progress during his senior season. He is a tenacious competitor who has addressed the deficiencies in his game and shown the willingness to improve them thus far. Once caught in between positions, Mason has established himself as a floor general for Bill Self and a very successful, winning program over the past two seasons and will enjoy a long professional career whether he's drafted or not.
#16, Ishmail Wainright, 6'5, Senior, Small Forward, Baylor
Ryan Thomson
Ishmail Wainright was widely considered a four star recruit who initially made a verbal commitment to Missouri in May 2011. Fast forward a month and Wainright re-opened his recruitment, citing a need to see what else was available, and in October 2012 he committed to the Baylor Bears. He immediately found his way into the starting lineup in each of his first seven appearances in a Baylor uniform before being relegated to the bench for the remainder of his freshman season, playing sparingly overall.
After two seasons of limited opportunity and minutes, Wainright saw his minutes increase from 9.6 minutes per game as a sophomore to 24.7 minutes per game as a junior, while starting in all 34 games. With Taurean Prince off to the NBA, Wainright should see an increase in usage and playmaking responsibilities while also being asked to shoulder more of the scoring load.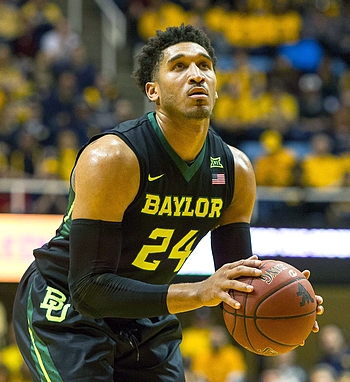 Wainright looks almost out of place on the basketball court because of his unique, yet impressive physical stature, standing 6'5, with an excellent 7'1 1/2 wingspan, and a chiseled 240-pound frame. He looks more the part of NFL linebacker than he does a senior starting small forward in the Big 12. His physical profile and athleticism are intriguing and will have NBA teams tuning in as the season gets underway if he can match them with consistent production.
Offensively, Wainright is a versatile player who has significantly improved his perimeter shooting ability over the course of his career in Waco. After attempting only 20 total three point shots over his first two seasons, Wainright made 28 of 69 attempts in his junior season shooting a very good 40.6%. Wainright refined his mechanics slightly, increasing the lift on his jump shot and finding a more consistent release point. That said, on his misses he has a tendency to stop his follow through early while also letting the ball drift over to the left side of his head.
Beyond his burgeoning perimeter shooting, Wainright has showcased an ability to make shots off the dribble, albeit a very small sample size. As his reputation and ability to make perimeter shots grew throughout the season Wainright began to use his shot fake one dribble pull up with some success.
With Prince out of the picture at Baylor, it will be interesting to see if Wainright can continue shooting at a high percentage with an increase in responsibilities on the offensive side of the ball. His mere two 3-point attempts per game as a junior doesn't shed enough light on whether this can become a bigger staple of his game, especially considering he barely took any 3s at all in his two seasons prior. He also benefited being guarded by bigger, slower defenders at times, which often allowed Wainright more time and space for his shot preparation. After shooting only 46% on free-throws in his freshman season, Wainright increased his percentage in each of the past two seasons, raising it to 73% as a junior.
Wainright has shown potential as a secondary or tertiary playmaker. As a junior, Wainright ranked second on the Baylor Bears in total assists (90) while managing to keep his turnovers down (45). His assist numbers don't tell the entire story though, as Wainright was given little opportunity to handle the ball in pick and roll situations, most of his assists coming in either transition, through finding cutters, or extra passes in the half-court which highlight his unselfishness and tremendous court vision.
He isn't the type of player to generate offense for himself, featuring mostly as a catch and shoot or catch and drive player. He prefers to attack with his right hand, put his head down and use his wide frame to create separation and attempt to finish around the rim, an area he struggled in as a junior, scoring 0.902 points per possession and shooting only 45.1% around the basket in the half-court according to Synergy Sports Technology. He hasn't yet shown an ability to change direction, draw fouls or a willingness to finish with his off-hand once he gets into the paint.
Despite struggling to finish around the rim, Wainright displays a knack for attacking the offensive glass, having averaged 2.4 offensive rebounds per-40. His frame and length allow him to carve out space among bigger players while his athleticism allows him to out-jump less physically gifted opponents.
Wainright plays with great intensity and effort, but his shot selection and basketball IQ can be cause for concern. He can get caught trying to force the issue with the pass, particularly when he is forced to make decisions off the bounce. His shot selection can be concerning, sometimes passing up open perimeter shots and forcing the issue attacking the basket. As a senior, scouts will want to see if Wainright can show improvement in his decision making while also tightening his ball handling abilities. His overall scoring rate of under 10 points per-40 minutes (on just 54% TS%) is one of the lowest among legitimate draft prospects in college basketball, so he will need to show some improvement with his ability to keep defenses honest if he's to hold NBA teams' interest.
Defensively, Wainright has the physical tools that will make him an intriguing prospect to NBA teams. He has a solid frame, elite length, strength and the ability to move his feet. Typically, Baylor has played a significant percentage of their defensive possessions in a 1-3-1 match-up zone that at times can hide players deficiencies, but also hinder their ability to showcase individual defensive talents. Wainright's physical tools shined through nevertheless, namely his ability to guard the ball and play the passing lanes, evidenced by his average of 1.6 steals per-40 as a junior. When Baylor did match-up man-to-man, his versatility became apparent based on his game-to-game defensive responsibilities, guarding Buddy Hield of Oklahoma one day and Georges Niang of Iowa State the next. His ability to move his feet defending the ball handler, chasing guards off a variety of pin down screens and defending and recovering guarding the big in a pick and roll action highlight his potential value. His ability to guard multiple positions could be his calling card in the future.
Overall, Wainright has unique physical tools with defensive versatility and a potentially burgeoning perimeter jump shot that could make him an intriguing prospect for NBA teams if he can take the next step in his development as a senior and show he can put the ball in the basket with some regularity. With a likely increase in workload, it will be interesting to see how Wainright's shooting percentages and decision making skills hold up over the course of his senior season.
#17, Deonte Burton, 6-4, Small Forward, Senior, Iowa State
Jacob Eisenberg
A bowling ball of a forward with a reported near 7-foot wingspan, huge hands and an extremely thick frame, Deonte Burton enters his redshirt senior season at Iowa State very much the same type of prospect he was at the beginning of his college career. Burton's potential has still largely gone unrealized – as he's had to learn under four different head coaches between two programs over the last four years.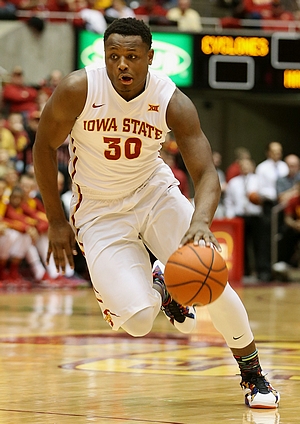 A top-50 recruit out of high school, Burton committed to play for Buzz Williams at Marquette, where he envisioned a featured role in Williams' position-less frontcourt. After a promising freshman year in which Burton led the nation in usage rate and finished among the country's top freshmen in scoring per-40 minutes pace adjusted at 22.2 points, Williams abruptly departed from Marquette – leaving Burton as an odd man out when Steve Wojciechowski installed a new system to the program.
As a sophomore, Burton struggled to find significant court time at Marquette. Through eight games under Wojciechowski, Burton averaged just 16 minutes per game (seventh on the team). Frustrated, Burton decided to transfer to Iowa State, where Fred Hoiberg had a proven track record of success with heralded transfers.
However, while sitting out a season waiting for NCAA clearance, Burton again saw his coach leave when Hoiberg departed the college ranks for the Chicago Bulls' head coaching position. By the time he became eligible to play last season, he joined the Cyclones just games before conference play began, forcing him to work himself back into playing shape on the fly against stiff Big 12 competition.
At 6'4" and 250 pounds, Burton is one of the more unique physical specimens in the college game. He's an absolute load but has very nimble feet for a player so thick. He's not a speedster, nor does he consistently play above the rim in the half-court, but he has excellent body control– especially when you consider his weight matches up favorably to NBA big men. A lefty, Burton is deceptive with a bevy of hesitation dribbles and uses a combination of euro-step moves to glide to the rim. When he has sufficient momentum generated, Burton is a force around the rim due to his huge hands and ability to absorb contact.
Still, Burton is severely height-challenged to play the power forward or even center positions he often occupied for Iowa State at the next level. He also has a lot of work to do on his body; while the 250-pound frame is definitely an advantage for certain aspects of his game, he wasn't well conditioned enough for Big 12 action last season and regularly got winded after short stints on the court. He's prone to committing silly fouls and turnovers when fatigued – which explains why he's never even averaged 20 minutes of court time per game in a college season. He has a lot of work to do on his body and it's difficult to understand why he came into last season so out of shape, something that has to be considered somewhat of a red flag considering what was at stake.
Burton is undeniably talented on the offensive end of the floor. Last season, he averaged 20 points per 40 minutes pace adjusted, finding his scoring opportunities in versatile ways. Most obviously, Burton is a freight train in transition and possesses nice body control, timing, and assertiveness to finish through contact. He gets to the line fairly often (5.0 free throw attempts per 40 minutes pace adjusted) but still needs to improve his free throw stroke – where he's been just a 65.5% free throw shooter throughout his college career.
Last season, however, Burton finally displayed his much-anticipated perimeter stroke and, in limited action, threw the ball in the basket at an impressive rate. In fact, Burton made as many three-pointers (18) as a junior as he attempted over both his freshman and sophomore years combined. He also displayed strong efficiency from the perimeter, hitting on 18-of-38 three-point attempts (47.4%). If he can continue to improve his shooting mechanics and speed up his release, Burton could potentially emerge as a legit perimeter threat this coming season, which would be absolutely huge for his NBA chances. Up until now, only 14% of his collegiate field goal attempts have come from beyond the arc, meaning we have to take his career 46% 3-point percentage with a grain of salt.
Burton has never been known for his passing ability, tallying a career 9.4% assist percentage, right around what he posted as a junior. He can be somewhat of a black hole at times, looking exclusively for his own offense regardless of what's in front of him, which can lead to some badly forced isolation attempts. He'll need to show he is willing to play a role and get teammates involved as well if he hopes to prove to NBA scouts that he can find a niche off the bench.
The other end of the floor is where Burton likely has the most to prove, and is probably a major reason why he's had such a difficult time staying on the court despite his gaudy scoring totals. His poor conditioning and lack of intensity causes him to get beat far more than you'd hope off the dribble, and he often gets lost off the ball, making him a split-second late to contest shots on the perimeter.
Burton's superb wingspan, nimble feet and impressive instincts getting in the passing lanes and coming up with blocks and rebounds indicates he has significant potential on this end of the floor if he ever truly committed himself to his work here. But that hasn't been the case throughout his career thus far.
Burton has a lot to prove as a senior, starting with improving his body, showing his shooting percentages are for real, and demonstrating he has what it takes to hold his own defensively. At nearly 23 years old already and without much to show at the college level thus far, the time is now. Considering this is the first string of consecutive seasons in which he's maintained the same coach in his college career, there's room for optimism regarding improved consistency and production. If Burton can harness his scoring talent with improved discipline, his Cyclones will be a legitimate contender in March.
Honorable Mention:
Malik Newman
- Kansas
Udoka Azubuike
- Kansas
Eric Davis
- Texas
Dean Wade
– Kansas State
Matt Thomas
– Iowa State
Khadeem Lattin
- Oklahoma
Barry Brown
– Kansas State
Justin Gray
– Texas Tech
Terry Maston
- Baylor