Top Returning NBA Draft Prospects in the Pac-10:

Part One, Two, Three
Top Returning NBA Draft Prospects in the ACC:

Part One, Two, Three
Top Returning NBA Draft Prospects in the SEC:

Part One, Two
Top Returning NBA Draft Prospects in the Big 12:

Part One, Part Two, Part Three
Top Returning NBA Draft Prospects in the Big 10:

Part One, Two
Big East
Roy Hibbert, 7-2, Senior, Center, Georgetown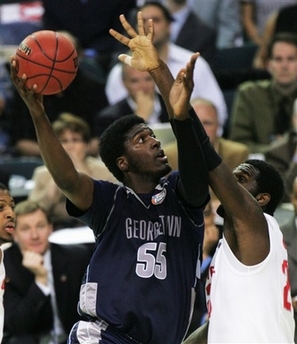 Kyle Nelson
Georgetown's
Roy Hibbert
is not only one of the most fundamentally sound centers in the NCAA, but he is also one of the most improved. If he is able to progress upon last season's effort, Hibbert could start hearing comparisons to Georgetown's legendary big man alums, as well as hearing his name announced in the upper tiers of next year's draft lottery.
Hibbert has a diverse offensive skill-set that reflects his maturity and intelligence. Around the basket, he has advanced post moves and rarely looks lost with the ball in his hands. He has a combination of spin moves; drop steps, and fakes that he uses extremely efficiently to score. He also moves well without the ball, playing the pick and roll well as both a screen setter and a scorer. Hibbert has a nice looking hook shot that he can hit off the dribble or stationary. It is incredibly difficult to contest, as well, because of Hibbert's enormous wingspan and the simple fact that he can utilize either hand. Hibbert also uses the backboard very well, showing a soft touch that allows him to score off soft bank shots and short jumpers. He also is extremely aggressive around the basket and can dunk emphatically both on put backs and even coming off a post move. Sometimes, however, this energy and aggression causes him to commit charges and get stripped. More often, though, he is able to draw fouls. During his time at Georgetown, Hibbert has shot about 30 more foul shots every year. Last season at the line he shot a respectable 68.6% on 153 attempts, but getting back around the 72.3% he shot as a sophomore would be ideal.
His combination of soft hands, size, and length really make him a force in the paint and on the offensive boards, and he's improving all the time on his once-seemingly limited quickness and coordination. However, when he steps away from basket, Hibbert has begun to emerge as a legitimate scoring threat as well. His jump-shot shot recalls Zydrunas Illgauskas, as he shoots with his feet set and displays nice form. Hibbert's range extends to just inside the college three-point line and his ability to get his shot off from the baseline just as easily as he does from the top of the key shows how much he has improved his offensive game. Becoming a better and more consistent shooter is the first thing that Hibbert should look to further improve in the off-season. However, his 67% shooting percentage,
easily ranking first amongst players on our 2008 mock draft
, reflects that he is already an incredibly efficient scorer. He also ranked first amongst all draft prospects in
points per possession, with 1.21
.
Hibbert is an incredibly smart basketball player and it is visible in the way that he plays. That being said, an area of his game that is underrated is his passing and decision-making ability. He passes well out of double teams and does not make pointless turnovers because of stubbornness. Per 40 minutes, he
ranks third amongst players on our mock draft
in terms of least amount of turnovers committed.
On defense, Hibbert utilizes his length extremely well in challenging shots. He is a good shot blocker and as the season went on, became a formidable defensive presence. In a string of games in which he played against
Aaron Gray
,
Tyler Hansbrough
, and
Greg Oden
, Hibbert was able to assert himself on the defensive end and prevent these elite college post players from getting easy baskets. He averaged a career high of 2.4 blocks/game last season and without
Jeff Green
occupying the paint with him, these numbers look like they'll increase. He is a smart shot blocker, not biting for shot fakes as much as you'd think and still being able to contest most shots in the paint. He moves well too and shows a clear understanding of Georgetown's defensive rotations. Hibbert does, however, get frustrated and sometimes commit reach-in fouls or if he is beaten, he'll hack his man. Foul trouble is Hibbert's biggest enemy at this point and for him to be the force that Georgetown needs him to be this year, he'll have to stay away from the unnecessary fouls.
#2: Terrence Williams, 6-6, Junior, SG/SF, Junior, Louisville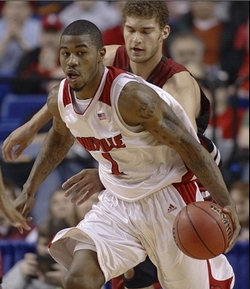 Rodger Bohn
Entering the 07-08 season, Williams currently holds the spot for the top wing prospect in the Big East. Averaging 12.4 points, 7.0 rebounds, and 3.8 assists per game, he shocked many opposing teams last season who thought he was merely a one dimensional scorer. The Seattle native will have the opportunity to build upon those numbers this season, on a team that is talented enough to contend for a national championship.
To start things off, Williams is a physical freak. At around 6'6, he has a ripped 215 pound body with the potential to add more weight if he desires. The explosive quickness that he owns translates to both ends of the floor, in his first step on offense and his ability to move laterally on defense. To top things off, he has the ability to absolutely jump out of the gym, evidenced by his dunk contest title at the 2005 Adidas Derby Classic.
Offensively, there are many times out there where Williams can be a nightmare for opposing defenders. His explosive first step, ability to shoot the ball from deep, and athleticism are tough to handle when fully utilized. He even occasionally uses his strength to post smaller defenders, as well. Williams has the ability to put up points in a hurry, usually through nailing multiple three point shots…when he's hot. He displays nice mechanics and a quick release on his shot, while getting off the ground ridiculously high on his release. It could actually be said that Williams jumps a bit too high on shot depending on whom you speak with, due to the fact that he often shoots the ball on the way down, creating an inconsistent release point.
Equally as impressive as Williams' variety of ways to score is his ability to pass the ball for a player standing 6'6. The 3.8 assists per game that he averaged places him amongst the elite distributors from the wing positions, and given Louisville's lack of a true floor general, he will have the ability to maintain those numbers in 07-08. His ability to pass the ball serves as a testament to how versatile he can be on the offensive end, when he fully utilizes his immense skill set.
That leads us into our next point, that being whether or not he will ever put it all together on a consistent basis. Throughout his career, Williams has displayed downright awful shot selection, and his field goal percentage reflects that. He shot 36% from the field, 26% from the three point arc, and 60% from the charity stripe. What is even more shocking is that for a player with such an explosive first step and ability to get to the cup, he shot twice as many three pointers and he did free throws.
Terrence's tendency to jack up three pointer after three pointer frustrated many, and severely limited his scoring potential. We are looking at a player who owns the ability to get to the rim on any player in the country, and who can pass the ball just as well as any wing in the land, yet chooses to shoot a 3-pointer almost every other time he attempts a shot. If Williams learns the meaning of shot selection and grasps the fact that he can get to the basket at will, it will be downright scary to see what he does this year in the Big East.
On the defensive side of things, Terrence has shown the ability to be a true lockdown defender. His size, strength, and lateral quickness allow him to pester any player that he is guarding. One NBA scout who we spoke with compared him to
Tony Allen
on the defensive end, which seems reasonable considering the athletic ability that both players posses. The problem with Williams is that he gambles far too frequently, often leaving him out of position on D. If he would be able to stop reaching for so many steals and biting for shot fakes, there is no doubt that we would be talking about Williams as one of the finest perimeter defenders in college basketball.
With all of the physical gifts and the immense talent that Williams possesses, it's only natural that his name will enter into the mix of NBA wing prospects as well, granted that he is able to put together the type of season that his upside suggests he might. He drastically needs to improve upon the efficiency ratings that placed him amongst some of the worst draft prospects in the NCAA, though. If Williams is able to show NBA personnel that he is an outstanding player, and not just an outstanding athlete, his draft position will look quite secure come April.
#3: Derrick Caracter, 6-9, Sophomore, PF/C, Louisville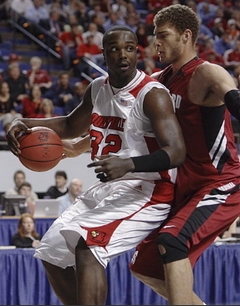 Jonathan Givony
One of the most high-risk, high-reward draft prospects to evaluate anywhere in the NCAA, it's easy to envision scenarios where someone looks back
Derrick Caracter
's placing on this list in 3-4 years and wonders either: "how in the world was he ranked so low?" or "how was he ranked so high?" It's really that up in the air at this point regarding how his professional career will turn out.
In terms of pure talent, it wouldn't be a stretch to consider Caracter even the top NBA draft prospect in the Big East. His combination of size, strength, fluidity, athleticism and skill is simply unheard of these days from a college player his age, and even in the limited amount of possessions we had to evaluate (somewhere around 120 on the offensive end), it was incredibly obvious that we're dealing with a player possessing lottery plus potential.
Starting with his physical attributes, Caracter has an NBA frame, with solid length and very nice athletic ability. He is extremely strong, but at the same time possesses incredibly nimble feet, making for a devastating combination when evaluating his back to the basket game. Caracter uses his great base to carve out space and establish position deep in the paint, often backing down his defender around mercilessly in the process—Shaq-style.
More than just a brute force, though, Caracter has some nice finesse to his game as well, looking extremely comfortable operating in the post with the ball in his hands. He's a natural scorer, fluid and highly coordinated, showing great hands to catch anything thrown his way and the touch to convert baskets in the toughest of situations, sometimes just throwing the ball up on the rim and seeing it drop softly. He can score with either hand (although he obviously favors his right), with his go-to move clearly being a lethal jump-hook shot, with range out to about 8 feet. The most impressive part of Caracter's post game might be his sheer quickness, though; he has a lightning quick first step that often just overwhelms his flat-footed defender, and the ability to spin to either shoulder unconventionally to catch his man off guard, possibly to finish with a reverse high off the glass. He has all kinds of nifty jukes and fakes he can execute even in small spaces, making him a magnet for drawing fouls—
ranking him 5th amongst returning draft prospects per 40 minutes in that category, at 9.3
.
In terms of the rest of his offense, we're still somewhat in wait and see mode. Caracter took very few jump-shots in the 240 total minutes he played last season, but the few he did take looked pretty good coming out of his hands. He seems to have the ability to knock down the 15 footer comfortably if left open, but on the other hand, only shot 52% from the free throw line—meaning he's obviously not quite there yet. Caracter never put the ball on the floor and generally did not look very comfortable with the ball in his hands out on the perimeter. He's also a poor passer—his
0.17 assist to turnover ratio ranks amongst the worst amongst all draft prospects
, and you regularly got the feeling that once the ball went inside the post, there was a slim chance that it was ever going to come out. He has plenty of work to do on learning how to read defenses and not being single-minded about the plays he's about to execute.
Defensively, Caracter is clearly lacking fundamentals, both in his positioning as well as his defensive rebounding. He was incredibly foul prone as a freshman (his
8.7 fouls per 40 minutes ranks 3rd amongst all draft prospects
, and that wasn't a fluke judging by the way he bites on pump fakes, gives up space in the post, moves his feet poorly on the perimeter, and uses his hands excessively. He looks a little bit more low-energy in his body language than you might prefer, even though probably not quite as bad as his exceedingly lazy reputation would indicate coming out of high school. That obviously has everything to do with the coaching staff at Louisville, which has absolutely done the right thing keeping him on a short leash and holding him fully accountable for his actions, for probably the first time in his life.
By all accounts, Caracter is actually a very smart and personable kid who has a lot to say for himself. With that said, he's struggled with weight and academic issues for years now and bounced around constantly from high school to high school. He was in and out of Rick Pitino's doghouse last year, and was suspended for the start of the season for accepting improper benefits from a family friend. His ties with agent/runner Eddie Lau have also been well documented. NBA teams have known to shy away from drafting players with questionable characters (at least high in the first round) in the past, so any more off the court incidents could prove fatal for Caracter's draft stock. A monster season, though—with not a peep in the papers coming from off the court--would have the exact opposite effect.
#4: Hasheem Thabeet, 7-3, Sophomore, Center, Connecticut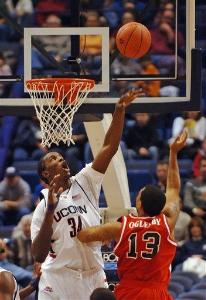 Mike Schmidt
Imported from Tanzania, Thabeet gained attention on the AAU scene after his senior year in high school, and choose to play for Jim Calhoun at UConn. Though there was much buzz about his draft potential entering his freshman season, but he proved to be even rawer than advertised, though he did manage to make a considerable impact on the defensive end of the court. After flirting with the decision to enter the NBA Draft, Thabeet opted to polish his game with another season at Connecticut.
His physical tools alone will keep NBA scouts in the gym at every single game to watch Thabeet. He looks like he was built to play basketball, standing at 7'3" with a massive wingspan and huge hands. Combine this with a chiseled body, and outstanding mobility for a player his size, and it becomes obvious that few prospects in the college game compare to Thabeet physically.
Defensively, the center from Tanzania made a big impact his freshman season, swatting 3 shots per game in just over 24 minutes of playing time—ranking him second in the country in this category per 40 minutes. Thabeet improved his understanding of proper help defense as the season progressed, and opposing players began to challenge him less in the paint. Foul trouble plagued the inexperienced center early in the conference season until he became comfortable with the idea that he could block shots with his wingspan and vertical leap alone.
Though effective as a shot-blocker, most other areas of Thabeet's game need serious work based on his play last season. Offensively, he scored the majority of his points by just finding the open spot behind the defense, and dunking the ball-- if he managed to catch the pass. With his back to the basket, Thabeet found himself sometimes shying away from contact rather than going to the hoop aggressively. The timid mindset seems to stem from his lack of experience, and it is possible that we see a more aggressive player as he learns the game. Two areas must improve for Thabeet before he becomes a potent offensively threat based on size alone. First of all, he needs to work on his touch inside 10 feet, and secondly he must be stronger and more aggressive with the ball. On numerous occasions, the defense stripped the ball from him on plays that should have resulted in an easy dunk.
Thabeet shows good natural instincts on the glass, possessing all the tools to become an excellent rebounder down the road. Better hands will again be more important in this area, but he has both the timing and positioning down.
Projecting
Hasheem Thabeet
's draft position remains a difficult task, though he clearly has his mind on making the jump to the next level. With his natural athleticism and shot-blocking ability, he has all the tools to become a top 10 pick some day. On the other hand, the raw offensive game and lack of experience really hurt his game as of now. Couple that with the fact that questions about his true age are starting to pop up, and the picture gets even muddier. Choosing to return to school was obviously a smart choice for Thabeet basketball wise, and Jim Calhoun has a great deal of experience in turning raw big men into NBA-caliber players. Thabeet will have to go the extra mile himself, though, as he doesn't stand a chance unless he truly develops an outstanding work ethic and love for the game.
Paul Harris, 6'5, Sophomore, PG/SG/SF, Syracuse
Joseph Treutlein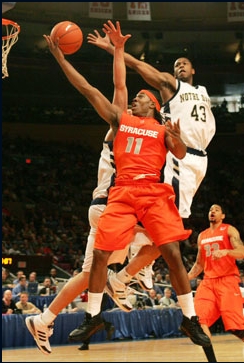 Paul Harris saw playing time in every game last season for Syracuse, but his minutes fluctuated and his role wasn't as large as many expected it to be. This season he should have a chance to break out and show more than just flashes of what he did last year. Harris averaged 8.6 points and a remarkable 7.1 rebounds for the Orange in just 21.7 minutes per game, though there are a lot of areas he could stand to improve.

Harris' offensive game at this stage is mostly characterized by explosive finishes at the rim, be it catching the ball on a cut, coming around a screen, or pushing the ball in transition. He uses his athleticism extremely well in this area, showing a good deal of creativity at the rim and a tremendous ability to take contact, as he's built like a superhero. Harris favors going to the right with the ball in his hands, though he's also able to go left. Harris didn't look great in isolation situations last season, doing most of his damage when he caught the ball with his defender in less than ideal position. He still needs to work on using his excellent athletic ability and strength to consistently get by his man in one-on-one's. Harris is also susceptible to charges in transition, often going full speed into the lane with no plans to adjust his body, as he is strong enough to go through most defenders.

The area Harris most needs to work on, though, is his outside shooting, something that has plagued him as long as scouts have known his name. He showed some confidence with his mid-range shot this season, even looking good at times when wide open, but he's inconsistent and prone to bad misses, especially when on the move, with a man in his face, or when outside the 15 foot range. He converted just one of 20 three-pointers on the season, though his free-throw percentage was .681, which isn't bad given where his shot was last summer.

Harris also does a good deal of damage in the post area, fighting for position with a man on him or sneaking into open space to catch dump-offs in the lane. Harris isn't afraid to post up anyone, but this hurts him at times when trying to finish over longer defenders. Harris is frequently matched with power forwards on offense, which limits what he can do with his post game at this level. Still, he should be a definite post threat in isolations at the next level against weaker shooting guards.

Harris' rebounding is a very exciting thing to watch, as he goes after pretty much every loose ball, and often is able to grab rebounds from out of position due to his phenomenal vertical leap and length. He's tenacious in attacking the boards, though he sometimes has trouble going straight up with it on offense due to his size. To emphasize just how good a rebounder the 6-5 freshman was, consider that ranked evenly with Greg_Oden in this category on a per-minute basis).

Defensively, Harris hardly got to show what he was capable of last season, and that shouldn't change this season in Syracuse's zone defense. Harris has excellent physical tools on the defensive end and has the potential to be a lock-down defender, but it's hard to tell in the zone. Still, Harris played attentive defense in the zone, handling his assignment well, cutting off passing lanes, and playing aggressively when placed in isolation situations.

Another skill Harris didn't get to show much of is his point guard abilities, something he has shown at the high school level. He definitely has more of a combo-guard's mentality, but has a good, low-to-the-ground handle and the ability to create for teammates. He may not get the chance to show these things consistently at Syracuse, but he definitely has the potential to play the point in a pinch at the next level.

All in all, Harris didn't have as impactful a freshman season as many expected, but he still showed flashes, and has plenty of room to improve this season. There's no telling when he'll declare from the NBA, or where he'd get drafted (especially when you consider that he's already 21), as there are a lot of areas he could stand to work on, most notably his outside shooting. Depending on his development, he could go in the lottery or the second round, and this season should be imperative for him.