#6: Earl Clark, 6'8, Sophomore, SF/PF, Louisville
Joseph Treutlein
#7: Stanley Robinson, 6-9, Forward, Sophomore, Connecticut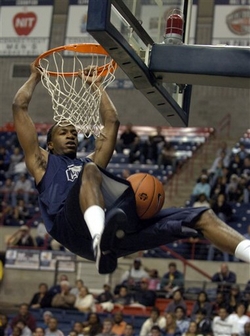 Mike Schmidt
An athletic combo-forward,
Stanley Robinson
showed flashes of potential as a freshman, but was very streaky throughout the season. After a breakout 21 point performance against Indiana, he failed to score in double figures the rest of the season, and spent a good amount of time sitting on the bench during the last half of the Big East slate. Robinson must look to add consistency this season to his raw, but developing game.
Robinson started his development playing power forward, but must work on transitioning his game to the perimeter for the next level. Physically, he stands at around 6'9" with a well built frame. He already has good strength and explosiveness for his size, but his frame should allow him to become stronger, without sacrificing in the quickness department. Watching him run the floor and explode for a dunk, his freakish athleticism makes it obvious that he has the physical make-up of an NBA player.
It is easy to see how aggressively Robinson plays, and the energy he brings to the floor. On every dunk attempt, he tries to tear the rim down, and the sophomore forward shows no fear in going inside to fight for rebounds. In games where Robinson received extended playing time, his rebounding numbers were always fairly high.
Offensively, Robinson scored the bulk of his points last season by spotting up for jumpers. He shot the three pointer at a 38% clip, while showing the ability to hit the mid-range jumper as well. Off the dribble, the sophomore also appears to be comfortable shooting the ball. Ball handling ability limits what Robinson can do as a slasher for the time being. When attacking the basket, he looks like a big man without a great deal of experience handling the ball, and the same can be said for the way he finishes at the hoop. To reach his full potential, Robinson will need to better utilize his athleticism to both finish and draw fouls off the dribble.
Defensively, Robinson was effective at times during his freshman year, though uncomfortable at times guarding quicker players. To prepare for the NBA, he must become accustomed to positioning himself properly to defend players on the perimeter. The combination of quickness and strength does give Robinson good potential on the defensive end, however.
Stanley Robinson
has the tools to become a first rounder in the future, but he remains raw for a small forward prospect at this point. As was the case last season, he will likely have to play this season by picking up points where he can, since UConn probably won't run many plays for him. If he can focus on developing his ball-handling, look for Robinson to break out somewhere around his junior season at the earliest, and enter the draft in 2009 or 2010.
#8: Joe Alexander, 6-8, Junior, Small Forward, West Virginia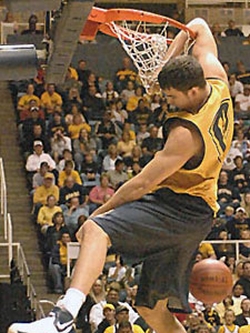 Jonathan Givony
#9: Dominic James, 6-0, Junior, Point Guard, Marquette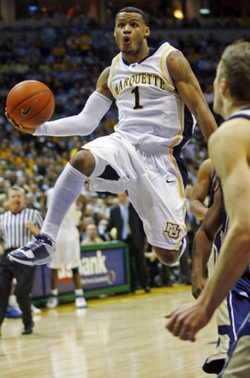 Joey Whelan
#10: Scottie Reynolds, 6-1, Sophomore, Point Guard, Villanova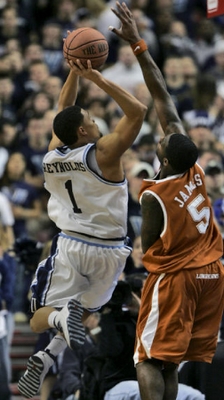 Rodger Bohn