We conclude our coverage of the top NBA Draft prospects in the Big Ten with scouting reports on prospects 12-15:
Vitto Brown
,
Isaac Haas
,
James Blackmon
and
Ethan Happ
.
---
More DX Conference Previews
-The Top NBA Draft Prospects in the Big East
-The Top NBA Draft Prospects in the Pac-12
-The Top NBA Draft Prospects in the Big 12
-The Top NBA Draft Prospects in the SEC
---
Top NBA Draft Prospects in the Big Ten
Part One
(#1) OG Anunoby
Part Two
(#2) Thomas Bryant
Part Three
(#3) Miles Bridges
Part Four

(#4) Nigel Hayes
(#5) Malcolm Hill
(#6) Keita Bates-Diop
(#7) Melo Trimble
Part Five
(#8) Vince Edwards
(#9) Justin Jackson
(#10) Caleb Swanigan
(#11) Josh Langford
---
#12, Vitto Brown, 6'8, Senior, Power Forward, Wisconsin
Ryan Thomson
Vitto Brown committed to the University of Wisconsin (then coached by Bo Ryan) in September of 2012 after a successful career at Bowling Green High School in Ohio, that saw Vitto become the school's all-time leader in rebounds and blocks. A relatively unheralded recruit, Brown was the 216th ranked player in the class of 2013 according to the RSCI, and represents one of the final (of many) diamond in the rough finds during the Ryan era of Badger basketball.
As a freshman, Brown saw action in only 14 games, playing behind a talented front-court consisting of Frank Kaminsky, Nigel Hayes, Duje Dukan and Sam Dekker. As a sophomore, it was a similar story for Brown, playing behind the same talented group, but being able to see action in 33 games for the Badgers, again with a very limited role, averaging 6 ½ minutes per game. With that group all but departed, save for Hayes, Brown found an abundance of playing time under newly appointed head coach Greg Gard, starting 33 of 35 contests and averaging over 25 minutes per game.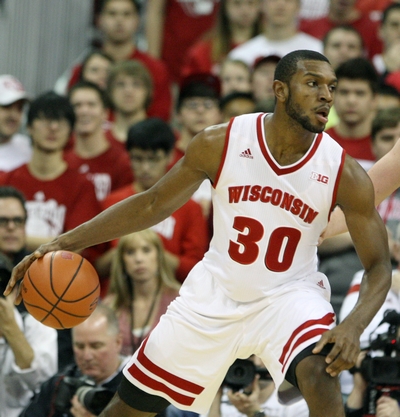 Listed at 6'8, and possessing a reported 7'3 wingspan and 9-foot standing reach, Brown has terrific length for the power forward position. He is a capable athlete who can finish above the rim in transition and the half-court, particularly when he is able to elevate off two feet. Brown has a solid frame but needs to continue to add strength.
Brown saw a huge jump in his offensive responsibilities as a junior and responded adequately, scoring 15.3 points per-40, but shooting only 46.9% on two-point shot attempts, a relatively uninspiring percentage for a front-court player. Around the rim, Brown shows capable footwork when he plays under control and isn't forcing the issue. He shows some ability to finish dump offs and offensive rebounds (2.7 offensive rebounds per-40) with his right hand, but needs desperately to improve his willingness to use his left hand. Brown struggles to score in the low post, lacking the physical presence and feel to be consistently effective. He is determined to finish with his right hand and hasn't shown an ability to make a counter-move and finish, often times forcing a low percentage shot rather than moving the ball.
Brown's greatest value as an offensive player is his ability to stretch the floor from the power forward position. Prior to his junior season, Brown had only taken 29 three-point attempts, before making 40 this past season. He converted 40% on 2.7 attempts per game, which isn't a large sample size, but shows interesting potential that NBA teams will want to continue to monitor considering the premium the league is placing on stretch 4s. He has good shot preparation and gets terrific elevation that helps negates what is a relatively flat release. Despite having a hip-swivel that impacts his consistency, Brown shot 51.2% on all pick and pop possessions as junior, per Synergy Sports Technology. Brown has a deceptive first step to get by bigger defenders but he is not reliable when asked to put the ball on the floor. Too often Brown can be forced into taking low percentage, contested shots off the dribble, and when asked to be a playmaker, Brown struggles at times to make good decisions with the ball, generating very few assists in his career. Brown is a shoot first, pick and pop big who needs to find the delicate balance of being aggressive and unselfish as a senior.
Brown's physical tools shine through at times on the defensive end of the floor. He is comfortable guarding on the perimeter, showing a willingness and ability to move his feet well laterally and contest shots at the rim without fouling. Despite his length, Brown's effort on the defensive end does not often result in statistical output, recording only 0.9 steals and 0.9 blocks per-40 as a junior, an indication of his still developing feel for the game.
As an off-ball defender, Brown's engagement levels, awareness and basketball IQ need to show improvement as a senior. He has the versatility to be a multiple position defender for stretches, but often finds himself out of position or late on switches and close-outs. Brown isn't physically strong enough to guard centers at the moment, but shows the potential to guard bigger wings and power forwards. In order for Brown to be considered an asset on the defensive end he will need to improve his commitment to the defensive glass which saw him average only 5.3 defensive rebounds per-40.
Returning to Wisconsin alongside a strong core of upperclassmen, Brown should have a chance to showcase his potentially versatile skill set throughout the season without much added pressure. It will be interesting to see if Brown's shot selection and commitment to the glass improve as a senior and whether he will be able to maintain the high percentage he shot from behind the three-point arc. There is a ready-made role in the NBA for him if so, but we'll have to see if his skill-level and feel for the game catch up with his potential. The fact that he doesn't turn 22 until July bodes well in that regard, as we already know he is a late bloomer based on his sparse playing time his first two seasons of college.
#13, Isaac Haas, 7'2, Junior, Center, Purdue
Matt Williams
One of the largest players in college basketball, Isaac Haas has played a small, but very significant role for the Purdue Boilermakers each of the last two seasons, at 14 ½ minutes per game. Averaging 27.9 points and 10.5 rebounds per-40 minutes pace adjusted, he took a significant step forward last season, solidifying himself as one of the best centers in the Big Ten splitting starting duties with A.J. Hammons and continuing to build his NBA resume.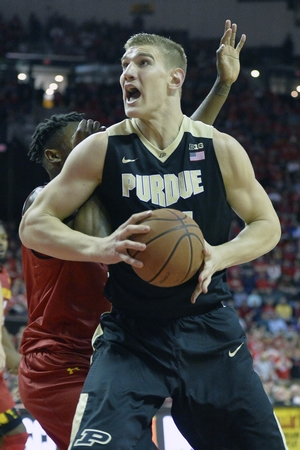 Standing 7'2 with a 7'4 wingspan, and near 300-pound frame, it isn't difficult to see what makes Haas an intriguing pro prospect on first glance. He is a massive human being with a frame far better proportioned than the vast majority of oversized centers to come out of the college game in recent memory. Much like most players his size, however, mobility is not his strong suit. He's tremendously strong, quite coordinated, and even runs well end-to-end, but he lacks a degree of quickness stepping out to defend the pick and roll and rotating over to contest shots inside.
Playing 14.3 minutes per game as a sophomore, down from 14.6 as a freshman, Haas's size, coupled with bouts of foul trouble, makes it a bit difficult for him to play extended minutes. With both Haas and Hammons up front, Head Coach Matt Painter had the luxury of using both interchangeably, but even on his best nights, Haas played right around 20 minutes. It will be interesting to see just how many minutes he's able to play as a junior as he figures to play a far more prominent role offensively than he did when he was splitting with Hammons, who was selected in the mid-second round of the 2016 NBA Draft.
Regardless of how much he plays, there's little doubt that Haas will see a healthy diet of touches inside. The 2016 Boilermakers were one of the most post-up heavy teams in recent major college basketball history, and the Alabama native was fed more frequently on the block in his minutes on the floor than Hammons was, as Painter had his team working the ball inside early and often all year. Shooting an impressive 54% going one-on-one inside, while drawing fouls at a terrific rate and shooting a very solid 71% from the line, Haas proved up to the task a year ago and presents significant matchup problems for many teams every time he steps on the floor at the college level.
With almost 80% of his possessions coming in the post, Haas showed marked improvement creating for himself inside in his second year in the program. There isn't anything particularly glamorous to his post repertoire—he does the most damage using his body to get great position and then making one decisive move to score—but at 7'2, there often does not have to be. Showing nice touch on his right handed hook shot, Haas can be a bit deliberate and expose the ball at times, but his combination of strength, soft hands, assertiveness, and coordination make him a very effective interior scorer at this level.
Sometimes seemingly just throwing the ball at the rim instead of looking to use counter-moves against better defenders, Haas could stand to add a bit more variety to his post arsenal looking ahead to the next level, and it will be worth watching just how much of a force he can be with his back to the basket this season.
A capable finisher, Haas does most of his damage below the rim, meaning most of his non-post up shots come off of dump passes inside rather than lobs or put backs. His size helps him get shots off in close, and he is capable of dunking the ball when given some space, but his lack of explosive leaping ability makes it a bit difficult for him to elevate and score quickly over length. As good of a free throw shooter as he's become, he's yet to show much in the way of midrange scoring ability, which should come as no surprise given the value he brings pounding the ball inside.
Aside from his ability to score, Haas is a slightly improved passer who can be a major factor on the offensive glass as he often simply tosses defenders out of the way when he heads to the glass. If Haas is able to play significant minutes as a junior, it will be interesting to see how he fares as teams begin to double him early and often. He's generated just 25 assists in nearly 1000 minutes of action at the college level thus far, or one every 40 minutes he's on the floor, compared with 93 total turnovers.
Defensively, Haas is a bit of a mixed bag, as he was a decent, but not particularly dominant defensive rebounder and shot blocker a year ago. His sheer size makes him a factor pursuing caroms and contesting shots, but his lack of reactive quickness hurt his ability to use that to his advantage consistently. Not appearing particularly comfortable defending away from the rim, Haas lacks a degree of lateral quickness, but is a passionate player who brings nice energy on the defensive end. Teams regularly looked to draw both him and Hammons away from the rim whenever possible a year ago, so it will be fascinating to see how Haas handles himself now that he is the Boilermakers defensive anchor each and every night.
As the old adage goes, Isaac Haas has a surplus of the things you can't teach. His size alone will pique the interest of NBA teams. Even if the league is moving towards more small-ball lineups, there remains a place for space-eating centers. Haas hasn't proven to be quite the shot blocker or rebounder at this stage that say, a player like Boban Marjanovic is, lacking comparable length and fluidity, but with two more years left in West Lafayette, it wouldn't be surprising to see the young center continue to improve given the typical trajectory of players of his ilk. If Haas can make good on the massive opportunity he'll have this season with Hammons in the NBA, he could go a long way towards convincing scouts he can find a niche in the League.
#14, James Blackmon, 6'4", Shooting Guard, Indiana
Julian Applebome
Indiana native James Blackmon Jr. will return for his junior season in Bloomington, as he looks to bounce back from a promising sophomore campaign that was cut short due to injury. For the third time in his career, Blackmon suffered a serious knee injury, this one being a torn ACL that occurred during a practice in December of 2015, and ended his season after just 13 games. The son of a former fifth round draft pick of the New Jersey Nets, Blackmon was highly recruited out of Marion High School and started all 33 games as a freshman for an Indiana team that finished in the middle of the pack in the Big Ten. He was on pace to have a strong sophomore season before his injury, and will have the chance to be a major piece this year for Tom Crean and the Hoosiers, who lost Yogi Ferrell and Troy Williams to the NBA. Blackmon has been fully cleared for practice and should be at full strength when the Hoosiers kick off their season November 11th in Honolulu against Kansas.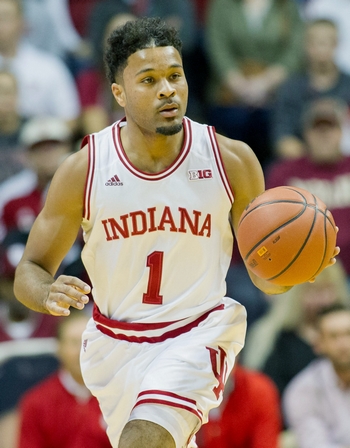 From a physical perspective James Blackmon doesn't particularly stand out. Listed at 6'4, he is somewhat undersized at the shooting guard position, but has a solid 6'8" wingspan which allows him to play bigger than he is in stretches. He is a smooth player, showing solid athletic tools overall, but nothing exceptional by NBA standards. With a running start, he can play above the rim, but doesn't show blazing quickness with his first step and is just an average finisher inside the paint in the half-court. Weighing in at 195 pounds he has a decently built frame, but his game is catered more towards playing with finesse rather than physicality.
Where Blackmon thrives offensively is as an efficient perimeter scoring threat. Blackmon's most translatable professional skill is his ability to shoot from beyond the arc. He has a quick and compact release with deep range, and although he only played in 13 games last season, he started the season looking like one of the most prolific shooters in the Big Ten, connecting on 37 of his 80 attempts from deep last season, an increased percentage from the already strong 38.7% he shot on 199 attempts as a freshman. The majority of his 3-point shots came in catch and shoot situations, benefiting from the tremendous spacing Indiana enjoyed as a team, but he showed he was more than capable of shooting off the dribble when defenses ducked under screens. He wasn't featured often as a shooting threat coming off screens or hand-offs, an aspect of his game that would be valuable at the next level if he can continue to improve on and establish he's capable of.
As effective as he is as a consistent outside shooting threat, the rest of Blackmon's offensive game is a bit of a mixed bag. Blackmon is a solid ball handler who has the skills to occasionally bring the ball up the floor and initiate the offense, but lacks the playmaking skills to consistently run a team. In 46 career games at Indiana over his freshman and sophomore seasons he posted a negative assist to turnover ratio, despite playing in one of the most efficient and team-oriented offenses in college basketball.
He was featured fairly often as the ball handler in pick and roll situations, but the majority of those instances resulted in him looking to score, primarily on early jump shots. He is a smooth and shifty ball handler who can operate at different speeds and find mid-range jumpers, but he lacks a degree of burst and physicality creating space in the paint.
When he does get by his man in dribble-drive situations, he struggles to finish consistently around the rim and is often forced into difficult runners and finesse finishes, which he showed he can convert at the college level, but might be an issue against more length and athleticism. He does use his body well to create room when he has a defender on him, and has showcased some nice footwork which allows him to create space in a crowd. He got to the free throw line at a relatively low rate (3.4 attempts per 40) which is a product of his limited aggressiveness and physicality going towards the rim.
On the defensive end, Blackmon is also somewhat limited because of his average physical profile. He shows some attentiveness at times positioning himself intelligently, but is regularly beaten off the dribble and can struggle to recover on ball screens. He has the length to defend shooting guards at the college level, but his height and strength will be an issue against bigger and more athletic players at the next level. Certainly some of his lapses on defense can be attributed to a lack of consistent effort, but it's difficult to say where he will project as a steady defender at the professional level barring improvement.
Blackmon does contribute effectively as a rebounder from the guard position. He has solid instincts on the defensive glass and has posted an impressive average of 7 rebounds per 40 minutes over his two seasons at Indiana. He is quick off his feet and is particularly effective following up his own misses on the offensive glass and looking for quick put backs.
James Blackmon has had an unfortunate history of knee injuries over the course of his young career, and rebounding from a torn ACL last season and staying healthy for his junior year will be essential to boosting his professional stock. He possesses a unique skill with his ability to stretch the defense and shoot from beyond the arc, but given his lack of ideal size at the shooting guard position, he will need to continue to show that he is more than just a shooter. With the departure of Yogi Ferrell to the NBA, Blackmon will have ample opportunity this season to demonstrate that he has the improved combo guard skills to play at the next level.
#15 Ethan Happ, 6'9, RS Sophomore, Power Forward, Wisconsin
Josh Riddell
After redshirting the 2014-15 season, Ethan Happ had an impressive debut season for Wisconsin and was awarded Big Ten Freshman of the Year honors. The Badgers return effectively everyone from their Sweet 16 team and Happ will once again be called upon to be a go-to offensive player after averaging 12.4 points and 8.0 rebounds per game while using 24.8% of his team's possessions as a freshman.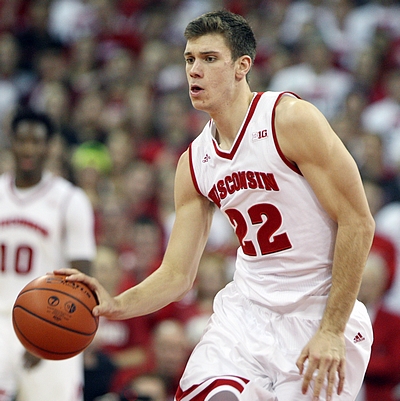 Listed at 6'9" and 235 pounds, Happ doesn't have elite measurables or physical tools and is somewhat stuck between the 4 and the 5 positions. His frame is filled out and he has some upper body strength, but he lacks the type of freakish length, explosiveness or speed relative to other power forward sized big men trying to play up as centers. However, he possess solid athleticism and nice instincts on both sides of the court while playing with a high level of toughness and aggressiveness that helps him play bigger than his actual size.
Happ does most of his offensive work around the rim, and converted 54% of his two point attempts last season, despite not being a high flyer. He can score with his back to the basket and displayed an array of post moves including quick pivot moves to step past his defender. This allows him to start his move from outside the paint and still score as he isn't always strong enough to carve out deep position against defenders of his size. Despite his solid frame, he'll have to get stronger to continue to operate inside the paint as much as he does, as he struggles to protect the ball in traffic and turned the ball over a little too frequently. While he has some nice skills in the post against college defenders, he's not a dominant post scorer and will need to find other ways to contribute offensively for NBA scouts to have a clearer picture of his role at the next level.
Happ has excellent hands and can catch nearly every pass that comes his way which has helped him finish around the rim at a rate of 55.1% according to Synergy Sports Technology. He does need to improve his ability to finish with his left as he is strictly right hand dominant at this point in his career and seems to go out of his way to avoid using his left hand to dribble or shoot. Most of his shots in the flow of the offense stem from baseline cuts as he isn't quick enough to be first down the floor in transition or get to the rim easily out of pick and rolls before the defense can recover.
Not afraid to mix it up inside, he pulled down 3.6 offensive rebounds per 40 minutes, showing a good nose for the ball and an ability to be first to the missed shot despite not being a great leaper. He's also shown a willingness to absorb contact and get to the line by attempting 6.8 free throw attempts per 40 minutes, although he converted on just 64.3% of his attempts from the line.
Attempting just 13 jump shots as logged by Synergy Sports Technology, Happ doesn't stray far from the paint offensively. On the few jumpers he did take, he didn't display a fundamental shooting motion and will have to make substantial improvements to his shot to be effective from the mid-range and out. He has showed some flashes of potential to put the ball on the ground and being able to create offense from outside the paint will help him become a more well-rounded scorer. At 6'9, NBA scouts will want to see more offensive versatility from Happ, as he isn't big enough to play the interior oriented center position he mostly operates at for Wisconsin.
Defensively, Happ had impressive boxscore production to the tune of 7.8 defensive rebounds, 2.6 steals and 1.3 blocks per 40 minutes. This statline was replicated by only four other players last season: NJIT's Tim Coleman, William & Mary's Terry Tarpey, Green Bay's Jordan Fouse, and Boston's Nick Havener. He will throw his body around fearlessly, diving and scrapping for every loose ball. This does get him into foul trouble as he averaged over four fouls per 40 minutes and he will need to learn to control his aggressive nature to not give up needless fouls, while continuing to play with a high energy level.
While no one will question his motor, Happ is often too upright as an individual defender, both on the perimeter and in the post. He doesn't engage with his opponent on post-ups, instead trying to anticipate the pass and jump around his man for a steal. Gambling so much does get him steals but it also leads to some easy baskets at the rim for the opposition and he can do a better job of picking his spots better to jump passing lanes to not give up as many open layups or dunks after not getting the steal.
On the perimeter, he doesn't move his feet very well laterally and will need to improve his ability to stay in front of dribble penetration as this is where he will likely be doing most of his defending going forward. He's shown good instincts and a high energy level and will need to improve his technique and fundamentals to help his team and define his role to NBA scouts.
Already 20 (turning 21 in May of 2017), Happ is one of the older sophomores in the class, but his impressive production to start his collegiate career has gotten him noticed by NBA scouts. He may not be the flashiest prospect with a relative lack of size and athleticism but he's made a name for himself by being highly productive and demonstrating an innate toughness in his game. Scouts will certainly be monitoring his progression on a talented Wisconsin team to see how he develops as he moves forward in his collegiate career.
Honorable Mention:
Duncan Robinson
, Michigan
DeRon Davis
, Indiana
Jordan Murphy
, Minnesota
Jalen Coleman-Lands
, Illinois
Peter Jok
, Iowa
Robert Johnson
, Indiana
Kevin Huerter
, Maryland
Bryant McIntosh
, Northwestern
Jared Nickens
, Maryland
Marc Loving
, Ohio State
Amir Coffey
, Ohio State
Nicholas Baer
, Iowa
Damonte Dodd
, Maryland
Michal Cekovsky
, Maryland
Zak Irvin
, Michigan
D.J. Williams
, Illinois
JaQuan Lyle
, Ohio State
Jae'Sean Tate
, Ohio State
Corey Sanders
, Rutgers
Tony Carr
, Penn State
Shep Garner
, Penn State
Cassius Winston
, Michigan State
Eron Harris
, Michigan State
Bronson Koenig
, Wisconsin
Scott Lindsey
, Northwestern
Moritz Wagner
, Michigan
D.J. Wilson
, Michigan
Muhammad-Ali Abdur-Rahkman
, Michigan