We continue our look at the top NBA draft prospects in the Big Ten with players ranked 6-10.
Trevor Mbakwe
,
Christian Watford
,
John Shurna
,
Rodney Williams
and
Deshaun Thomas
highlight this batch.
Freshmen have been excluded from these previews, as we'd like to wait and see what they have to offer on the NCAA level before we come to any long-term conclusions.
Top NBA Draft Prospects in the Big Ten, Part One
#6 Trevor Mbakwe, 6-8, Senior, Power Forward, Minnesota
Having profiled Mbakwe fairly late in the season with a comprehensive scouting report, we've elected to wait and see what type of progress he's made with a fresh perspective in a few months, rather than rehashing many of the same comments made last year based off his 2010-2011 game footage.
#7 Christian Watford, 6'9, Junior, Forward, Indiana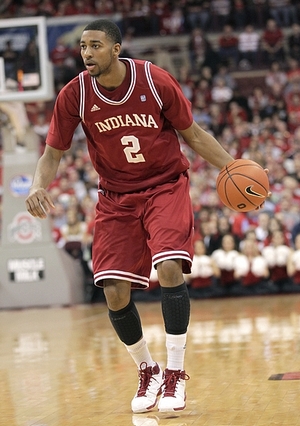 Matt Williams
Last time we checked in on
Christian Watford
, we opined that the extensive playing time he saw as a freshman would pay dividends for him as a sophomore. Despite struggling to boost the Hoosiers above the .500-mark, the rising junior definitely reaped the benefits of the minutes he played in 2010, showing substantial improvement in a number of facets of the game.
As a freshman, the Alabama native spent most of his time playing a basic, hustle-based role as a power forward, seeing most of his touches working off the ball in the paint. He struggled with the strength of opposing four men on both ends, but flashed an intriguing, albeit raw skill set.
This past season, Watford was able to play much more like the small forward he showed the potential to be as a recruit, stepping out to the perimeter regularly to spot-up, operate one-on-one, and even run the occasion pick and roll.
This shift to the perimeter let Watford play in his comfort zone. Despite having to get creative to find ways to get open at times, Watford got a chance to face the basket away from the rim at an exponentially higher rate than he did as a freshman, even if he was mostly doing so in a losing cause playing for a team that went a disappointing 3-15 and finished last in the Big Ten.
This new role also let Watford showcase his improved jump shot. After knocking down just 27.9% of his jumpers as a freshman, Watford connected on 35.3% as a sophomore—including 37 3-pointers--looking far more comfortable shooting both off the catch and off the dribble while finding a rhythm in his somewhat lengthy mechanics.
Watford showed some degree of progress as a back-to-the-basket scorer, improving his field goal percentage in post-up situations from 30% to 40% according to Synergy Sports Technology. Though Watford remains on the skinny side, it was clear that the bulk he did add and the experience he gained as a freshman made him more comfortable mixing it up down low.
Though Watford made some big strides last season and is poised to have a break out year for what should be a significantly improved Indiana squad, there are still lingering questions about his NBA potential.
Despite taking a small step forward as a post-scorer, Watford still
ranked last in our database among power forwards in 2P% at 43.8%
and struggled to finish when quicker defenders cut off his lane to the rim and forced him to attempt a runner. He will need to improve as a passer or shore up his ball-handling ability and decision-making to compensate for the fact that he doesn't have blow-by quickness or outstanding explosiveness at the rim.
In addition to his occasional struggles inside, Watford's skill set still leaves him a bit in between position from a NBA perspective as he doesn't have great size and interior efficiency for a four, but still hasn't quite shown the polish and ball-handling ability that allowed college four-men like
Danny Granger
to make the transition to the wing full time. Considering what he showed last season, it wouldn't be surprising to see Watford define his future position with a bit more clarity this coming season.
Though Watford has some loose ends to tie up with regards to his position offensively, the more pressing concern for scouts is who Watford defends at the next level, as well as his rebounding. He uses his length well to contest shots in the post and has solid fundamentals, but his lack of explosiveness and strength are a potential limiting factor down low, and his inability to consistently deny dribble penetration against wings is problematic on the perimeter.
On the glass, Watford's lack of production is indicative of his laid-back approach, as well as his lack of strength and explosiveness. Watford recruit boxes out somewhat effectively, and pursues the ball in his area, but doesn't bring the warrior-like mentality that would help him on the board and as a defender.
Watford has had a busy summer, working as a counselor at the
Kevin Durant
Skills Academy and competing in the Indy Pro-Am alongside a number of current and former Hoosier standouts. If he takes another sizeable step forward as a perimeter player, he will take a substantial amount of pressure off of incoming freshman
Cody Zeller
and put himself in good position to show NBA scouts that he's a prospect who needs to be taken seriously. Helping his team win more games than they did last season would surely help his cause.
#8 John Shurna, 6-8, Sophomore, SF/PF, Northwestern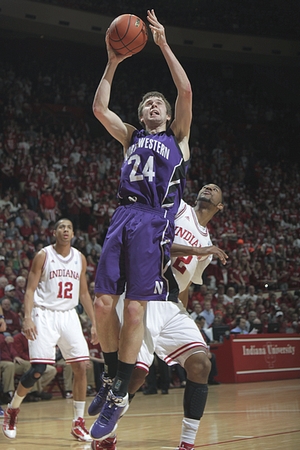 Joseph Treutlein
After taking a large step forward with his game as a sophomore,
John Shurna
mostly stood pat in his junior season, actually seeing a slight reduction in production in a few areas. Shurna did improve on his three-point shooting, which is critical for his NBA chances, but still faces a few question marks with his game as a senior.
On the offensive end, Shurna has a very cut-and-dry game with his biggest assets clearly being his spot-up shooting ability and superb basketball IQ. Playing in his team's Princeton Offense, Shurna does an excellent job reading the floor with and without the ball, facilitating ball movement and spacing for his team.
Shurna's basketball IQ shows up in his passing game, where he's very adept at reading lanes and angles, while frequently making pinpoint passes on backdoor cuts to his teammates. He finds himself on the opposite end of these plays just as often, where he shows very good coordination on catch-and-finishes in the lane. Not the best athlete from a quickness or explosiveness standpoint, Shurna does manage to elevate well on these cuts, where he builds momentum with a running start without having to dribble.
In terms of his shooting abilities, Shurna has a quick release with NBA range and he hit an impressive 43.4% from behind the arc as a junior on 5.4 attempts per game. His shot has a slight pushing motion to it, but his combination of quick mechanics and always being ready off the ball helps him get off his shot with ease. Shurna is also serviceable knocking down spot-up shots from the mid range, coming off screens, and hitting one-dribble pull-ups in space, where he shows good decision-making ability and rarely forces shots.
Moving beyond his contributions as a passing, cutting, and shooting cog in his team's well-run offense, Shurna is lacking in more dynamic offensive attributes, being very underwhelming when it comes to creating his own offense. Not possessing a great first step or ball-handling ability, Shurna struggles in pure isolation situations and isn't frequently able to either get space for a pull-up jumper or get past his man going to the basket. And aside from an occasional turnaround jumper from the mid-post, he doesn't bring much to the table with his back to the basket either.
Shurna does handle himself fairly well on drives to the basket where he starts with a half-step on his man, doing a good job controlling himself on straight-line drives and showing nice creativity and touch around the rim, but his lack of athleticism and strength show up when facing help-side defense in the lane, where he will likely face much more trouble at the NBA level.
On the defensive end, Shurna appears to be somewhat caught between positions, not having the lateral quickness necessary to defend NBA 3's and not having the length or strength to defend NBA 4's. He's almost always his team's de facto power forward on the floor at Northwestern, but he's frequently matched up with players who are more stylistically similar to NBA small forwards.
Measuring out a surprising 6-10 in shoes at the New Jersey workouts helps his cause somewhat, but the fact that he has just a 6-8 ½ wingspan negates that somewhat.
In isolations, Shurna is frequently beaten off the dribble by his man, though he does a good job contesting shots from behind while riding his man's hip in the lane. Shurna's problems defending post-ups are even more concerning, where he is severely lacking in lower body strength and is backed down and scored over at a very high rate. To Shurna's credit, he is very attentive and scrappy on the defensive end, constantly hustling and not often being caught out of position, but his lack of position and underwhelming physical attributes are problematic. As too is his glaring weakness on the boards, where he pulled in just 6.0 rebounds per 40 minutes pace adjusted as a junior, a step back from his 7.4 as a sophomore, which was already very poor.
Looking forward, Shurna brings some clear-cut positive attributes to the table from an NBA perspective, namely his three-point shooting, passing, cutting, ability to play in a team offense, and general basketball IQ. He's clearly caught between positions defensively, but his best chance would appear to be as a reserve stretch-four for a team that plays small ball, where his negative attributes could be somewhat curbed. Maximizing his physical attributes, becoming a more serviceable rebounder, and continuing to improve as a three-point shooter could all help his stock, but he doesn't appear to have a ceiling much higher than what he currently is.
With that said, there are a number of players in the NBA who fit a similar mold, so clearly there is already a blueprint in place for him to find a niche in the league.
#9 Rodney Williams, 6-7, Junior, Small Forward, Minnesota
Having profiled Williams fairly late in the season with a comprehensive scouting report, we've elected to wait and see what type of progress he's made with a fresh perspective in a few months, rather than rehashing many of the same comments made last year based off his 2010-2011 game footage.
#10 Deshaun Thomas, 6-7, Sophomore, Small Forward/Power Forward, Ohio State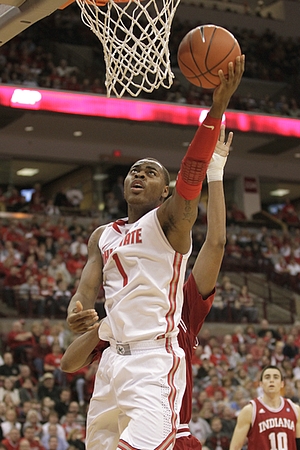 Walker Beeken
After playing only 14 minutes per game as a freshman at Ohio State in 2010-2011,
Deshaun Thomas
should see a much larger role this season, following the departures of
David Lighty
,
Jon Diebler
, and
Dallas Lauderdale
. Utilized mainly as a sparkplug off the bench last season who could score points in bunches, the Buckeyes will need Thomas to display more of an all-around game as a sophomore.
Standing 6'7" with a fairly thick frame, Thomas is a classic combo forward at the college level who will likely be labeled as a tweener by many when discussing his NBA position. He's likely better suited long-term as more of a small forward, but he'll need to focus on tightening his body to maximize his explosiveness. He's already a fairly limited athlete by NBA small forward standards, and he looks to have the type of body that could add too much weight if he's not diligent about his diet and workout regimen.
Offensively, it doesn't take long watching Thomas to realize that he's gifted as a scorer. The lefty scored an impressive 21.5 points per forty minutes pace adjusted as a freshman in a complimentary role, doing much of his damage off catch-and-shoot opportunities. He has range well past the college 3-point line, a quick release, and plenty of confidence in his stroke.
He does, however, struggle with shot selection at times and has a tendency to rely too much on his jump shot. He shot only 29% on jumpers shots as a freshman, including 33% from behind the arc. He looks to be a better shooter than though, and should see those numbers improve as he does a better job of understanding what a good shot is.
Thomas' role last season was mainly to be a scorer off the bench, but he'll need to mix up his game a bit more this season to help his team win games and earn praise from NBA scouts. He showed glimpses of being able to utilize his size to post up smaller players and put the ball on the floor to get to the rim, but he'll need to do more of that this season. He'll also need to focus on keeping the ball moving and finding ways to fit in and play within the system on a talented Buckeye team.
Defensively, Coach Thad Matta generally gets his guys to compete hard, which should serve Thomas well. He had the reputation for being somewhat of a careless defender coming into college, so playing under Matta should help him develop the consistent intensity he needs to play with on the defensive end. From what we saw last season, the results were a mixed bag, but he'll see more minutes this season, and we'll get a better idea of where is he defensively.
Down the road, Thomas may lack the lateral quickness to adequately contain many NBA small forwards on dribble penetration. He does a nice job on the glass though, as evidenced by his 10.5 rebounds per forty minutes pace adjusted last season, which should enable him to be able to play some power forward in smaller lineups, where he could use his perimeter shooting to space the floor.
Thomas also did an excellent job on the offensive glass as a freshman, earning himself more touches and buckets in the process. His 5 offensive rebounds per forty minutes pace adjusted ranked second of all small forwards in our database last season, giving his offensive efficiency numbers quite a boost, as he connected on 54% of his 2-pointers, thanks to his putbacks.
Overall, this season should be very telling for Thomas. He has the makings for a potential breakout season, and Ohio State should be one of the top teams in the country, giving him plenty of exposure to showcase himself. If he competes consistently on the defensive end and learns how to fit in offensively, he could be a big name on the college basketball scene in 2011-2012.