#11: Jeff Pendergraph, 6-9, Junior, Power Forward, Arizona State
Joey Whelan
If Arizona State is looking to improve their abysmal 8-22 record from a year ago, then junior
Jeff Pendergraph
is going to have to step his game up even more from a year ago. As a sophomore, Pendergraph posted averages of 12.1 points and 9.1 rebounds, both of which led the Sun Devils.
At 6'9" and 230 pounds, Pendergraph has a decent frame, but isn't an ideal prospect physically for a power forward at the next level. He has good length and is a solid athlete, but his tremendous timing and hustle inside, especially on the glass, make him more effective than maybe he should be. He's put up good numbers in college so far playing on a very bad team, so the question is how his production will translate over to the next level.
The majority of Pendergraph's scoring comes from inside the paint. He sets good screens, moves off the ball well, goes strong to the basket and shows some signs of explosiveness with the occasional thundering dunk if given the opportunity. Overall though, Pendergraph's post game is very raw and needs to be further developed. He shows some nice touch on his baby hook shot and is working on a turn around jumper as well. Pendergraph's biggest problem right now is he tends to rush his moves. More often than not if he has his defender on his back, he will go to the turn around, but he tends to release the shot before he is actually squared to the basket. If he can work on slowing down this move, there is potential for it to be very effective.
Pendergraph shot 55.1% from the field last season, mainly due to how many shot attempts he gets off of offensive rebounds. The junior has outstanding hands and pulled down just under four offensive boards per game last year, which is a fantastic number. Two numbers need to improve in conjunction with his offensive rebounds prowess however. Pendergraph averaged 12 points and just three free throw attempts last year. He should probably be getting more touches in the post next year and should try to make more of them despite his lack of strength.
When he isn't doing work inside, Pendergraph has slowly started to develop a mid-range game. As the season progressed he was growing more comfortable releasing the ball from out as far as 16 feet, which is a good sign. He likes to float along the baseline and sneak behind zone defenses to spot up, and he also likes to catch, turn and shoot from the baseline. Pendergraph needs room to get his shot off, though, due to his lack of ability to create any sort of shot for himself off the dribble, sometimes leading him to fade away on his shot.
Defensively, Pendergraph played solidly inside for Arizona State. While he does a poor job fronting the post and preventing entry passes, he does a good job holding his ground and using his wingspan to make life tough for opponents. He doesn't box out tremendously well on the defensive glass but again he makes up for it with his great hustle and very quick second jump. Pendergraph does get into trouble when he is forced to play defense out on the perimeter. He doesn't have great lateral quickness,, so it is fairly easy to beat him off the dribble. His lack of a tremendous vertical jump also doesn't make him much of a shot blocking threat at this point.
Pendergraph is a raw player who is very much still developing his game on both ends of the floor. Despite this, he has already put up solid numbers in his two seasons with the Sun Devils. He is simply a smart, opportunistic player who just gets the job done. With his development over the course of last season, there is no reason to think he won't be able to surpass his eight double-doubles from last year. While Pendergraph may not be receiving the same exposure as some of his more hyped Pac-10 opponents, an increase in his numbers from last season would certainly draw some attention.
#12: Bryce Taylor, 6-4, Senior, Shooting Guard, Oregon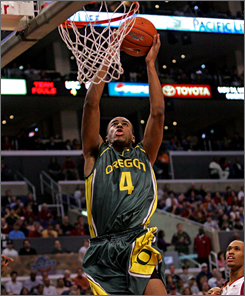 Jonathan Givony
With
Aaron Brooks
graduating to the NBA, the Oregon Ducks will need their senior
Bryce Taylor
to step up in a major way to have any chance at matching last year's terrific feat of reaching the Elite Eight. Coming off a spectacularly efficient season—averaging 14 points per game on 52% shooting from the field and 42% from behind the arc (ranked 3rd in True Shooting Percentage amongst all players currently on our draft board)—Oregon fans will hope that it's only a matter of getting the unselfish Taylor more shots in order to up his production. From what we can tell on tape, it might not be that simple.
Taylor is clearly the type of player every college coach in America would like to have. Standing somewhere around 6-4, he's first and foremost a terrific spot-up shooter, thanks in part to his excellent shooting mechanics. Taylor does a great job coming off screens and is deadly when he has a chance to set his feet and get a clean look. When rushed, or particularly when forced to put the ball on the floor before spotting up, his percentages drop significantly—something that he'll clearly have to work on to make it at the next level. He has very little mid-range game to speak of, looking awkward and unpolished when attempting to pull up off the dribble and create separation from a defender.
That's rarely noticed within a game, though, as Taylor is a smart, steady, efficient player who is always under control and really knows how to pick his spots. He regularly finds seams in the half-court either by moving off the ball intelligently and cutting towards the basket, or putting the ball on the floor in a straight line towards the hoop when the defense is momentarily unbalanced. He's also a very good finisher in transition, looking very quick to rise up for a dunk, and being noticeably crafty and creative with his layups around the rim.
When trying to project how his game translates over to the NBA, though, there are a few question marks that emerge. Not being particularly big or athletic, Taylor will have to improve his ball-handling skills to not be labeled as a one-dimensional player. Defensively, his lateral quickness looks fairly average, although he does put a good effort in on this side of the floor and is as noted, a very smart player.
Taylor will need to have an All-Pac-10 type season, complete with a deep run in the NBA tournament, followed by a strong pre-draft to keep his name strong in the mix on teams' draft boards. It's not out of the question that he makes it, but he's also not a lock at this point.
#13: C.J. Giles, 6-10, Center, Junior, Oregon State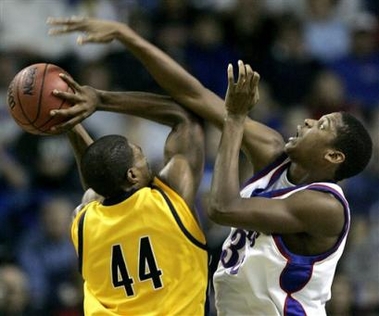 Mike Schmidt
The season was over before it started for Giles last season, who was kicked off the Kansas basketball team due to a number of issues off the court and academic problems. The talented big man decided to transfer to Oregon State, where he will be given every opportunity to shine this season, and where he must show progress on the court as well as maturity off the court to improve his draft stock.

Giles possesses excellent physical attributes for an NBA big man, starting with a 7'4" wingspan and an excellent frame which he has clearly worked on over the course of his college career. He has a picture perfect body for an NBA center, and the bulk he added during his two years at Kansas has not affected his athleticism one bit. When motivated, Giles runs the court like a guard, which led to some easy baskets for the Jay hawks two seasons ago.

Offensively, the 22 year old center has some decent tools, including a right handed hook shot that he relies on out of the post. In addition, he can step out to 17 feet and hit the open jumper with solid consistency. Due to his great length, Giles also picks up a number of garbage points inside, where it is nearly impossible for opposing bigs to stop him from scoring. Unfortunately, he has very little to work with in terms of moves in the post, and his left hand was non-existent during his two seasons at Kansas. Giles also has struggles with catching the ball as well, even though he usually establishes great position on the low block.

On defense, Giles has a rare combination of timing, athleticism, and length that makes him a potentially great shot-blocker. During his sophomore year, he started to put these tools to work, especially with his man to man defense in the low post. As a help defender, the talented center missed far too many rotations to have a big impact as a weak-side shot-blocker. Giles also has the potential to become a very good rebounder, though he relies on length and athleticism at this point rather than using his body to gain position. He often loses the inside position anyway by attempting to block shots despite his lack of position to do so. Right now, most everything regarding his draft stock has to do with his potential and size, and not production.

This will be a telling season for Giles both on and off the court. If he finally gets his act together and shows progress on the court, he could easily make himself a first round pick in the 2008 NBA draft. Oregon State will rely heavily on his play in the middle this season, so he should have every chance to show he's made strides with his game in his red-shirt season. Few prospects have the natural gifts that Giles possesses, but some added maturity will go a long way in proving he's ready to make the leap to the next level.
#14: Lawrence Hill, 6'8, SF/PF, Junior, Stanford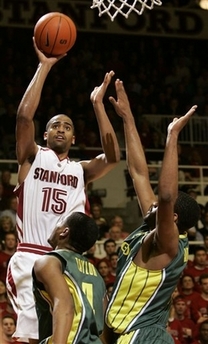 Rodger Bohn
Hill was one of the more improved players in the country last year, increasing his scoring output by 11 points from his freshman to sophomore campaign. Playing for the Cardinal, he is placed in a situation that benefits him greatly in terms of showing NBA scouts his full arsenal of skills. For most teams, Hill would be used as a power forward, but due to the presence of two seven footers in the starting lineup (the Lopez twins), he is able to play outside on the perimeter much more. Making the most of this opportunity, he shot a sizzling 41% from beyond the three point arc as a sophomore for Stanford.

Standing only 6-7 or 6-8, Hill is undersized for the power forward position, yet not fully developed as a small forward. He is able to shoot the ball with consistency beyond the collegiate three point line, although his mechanics could use some refinement. The junior forward causes match-up problems, scoring against bigger players from the perimeter, while taking smaller defenders down to the low post. He does an excellent job of exploiting mismatches, often relying upon short pull-up jumpshots when unable to get all the way to the rim. Clearly Hill is a player who knows his limitations on the offensive end, and his molded his style of play to cater to his strengths.

Although he played the small forward position the vast majority of time he was out on the floor, Hill is not a very creative player, as far as his one on one skills are concerned. His ball handling and passing abilities are limited to say the least, as he looked uncomfortable any time he put the ball on the floor more than two or three times last season. The All PAC-10 Team selection struggles with passing the ball into to the post as well, frequently being unable to enter the ball in from the wing and/or turning the ball over.

Defense is one area of the game that Hill has shown to be awfully cerebral in, despite his physical limitations. Not the quickest player laterally, he makes up for his lack of speed with knowledge of how to actually play team defense. His physical liabilities hurt him especially when guarding players on the perimeter, and Hill is a much more adept defender in the post, displaying nice toughness and rebounding talents.

While Hill does not have the upside of many of the players ranked above him in this conference, he is more productive then the large majority of them. His lack of ideal size and athleticism make him a more marginal prospect than some of his more hyped counterparts, but at the end of the day, Hill is still a player that NBA personnel will need to monitor closely to evaluate the progress of his perimeter skills.
#15: Maarty Leunen, 6-9, Senior, Power Forward, Oregon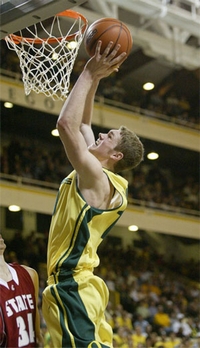 Jonathan Givony
The "glue guy" behind Oregon's surprising run to the Elite Eight of the NCAA tournament last year,
Maarty Leunen
continued to make small, but steady strides on his way to becoming a very reliable and much needed big man presence on a team dominated by trigger happy wings. His willingness to do the little things for Oregon as well as his ability to spread the floor was one of the most important factors in his team having as much success as they did all season long. This year Leunen will be expected to continue to do much of the same, while possibly shouldering slightly more offensive responsibilities for a team that graduated its #1 scorer.
Leunen's strengths as a basketball player are very specific. For one, he's a phenomenal shooter (41.4% from behind the arc), particularly with his feet set, and even has some ability to pull up off the dribble from mid-range. He has beautiful form on his jumper, complete with a quick release and outstanding touch, and if left open on the perimeter, will usually knock down his shot more often than not.
Leunen is also a very smart player who understands the game and is willing to do the little things to help his team come away with a victory. He's an excellent passer, sets solid screens, moves off the ball intelligently, and rarely makes mistakes. On top of that, he's a tough guy who competes for rebounds, understands angles and does not give up space to opponents in the post, making him a fairly solid defender despite his physical shortcomings. He'll regularly make big plays that have the potential to be the deciding factor in a close contest—a heady tip-in while hitting the offensive glass, a sneaky rotation into the paint to draw a charge, a fearless dive onto the floor to come up with a loose ball—all the typical clichés apply here very well in this instance. College basketball lives for them in fact.
The problem is that Leunen has some shortcomings physically that make his transition to the NBA seem a bit questionable. He's not particularly tall, nor strong, often getting outmuscled in the post by bigger post players. He's also a poor athlete, especially in terms of his leaping ability, which is very noticeable in the paint when he attempts to finish in traffic. While he's an excellent shooter facing the basket, he's not particularly gifted with his back to the hoop, showing underdeveloped footwork and clearly favoring his left hand. He can put the ball on the floor, but is again predictable favoring his left hand. Defensively, while he competes extremely hard and generally gets the job done at the collegiate level, there are some question marks about how his combination of size, strength and lateral quickness will hold up at the next level.
Leunen projects as a
Brian Cardinal
face the basket hustling power forward at best, or as an
Ivan Radenovic
-type overseas gem at worst. He has the possibility to acquire a Dutch passport if he so pleases because of his heritage, although he might have to give up his American citizenship in the process. Regardless, he will make a very nice career playing professional basketball, regardless of the route he takes.