We continue our coverage on the top NBA draft prospects in the ACC with part eight, players ranked 21-25:
Sheldon McClellan
,
V.J. Beachem
,
Anthony Barber
,
Damion Lee
, and
Steve Vasturia
.
---
More DX Conference Preseason Previews:
-The Top 20 NBA Draft Prospects in the Pac-12
-The Top 20 NBA Draft Prospects in the Big East
-The Top 15 NBA Draft Prospects in the Big 12
-The Top 20 NBA Draft Prospects in the SEC
-The Top 10 NBA Draft Prospects in the AAC
---
Top NBA Draft Prospects in the ACC
-
Top NBA Prospects in the ACC, Part One
(#1) Brandon Ingram (Scouting Video)
Top NBA Prospects in the ACC, Part Two
(#2) Demetrius Jackson (Scouting Video)
Top NBA Prospects in the ACC, Part Three
(#3) Justin Jackson (Scouting Video)
Top NBA Prospects in the ACC, Part Four
(#4) Chinanu Onuaku (Scouting Video)
Top NBA Prospects in the ACC, Part Five
(#5) Grayson Allen (Scouting Video)
Top NBA Prospects in the ACC, Part Six
(#6) Derryck Thornton
(#7) Kennedy Meeks
(#8) Theo Pinson
(#9) Chase Jeter
(#10) Luke Kennard
Top NBA Prospects in the ACC, Part Seven
(#11) Malcolm Brogdon
(#12) Donovan Mitchell
(#13) Brice Johnson
(#14) Michael Gbinije
(#15) Tyler Lydon
Top NBA Prospects in the ACC, Part Eight
(#16) Xavier Rathan-Mayes
(#17) Dwayne Bacon
(#18) Marcus Paige
(#19) Zach Auguste
(#20) Mike Tobey
---
#21 Sheldon McClellan, 6'5, Senior, Shooting Guard, Miami FL
Last time we checked in on Sheldon McClellan he was headed into what would be his final season at Texas as a sophomore in the fall of 2012. Sitting out a year after transferring to Miami, the former top-50 recruit picked up where he left off averaging 14.5 points, 4.7 rebounds, and 1.9 assists per game earning All-ACC Honorable Mention honors as the Hurricanes fell just short of capturing the NIT Championship against Stanford.
Standing 6'5 with a nice wingspan and a 205-pound frame, McClellan has good size for shooting guard. A very solid all-around athlete with impressive quickness, speed and leaping ability, McClellan's physical tools remain one of his most promising attributes as a prospect.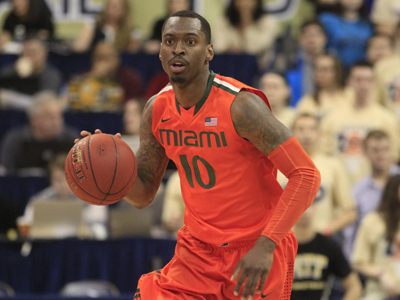 Leading Miami in scoring, McClellan has been a productive offensive player at the college level since his freshman year at Texas when he averaged 11.3 points per game. Doing a bit of everything for Jim Larranaga's Hurricanes a year ago, McClellan is a fairly explosive scoring threat who does the majority of his damage from the perimeter.
59.2% of McClellan's field goal attempts in the half court a year ago were jump shots. Showing marked improvement as a spot up shooter from his freshman season, the senior doesn't have the prettiest mechanics and is far more consistent from the left side of the floor, but nonetheless made a very serviceable 42% of his catch and shoot jump shots overall, up from the 32% he shot as a sophomore at Texas. A somewhat streaky shooter who proves extremely reliable from the foul line but tends to run hot or cold from the field on a game-to-game basis, the uptick in McClellan's shooting helped him rank in the 94th percentile of all NCAA players in points per play according to Synergy Sports Technology even with his occasional struggles.
When he isn't hunting shots out on the perimeter, McClellan flashes the ability to create for himself off the bounce. He can get a bit sloppy with his shot selection after he puts the ball on the floor, but his combination of quickness and shiftiness with the ball in his hands allow him to create separation consistently. Seldom pulling up from the perimeter and shooting just an average percentage when he does, McClellan is a bouncy finisher who does a nice job using his body to protect the ball and picking and choosing his spots attacking the rim in the flow of the game.
A capable passer whose positive assist-to-turnover ratio reflects how infrequently he turns the ball over on the occasions he does look to create, McClellan is a natural scorer who looks for his own shot first. He may not excel at any one thing in particular, but his athleticism in transition, combined with his improved shot, opportunistic slashing ability, and aversion to the midrange in the half court, make him a very efficient scorer.
Defensively, McClellan remains inconsistent. He moves his feet well defending one-on-one at times, but doesn't always appear as engaged defending off the ball and gets beat off the dribble by less athletic players at times. Committing very few fouls, it will be interesting to see what kind of effort McClellan puts in defensively at the next level when he isn't relied upon as heavily offensively, as he clearly has the tools to hold his own on this end of the floor.
Looking ahead, the 2015-2016 season should prove to be an interesting one for Miami. Returning essentially their entire roster from a year ago, the team will look to take a step forward and make the NCAA Tournament. Sheldon McClellan figures to play a prominent role in that effort, and even though he is a year older than many of his peers in the senior class, will get plenty of looks from NBA Scouts and could emerge as an option for teams in the second round if he has a strong year shooting the ball, makes some strides defensively, and performs well in the draft process.
#22 V.J. Beachem, 6-8, Junior, Small Forward, Notre Dame
Jonathan Givony
After playing a fairly minor role in his first two seasons of college basketball, V.J. Beachem will likely be asked to step up as an upperclassman for Notre Dame, with the graduations of Pat Connaughton and Jerian Grant, leaving a clear-cut hole at the small forward (and small-ball power forward) position for Beachem to slide into.
Every bit of the 6-8 (possibly taller), 200 pounds he's listed at, Beachem has excellent size for the wing, the position he looks best suited for long-term. He has very long arms on top of that, and a lanky, underdeveloped frame that should continue to fill out nicely on time. Beachem is a smooth and fluid athlete who looks nowhere close to his full potential physically. He has nice quickness, covers ground well, has some ability to rise up impressively off two feet, and may continue to get even more explosive in time as he matures physically.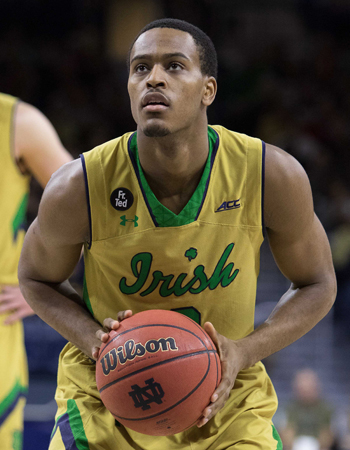 Beachem was sparsely used as a freshman (229 total minutes in Notre Dame's 32 games), but had some nice moments as a sophomore in ACC play before getting lost in the shuffle of a shortened rotation towards the end of the season. His 41.6% 3-point percentage last year is impressive considering he stands 6-8, and he also hit 55% of his 2-point attempts in the rare occasion he elected to venture inside the arc.
The numbers in the boxscore tell a pretty accurate story of Beachem's role for Notre Dame last season, with 70% of his field goal attempts coming on 3-pointers. He took far more 3s (101) than he did 2-point and free throw attempts combined (74), as he was mostly asked to spot-up on the perimeter and space the floor as a cog in Notre Dame's high-powered offense.
Beachen is a lights out shooter with his feet set, making 43% of his catch and shoot jumpers last season. He has good footwork and both a high and quick release, being capable of adding in a little fade to make things even more difficult on the defense, without losing his balance or rhythm. He shows some potential coming off screens, and has deep range on his smooth and effortless looking jumper.
Beachem wasn't asked to do much with the ball in his hands last year, which makes sense considering he's a fairly rudimentary ball-handler who struggles to change speeds or directions with the ball. His lack of strength is a factor here as well, as he gets knocked off his spot fairly easily and is susceptible to having the ball stripped away from him. Getting stronger will help here, as will adding a degree of toughness, as he isn't always able to finish through contact in traffic.
With that said, Beachem shows some potential to emerge as more than just a spot-up shooter. For one, he was very effective pulling up off the dribble in small doses when chased off the 3-point line, being capable of rising up and getting a shot off impressively with his size and high release point. He also shows a solid first step and very long strides on his drives attacking closeouts en route to the basket, and has the explosiveness needed to play above the rim. He wasn't always aggressive enough exploring these situations, and hence only got to the free throw line 29 times last year, but may have some untapped potential here as his role expands.
Beachem also has a solid basketball IQ. He doesn't generate a huge amount of assists, which makes sense considering his role, but did show some flashes moving the ball along the perimeter, or entering it into the post. He committed just 18 turnovers in 483 minutes, or one every 27 minutes he was on the floor, and posted a 62% true shooting percentage, which is excellent.
Defensively, there is some room to grow here as well. His size, length and ability to cover ground is very intriguing, as he's capable of getting in a low stance and moving his feet fairly well, and had some really nice possessions contesting shots on the perimeter last year. With that said, Beachem needs to get significantly stronger, tougher and more experienced to be more than just a tease on this end of the floor. He'll get posted up at times, will struggle fighting through screens, and doesn't always look like he's operating at full intensity. The fact that he barely generates any rebounds (4), steals (.7) or blocks (.7) on a per-40 basis is certainly not a feather in his cap.
While Beachem's production in his first two seasons of college basketball were nothing to write home about, he showed enough flashes of potential to keep you intrigued about how he might look with future development. With more minutes and a bigger role likely in store, we should learn quite a bit more about how good of a player and prospect Beachem actually is.
#23 Anthony "Cat" Barber, 6'2, Point Guard, North Carolina State, Junior
Kyle Nelson
Though Anthony "Cat" Barber finished his high school career as a McDonald's All-American and top-25 recruit in the class of 2013, he had a particularly rough transition into college basketball. As a freshman, Barber struggled with the speed of the game and ended the season coming off of the bench. He became a different player halfway through his sophomore season, however, emerging as North Carolina State's go-to option and leading the Wolfpack on a surprise run to the Sweet 16 . Barber developed into a
player to watch
in the process, but is he an NBA prospect?
At 6'2, Barber has solid size for the point guard position, even though he must continue to add weight to his skinny frame and his average length does him few favors. As his nickname suggests, however, he is incredibly quick both on and off of the ball, ranking among the quickest players in college basketball. Additionally, Barber can change directions on a dime, demonstrating excellent agility alongside of his speed.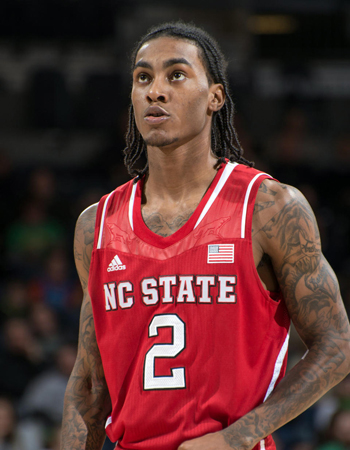 Barber's 15.3 points per 40 minutes pace adjusted do not jump off of the page, but he came into his own as a scorer as the season progressed while showing intriguing versatility and increasing confidence in the process.
As was the case during his freshman season, Barber spent most of his time on the ball, seeing over 70% of his possessions in isolation, transition, and pick-and-roll situations. There are few players that can stay in front of him at this level, as his repertoire of moves, particularly his crossover, and quickness off of the dribble allow him to create separation with ease. He made an impressive 41.4% of his looks off of the dribble, which points to his potential as a shot creator, particularly in pick-and-roll situations. His 34.2% completion rate from mid-range leaves a bit to be desired, but this speaks more to his shot selection than it does his abilities as a scorer.
He developed as a jump shooter, as well, making 38.2% of his overall attempts while increasing his shooting efficiency metrics across the board. His perimeter shooting improved considerably, from 26.1% 3FG on 46 attempts as a freshman to 38% on 71 attempts as a sophomore. Most impressive, however, was the fact that he made 52.6% of his open catch-and-shoot looks. On film, his form from a standstill looks good, but his mechanics becomes inconsistent when he lacks the time and space to set up his shot. Therefore and while he has come a long way, he must continue to refine his shooting mechanics and improve his shot selection as a junior.
Barber made some impressive strides as a sophomore, but his weaknesses remain quite pronounced at this stage. He continued to noticeably struggle as a finisher around the basket, where he made an average 52.8% FG, including 47.4% of his looks in transition. He gets blocked frequently, as his lack of standout explosiveness, strength, and length significantly limit his ability to finish in the post. He still prefers to drive left while avoiding finishing with his left hand, which makes him somewhat predictable as a finisher, as well.
His abilities as a point guard remain a mixed bag, as well. Though Barber averaged 4.7 assists per 40 minutes pace adjusted and looked good operating out of the pick-and-roll, he continued to look for his own offense first and foremost. Likewise, as he became increasingly more essential to North Carolina State's offense, he struggled to move between distributing and scoring roles. His overall decision-making ability appeared quite raw, as it often seemed as though he left his feet and dribble into traffic often without knowing his next move. Scouts will be watching to see if he can become more comfortable leading North Carolina State's offense during his junior season, as he looks far more effective as a scorer than he did as a distributor at this point in his career.
While North Carolina State ranked
among the worst defensive teams in the NCAA Tournament
, Barber's individual defense also remains a work-in-progress. On the one hand, Barber's lateral quickness is top-notch and he can stay in front of collegiate guards when he is dialed-in. On the other, he still does not appear to be the most focused and aggressive defender. Furthermore, he still struggles in the pick-and-roll, as he lacks the strength to fight through screens and the length to contest shots. While he plays on a mediocre defensive team, he must prove to scouts that he can show the fundamentals and effort to excel at the next level despite his average length and lack of strength.
After dealing with some difficult circumstances off the floor, Cat Barber showed scouts what he was capable of at the collegiate level with a surge in his confidence and production late in the year. As a junior, he must do the same and more, continuing to display his versatile skill set while improving as a distributor. Barber's frame may limit his potential at the next level, but he shows elite quickness and his ability to operate out of the pick-and-roll should draw NBA interest if he can become more consistent. Regardless of his prospects at this stage, North Carolina State will need Cat Barber more than ever during his junior season and scouts will be watching to see if he can rise to the occasion.
#24 Damion Lee, 6-6, Senior, Shooting Guard, Louisville
Jonathan Givony

Five games into his junior season, in December of 2013, Drexel's Damion Lee tore his ACL in a game against Arizona at Madison Square Garden. After missing the rest of the year, and subsequently granted a medical redshirt by the NCAA, Lee came back strong the following season, averaging 22 points a game and being named to the Colonial's first-team All-Conference team. His season was again ended by injury, this time a fractured hand he suffered in February, with just three games remaining.

Because he had already spent four years in college, but still had one year of athletic eligibility remaining, Lee was able to transfer to Louisville as a graduate student, without having to sit out another season. Reeling in the third best returning scoring prospect in college basketball was viewed as a major boon for Rick Pitino at the time, who had lost a number of players to the NBA draft and transfers.

Louisville's upcoming season is now surrounded by a cloud of controversy with the recent allegations that a former coaching staff member used prostitutes to lure in recruits. Regardless of whether or not he's able to play in the postseason, Lee will have a major opportunity to show what he can do at the highest levels of college basketball playing in the ACC, as well as in non-conference outings against the likes of Kentucky and Michigan State.

Lee has good size for a shooting guard at 6-6, although he possesses just an average frame and athletic ability. He's been able to score a boatload of points at the college level regardless, doing so both prolifically (29% Usage Rate) and efficiently (61% True Shooting Percentage) for a team that struggled to win games last year, finishing the season at just 11-19.

Lee's biggest calling card as a NBA prospect revolves around his jump-shot. He possesses deep range, a smooth, effortless stroke, and a quick release. Lee was one of the most closely guarded players in college basketball last season, which forced him to develop highly evolved footwork and the ability to get his shots off in a very compact manner. He attempted more than six 3-pointers per game last season, and made 39% of his attempts. His shots came in a variety of ways, be it coming off screens, in dribble hand-off situations, as a trailer in transition, or even creating off the dribble at times. He's at his best in catch and shoot situations, where, according to Synergy Sports Technology he hit 46% of his attempts last season, good for 1.34 points per possession.

While he wasn't always in a position to showcase this, Lee is actually a very smart passer who does a nice job of moving the ball and finding the open man. He almost never turns the ball over, coughing the ball up on under 10% of his possessions.

Lee does a great job of moving off the ball, stopping and starting and running his defender all over the court to chase him around a barrage of screens. He can stop on a dime since he only needs an inch of daylight to get his shot off, and will draw quite a few fouls simply off the amount of grabbing and holding his opponents do to try and slow him down.

When defenses close out aggressively on his jumper, as they often do, Lee has the ability to put the ball down in a straight line and make his way to the basket. He's very intelligent about driving right into the teeth of the defense to try and draw fouls, which helped him get to the free throw line at a tremendous rate last season—eight times per-40 minutes. Lee is near automatic from the charity stripe, he hit 89% of his attempts last year, one of the best rates in college basketball.

When Lee didn't get to the free throw line, he otherwise struggled to score efficiently inside the arc at the Colonial conference level. He converted under 40% of his "inside the paint" attempts in the half-court according to Synergy Sports Technology, which is a dismal rate. His thin frame really affects him here, as does his lack of explosiveness and struggles finishing with his left hand.

When Lee elected to stop short of the paint and pull-up off the bounce, he didn't find much better results, hitting just 10 of his 52 attempts shooting off the dribble. Many of these shots were near-impossible attempts, fading away as the clock was running down, with a hand in his face, so it will be interesting to see how he fares in this area at Louisville this season, since there's no doubt he's capable of making shots off the dribble. Playing for a team that really struggled to score efficiently last season, Lee was forced to shoulder an inordinate amount of offense. He'll have far more talent around him this season, but also will face significantly stronger competition, which will make for a very telling comparison.

While Lee was named to the Conference's All-Defensive Team, there is little doubt that he'll have a transition to make on that end of the floor with his move to the ACC. Lee is a willing defender who has no problem getting in a low stance and trying to slow down his opponent. Unfortunately the results weren't always there last year, as his lack of strength allowed him to get pushed around frequently, when attempting to contain dribble penetration on the perimeter, or on post-up attempts inside the paint. It's possible that the huge amount of minutes and offensive possessions Lee was forced to shoulder played a role in this, but on film, it wasn't rare at all to see opposing guards go right by or straight through him en route to the basket.

Lee will be an interesting player to track this season, as 6-6 shooting guards who can score the way he can are coveted commodities in today's professional basketball. He'll have to show he can continue to score efficiently without the benefit of an entire offense being built around him this season, as well as hold his own on the other end of the floor as well. Already 23 years old, no one will draft Lee based on his upside, but a productive season in the ACC will definitely improve his standing in the eyes of NBA teams.
Steve Vasturia, 6'5, Shooting Guard, Notre Dame, Junior
KyleNelson
Steve Vasturia was the quintessential role player for a Notre Dame team that went 32-6 and won its first conference championship in program history. While Vasturia scored in double figures in less than half of Notre Dame's regular season games, he stepped up during the NCAA Tournament in
a big way
, averaging 13.5 points per game and playing a key role in the Irish's run to the Elite 8. With Jerian Grant and Pat Connaughton now in the NBA, Vasturia has the opportunity to take the next step forward in his development and improve his status as an NBA prospect.
At 6'5 with a 211-pound frame and an average wingpsan, Vasturia does not have the most impressive physical profile for an NBA shooting guard. He is an average athlete, as well, even though he maximizes his physical abilities due to his savvy and feel for the game. Regardless, Vasturia hardly stands out from a physical perspective, even if he played well against more athletic players on a nightly basis.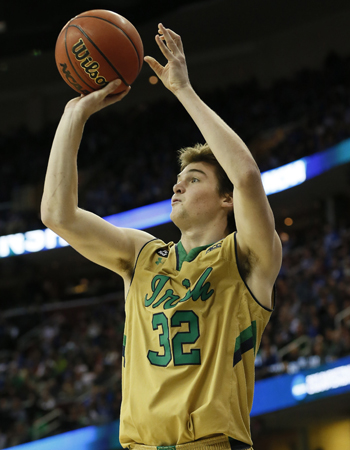 On offense, Vasturia averaged a mere 12.4 points per 40 minutes pace adjusted on just 13.2% of Notre Dame's possessions. While he was rarely featured in Mike Brey's offense, he did an outstanding job of moving without the ball, running in transition, cutting to the basket, and spotting up along the perimeter. Likewise, he is an unselfish and intelligent player whose willingness to make the extra pass and scrap for loose allowed him to emerge as an essential component of Notre Dame's elite offense.
A majority of Vasturia's looks as a sophomore were jump shots and he made an impressive 41.5% of his overall attempts. He was particularly effective as a spot-up shooter (43.4% FG), and he made 48.4% of his open looks. Almost 90% of his jumpers came from beyond the arc and Vasturia improved his 3FG% from 32.9% during his freshman year to 41.1% as a sophomore. On film, he demonstrated NBA range with an excellent shooting touch and consistent mechanics. Vasturia was a noticeably less effective shooter when he was guarded and he rarely had the opportunity to shoot off of the dribble, but he showed the potential to continue to develop as a shooter as his role increases for Notre Dame.
Vasturia was not just a shooter, either. Despite his average first step and limited ball skills, he did a solid job of getting to the basket and completed 58.2% of his attempts. He attacked the basket aggressively with effective body control and a soft touch around the rim, showing little fear going against far bigger and more athletic big men. While he may never become an NBA-caliber slasher, he seems to know his limitations and, at this level, relies on his instincts to find his way to the basket.
While he looked solid in a limited number of pick-and-roll and isolation situations, he lacked the ball handling and first step to consistently create looks for himself and must improve as a shot creator. Though he took a big step forward offensively as a sophomore, he still must prove to scouts that he can contribute offensively at the next level beyond his shooting, especially given his physical limitations.
On defense, Vasturia lacks standout lateral quickness, but he worked hard to stay with his man, both in one-on-one and in pick-and-roll situations. Getting stronger will allow him to fight through screens more effectively, but he will undoubtedly struggle to guard NBA-caliber athletes on the perimeter. His combination of fundamentals and intensity, as well as his ability to play within Notre Dame's team defense, alowed him to competently defend good offensive players at this level, but it remains to be seen how he stacks up against NBA competition.
Ultimately, Vasturia is a role player whose perimeter shooting ability, basketball IQ, and gritty style of play make him an intriguing prospect. Notre Dame will be a very different team next season and Vasturia's ability to step into a larger role will likely have a lot to do with the Irish's success in 2015-2016. Scouts will be watching, as well, to see just who Vasturia is as an NBA prospect, whether he remains a career role player or if he can take his game to the next level.