We wrap up our coverage of the top NBA prospects in the Big Ten with the prospects ranked 21-25:
Bronson Koenig
,
Jarrod Uthoff
,
D.J. Williams
,
Marc Loving
, and
Aubrey Dawkins
.
---
More DX Conference Preseason Previews:
-The Top 20 NBA Draft Prospects in the Pac-12
-The Top 20 NBA Draft Prospects in the Big East
-The Top 15 NBA Draft Prospects in the Big 12
-The Top 20 NBA Draft Prospects in the SEC
-The Top 10 NBA Draft Prospects in the AAC
-The Top 30 NBA Draft Prospects in the ACC
---
Top NBA Draft Prospects in the Big 10
-
Top NBA Draft Prospects in the Big Ten, Part One
(#1) Diamond Stone (Scouting Video)
-
Top NBA Draft Prospects in the Big Ten, Part Two
(#2) Thomas Bryant (Scouting Video)
-
Top NBA Draft Prospects in the Big Ten, Part Three
(#3) Caris LeVert (Scouting Video)
-
Top NBA Draft Prospects in the Big Ten, Part Four
(#4) Troy Williams (Scouting Video)
-
Top NBA Draft Prospects in the Big Ten, Part Five
(#5) Nigel Hayes (Scouting Video)
-
Top NBA Draft Prospects in the Big Ten, Part Six
(#6) Jake Layman (Scouting Video)
-
Top NBA Draft Prospects in the Big Ten, Part Seven
(#7) Melo Trimble (Scouting Video)
-
Top NBA Draft Prospects in the Big Ten, Part Eight
(#8) Denzel Valentine
(#9) A.J. Hammons
(#10) Yogi Farrell
-
Top NBA Draft Prospects in the Big Ten, Part Nine
(#11) Keita Bates-Diop
(#12) James Blackmon
(#13) Damonte Dodd
(#14) Malcolm Hill
(#15) Isaac Haas
-
Top NBA Draft Prospects in the Big Ten, Part Ten
(#16) Vince Edwards
(#17) Rasheed Sulaimon
(#18) Caleb Swanigan
(#19) Jalen Coleman-Lands
(#20) Deyonta Davis
---
#21 Bronson Koenig, 6'4, Junior, Guard, Wisconsin
Matt Williams
Replacing Traevon Jackson as Wisconsin's starting point guard after Jackson fractured his foot in a mid-January loss at Rutgers, Bronson Koenig rose to the occasion, helping Bo Ryan's Badgers to a National Championship berth. A La Crosse, Wisconsin native who ranked among the top-100 prospects in the high school class of 2013, Koenig made timely contributions in both of Wisconsin's Final Four runs, emerging as a player to keep an eye on as he and Nigel Hayes look to assume the leadership roles vacated by Jackson, Frank Kaminsky, and Sam Dekker.
Listed at 6'4 with a 193-pound frame, Koenig has impressive size for a player that spent most of the season running the point for one of the top offensive units in college basketball. He isn't overwhelmingly long or explosive as a leaper, and though he does possess nice quickness, his athleticism is not a major selling point for him as a potential pro.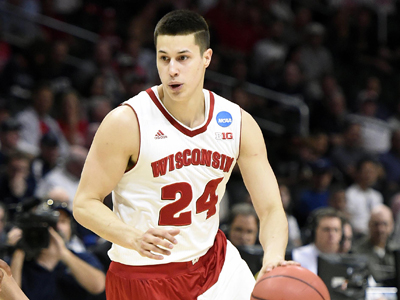 What makes Koenig intriguing is the unique blend of skill and decision-making that landed him among the most efficient offensive players in the country on a number of fronts. Averaging 8.7 points and 2.5 assists per-game, the junior guard wasn't overwhelmingly productive, but was one of the most valuable role-players in all of college hoops down the stretch run of the season.
As a scorer, Koenig relies heavily on his fundamentally sound jump shot. Seeing most of his opportunities on spot ups, pick and rolls, and isolations within the swing offense, 83% of Koenig's field goal attempts in the half court are jump shots. Koenig ranked in the 88th percentile of the NCAA overall scoring 1.123 points per jump shot according to Synergy Sports Technology, even though his attempts were almost evenly split between pull-ups and catch and shoot opportunities. Shooting the ball with a fundamentally sound stroke and good range, the junior guard demands defensive attention, proving especially deadly from the left wing.
Though he isn't particularly adept at creating high percentage shots around the rim, and scores a below average .882 points per shot finishing around the basket in the half court when he does find daylight, Koenig is comfortable handling pressure and uses hesitation and step back moves effectively to create space for himself to get his jump shot off in a pinch. To compound his struggles scoring inside the paint and getting to the free throw line, he does have somewhat of a tendency to settle for difficult looks in the mid-range area, which helps explain why he shot a very poor 42% from 2-point range last year.
The scouting report on Koenig's passing isn't all that different from his that on his scoring ability. The Aquinas HS (WI) product wasn't a prolific passer, but averaged 3.7 assist-per 40 minutes pace adjusted and an extremely low 1.3 turnovers per 40 minutes pace adjusted. Koenig isn't a dynamic drive and threat option, but does an exceptional job making the right read on the pick and roll, not forcing the issue in the half court, finding the open man underneath, and feeding the hot hand.
Given his strong feel for the game and the way it manifested itself a year ago, it will be fascinating to see how Koenig grows into the more prominent role he's sure to play as a junior.
Defensively, Koenig plays hard, but his lack of length and athleticism hurt his ability to make a significant impact on this end of the floor. He struggles at times against the pick and roll, and without a quality rim protector behind him, was exploited by quicker, stronger guards in the half court. Though his physical tools may never allow him to be a standout on this end of the floor, he has room to improve in the coming seasons.
Looking ahead, this will be fascinating season for Koenig as his role could expand considerably. There's little doubt that Wisconsin will take a step back without Kaminsky and Dekker, but they figure to be difficult to beat as always and the combination of Koenig and Hayes give them some hope for the future. With two seasons of eligibility left in Madison, it is too early to draw too many firm conclusions about Koenig, and he is certainly a player to keep an eye on this season.
#22 Jarrod Uthoff, 6-9, RS Senior, SF, Iowa
Josh Riddell
Jarrod Uthoff's collegiate career got off to a slow start and he is just now starting to find his footing. After enrolling in the University of Wisconsin as the 111th ranked recruit according to RSCI in 2011, he redshirted his freshman season. He then decided to transfer but was caught in a lengthy transfer saga that saw Bo Ryan initially limit his ability to transfer before relenting to public pressure and allowing Uthoff to enroll at the University of Iowa.
He then had to sit out a second straight season due to transfer rules and he finally got to make his Hawkeye debut in the 2013-14 season. After playing a supporting role in his first season, he took on a larger role in his redshirt junior season where he averaged 16.4 points and 8.5 rebounds per 40 minutes. Returning for his senior season, he is starting to catch the eye of NBA scouts and another strong season could place him firmly in the draft conversation.
Uthoff is somewhat of a mixed bag from a physical standpoint. While he may not have the single attribute that makes him stand out and will be above average relative to NBA players, his overall athletic package builds a nice foundation for his prospects. Measured at 6'9.5 at the 2015 Nike Skills Academy, he is very skinny considering his age (216 pounds) and has a poor 6'10.5 wingspan. He has the height to measure up to perimeter players but may not have the length or physicality to compete.
He doesn't have great speed for a perimeter player in the open court but he has long strides and runs smoothly down the floor. He doesn't get much lift on his jump shot, so at first glance he doesn't look explosive, but he has the bounce off of two feet in the lane to dunk in traffic.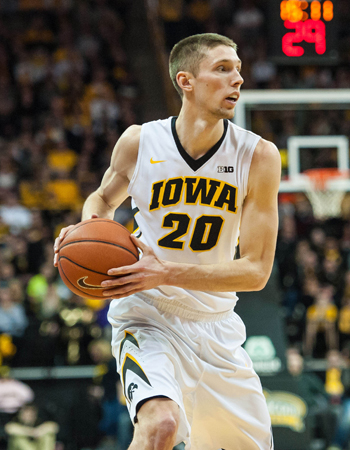 Uthoff is mainly a jump shooter with 68.9% of his field goal attempts classified as jumpers by Synergy Sports Technology. In catch and shoot situations, he has a confident release and is a consistent shot maker, connecting on 38% of these attempts according to Synergy Sports Technology. Many of these attempts were three pointers, as 40% of his field goal attempts were from beyond the arc. He doesn't have the quickest release and his release point isn't that high, so it may not be easy for him to get clean looks against NBA defenders when he doesn't have ample daylight.
He isn't as accurate shooting on the move, either or transition or coming off screens. He struggles to get on balance which can throw off his shooting motion. His counter move to being a stand still 3-point shooter is a strong pump fake before a one dribble pull-up jumper inside the arc. He can create space by forcing the defender to bite on his fake before taking a big step with his one dribble to get away from his defender. He has success with these shots, shooting 45.6% according to Synergy Sports Technology.
When Uthoff puts the ball on the floor, he isn't looking to do much other than take one dribble and pull up. He's a limited passer with his eyes focused on the basket when he has the ball and he doesn't have the ability to get all the way to the rim by himself.
Uthoff took only 53 shots around the rim last season according to Synergy Sports Technology, many coming off cuts. He's a good finisher considering his lanky frame as he can make plays above the rim. He avoids contact, attempting just 3.0 free throws per 40 minutes pace adjusted, but he's a crafty enough finisher at the rim to allow him to covert 60.4% of his attempts according to Synergy Sports Technology. As a 22 year old senior, he will have to become more comfortable absorbing contact around the rim to show he can withstand the physicality of the NBA game.
Despite his average strength and length, Uthoff is a little better defensively than you might expect. He's versatile for his size, able to switch onto nearly anyone on the perimeter and stay in front of them without fouling. He does have a tendency to play a few steps off perimeter players to give himself a better shot at disrupting penetration which gives his opponent open air to shoot over him. If teams ask him to play tighter to his man, he may be susceptible to getting beat off the dribble if he can't match his opponent's quickness.
He tallied a unique combination of steals (1.5) and blocks (2.2) per 40 minutes pace adjusted, which further demonstrates his versatility on this end of the floor. He also contributes as a defensive rebounder, pulling down 6.1 per 40 minutes pace adjusted. He has quick reactions and instinctive timing that allow him to be a good shot blocker and rebounder.
With the graduation of Aaron White, Uthoff will be asked to take on a larger offensive role for the Hawkeyes this season. With his outside shooting, NBA organizations have already taken notice of his potential. Turning 23 in May, his ceiling may be somewhat limited but teams will continue to monitor his progression to see if he adds to his skill set to be able to fulfill a role with a NBA team. Big small forwards who can stretch the floor and guard multiple positions are very much en vogue in today's NBA, and Uthoff is in a great situation to prove he's worth of a roster spot this season.
#23 D.J. Williams, 6'7, Freshman, Small Forward, Illinois
Without the benefit of extensive high school footage, we prefer to wait and see how Williams performs before adding to his DraftExpress profile.
#24, Marc Loving, 6'8", Junior, SF, Ohio State
Derek Bodner
6'8 combo forward Marc Loving appeared in every game for Thad Matta during his freshman season, a valuable learning experience for a young player on a deep, veteran-laden Ohio State squad.
Despite that playing time Loving struggled to consistently make a positive impact, shooting just 36.8% from the field and 25.9% from three point range during his freshman season. According to Synergy Sports Technology Loving shot just 27.1% on jump shots in the Buckeye's half court offense as a freshman, a disappointing output for somebody playing primarily at power forward who could, in theory, operate as a floor spacer.
However, when you watched Loving closely, he appeared to have the touch and form to develop into a shooter down the line, and you got the feeling that his low output was more the result of inconsistent playing time and low sample size than it was in skill level or potential.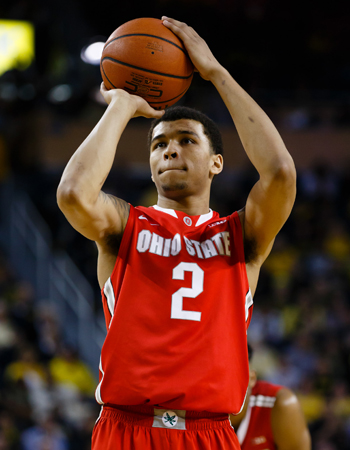 With those caveats out of the way, the improvement in Loving's production as a jump shooter as a sophomore still took just about everybody by surprise. It's not that Loving improved, as that was to be expected, it's that he improved to the point where he was one of the most efficient spot-up shooters in the country.
Loving connected on 46.1% of his 102 three point attempts last season, up from 25.9% as a freshman, and shot 43.4% overall as a jump shooter, up from 27.1%. He produced 1.232 points per jump shot and 1.354 in catch and shoot situations, which ranked in the 96th and 94th percentile in the nation, respectively. Those numbers are especially impressive when you take Loving's struggles from the perimeter over the last two months of the season into account, as he fell out of the team's rotation following a
three game suspension
.
Loving sports an incredibly compact release, with a high release point and no discernible extra motion. This allows him to not only get the shot off extremely quickly and with little space, but it's created an extremely repeatable shooting motion that should yield relatively consistent results. Whether or not he can maintain being one of the best catch and shoot players in the country as he ramps up the volume, and difficulty, of his shots might be a little bit unrealistic, and the impact the games he missed due to suspension on his numbers are a concern, but it's clear Loving is a very good spot-up shooter.
Loving also shows an ability to shoot on the move and when coming off of screens, and that's an area of his game that he could definitely expand in the coming seasons. His balance and footwork is strong here, and he gets good elevation that allows him to get separation from his defender.
The rest of Loving's game still needs work to round itself out, however. He doesn't do much off of the pick and roll, he's not yet as comfortable shooting off the dribble as he is from the catch, and he doesn't have the ball handling or elite athleticism to turn the corner dribbling off of a ball screen. He doesn't create much, either for himself or for his teammates, off the dribble, held back mostly by ball handling skills that need considerable refinement.
When Loving does get into the lane, he's an average athlete vertically who can stand to gain considerable upper body strength to finish against NBA level defenders. He does have decent toughness around the hoop with either hand and has good body control, so there's some potential here, especially because of the attention he draws as a jump shooter.
On the defensive side of the ball, Loving has some tools, namely his 7'1.5" wingspan. That being said, Loving has yet to really turn those tools into being a consistently plus defender. At times, he leaves his man and over-helps, is only an average athlete laterally, and needs to put on a significant amount of muscle to really become the versatile defender that he can be. The frequent zone defense that Ohio State played last season certainly factored into some of these problems, and it will be interesting to see how Loving grows as a defender down the line.
Marc Loving's development into one of the best catch-and-shoot players in the country was a huge boost to his pro outlook. For as much as you can look at his form during his freshman year and believe that the results will come, actually seeing those results has a predictably positive impact on perception. When Loving transitions to the next level, he's much more likely to do so as a small forward than the mostly power forward role he currently plays for the Buckeyes, and improving the rest of his perimeter skills – namely his ball handling and ability to attack closeouts off the dribble – as well as his defense, would be the next step in improving his draft stock even further.
#25, Aubrey Dawkins, 6-6, Shooting Guard, Sophomore, Michigan
Jacob Eisenberg
Aubrey Dawkins came to Ann Arbor as an afterthought in the 2014 recruiting class for John Beilein's Wolverines. Though his father – Johnny – is a highly respected figure in the college game as the head coach of Stanford, Aubrey was a lightly touted three-star recruit, struggling to garner attention from schools outside the Atlantic 10. Michigan offered a scholarship exceedingly late in the process and he accepted shortly thereafter. Through his first 12 games as a Wolverine, Dawkins averaged barely five minutes per game and attempted only two three-point attempts. By the season's end, thanks to the injury suffered by starting SG Caris LeVert, he had established himself as a starting wing and a sharpshooter for Michigan.
Dawkins has good size at 6'6 and 205 pounds, and has reportedly added more strength to his frame this summer. His size and improving frame, coupled with the fact that he's an explosive athlete with impressive leaping ability and nice speed in the open floor, gives him a nice package of physical tools looking to the next level.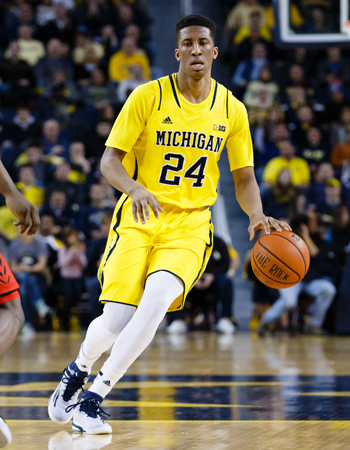 Skill wise, Dawkins is an excellent shooter who changed his mechanics midway through last season to speed up his release and lower the arc of the ball – both of which helped increase his shooting efficiency. Dawkins' confidence grew with his playing time and he got his opportunity to prove himself early as the Wolverines dealt with a slew of injuries to key rotation players. By January, with star Caris LeVert sidelined with a foot injury, Dawkins hit his stride. After scoring .38 points per jump shot attempts 1 per game during Michigan's non-conference schedule, the freshman scored a tremendous 1.26 over 4.1 attempts per game as he became a regular starter. Given his torrid shooting down the stretch, it will be interesting to see how Dawkins fares in a larger role as a sophomore.
Unsurprisingly given his sudden and dramatic development, Beilein named Dawkins as the team's most improved player and noted as recently as early September that he was especially impressed by how much Dawkins continued to improve over the summer.
At this point, though, Dawkins is a largely a one-dimensional shooter. He's an ace from the perimeter, but is otherwise quite limited elsewhere on the offensive end. Often times Dawkins will set up in the corner and have a wide open lane for a backdoor cut, which he'll choose to ignore opting to hunt jump shots out on the perimeter. Given his shooting ability, teams tended to overplay him on the perimeter, but that didn't result in more opportunities for him inside. He shies away from taking the ball to the basket, as only 21.6% of his field goal attempts came around the rim in conference play, and doesn't embrace contact on the occasions he does venture in close, getting to the free throw line just 23 times last season.
Dawkins doesn't make much as impact as a passer either, averaging a miniscule 0.7 assists per-40 minutes as a freshman and seldom looking to create for himself or teammates off the dribble. According to our database, his 4.1% assist rate makes him the least prolific distributor of any wing prospect in the nation. To put things simply: he emerged spot-up shooter as a freshman who, while extremely dangerous from behind the arc late in the year, offered very little else for his team offensively.
Defensively, Dawkins has the athleticism and length to succeed but often finds himself defending out of position. He's guilty of over-helping and gambling when he'd be better served staying at home on his opponents on the perimeter. Too often Dawkins tries to compensate for bad positioning with his length, only to fail to recover to the ball when his man find an opening, not always using his athleticism effectively defending off the ball.
To his credit, he's absolutely comfortable when defending in isolation matchups and can improve on most of his defensive issues in time. When switched onto big men on the interior, he's overmatched physically but battles and uses his length to try to make things difficult. With the added weight he's put on over the summer, he might become an acceptable stretch-four in desperate situations for Michigan depending on the matchup. The physical talent is there for Dawkins to become a capable 3-and-D player.
Overall, this is an important season for Dawkins to show he's capable of adding dimensions to his offensive game. While his shooting suddenly became elite last season and his athletic ability is very impressive, he still has a ton of room for improvement on both ends. Still, in what figures to be a bounce back year for Michigan, Dawkins should play an integral role.